Microsoft has finally paved the way for its latest installment of the most successful operating system line with Windows 11.
The OS market leader wants to imitate the success of XP and Windows 7 with their new offering. Its predecessor Windows 10, was a success before the debacle of Windows 8 and 8.1. Something that Microsoft clearly wants to forget in recent times.
Until recently, you can download Windows 11 ISO as available in beta through the Microsoft Developer network.
You had to create an account, then find the download link for Windows 11 to download the files.
That's not the case anymore; you can download and install Windows 11 through the official public links.
Note: The latest version of Windows 11 is Windows 11 22H3.
Why you are Here – You can download the Windows 11 22H3 ISO file either from the Microsoft Official website or use the Rufus app.
Download Windows 11 ISO file directly

| | |
| --- | --- |
| Windows Version | Windows 11 ISO English |
| Size | 5.1 GB (Most Downloaded) |
| Service Pack | 22H2 |
| Version | 64-Bit  |
---
| | |
| --- | --- |
| Windows Version | Windows 11 ISO German |
| Size | 5.1 GB |
| Service Pack | 22H1 |
| Version | 64-Bit |
---
| | |
| --- | --- |
| Windows Version | Windows 11 ISO French |
| Size | 5.1 |
| Service Pack | S22H1 |
| Version | 64-Bit |
Update – The direct download link for Windows 11 ISO has been fixed.
The Windows 11 ISO contains the following versions, which you will get the chance to select during installation.
Windows 11 Home
Windows 11 Pro
Windows 11 Education
Windows 11 Enterprise
Windows 11 Pro Education
Windows 11 Pro for Workstations
Windows 11 Mixed Reality
Download Tiny11 ISO
Tiny11 is a stripped down version of Windows 11 without the bloatware or the unnecessary apps. NTDEV, an independent developer, has introduced a small-sized version of Windows 11 which operates on a meager system configuration of 2 GB RAM and 8 GB storage.
Tiny11 ISO was also run on a mere 176MB of RAM by its developer.
This provides an excellent opportunity for users to test Windows 11 on devices that do not meet the standard hardware requirements for the operating system, as it requires only modest components.
You can install it like a regular operating system by making a bootable USB/DVD and then installing it.
Update – You can also try the new Tiny 11 Core which only takes 3 GB of space.
Download Windows 11 ISO file Official – Microsoft Site

Here is how you download Windows 11 directly from the official website. The official link is active for a period of 24 hours, so we are not going to go there.
Download the Windows 11 23H2 ISO file by yourself in 4 easy steps that barely take a minute.
1. Head to the official Windows 11 page.
2. Scroll down to the Download Windows 11 Disk Image (ISO) section, which is third in order from the top.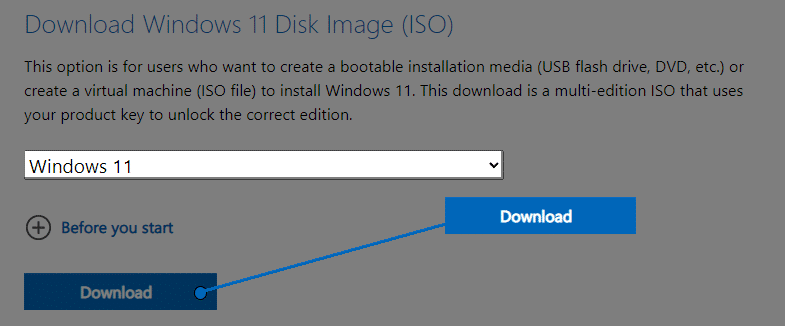 3. This will take you a few inches downwards to the Select Product Language section. Do as it says and select the language for your Windows 11 package.
We selected English as the language from the dropdown menu and clicked on the confirm button.

4. A download button appears in the next section.
Click on the 64-bit Download button, and it will start the download on your browser. Or in the download manager if it is configured to catch the incoming links.
Thing to keep In Mind – As of now, Windows 11 is only available in 64-bit, but the 32-bit apps will still run without a problem.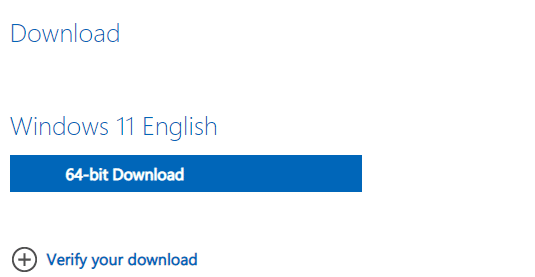 Also Read – Best Windows 11 Themes 
---
Install Windows 11 by disabling TPM 2.0 Check
1. Making Bootable Windows 11 Disc
Bypass the This PC can't run Windows 11 error while installing Windows 11 by disabling TPM 2.0. Microsoft is augmenting security on a hardware level by making TPM(Trusted Platform Module) 2.0 compulsory.
Did You Know – TPM is essentially a cryptogenic security measure, implemented on the hardware through a chip. You can find it on your motherboard from the manual or the specification page on the manufacturer's site.
We will use this bootable creator application called Rufus, which will create a bootable Windows 11 bypassing the TPM 2.0 check.
1. Plug in a flash drive with 8 GB or more space and launch Rufus.
2. Here, we take one step at a time, explaining as we go forward. Your plugged-in flash drive will appear in Device, as denoted by A.
If you have multiple external storage plugged in, make sure to select the correct one from the drop-down list.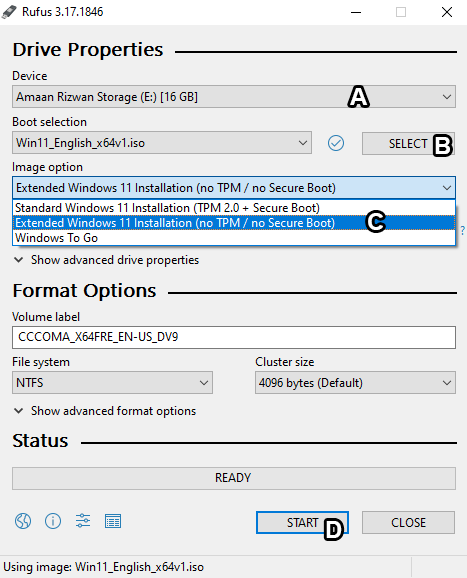 3. Click on the select button, as denoted by B, and locate the Windows 11 ISO image we downloaded earlier.
4. After that, move to the Image option and select Extended Windows 11 Installation(no TPM/ no Secure Boot). This will ensure that Windows 11 can be installed without TPM.
Optional – You can give a name to your flash drive through the Volume Label box.
5. Now go all the way down of the window and click on the Start button.
It will take a couple of minutes to create Windows 11 bootable. Then you can learn to clean Install Windows 11 in the next section.
---
2. Clean Install Windows 11 using ISO File
Boot up your PC from a USB drive using the boot menu. To access the menu, you need to press the boot menu key on the keyboard.

Laptops
| | |
| --- | --- |
| Brand | Boot Menu Key |
| ASUS | F8 |
| Acer | F12 |
| Dell | F12 |
| HP | F9 |
| Lenovo | F8, F10, F12 |

Desktops
| | |
| --- | --- |
| Motherboard Brand | Boot Menu Key |
| ASUS | F8 |
| Gigabyte | F12 |
| MSI | F11 |
| Intel | F10 |
| ASRock | F8, F11 |
| Biostar | F9 |
1. On booting from a bootable Windows 11 media, you will see the welcome screen.
Select your preferred language, time and currency format followed in your region, and keyboard input method.
Click on the Next button to continue to the next page.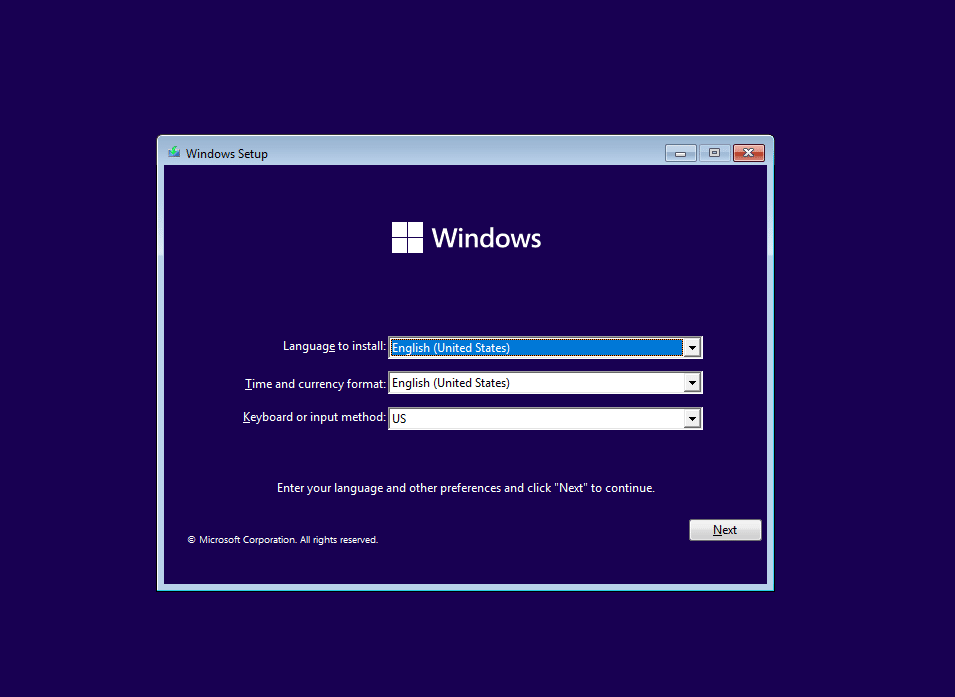 2. Now, the Install Now button will appear on the screen. Click on the button to proceed to the next step.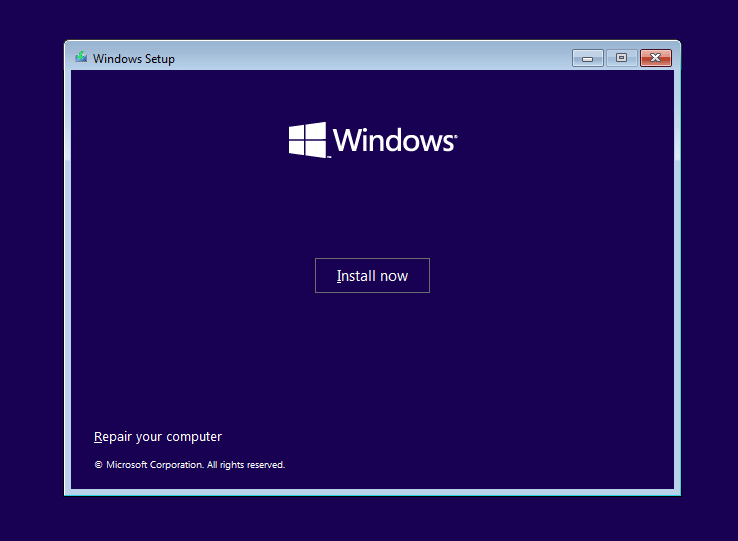 3. If you have the Windows 11 key, enter it as denoted by A. Then click on the Next button to proceed.
On the other hand, if you want to try the OS, click on I don't have a product key, as denoted by B.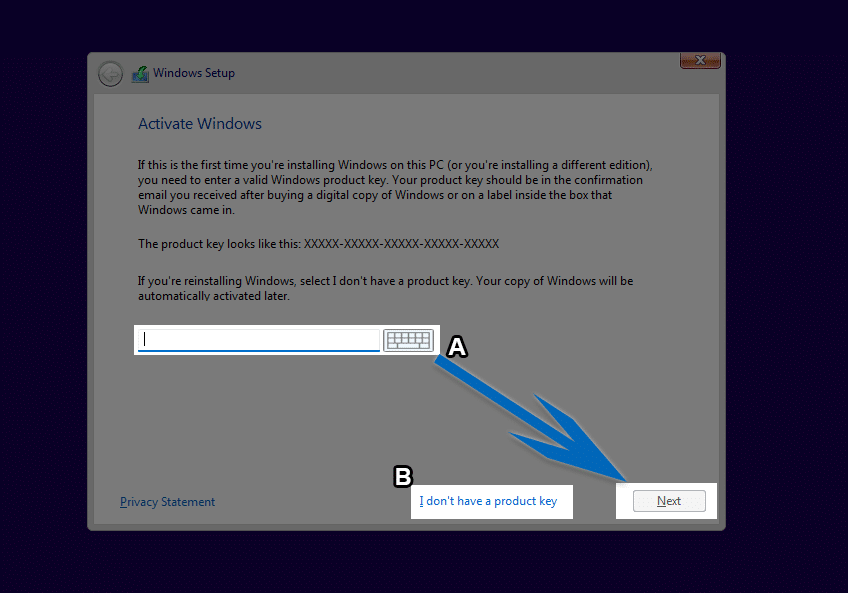 4. It's time we select the Windows 11 version to install. For personal usage, you can go ahead with the Windows 11 Home.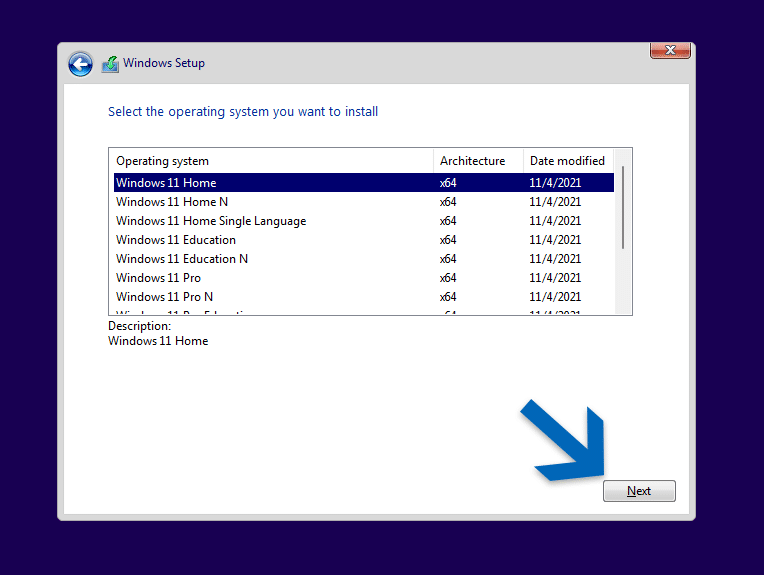 5. On the next page, we will create a new partition for Windows 11 installation. You can skip to the next step if there is a partition already on your hard disk.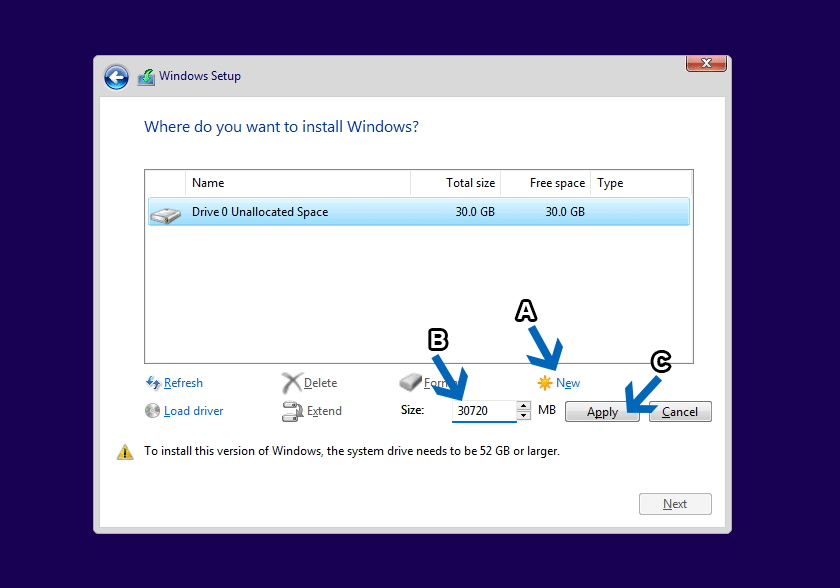 Follow the steps in chronological order to create a partition:
For clearing partition out of unallocated space, click on 

New, 

as denoted by A.

A size dialog box will appear, as denoted by B. Set the size in MBs regarding the available space. Use the arrow keys or manually fill the numbers.

Click on 

Apply, 

and a partition for Windows 11 will be created. Now click on 

Next

, and the installation will begin.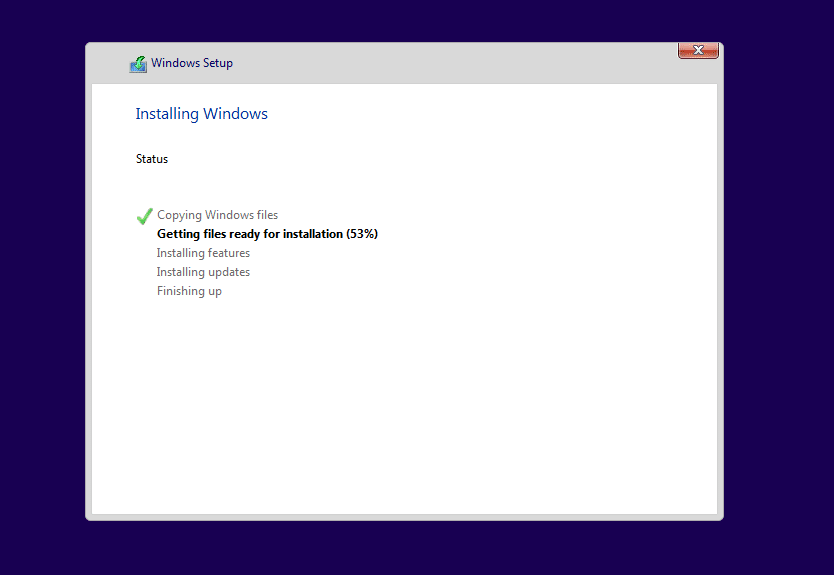 6. Windows 11 has been installed now. Time to set a few things before using the OS.
Select your Country and click on the Yes button to proceed.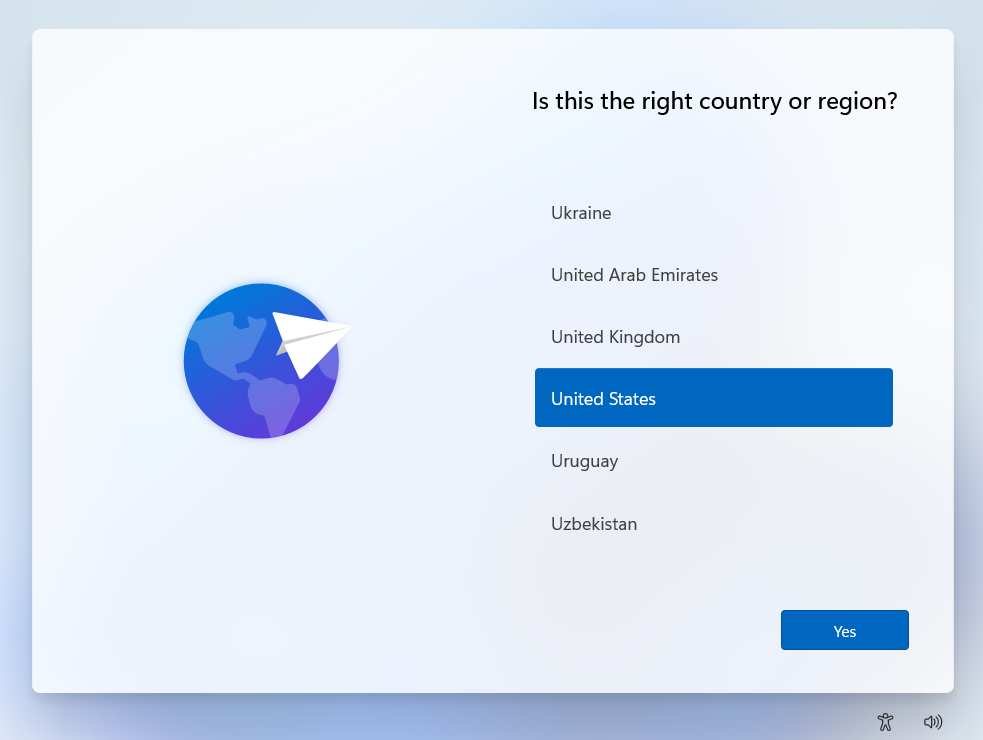 7. Then, select the keyboard or input layout for your Windows 11 usage. It will prompt for a secondary layout, which you can skip for now.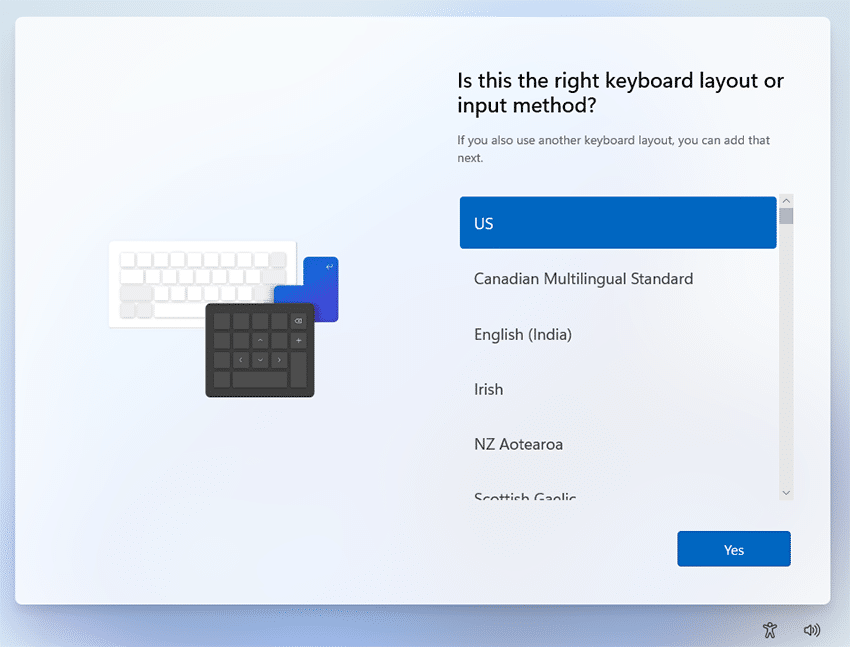 8. It's time to provide a name to your PC. This will appear as your computer's ID on WiFi, LAN, and other connected devices.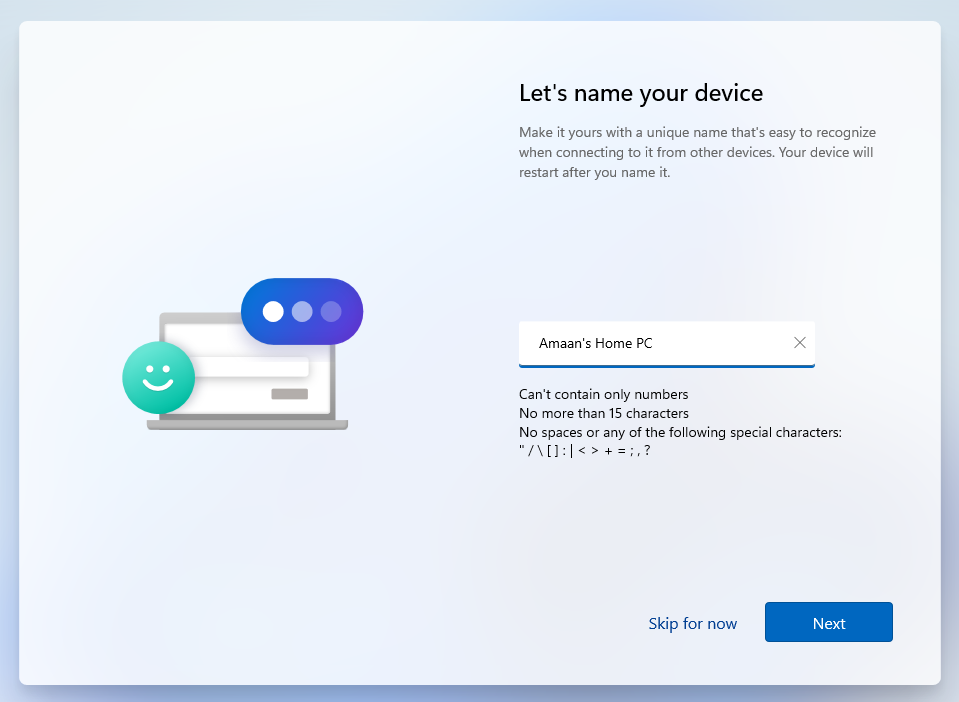 9. After a brief moment of setting up, Windows will ask your name for creating a user account.
The name can be anything, a nickname, moniker, or something random that you wish to display on the user account. It can always be changed later on.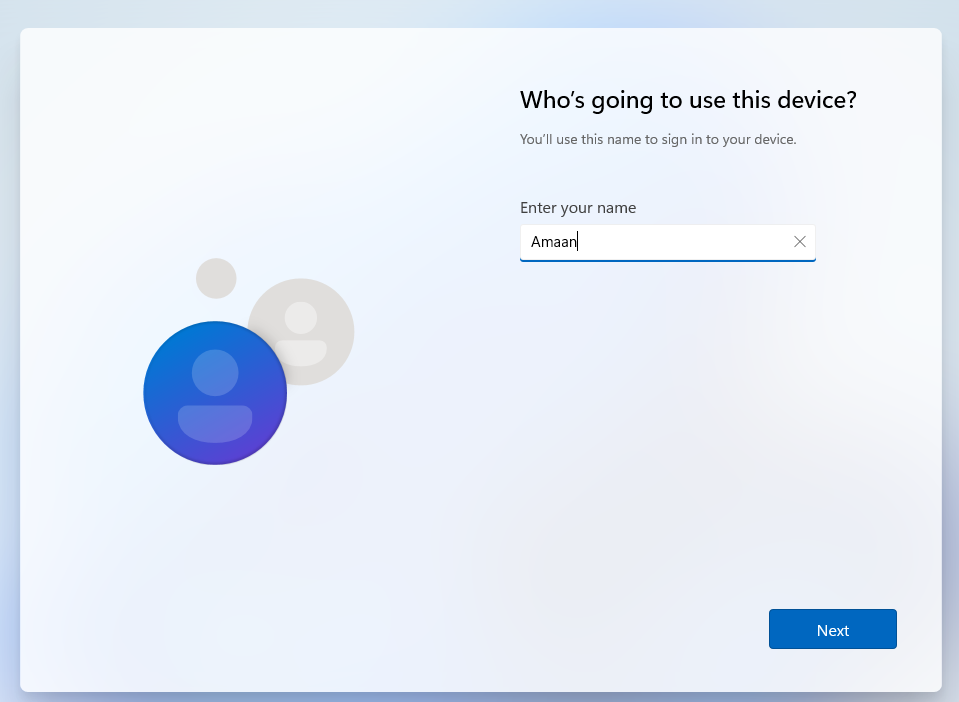 10. Once you are done creating the account, we set a password for the account. It will be needed for logging into the computer.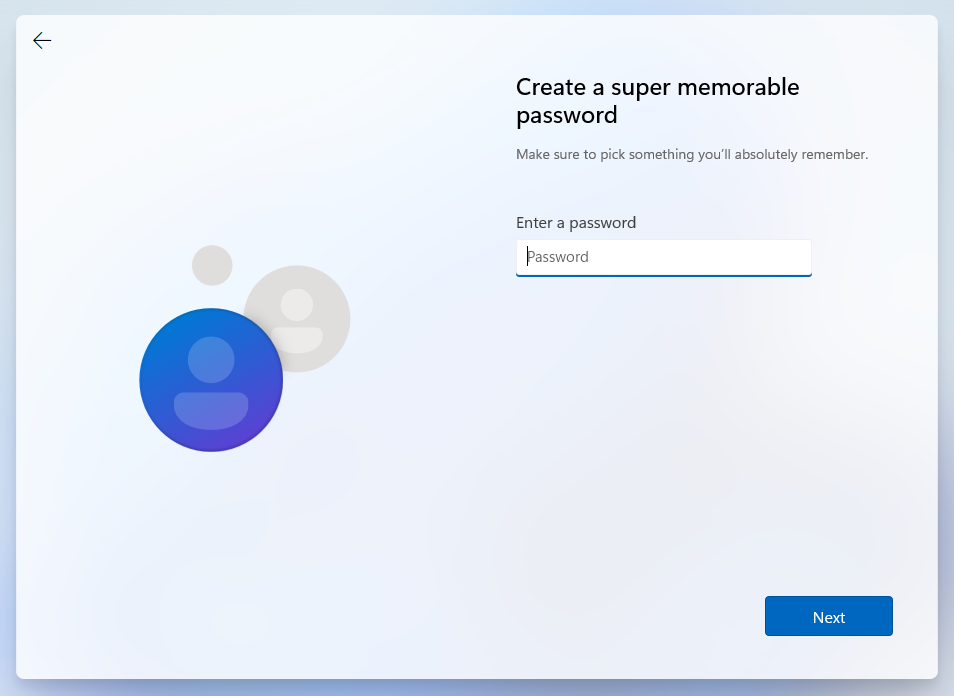 This will be followed by three security questions. They will come in handy in scenarios where you forget the login password for your user account.
Make sure to remember the questions and their answers. We also recommend keeping a note and storing them in a safe place.
You have successfully installed Windows 11 on your PC. Explore what's new features and see what has changed.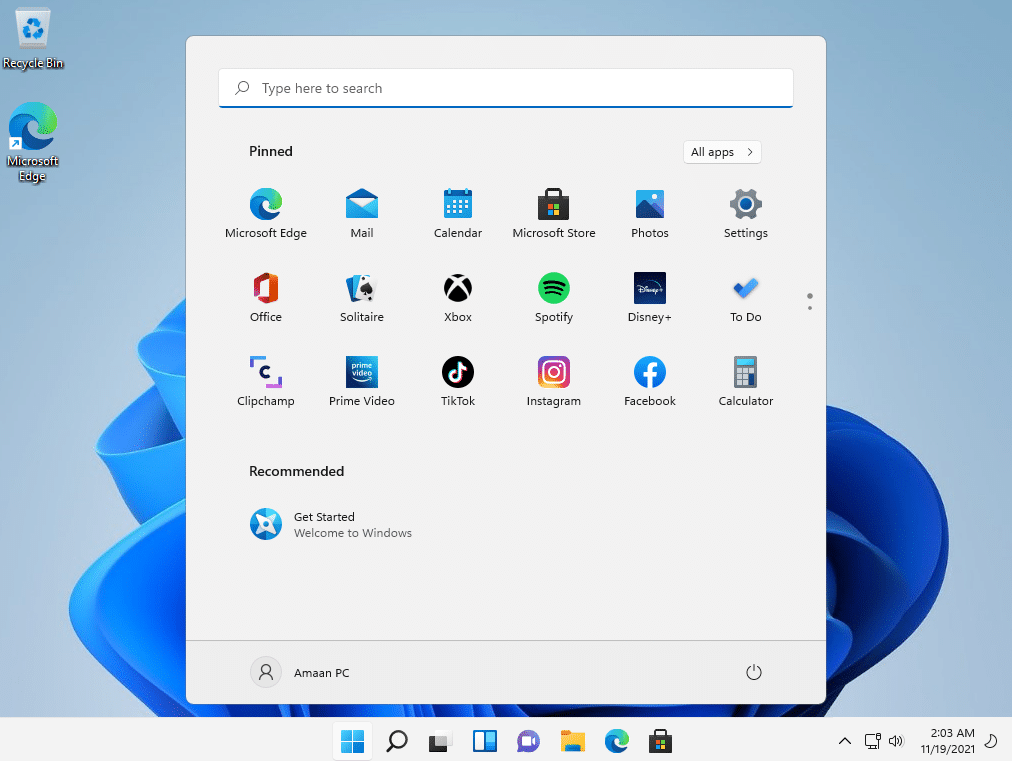 Hold up; we are not done yet. Rufus is good if you want to create a bootable Windows 11 ISO image.
However, if you want to install directly by mounting the ISO image to the computer, the TPM 2.0 requirement may hinder your plans.
---
Download Windows 11 ISO Image without TPM
Windows 11 conducts a TPM 2.0 check, ensuring that the TPM module is present physically on your motherboard or not.
You can disable TPM 2.0 using Universal MediaCreationTool, a free utility tool to download Windows 11 ISO from the official servers.
1. Head to the Universal MediaCreation Tool's page and click on the code to find the Download Zip button.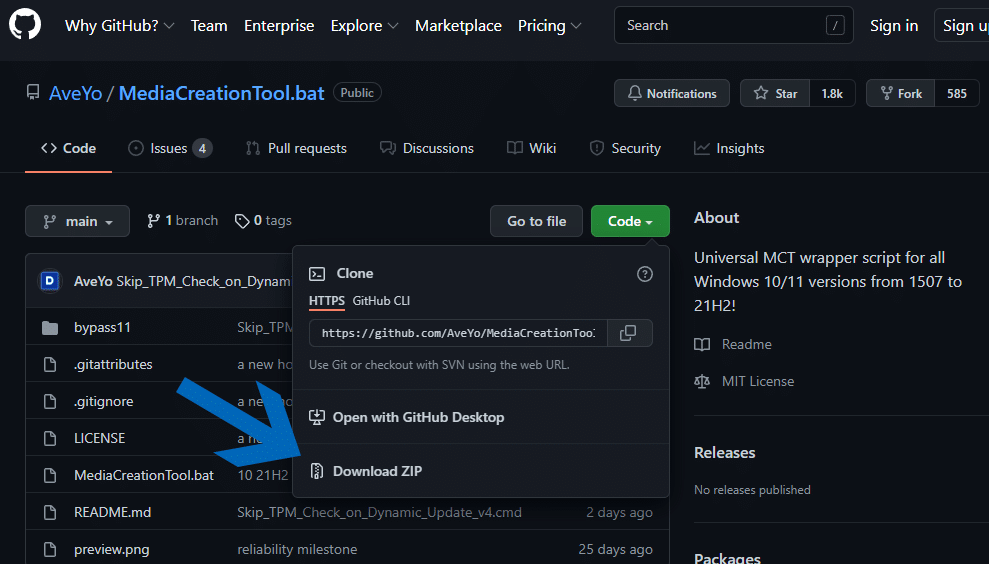 2. Extract the entire MediaCreationTool.bat-main into a folder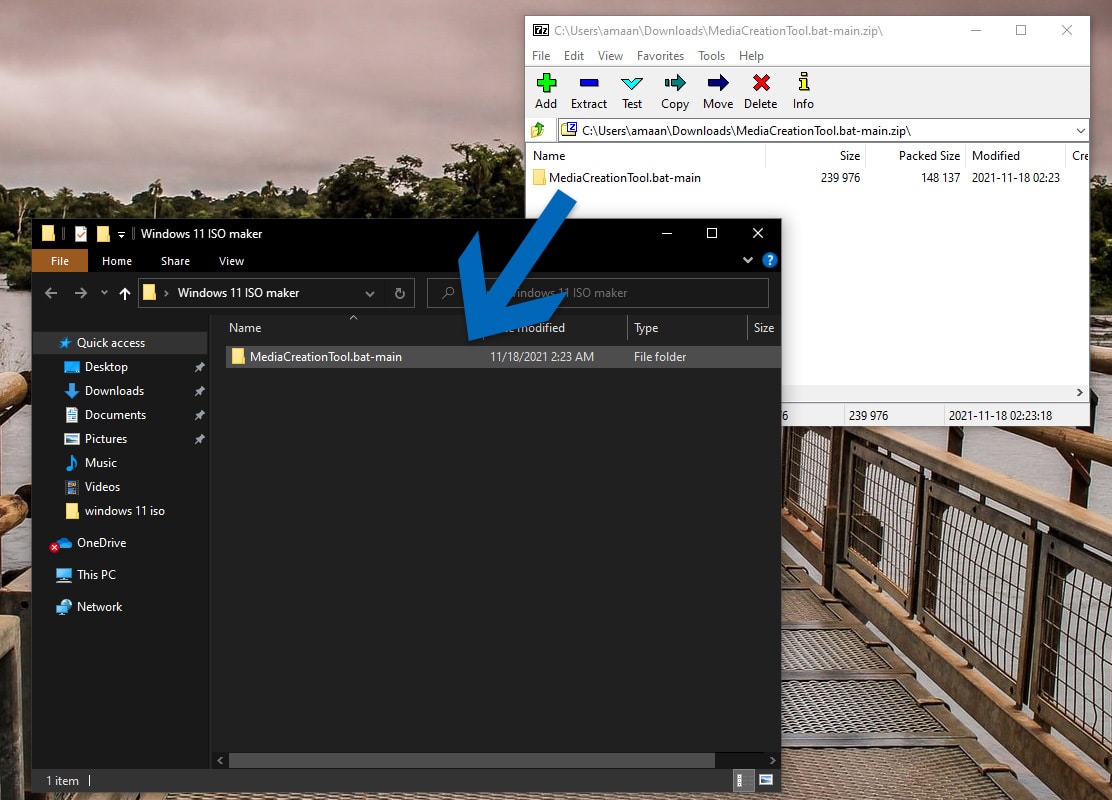 3. Head to the extracted folder, and launch the MediaCreationTool BAT file.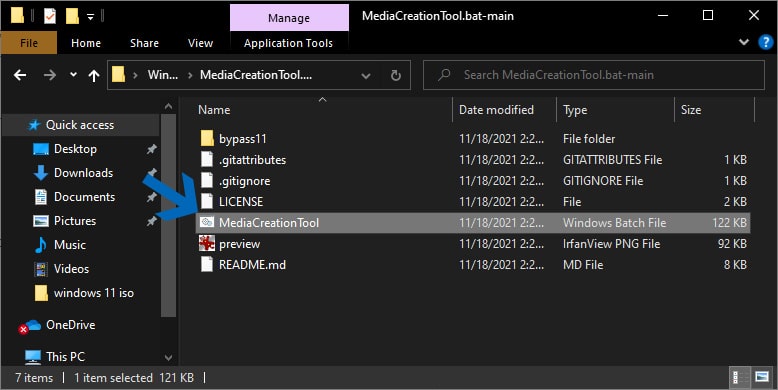 4. A command prompt will run for a few seconds before the MCT Version window will appear. Select 11, which is at the bottom of the options.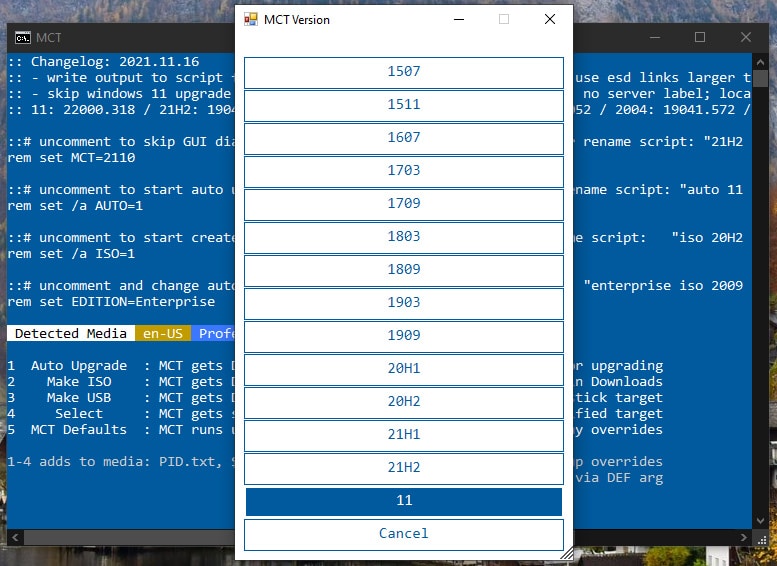 5. In the next prompt, select the Auto ISO option from the menu.
Update – We have replaced the Make ISO option with Auto ISO as the updated media creation tool has the auto option.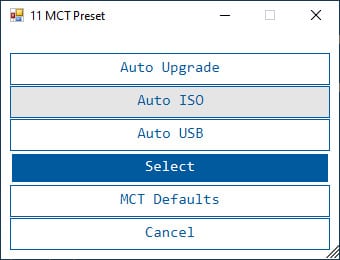 6. Your work is done; the program will download Windows 11 ISO for you.
It will appear in the Media Creation folder. You can also use the B method with Rufus for creating a bootable Windows 11 USB drive.
---
Windows 11 Minimum Requirements
| | |
| --- | --- |
| RAM | 4 GB |
| Processor | 1 Ghz with 2 cores or faster |
| Storage | 60 GB |
| System Firmware | UEFI with secure boot |
| TPM | Version 2.0 |
| Graphics | Compatible with DirextX12 or later |
Top Windows 11 features
Three Different Start Menu Layouts – NEW

With the Windows 11 22H2 update, the Start menu receives three custom layout options now. You are familiar with the default style; one is with more pinned apps to a new row taking a smaller area along with a smaller recommendation area.The third is "More Recommendations, " focusing solely on the recommendations and removing the pinned apps area. Refresh the app recommendations when you get bored with the current offering.The folders in Start menu also make a comeback after being initially nixed from Windows 11. Group different apps and give your folder a name.
Revamped Task Manager – NEW

Users like me who like to fiddle with things and stay on top of processes running on Windows 11 would welcome the overhaul. The earlier processes, performance, startup apps, etc. have shifted to a vertical arrangement on the left side of the window.The most useful feature making its way is the Efficiency Mode which lets users limit how an app can use the computer resources. It will not work on Windows system processes.Before we forget, Task Manager now has keyboard shortcuts for certain tasks. Access the list by pressing Alt.
Improve File Explorer and OneDrive Integration – NEW

Now you can open OneDrive directly to the file explorer. Do this by clickong the three-dot button > Options > General and then find OneDrive in "Open File Explorer to:" drop-down menu.
Users can now see the total capacity, space used, and sync status of the OneDrive adaject to the File explorer's address bar.
New Taskbar


There has been debate on this amongst veteran Windows users. Some are not liking the macOS-inspired change in the start menu's repositioning. It is now centered, essentially has the same features as before.

You can bring the taskbar back

 to the left, or move to the right, or top

.

Android Apps


You can start preparing a farewell speech for Android 

emulators

. Microsoft has brought Android apps to Windows through the Amazon Apps Store.

Currently, it supports over 50 apps, with more in the pipeline. The Amazon app store needs to be installed from the Microsoft store beforehand.

It is not yet available for the public but is a part of the Microsoft Insider program.

Microsoft Teams


Microsoft integrates Teams into Windows 11 for personal and individual usage. You need a Microsoft account to chat with friends, family, and others through the lightweight communication app.

Do note that the Microsoft Teams for Work and School are labeled differently and need to be set up individually.

New Contextual Menu


Commonly known as the "refresh menu," the contextual menu has gotten the much-needed upgrade. Initially, the 

refresh

 option was removed in the insider builds before being brought back in a couple of versions later.


The well-rounded edges, along with the Mica effect, really bring out the new shade in the menu. 
---
Update Windows 11 to Windows 11 22H2 Version
If you are already using Windows 11 and want to update to the latest version Windows 11 22H2. Then follow the steps:
Go to settings from the Start Menu or the the shortcut by pressing Windows + X.
Select Update and Security.
Click Check For Updates.
---
Over to You
Now you can download Windows 11 ISO images without involving complex command prompt-based processes. 
We discussed two ways to install Windows 11 without TPM – Through Rufus and another by Universal Media Creation Tool, which directly downloaded Windows 11 from the official servers. 
You can also mount the Windows 11 ISO directly and start installing it on your PC itself without requiring a boot.