Media consumption services like Netflix have completely changed the way we watch movies and TV shows. You can now enjoy your favourite TV shows and movies almost anytime and anywhere.
Well, even after scrolling and exploring lots of content you still question yourself "What should I watch on Netflix?" then this article might help you. So these are some of the best TV shows available on Netflix that are worth watching.
ALSO READ: 10 Best Movies To Watch On Netflix Right Now
1. Stranger Things
The first best TV show to watch on Netflix is Stranger Things. This popular and award-winning show is a perfect blend of sci-fi, drama, and horror genre. Created by Matt Duffer and Ross Duffer, Stranger Things is a story of a boy who mysteriously disappears.
His mother who is a police chief along with his friend faces many difficulties in order to get back the boy.
---
2. Black Mirror
Created by Charlie Brooker, Black Mirror is another best Netflix original series that is worth watching. This sci-fi and thriller genre TV show is based on the age-old concept of sci-fi movies which depicts how machines can gain control and create great troubles for human beings.
Overall Black Mirror is an interesting sci-fi TV show and you should add it to your Netflix queue.
---
3. The Crown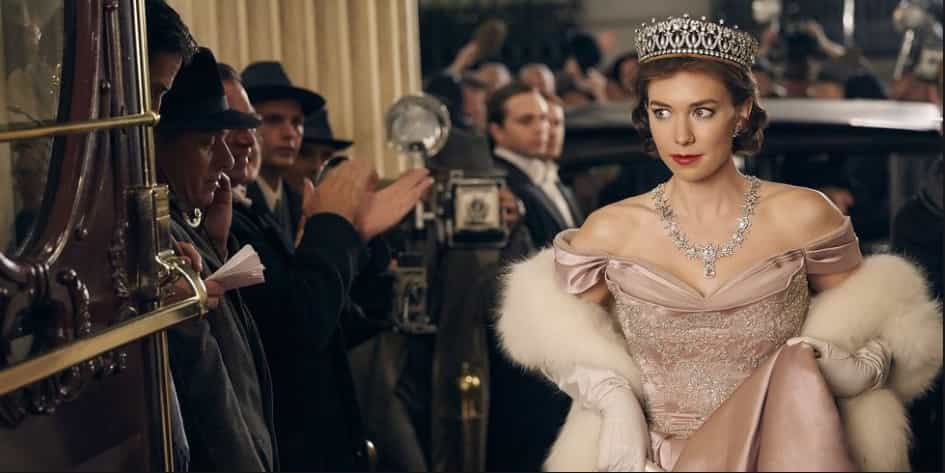 The next best Netflix series on the list is The Crown. This historical drama show depicts the politics, war and romantic life of the newlywed 25-year-old Queen Elizabeth II. The first season focuses on the time between 1947 and 1955 and her wedding with legendary Prime Minister, Sir Winston Churchill.
While the second season revolves around the time of Suez Crisis and the resignation of British prime minister Harold Macmillan.
---
4. The Walking Dead
The Walking Dead is another popular Netflix series that is worth watching. Consisting of 8 seasons and 115 episodes, The Walking Dead is a story of a person who goes into a coma after being shot. He then wakes up to a Zombie Apocalypse and sets out to find his family.
Once he finds his family he then becomes the leader of a group of unaffected people and helps them to survive and access food.
---
5. Daredevil
The name suggests it all, Daredevil is one of the best superheroes show available on Netflix. The story of Daredevil revolves around a child who loses his eyesight due to a chemical spill in an accident.  In addition to losing eyesight, the child also gains some supernatural power to see the world in a unique and powerful way.
This child then grows up and becomes a blind lawyer for the day and a superhero who actually provides justice for nights.
---
6. 13 Reasons Why
13 Reasons Why is another best TV series to watch on Netflix. Created by Brian Yorkey, 13 Reasons Why is a story of a teenage boy and his crush who decides to end up her life due to thirteen reasons.
The boy receives a mysterious box that contains a group of cassette tapes which reveal the reasons why his crush committed suicide.
---
7. Chilling Adventures of Sabrina
Created by Roberto Aguirre-Sacasa, Chilling Adventures of Sabrina is a perfect blend of drama, fantasy, horror, mystery, and thriller genres. This TV series is a story of a 16-year-old witch Sabrina who is forced to choose between her witch life or her friends.
Chilling Adventure Of Sabrina is an interesting TV show and you should definitely add it to your Netflix queue.
---
8. Shameless
The next best TV series to watch on Netflix is Shameless. Consisting of around 8 seasons and 96 episodes Shameless is a story of a Gallagher family and the problems they face due to poverty.
Every episode consists of a series of interesting events and you should definitely add this show to your Netflix queue.
---
9. Arrow
Arrow is one of the best superhero TV series on Netflix. As the name of this popular TV series suggests Arrow is a story of a superhero who hides in a hood and fights against the corruption in his city using his bow and arrows.
Consisting of around 6 seasons, 138 episodes Arrow is full of adventures, thrill, and crime.
---
10. Better Call Saul
If you were scouting for a crime TV show then Better Call Saul might impress you. Created by  Vince Gilligan and Peter Gould, Better Call Saul has an interesting storyline and gorgeous camera work makes the TV show stand out from the crowd.
Better Call Saul is a must watch crime and drama show on Netflix.
Also Read- 10 Best Horror Movies To Watch On Netflix
---
CONCLUSION
So these were the ten best TV shows to watch on Netflix right now. Do share your personal recommendations for the best Netflix TV shows in the comments section below.
---
Bonus Video
---