Scouting for the Best Free Antivirus Software for your Windows PC? This article will help you find them.
One of the major reasons why people prefer using macOS over Windows is its reliable security.
That said, Windows outperforms MacOS in multiple aspects and that's the reason behind 1 billion active Windows 10 users.
To overcome the security flaws of Windows users rely on Antivirus software.
ALSO READ: Best Free Antivirus For Android Smartphones
What Is An Antivirus Software?
Antivirus or Antimalware software is a computer program used to prevent, detect, and remove malware. These computer programs ensure that your PC functions properly and safeguard your personal data against accidental disclosure.
A majority of free Antivirus programs simply get the job done. That said if you run a business or want some additional security features like firewall protection, application control, and detection of insecure Wi-Fi connections then investing in a paid Antivirus software is definitely worthy.
---
Do You Need An Antivirus On Windows 10?
Windows 10 PCs come pre-installed with Windows Defender. Which only has basic features.
While most of the tech-savvy people prefer not to install antiviruses since they know how to avoid any malware/virus threat and that these antiviruses programs even slows down the PC.
The same is not recommended for a non-techie person.
Thus, it is highly recommended to install an antivirus program on your Windows 10 laptop or computer.
So here's a list of some of the best Antivirus software that will safeguard your PC against all sorts of viruses and malware, Phishing, and ransomware attacks.
---
Best Free Antivirus Software For Windows 10
1. Avast
The first free virus protection software on the list is Avast. In addition to phishing and malware protection, Avast also packs a basic password manager, a secure web browser, and a network scanner.
Overall, Avast is a reliable virus protection program and it was also awarded as the Product of the Year 2018 by AV-Comparatives.
As for downsides, Avast consumes a significant amount of system resources.
What stood out
Scan for different viruses on your Wi-Fi network.

Monitors and scrutinizes millions of files within a matter of seconds.

Non-intrusive nature works in the background within interruption unless asking for consent to act on some virus.
What could be better
A lot of features are reserved for premium.

Avast has a history of leaking user data.
---
2. Bitdefender Antivirus Free Edition
The free edition of Bitdefender Antivirus is a perfect choice for a single device. Bitdefender Antivirus checks all the boxes when it comes to basic malware protection. You can definitely upgrade to the paid version to unlock additional features.
Bitdefender Antivirus also protects users from malicious and fraudulent websites. Lastly, Bitdefender Antivirus is fairly simple to install and this antivirus program consumes comparatively fewer resources on your Windows 10 PCs.
What stood out
Supreme firewall security, not letting anything unwarranted get through the Internet.

Minimal interference with other applications on the computer. You can go about your day without worrying about the anti-virus messing up with the legit software.

High-grade protection from virus using the triple-shield, ensuring that zero information is accessible by the programs unless consented to. 
What could be better
Struggles with security when not connected to the Internet for a long time. 

Slower scanning of files and folders, involving several minutes. A full scan of the computer will take several hours. 
Download Bitdefender Antivirus
---
3. AVG AntiVirus
The next reliable Antivirus software on the list is AVG AntiVirus. Similar to Avast, AVG Antivirus provides phishing and malware protection and it's based on the same antivirus protection engine.
Additionally, AVG AntiVirus also packs a free file shredder that helps users to overwrite a file's data before deleting it.
Furthermore, AVG Web TuneUp plug-in provides security while you are browsing the Internet.
What stood out
Free additional utilities to spruce up your computer along with the tightened security.


Advanced email shield protects you from malicious emails containing malware, viruses, and phishing attempts. 

Boot-up scan ensures that no unwanted program or file loads or runs anything that can steal your data or harm the machine.
What could be better
False-positive alerts when the scan is going on. This often disturbs the users for no reason.

Fixing some identified performance issues require you to upgrade to a paid plan.
---
4. Panda Free Antivirus
The next best Antivirus software on the list is Panda Free Antivirus. Panda has a very well-developed UI and it offers reliable anti-phishing protection. Unlike other Antivirus programs on the list, Panda is fairly light and consumes fewer system resources.
USB Protection on Panda helps users to vaccinate their USB drives against unwanted malware.
What stood out
All the viruses are from external sources, primarily through the Internet or USB drives. Panda offers a USB drives scan that ensures no virus or malware reaches your computer.

A gaming mode that ensures maximum resources for video games while the anti-virus runs quietly in the background.
A free PC recovery kit for infected PCs that are not even booting up.
What could be better
The Internet shield is lackluster and not robust in scanning for malicious URLs.

No ransomware protection on the free version or even the cheapest plan.
---
5. Windows Defender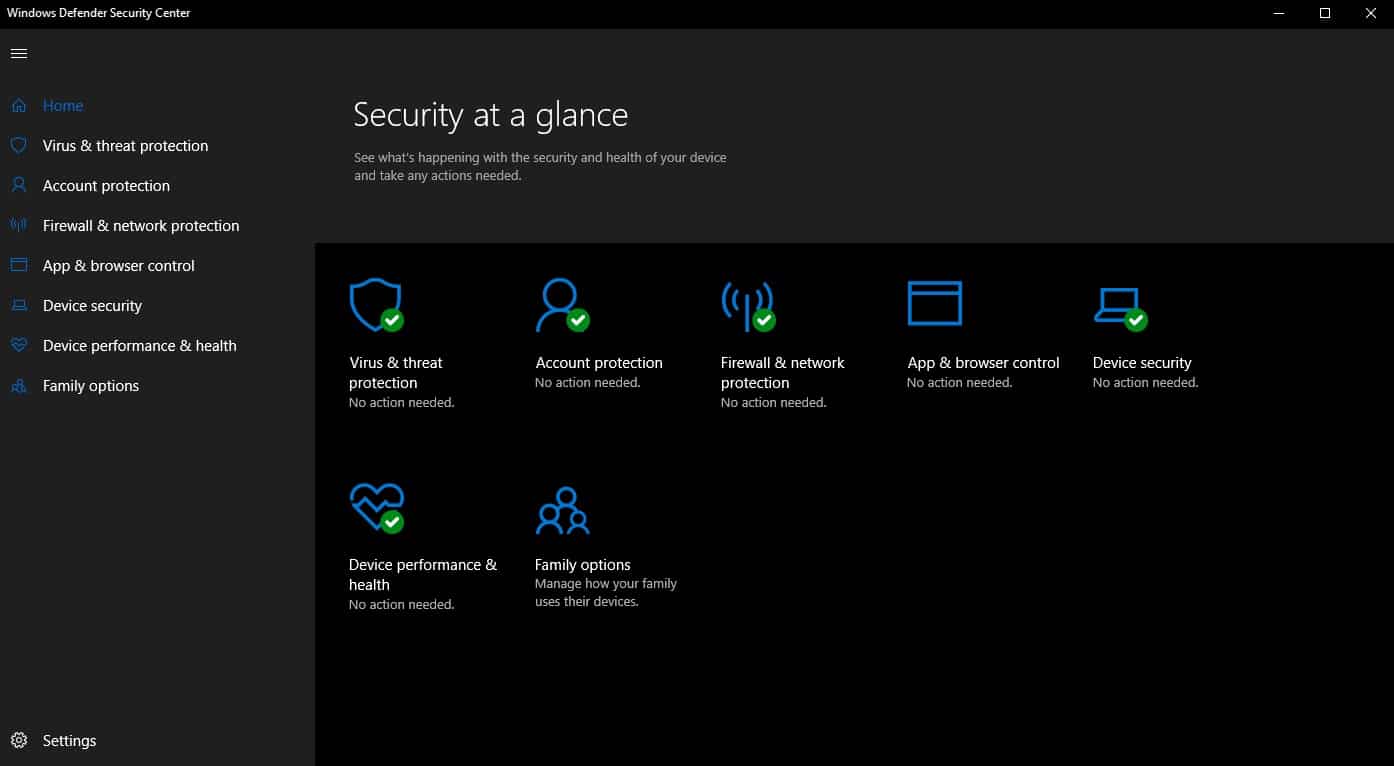 Windows Defender is the next best Antivirus software that comes pre-installed with Windows 10.
If you own a low-powered PC with less storage and fewer system resources then Windows Defender is a perfect choice for you.
Since Windows Defender is integrated with Windows 10 it offers active protection against any virus, malware, or adware on your computer.
Additionally, Windows Defender also tracks the performance and health of your computer. Lastly, Windows Defender consumes almost negligible system resources.
What stood out
Free forever with no paid plan with exclusive features you are missing out on. Get everything that comes through the door through regular updates. 

Real-time protection across emails, files and folders, installation, and more without taking up any extra RAM.

It relies on billions of Hash file records for finding destructive files, programs that may be harmful to your PC. The defender does it without running an active computer scan, thus not straining the available resources.
What could be better
Limited dashboard information to understand what went wrong.

Requires Internet to work in its glory, offering the best security.
Is Windows Defender Enough To Protect My PC?
Windows Defender comes with some of the basic features only and is not recommended if not coupled with some good antiviruses.
ALSO READ: 10 Best Free Skype Alternatives For Windows/Android/iOS
---
6. Kaspersky
Kaspersky is another free Antivirus provider for Windows 10. In addition to malware and virus protection, Kaspersky also blocks malicious URLs. The free version of Kaspersky scan and database update which are enough to safeguard your PC.
While the paid variant of Kaspersky offers additional features like safe money, privacy protection, parental control, and protection for all devices.
As for downsides, Kaspersky consumes a significant amount of system resources for providing real-time security.
What stood out
Effective ransomware protection does not let anything through for any number of reasons. 

Adaptive security understands your activity and calibrates itself to provide optimal protection. 

Kaspersky does exceptionally well in phishing protection, which is the need of the hour. Email providers generally have an anti-phishing measure in place, but sometimes few slip through. 
What could be better
Lack of direct tech support is a real thorn on the path. When you run into trouble, it will take mails and support tickets to get the issue looked at.

The 

Security Center

 is very hectic and cumbersome for beginners. It sports a broader learning curve.
---
7.  Comodo Antivirus 
The next best Antivirus software on the list is Comodo Antivirus. Advanced features like auto-sandboxing technology, the default deny protection, cloud-based behavior analysis, and cloud-based whitelisting help Comodo to stand out from the crowd.
Furthermore, Comodo offers a very well-developed UI that enhances the overall user experience.
As for downsides, Comodo doesn't offer Web-based protection. Consequently, you are not secure against malicious URLs.
What stood out
Military-grade auto-sandbox technology that helps provide protection when opening an unknown or untrusted file or folder from a third party. 

Cloud-based anti-virus, freeing up all your computer resources and relying on its servers for scanning files and then sending back the instructions for protecting your machine. 

An effortless user interface can be used by people of any age group or expertise. The intuitiveness helps in understanding the process at hand, and you can just peruse it periodically, letting it take care of the complete protection part.
What could be better
Being a cloud-based anti-virus, you need Internet turned on at all times for ensuring protection. If it goes dark with the network, you will leave to fend for yourself.

The apps, programs, and folders whitelisting process are not easy here. You will need to spend some time figuring it out in the proper sequence. 
---
8. Avira Antivirus
Avira Antivirus is the next best Antivirus software for windows 10. This popular Antivirus program provides real-time protection against malware and phishing attacks.
In addition to Antivirus, Avira also offers a host of additional features like Avira Connect, Phantom VPN, Avira Scout, and Avira Software Updater.
As for downsides, Avira Antivirus provides web-based security only on Google Chrome and Firefox web-browser.
What stood out
The Internet is filled with trackers monitoring your every move and collecting data. This stops with Avira, which offers a dependable tracker blocker. 

One of the highest-rated anti-virus benchmarks in the world. Avira offers top-notch performance in virus detection without hogging your computing power.

Free Phantom VPN is integrated on the anti-virus, which you can use to go anonymous and protect your online data. You get 500 MB/month for free data that feels enough to get started.
What could be better
The overall user interface and feel of the anti-virus app feel dated. An overhaul could turn things around in the visual experience department.

Their browser protection measures can use an upgrade by including features offered by the competitors.
---
9. Malwarebytes
Malwarebytes is a lightweight Anti-Ransomware program that detects and removes malware, ransomware from your computer based on its activity.
Unlike other Antivirus programs on the list, Malwarebytes consumes fairly fewer system resources.
As for downsides, Malwarebytes doesn't offer additional features like password manager or protection against malicious URLs it only provides protection against ransomware.
What stood out
Brute force protection keeps the network secure from hackers and snoopers who are always on the look for compromising a computer for nefarious motives. 

The New Katana engine reduces scan time and increases the threat detection rate. It also informs about the kind of threat, with a link for more information on virus/malware/adware.

A robust browser guard prevents the user from visiting high-risk and malicious sites. 
What could be better
Very limited scanning capabilities in the free version. The results are not that elaborate either.

Offers only yearly subscriptions instead of one-time purchases like earlier.
---
10. Adaware Antivirus Free
The last best free Antivirus software on the list is Adaware Antivirus Free. Adaware has a clean and simple UI and the Antivirus program consume a significant amount of time during initial scans.
Sadly, Adaware doesn't provide protection against malicious URLs and fraudulent websites.
What stood out
Adaware scans all your downloads for potential threats and ensures that the computer stays squeaky clean, sans any risk.

Install multiple anti-viruses, and you won't notice a thing as it works in unison with other security programs. We tried it with Windows Defender enabled, and there was no hiccup or slowing down.

It works surprisingly well on older computers with 2 GB or less RAM. Install it freely on the older systems that need anti-virus protection.
What could be better
Customer support is available only for paying customers. If you encounter an issue, be prepared to spend a prolonged time on Google. 

Lack of publically available lab test results on its effectiveness and detection rate.
Download Adaware Antivirus Free
---
FAQ
Which one is the best free antivirus?
Avast is considered to be one of the best free antiviruses. You can find more free antivirus from the list provided above.
Is Avast good antivirus?
Avast is widely used in the free antivirus category and provides fairly good protection.
Is Avast free really free?
Yes, Avast provides free antivirus protection. However, previously it has come under backlash for sharing user data with other companies.
Should I use free Antivirus?
You can use a free antivirus depending upon your browsing habits and understanding of how you can get infected. If you don't have much knowledge about malware, viruses and how you can get infected. it is better to go for paid antivirus protection.
---
CONCLUSION
So these were some of the best Antivirus programs that will safeguard your PC against malware, ransomware, and phishing attacks.
You can try any of the programs from the above-mentioned list and use the one that suits your needs.
Do share any of your personal recommendations for the best Antivirus software in the comments section below.