Scouting for the Best Free Antivirus Software in 2021 for your Windows PC? This article will help you find them.
One of the major reasons why people prefer using macOS over Windows is its reliable security. That said, Windows outperforms MacOS in multiple aspects and that's the reason behind 1 billion active Windows 10 users.
To overcome the security flaws of Windows users rely on Antivirus software.
ALSO READ: Best Free Antivirus For Android Smartphones
What Is An Antivirus Software?
Antivirus or Antimalware software is a computer program used to prevent, detect, and remove malware. These computer programs ensure that your PC functions properly and safeguard your personal data against accidental disclosure.
A majority of free Antivirus programs simply get the job done. That said if you run a business or want some additional security features like firewall protection, application control, and detection of insecure Wi-Fi connections then investing in a paid Antivirus software is definitely worthy.
---
Do You Need An Antivirus On Windows 10?
Windows 10 PCs come pre-installed with Windows Defender. Which only has basic features.
While most of the tech-savvy people prefer not to install antiviruses since they know how to avoid any malware/virus threat and that these antiviruses even slows down the PC.
The same is not recommended for a non-techie person.
Thus, it is highly recommended to install an antivirus program on your Windows 10 laptop or computer.
So here's a list of some of the best Antivirus software that will safeguard your PC against all sorts of viruses and malware.
---
Best Free Antivirus Software For Windows 10
1. Avast
The first free virus protection software on the list is Avast. In addition to phishing and malware protection, Avast also packs a basic password manager, a secure web browser, and a network scanner.
Overall, Avast is a reliable virus protection program and it was also awarded as the Product of the Year 2018 by AV-Comparatives.
As for downsides, Avast consumes a significant amount of system resources.
---
2. Bitdefender Antivirus Free Edition
The free edition of Bitdefender Antivirus is a perfect choice for a single device. Bitdefender Antivirus checks all the boxes when it comes to basic malware protection. You can definitely upgrade to the paid version to unlock additional features.
Bitdefender Antivirus also protects users from malicious and fraudulent websites. Lastly, Bitdefender Antivirus is fairly simple to install and this antivirus program consumes comparatively fewer resources on your Windows 10 PCs.
Download Bitdefender Antivirus
---
3. AVG AntiVirus
The next reliable Antivirus software on the list is AVG AntiVirus. Similar to Avast, AVG Antivirus provides phishing and malware protection and it's based on the same antivirus protection engine.
Additionally, AVG AntiVirus also packs a free file shredder that helps users to overwrite a file's data before deleting it.
Furthermore, AVG Web TuneUp plug-in provides security while you are browsing the Internet.
---
4. Panda Free Antivirus
The next best Antivirus software on the list is Panda Free Antivirus. Panda has a very well-developed UI and it offers reliable anti-phishing protection. Unlike other Antivirus programs on the list, Panda is fairly light and consumes fewer system resources.
USB Protection on Panda helps users to vaccinate their USB drives against unwanted malware.
Overall, Panda Free Antivirus is a good Antivirus software and it simply gets the job done.
---
5. Windows Defender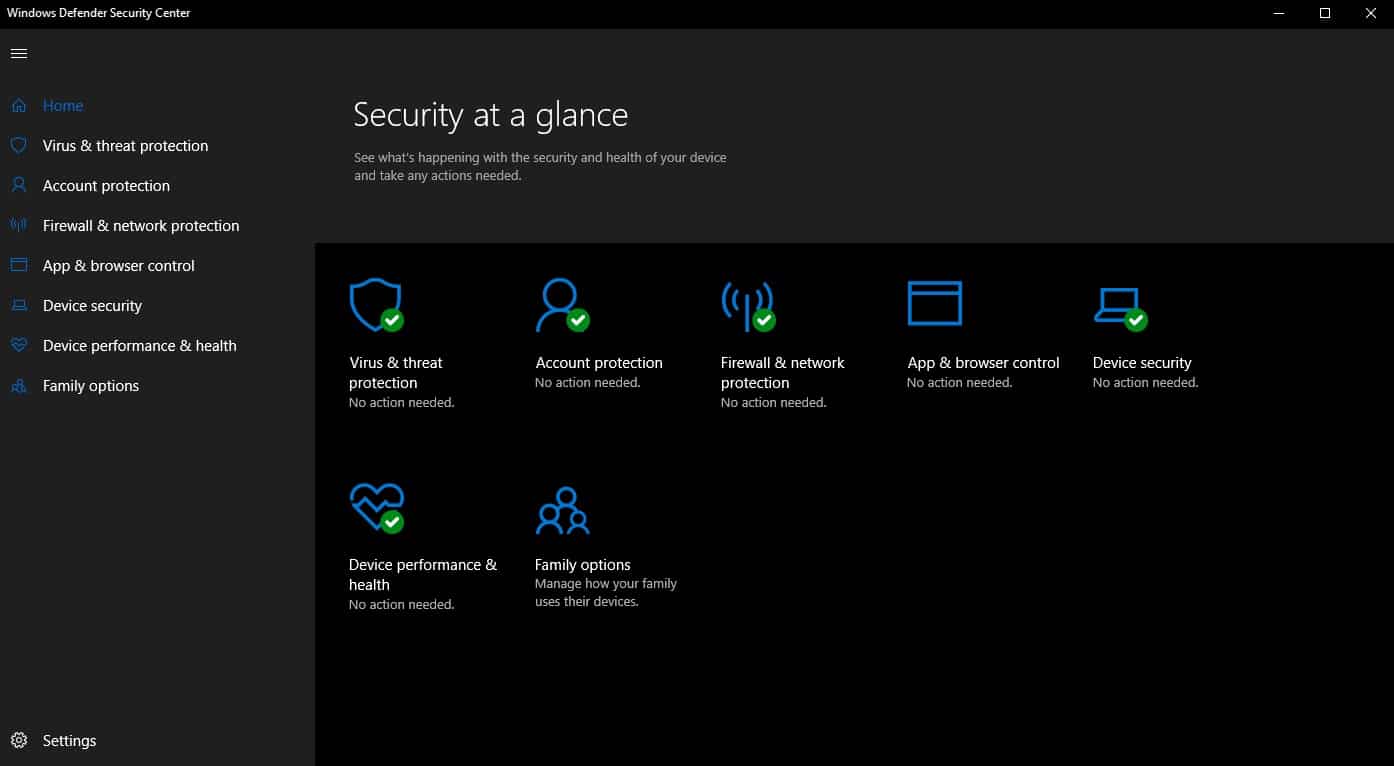 Windows Defender is the next best Antivirus software that comes pre-installed with Windows 10.
Well, if you own a low-powered PC with less storage and fewer system resources then Windows Defender is a perfect choice for you.
Since Windows Defender is integrated with Windows 10 it offers active protection against any malware on your computer.
Additionally, Windows Defender also tracks the performance and health of your computer. Lastly, Windows Defender consumes almost negligible system resources.
Is Windows Defender Enough To Protect My PC?
Windows Defender comes with some of the basic features only and is not recommended if not coupled with some good antiviruses.
ALSO READ: 10 Best Free Skype Alternatives For Windows/Android/iOS
---
6. Kaspersky
Kaspersky is another free Antivirus provider for Windows 10. In addition to malware and virus protection, Kaspersky also blocks malicious URLs. The free version of Kaspersky scan and database update which are enough to safeguard your PC.
While the paid variant of Kaspersky offers additional features like safe money, privacy protection, parental control, and protection for all devices.
As for downsides, Kaspersky consumes a significant amount of system resources for providing real-time security.
---
7. Comodo Antivirus
The next best Antivirus software on the list is Comodo Antivirus. Advanced features like auto-sandboxing technology, the default deny protection, cloud-based behavior analysis, and cloud-based whitelisting help Comodo to stand out from the crowd.
Furthermore, Comodo offers a very well-developed UI that enhances the overall user experience.
As for downsides, Comodo doesn't offer Web-based protection. Consequently, you are not secure against malicious URLs.
---
8. Avira Antivirus
Avira Antivirus is the next best Antivirus software for windows 10. This popular Antivirus program provides real-time protection against malware and phishing attacks.
In addition to Antivirus, Avira also offers a host of additional features like Avira Connect, Phantom VPN, Avira Scout, and Avira Software Updater.
As for downsides, Avira Antivirus provides web-based security only on Google Chrome and Firefox web-browser.
---
9. Malwarebytes
Malwarebytes is a lightweight Anti-Ransomware program that detects and removes malware, ransomware from your computer based on its activity.
Unlike other Antivirus programs on the list, Malwarebytes consumes fairly fewer system resources.
As for downsides, Malwarebytes doesn't offer additional features like password manager or protection against malicious URLs it only provides protection against ransomware.
---
10. Adaware Antivirus Free
The last best Antivirus software on the list is Adaware Antivirus Free. Adaware has a clean and simple UI and the Antivirus program consume a significant amount of time during initial scans.
Sadly, Adaware doesn't provide protection against malicious URLs and fraudulent websites.
Download Adaware Antivirus Free
---
FAQ
Which one is the best free antivirus?
Avast is considered to be one of the best free antiviruses. You can find more free antivirus from the list provided above.
Is Avast good antivirus?
Avast is widely used in the free antivirus category and provides fairly good protection.
Is Avast free really free?
Yes, Avast provides free antivirus protection. However, previously it has come under backlash for sharing user data with other companies.
Should I use free Antivirus?
You can use a free antivirus depending upon your browsing habits and understanding of how you can get infected. If you don't have much knowledge about malware, viruses and how you can get infected. it is better to go for paid antivirus protection.
---
CONCLUSION
So these were some of the best Antivirus programs that will safeguard your PC against malware, ransomware, and phishing attacks.
You can try any of the programs from the above-mentioned list and use the one that suits your needs.
Do share any of your personal recommendations for the best Antivirus software in the comments section below.