Computing has transcended from Desktop to Mobile computer for everyday purposes. The mobile OS ecosystem has matured over the last decade.
Smartphones have become a pocket-sized computer that is used for a plethora of purposes besides the good old way to communicate.
We use it every day for all sorts of purposes, and therefore store a significant amount of sensitive data including our private photos, videos, chats, messages, bank details and even personal data of our friends and family in form of their email address, phone numbers, photos on our smartphones.
This has led to the growth of viruses, trojans, malware, etc. as well, which keeps looking to extract data or hack into our smartphones.
Therefore it is necessary to have an extra layer of protection in the form of an antivirus which can protect from those unwanted popups on-screen and ads that appear out of nowhere.
Do I need an Antivirus for Android?
Smartphone security and privacy concerns have been growing ever since the start of this decade. Therefore, it has become increasingly essential to protect your data from the ever-increasing threats of viruses and malware.
This has also resulted in an outpouring of several kinds of mobile malware, which has forced Google to tighten its noose of the Playstore. There have been reports of antiviruses being fake which have further eroded confidence among the tech-savvy about the need for antivirus software.

Android does not need an antivirus provided if you keep a watch permissions granted to the installed apps and exclusively use the Playstore for installing new apps. 
Google Playstore's Play Protect was launched and integrated into the store to monitor apps on the platform in real-time. The app-protection removes any app with confirmed malicious activities/mobile malware presence from the Playstore as well from the smartphones having a copy installed.
On the other hand, if you are installing an app from outside the Playstore, then there is an urgent need for scanning these apps for the presence of hidden malicious code or suspicious activity.
Some leading smartphone makers such as Xiaomi, Oppo offer antivirus on their operating system software, which is based on Android OS. 
10 of the Best Free Antivirus for Android Smartphones
1. Norton Mobile Security
Norton, a well-known name in the computer antivirus segment for almost two decades, has dived into the smartphone security segment as well. Application is available for both Android and iOS operating systems. Setting up the process after the initial installation from the Playstore is reasonably easy and simple.
Features to look out for:
WiFI scanning for network tampering
Call-blocking
Internet pages and Link scanning
Malware scanning in Norton with virtually no false-positive detections as I tried my hands on it, and certified by anti-virus agencies like av-comparatives.
WiFi-network scanning provides an extra layer of security. Often we use public WiFi when away from home, in areas where the mobile internet reception is underwhelming. WiFI scanning looks out for DNS spoofing, encryption tampering, etc. to ensure a secure connection and prevent hackers from unauthorized access to your smartphone. 
Phone Resource hogging is a key concern for low-end smartphone users. Anti-virus are on a constant lookout for any malicious files, folders so it is frequently scanning the phones. Norton uses up additional sources than it usually should and often results in the slowing of lower-end segment phones. Therefore, it is not recommended for low-end smartphones with low-power specifications.
Account – Optional
Type -Free(Adware)/Paid(Premium features)
Android Version – 4.1 and up
Download Norton Mobile Security
---
2. BitDefender
BitDefender is a veteran in the anti-virus software segment and cybersecurity, just like Norton. After installing BitDefender, it prompts for signing into an account. First-time users can register and create an account. There is no way to bypass and/or skip logging in, unlike Norton
Features to look out for:
App lock with numeric pin
In-built VPN
Internet pages and Link scanning
Apps can be locked through the App Lock feature. Apps can be locked with 4-8 characters numeric-pin which is applicable across all the locked apps. App lock can be set to be automatically disabled when connected to a user set trusted WiFi.
In-built VPN(Virtual Private Network) can be used for secure Internet usage over an untrusted Internet outlet. The VPN has 200 MB of quota data unless you buy a yearly VPN subscription that costs around $30 annually. 
Account – Mandatory
Type – Paid(14 days free trial available)
Android Version – 4.1 and up
---
3. Avast Security
Avast mobile antivirus is one of the best free antiviruses for Android smartphones. It comes in two versions. One is free with a block-shaped ad in the app. The adware version has WiFI-protection, RAM booster, etc.
The other is premium, offering features like VPN, App Locking, etc.
Features to look out for:
Photo-vault
Storage analyzer
Phone Performance booster(RAM saver)
Photo-vault features enable users to store private photos that would not like to share with others. The battery power saving option is also available, which has become a default feature in the majority of Android smartphones. 
Another exciting feature is Clipboard scanning. It is a unique feature that is not available on many mobile antivirus software. The clipboard is the temporary storage where your copied text, links, etc. are stored until pasted in another place. Sometimes malwares use it to paste harmful links or execute malicious code through the clipboard.
While the likes of BitDefender are providing App Lock in the freemium version, Avast is offering the same in their paid version, which doesn't seem to make sense in the highly competitive mobile security segment.
Account – Not needed
Type – Adware/Paid(Premium features)
Android Version – 5.0 and up
Download Avast Mobile Security
---
4. AVG security
AVG Mobile Antivirus by AVG technologies is one of the highest-rated antiviruses for Android. The user interface is similar to Avast, and so are the features. They offer WiFI scanning with automatic mode, photos vault, anti-theft in the free version of the antivirus.
Features to look out for:
Call blocker
Deep Junk cleaner(with add-on app)
Advanced anti-theft for all users
The premium version offers the removal of ads, app locking, and dedicated VPN protection. Add-on app is AVG Secure VPN works for the premium users and can work without the need of the AVG antivirus app, by logging into the subscription account. 
Account – Not needed
Type – Adware/Paid(Premium features)
Android Version – 5.0 and up
---
5. Dfndr Security by PSafe
Dfndr security by PSafe is an underdog in the smartphone antivirus segment. Just like Avast, it is a jack of all trades for free users as well while offering additional features that are not offered by other mobile antivirus suites.
Features to look out for:
Gaming Performance booster
Anti-hacking
Files Vault
In addition to antivirus scanning, Dfndr offers an in-built junk cleaner which frees up storage for other purposes.
A unique feature is for the mobile gamers who play resource-intensive games like PUBG Mobile, Call of Duty: Mobile, Fortnite on their smartphones. Medium and low-end phones often experience a lag in their gameplay due to various underlying reasons. The gaming experience can be enhanced by using the Gaming Booster feature, thus reducing lag.
CPU Cooldown feature works on cooling down the smartphone in hot climates or heat up due to excessive usage of resources in the background. 
The biggest downside I felt was the intrusive ads that were present in every window and home feed.
Account – Not needed
Type – Adware/Paid(Premium features)
Android Version – 5.0 and up
---
6. Dr. Capsule by ESTsoft corp
Dr. Capsule is a free antivirus for Android smartphones running on Android 4.4 and above. It contains ads that keep their wagon running. Their app has one banner ad which can be found in almost every tab.
Features to look out for:
SMiShing detection
Apps and Files manager
Optimize mode
Apart from real-time protection and schedule virus scanning, the mobile security app offers WiFI security management, app lock, junk cleaner, battery saver, among other things.
One of the most notable features that stands out is the Optimized mode, which offers Hyper charger, which reduces smartphone charging time with several tweaks. Sleep mode is also offered under the optimized option, which alters WiFi status, background app processes, screen brightness, sound, etc. as set by the user. 
The antivirus is entirely free and does not charge a dime for providing a variety of mobile security features.
The antivirus is completely free and does not charge a dime for providing a variety of mobile security features.
Account – No
Type – Adware; Free
Android Version – 4.4 and up
---
7. McAfee Mobile security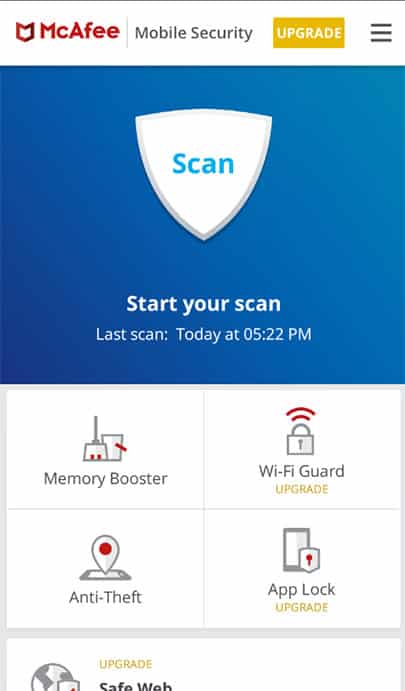 McAfee mobile security offers heavy-duty scanning backed by a humongous virus definition database. Apart from real-time scanning and full-device scanning, the antivirus app also offers accurate Anti-theft, which offers options like locking the phone when in airplane mode, wiping data, and locating the last known location of the phone with the Internet connectivity. It also can send an S.O.S. message before the battery dies out.
Features to look out for:
Advanced Anti-theft protection
Easy-to-use interface
Battery booster
The premium version has a Guest Mode, which creates a custom phone interface with the apps which you want to show to a person with whom you are sharing the phone. Other apps are hidden, and payments are blocked in the Guest mode. It comes handy when giving the phone to a minor or someone whom you don't trust for a short time out of necessity. 
On a concluding note for McAfee, there is room for the inclusion of some features like app lock and introduction of photo-vault, which is offered by its rival in their free version.
Account – No
Type – Adware/Premium
Android Version – 4.2 and up
Download McAfee Mobile Security
---
8. Avira Antivirus Security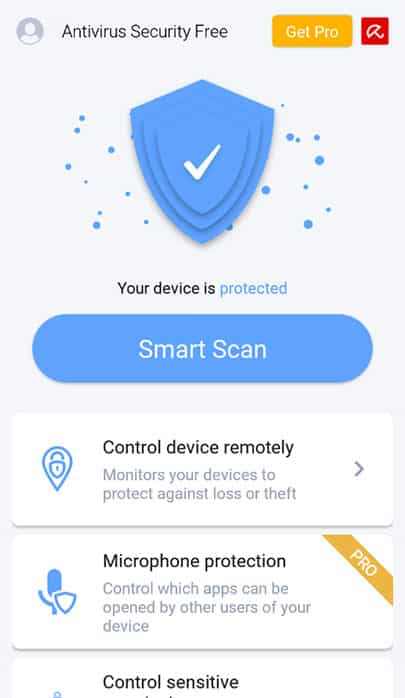 Avira is a well-known name in the cyber-security and computer anti-virus solutions. The focus of this security app is on the management of permissions granted to various apps and their suspicious activities. 
Features to look out for:
Apps permission management
Camera and Microphone unauthorized access protection
Map based device tracking
The phone has a unique in-app device tracking for the connected devices with the account. An account can be created for Anti-theft tracking with an existing Google, Facebook account, therefore eliminating the need for filling up a long and mundane registration form.
App lock is offered on both versions of the app. App locksets up with first-time pin input, followed by an app list for locking the app. 
Camera and Microphone protection prevents apps from using a camera and microphone without the appropriate permission from the user. 
Account – Optional
Type – Adware/Premium
Android Version – 5.0 and up
---
9. Sophos Intercept X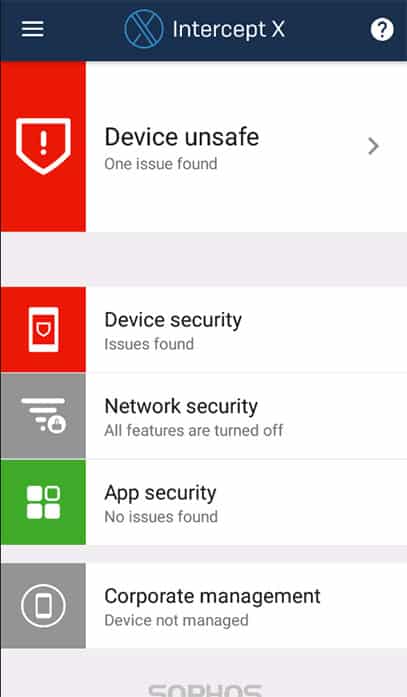 Intercept X is another neat free antivirus for android smartphones. It does not show any ads, nor ask for payment for providing those extra features like other mobile security apps. 
Features to look out for:
Password vault
Secure QR code scanner
Multi-factor account authenticator
A separate app by the name Security and Antivirus needs to be installed from the Playstore as well for the virus detection to work correctly.
Web filtering protects against spyware, spam URLs, phishing, and other categories of flagged content which needs to be set from the filtering menu.
Link checker acts as an added layer of security for dealing with malicious links. Whenever the user taps on a link, Intercept X scans it for any flags by other users or general suspicious behavior.
Account – No
Type – Freemium
Android Version – 5.0 and up
---
10.  AVL Pro
AVL Pro is a rather unknown yet an antivirus with the potential, which is why it is included in our list. It has a thorough scanning procedure, which takes a while to scan the entirety of your smartphone. The interface is the easiest to use as compared to the antivirus apps mentioned above.
Features to look out for:
Task Manager for apps
System file protection
App analyzer
System file protection is a crucial feature for protecting the software integrity of a smartphone. Spyware, Trojans often attack the Operating system files that affect the primary functioning of a smartphone. Therefore, it is necessary to protect the system files of a phone from any third-party intrusion.
Task Manager for apps shows the app's statistics in terms of battery usage, RAM usage, etc. which helps in analyzing the effect of individual apps on the performance of the phone. The task manager can be downloaded from the server by tapping on the enable button. 
Account – No
Type – Free
Android Version – 5.0 and up
---
There are several thousand antivirus apps available on Internet but it all boils down to your individual preference to decide on the best free antivirus for your Android smartphone.
Also Read-
Let us know know your preferred antivirus for mobile