Undoubtedly, Smartphones have completely changed the gaming industry. Gone are the days when people relied on gaming consoles for playing 2D titles.
Now almost everyone has smartphones in their hands with the majority of them being Android smartphones.
Smartphone games nowadays have improved a lot with high graphics and user experience, gaming on smartphone feels similar to that on PC or any other gaming consoles. Users have started playing more and more games on their smartphones these days.
Well, if you have been scouting for some of the best and free Android games then this article might help you.
Top 12 Best Free Android Games That You Must Play
ALSO READ: The Best Free Android Apps
1. Dead Trigger 2
The first best Android game on the list is Dead Trigger 2. This zombie survival FPS game offers visually impressive graphics, reliable controls, excellent gameplay, and an extensive collection of missions. Dead Trigger 2 has around ten regions and 33 different war battlefields.
Furthermore, the game has around 50 types of weapons that will help you to fight against zombies. You can enjoy more than 600 gameplay war scenarios which include Solo Campaign, Global Mission and Side Quests. Overall, Dead Trigger 2 is an amazing FPS game and its full of action.
---
2. Asphalt 9
The next best Android game on the list is Asphalt 9. Well, Asphalt 9 is the sequel of the immensely popular racing game Asphalt 8. The entire Asphalt franchise is praised for stunning visuals and Asphalt 9 is no exception.
Asphalt 9 has an extensive collection of cars from renowned car manufacturers like Ferrari, Porsche, Lamborghini, and W Motors. You can drive and experience these cars in spectacular locations. Asphalt 9 offers around 60 seasons and 800 events. Asphalt 9 is possibly the best racing game for Android and iOS smartphones.
---
3. PUBG Mobile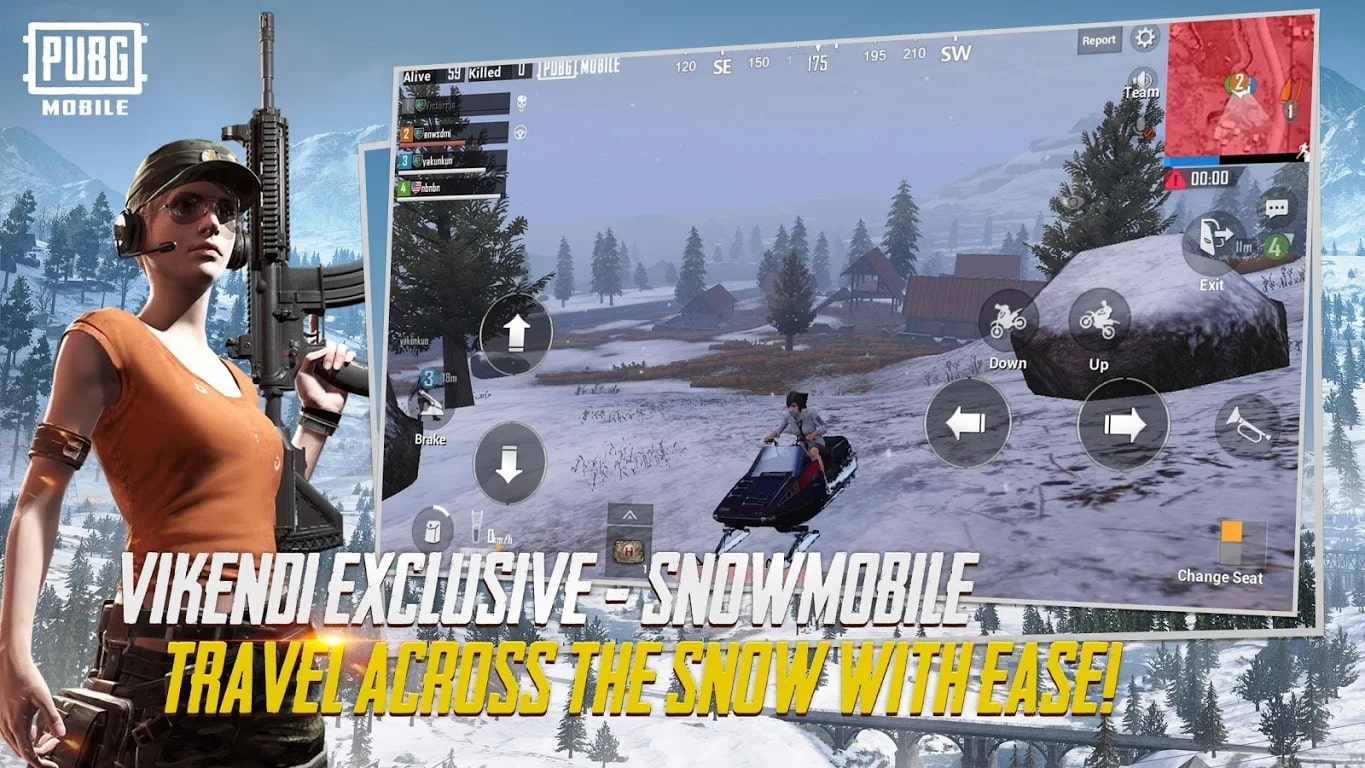 If you are reading this article, chances are you already play this immensely popular Battle Royale game. PUBG Mobile is possibly the most popular Android smartphone game of all time.
Around 100 players parachute onto a remote 8×8 km island and compete with each by locating and collecting their own weapons, vehicles, and supplies.
Using the powerful Unreal Engine 4, Tencent Games have done an excellent job in the graphics department and HD audio coupled with immersive 3D sound effects can be considered as the icing on the cake. Overall, PUBG Mobile is a great multiplayer game.
---
4. Gangstar New Orleans
Gangstar New Orleans is an excellent open-world smartphone game. The game is set in the fascinating city of New Orleans and triple-A quality graphics enrich the overall gaming experience.
Similar to any other open-world game you are free to explore the city and complete missions on the way. Gangstar New Orleans consists of fights between gangsters. You have to defend your gang from rival crime gangs and expand your gang at the same time.
Gangstar New Orleans has hundreds of vehicles and explosive action fights make the game even more interesting.
---
5. ARK: Survival Evolved
As the name of this game suggests, ARK: Survival Evolved is a survival game that has around 80+ unique dinosaurs and primal creatures. You have to capture and tame these creatures and survive in the Jurassic-era world.
You start the game all alone & unarmed and proceed further by gaining resources and experience. It is worth noting that, ARK: Survival Evolved is also available for gaming consoles and PC. Overall, ARK: Survival Evolved is an interesting game and it's worth playing.
Download ARK: Survival Evolved
---
6. Mortal Combat X
If you prefer playing fighting games then Mortal Combat X might impress you. Mortal Combat X offers stunning graphics accompanied with detailed animations. The fights are very detailed and at times, it seems as if you are playing a triple-A title.
You have to create your own team of Mortal Kombat fighters and in the process, you will earn experience and learn new special attacks. Mortal Combat X also allows users to customize their characters. Mortal Combat X is a great fighting and card collection game.
---
7. Call Of Duty: Mobile
The next best Android game on the list is Call Of Duty: Mobile. Well, CODM is developed by Tencent Games and even after being a smartphone title CODM offers AAA quality graphics. You can play matches in some of the most iconic multiplayer maps of COD.
Similar to PUBG Call Of Duty: Mobile offers 100 player Battle Royale matches. Additionally, you can also play 5v5 team deathmatches. CODM offers breathtaking graphics accompanied with realistic effects and stunning environments.
As you progress you will unlock many famous characters, weapons, and outfits. Overall, Call Of Duty: Mobile is an addictive smartphone game and you will definitely like it.
---
8. Injustice 2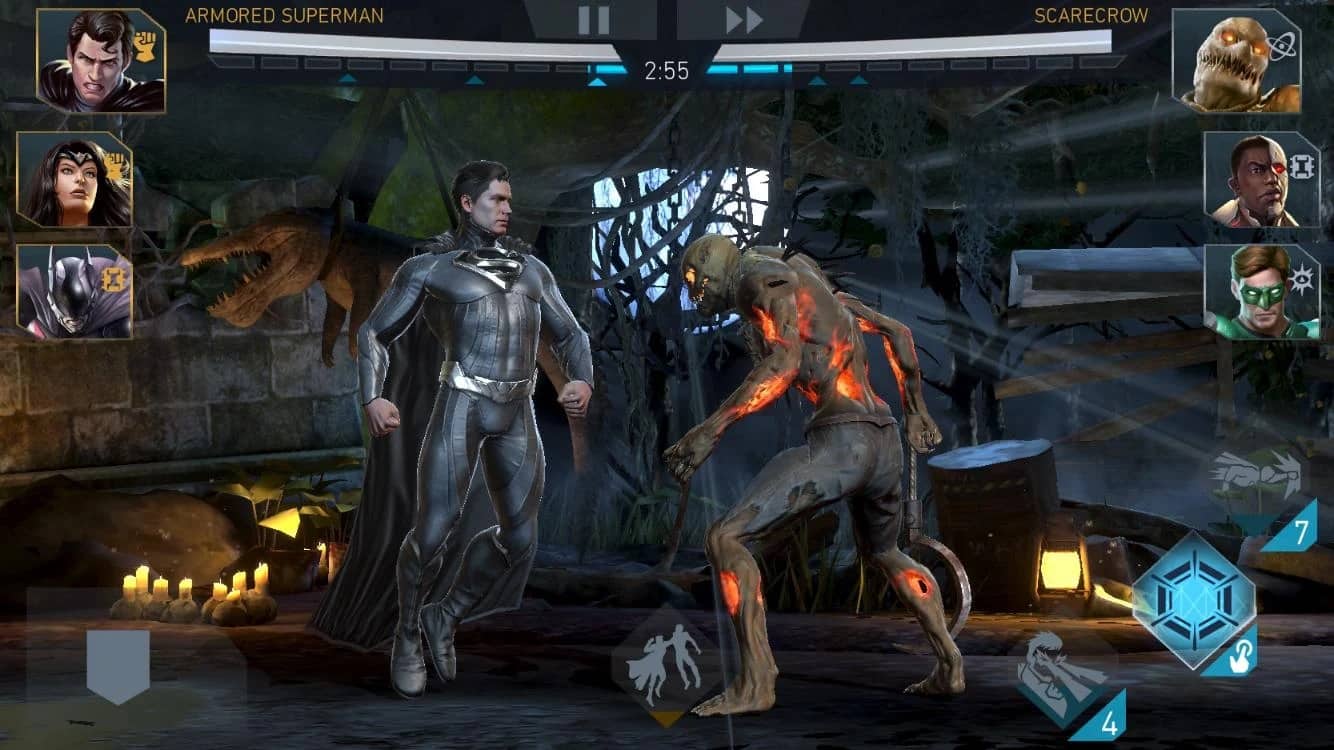 Injustice 2 is another popular fighting game that offers console-quality graphics and storyline. You can fight with your favorite DC Super Heroes & Villains in dynamic 3-on-3 battles.
Epic combos like Superman's heat vision, The Flash's lightning kick, Harley Quinn's cupcake bomb takes the fighting experience to a new horizon. The game proceeds by collecting gears and playing PvP contests. You can also team up with your friends and assemble a league.
---
9. Free Fire
Free Fire is possibly the best PUBG alternative. This popular battle royale game consumes comparatively fewer resources and storage. Similar to PUBG, you are landed on a remote island where you fight against 49 other players and survive to be the last man alive.
Free Fire has a decent selection of weapons and vehicles. Lastly, the gameplay is completely lag-free and graphics are impressive as well.
---
10. Brawl Stars
The next best Android game on the list is Brawl Stars. This game is released by Supercell, the makers of immensely popular multiplayer games like Clash Of Clans and Clash Royale.
You can compete and play battles with friends or solo across a variety of game modes like Gem Grab, Showdown, Bounty, Heist, Brawl Ball, and special events in three minutes matches. As you proceed you have to unlock and upgrade dozens of Brawlers with improved skills and abilities.
---
11. Alto's Odyssey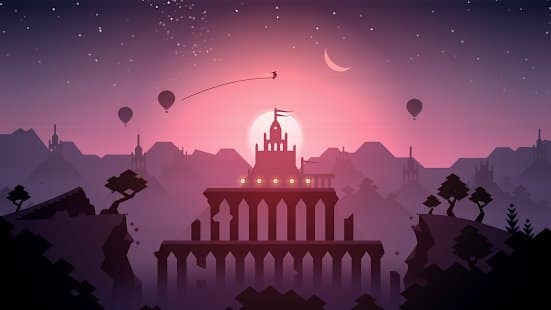 Alto's Odyssey is another impressive Android game. Similar to its predecessor (Alto's Adventure), Alto's Odyssey is also focused on relaxing the players. This 2D title features visually impressive graphics, smooth controls, relaxing music, and sound effects.
In addition to the typical mission-based gameplay, Alto's Odyssey also has a Zen Mode in which you can explore the majestic desert without worrying about scores, coins, and power-ups. You can unlock six unique characters in this game by completing 180 goals of this game.
---
12. Shadow Fight 3
The last best game for Android on the list is ideal for anyone who has been scouting for a good fighting game.
Well, the third iteration of the popular Shadow Fight brings massive improvements in the graphics department and the fighting moves also feel more streamlined. Shadow Fight 3 features an engaging storyline. This fighting game for Android allows users to customize the looks and weapons of their fighter.
Overall, Shadow Fight 3 is an addictive Android game and you should definitely check it out.
ALSO READ: Best Roblox Games To Play
BONUS VIDEO
---
Also read- 15 Best Online Games For PC
What Are The Best Free Android Games?
Some of the best free Android games are Asphalt 9, Call Of Duty: Mobile, Shadow Fight 3, PUBG Mobile, and Brawl Stars.
---
CONCLUSION
So these were some of the best and free Android games that are worth checking out. Do share your personal recommendations for the best Android games in the comments section below.