PlayerUnknown's battleground, nicknamed PUBG gained popularity in late 2017 with around 5 million active players and over 25 million copies being sold worldwide then.
Fast Forward to 2018, owing to its popularity, PUBG mobile, a portable device version was released in China. Since then the Android and iOS gaming segment has been flooded with similar PvP(Player vs Player) survival games.
Games like PUBG Mobile and BGMI have tasted a fair amount of success, owing to two key reasons.
Battle Royale, is a genre of game that consists of survival and exploration niche of gaming with the last man standing. Its origin can be traced back to ARMA and Minecraft, where its first mods sprouted, owing to The Hunger Game's movie popularity.
PUBG Mobile was banned by the Indian government alongside several Chinese smartphone applications. However, it was relaunched as Battlegrounds Mobile India.
BGMI was also banned in India and you may also be looking for an alternative to BGMI. This list will also help you find games like BGMI mobile.
If you are one of our readers from India then these PUBG Mobile alternatives will definitely keep you engaged.
---
Best Games Like PUBG Mobile For Android & iOS
1. Free Fire
It is published by Garena, a gaming platform giant in Asia. Since 2009, they have been publishing games in different genres.
This Battle Royale game is played against 49 players in a 10-minute game, which is ideal for a quick game. Short-duration games are good for players who don't like camping, which is disliked by many aggressive players.
What I liked


– Presence of vehicles for easy movement across the map
– Easy weapon drops. Weapons are easy to find on the map, unlike other games.

What I did not like 


– Shooting crosshair movement. The game is in development so we should give them leeway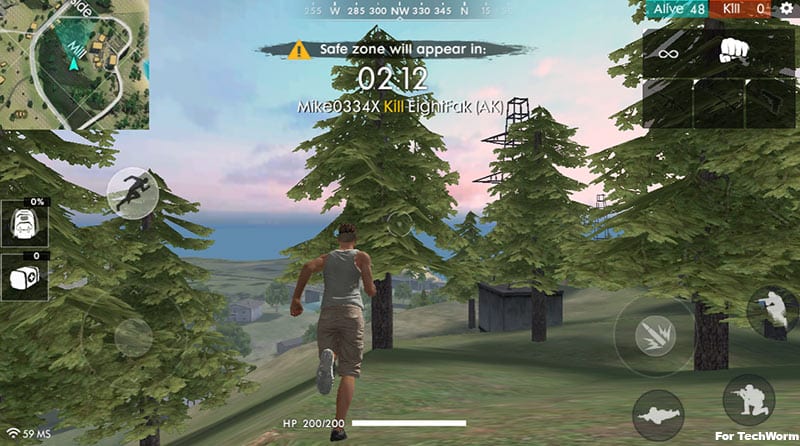 Free Fire is a game like PUBG Mobile with same the kind of gameplay and open-world aesthetics. Matchmaking is pretty swift and took me around 10-12 seconds to get a match.
You get dropped from the sky with a parachute and have the option to swerve in your own direction to land. Squad size can be as big as 4 players.
The thing that will keep me engaged in this game is their "Death Race"  mode. The mode where 2-player team squads on a vehicle, collective powerful boosters for survival before their opponents get to them.
---
2. PUBG: New State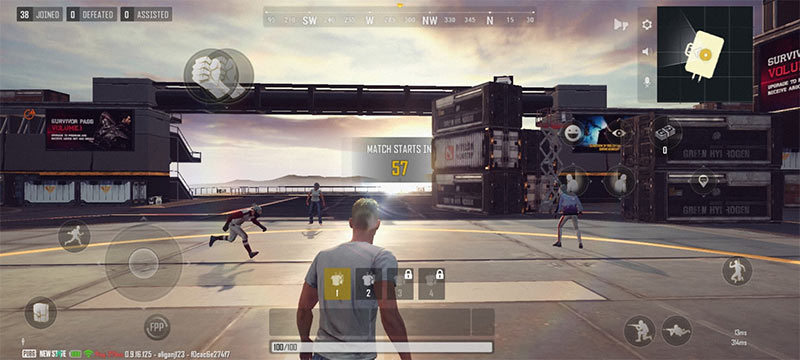 PUBG makes a comeback after a long hiatus. After the anniversary of its ban in India, the battle royale game makes a comeback. Especially in India, where it got a priority released before being available elsewhere. 
Borrowing the menu style and warmup location, others things have received a refresh but it still looks like the original pubg copy game.
Currently, two maps are available for battle royale – TROI and Erangel 2051. The latter feels inspired by the original of its predecessor. 
A new TDM map, Station, is also added, which is currently in beta. The training Ground makes a comeback for testing and practicing with your weaponry.
Now the question that may arise in your mind is, is PUBG: New State better than BGMI? That is a subjective answer. The graphic goes to New State, and so do game mechanics and aim assists, which is very aggressive. Overall, game mechanics go to BGMI. If you are looking for games like BGMI then New state is the game to go with.
What I liked


– Improve game mechanics, providing a new touch life to the game. If you have played the PUBG LITE version on PC, this will feel at home.
– Updated graphic modules, providing more polished textures of the environment, players, and their gears. The shrubbery remains the same, more or less.
– New sounds for weapons and music packs for the menu.
– Less scope for hackers owing to restrictions on third-party app usage.

What I did not like 


– Buggy, server issues as the game is still in the early stages of release.
---
3. Rules of Survival
Among the prominent leaders in this segment are the Rules of Survival. The PC version of this game is fairly popular as well among the old machine users. Among the list of games like PUBG Mobile, this is the closest I could find.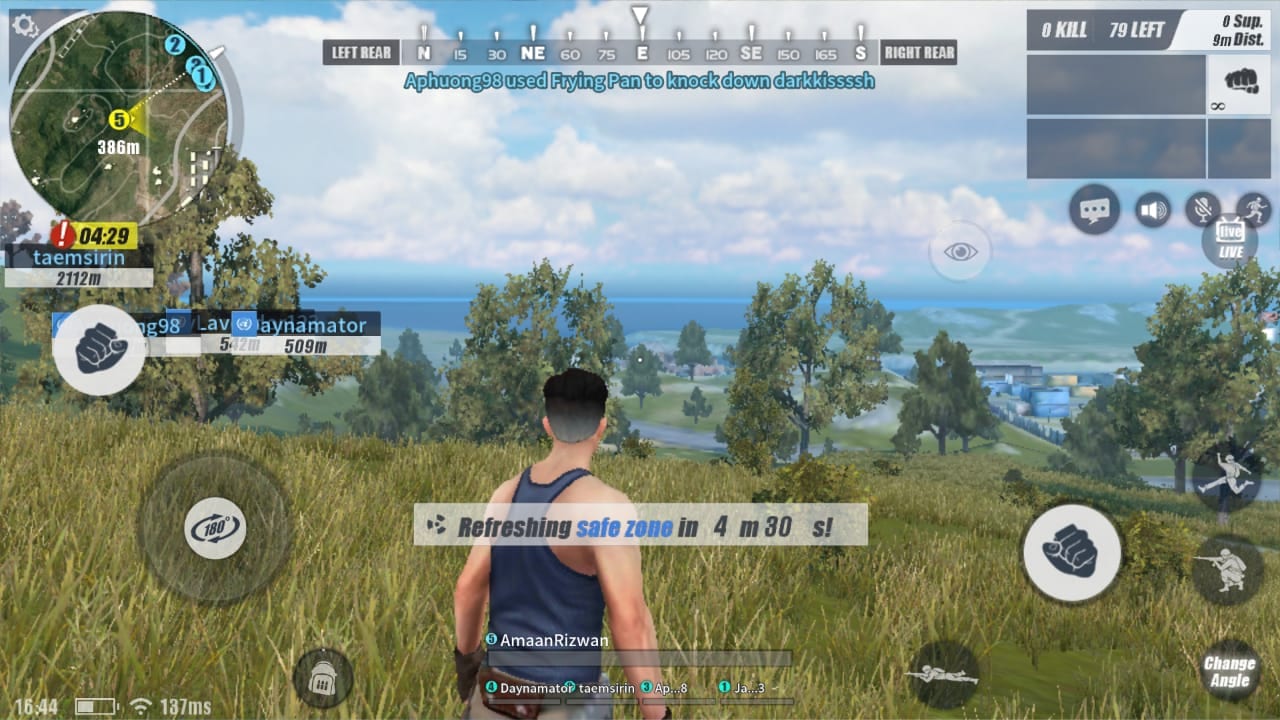 The game may seem like PUBG but it is fairly good on many fronts. You can customize your character according to your liking before gearing up for the game.
Before you battle against a terrain map with a maximum of 120 players. You get a quick tutorial that trains you on the intricacies of the game. The tutorial can take as long as 10minutes, which is, of course, skippable at any point in time.  I wouldn't advise doing that because it is fairly intuitive and fun to learn, given the endless possibilities that you will face while playing this game on a large terrain map.
The terrain map is humongous in size. You might need vehicles to reach different parts of the map. Talking about vehicles, you have moto boats for water, motorcycles and trucks, cars for onshore logistics
You can play solo, Duo, or Squad. The servers are located in Asia, Europe, America, and Europe so Internet lag shouldn't be much of an issue. I got a southeast Asian server with a ping of 150 MS which was playable without any hiccup.
What I liked


– 8×8 KM map with the presence of vehicles for transportation
– Easier weapons loot with the presence of MIRACLE boxes that glow like Infinity stones all around the map. You can equip yourself with enough weapons to defend before engaging with enemies in a fire-power battle.

What I did not like 


– Inability to choose a region of server or map.
---
4. Black Survival
An extremely light game with the size of a mere 53 MB (and 120 MB in-game update). The game is not an open world, however, it has a real-time strategic role-play game with a map to reach different parts of the place.
Training and tutorial were fairly easy to understand tutorial, which took me 8-10mins of assisted gaming to get a game of the general gameplay. You can play in a 20 player game, which can last up to 20 mins on a map.
The game has a Single tap fight option. You equip yourself with different weapons and accessories to increase the chances of winning the duel against an opponent. There are over 600 weapons to choose from.
There is no Medkit like a classic battle royale game. You rely on your cooking skills in the game to heal yourself. Occasional discovery of Ocean Potion can do the trick as well.
This game has grown into a cult fan following among the  good old fashioned interactive fiction gaming aficionados  where a gamer had to type their decisions and proceed forward
What I liked


– Presence of vehicles for easy movement across the map
– Easy weapon drops. Weapons are easy to find on the map, unlike other games.

What I did not like 


– Shooting crosshair movement. The game is in development so we should give them leeway
---
5. BGMI – Battlegrounds Mobile India
One of the best PUBG alternatives is BGMI, a game that has come out of the very game. The original game was banned in India amid growing Geopolitical tension. It paved the way for PUBG: New Slate, but the comeback was short-lived.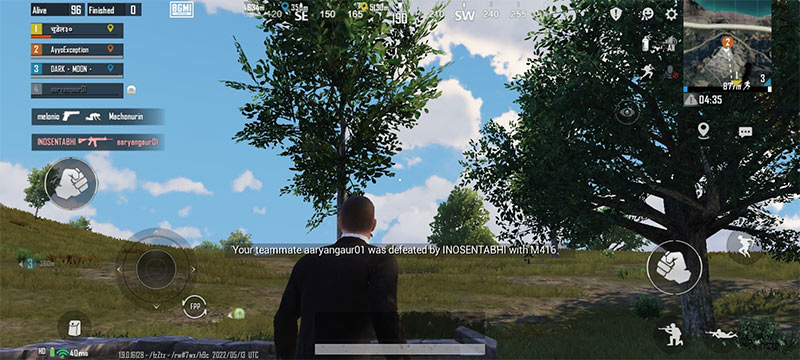 Battlegrounds Mobile India is the same game in new attire. You get almost everything the same as the original PUBG mobile, barring a few tweaks. The game's size has gone down considerably to a mere 800 MB. The game will ask for downloading low-quality or high-definition textures on the first launch.
There is more information regarding the zone and directions on BGMI. Access grenades through carouse, accessible on the screen itself without needing shortcuts.
In-game vehicles have certainly improved in terms of driving mechanics. You will find them easier to turn than its predecessor. You will find Shop Tokens, added with the 1.8 updates. You can exchange them for in-game items like guns, scopes, ammo, etc.
The gore is tuned down to comply with the Indian authority's directives. All the blood appears green, and the word killed has been replaced with finished. For instance, X player has finished Y appears when you kill an enemy.
BGMI was recently banned in India.
What I liked
– Runs most mobiles with moderate specs
– Play with the same account of PUBG Mobile without requiring new registration
– Healthier playing environment with the new BP system that rewards good behavior
What I did not like 
– Lack of new maps in the game
---
6. Pixel's Unknown BattleGround
You might experience a bit of Minecraft nostalgia if you play this one. Fans of a blocky pixel might find this game really hitting home.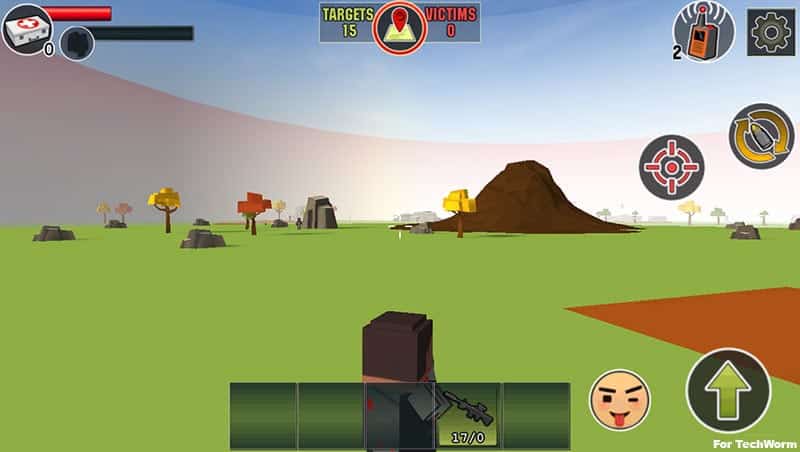 It has three modes: Single, Team, and Zombie
You drop from a helicopter in the sky in this game like PUBG mobile. Matchmaking is fairly quick. There are no direction buttons on the screen, you can tap anywhere and an on-demand direction wheel will appear where under the finger.
When you hit the play button on the main menu, a bus arrives. A scientist in a radioactive suit goes off and stabs you in the back and gets you to the waiting ground from where you board the drop Helicopter after a wait that can last up to 75 seconds.
The Zombie mode doesn't seem to work for me or my friends. I have reported the issue to the developer, awaiting acknowledgment.
The biggest downside I could find after an hour of gameplay is the unskippable video ad of 28-30 seconds after every game.
What I liked


– Game is extremly less resource consuming
– Easy weapon drops. Weapons are easy to find in the map unlike other games.

What I did not like 


– Shooting crosshair movement. The game is in development so we should give them leeway for now.
---
7. Knives Out
Another popular battle royale game Knives out is also similar to PUBG Mobile with the same game motto of 100 players entering the game arena and the last one standing wins the game.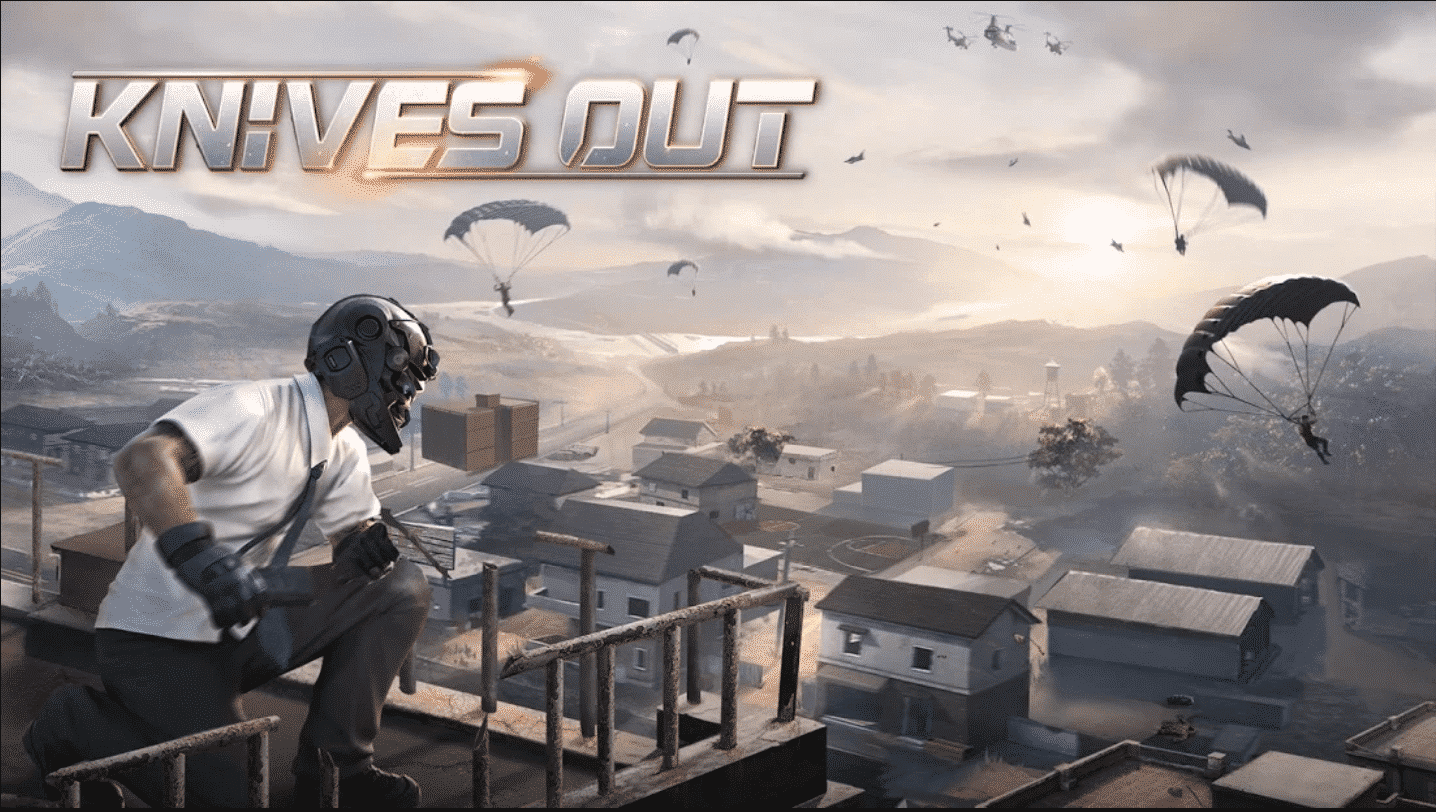 This game is developed by NetEase Games.
The visuals of this game is just amazing and it is well known for its smooth gameplay and high graphics.
What I liked


– Low resource consuming, playable on most devices
– High-end graphics, looks good on larger displays

What I did not like 


– This Game still needs lots of improvements.
---
8. Last Day on Earth
Another contender for the best survival game for smartphones. In order to survive in his game, you will have to kill zombies. and the last man standing wins the game.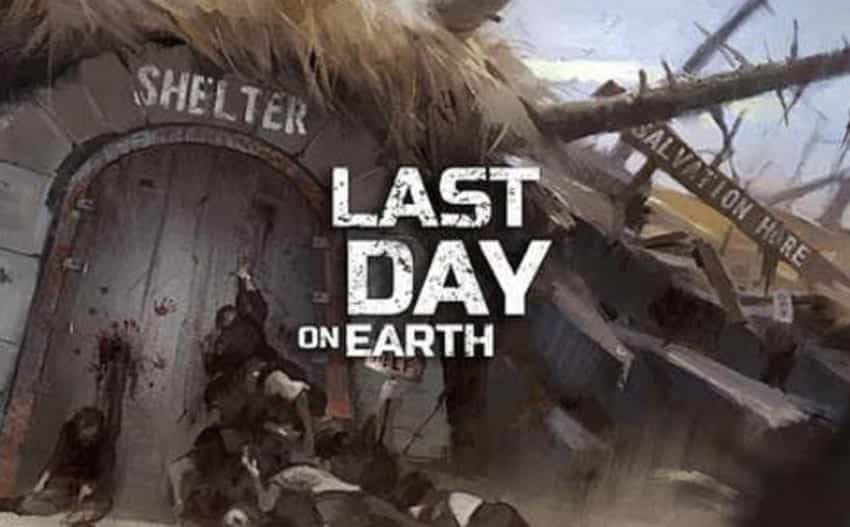 Explore the large and deep-laid map of this game like PUBG mobile. Upgrade your hero/character, equip your house, loot abandoned territories, and hunt wild animals and other survivors.
While this game might be a bit different from PUBG Mobile. but you will surely love to play it.
What I liked


– This Game is Low resource consuming
– Easy to play for beginners

What I did not like 


– Low Graphics quality
---
9. Fortnite
Fortnite is another perfect alternative to PUBG. This battle royale game has gained immense popularity since its advent in 2017.
Initially, the game was launched for iOS but now it's available for Android as well.
Similar to PUBG, the game starts with 100 players and then they compete with each other to become the last men standing. Unlike PUBG, this game has a comical look to its characters, environments, and even weapons.
What I liked


– Massive customization abilities
– High Graphics

What I did not like 


– High resource consuming
---
10. Call Of Duty Mobile
Call of Duty is a first-person shooter video game franchise that has stood the test of time. Well, after a long-overdue Call of Duty Mobile is now finally available for Android and iOS smartphones.
Will it be a good game like PUBG Mobile? The verdict is out, and the player base is growing at an exponential rate. Their USP is the optimization and the game's ability to be playable on older devices.
You can play COD Mobile on basically every smartphone of the last five years as we tested in our capacity.
Call of Duty Mobile features a decent collection of competitive game modes, deathly weapons, and many classic maps. As you progress you can find many famous characters, unlock new weapons, purchase new outfits, and different pieces of gear.
What I liked


– Well-developed game modes
– Low resource consuming

What I did not like 


– Lags and instability during gameplay.
---
11. AXES.io
The next best alternative to PUBG on the list is AXES.io. This battle royale game from Crescent Moon Games features Vikings. Unlike the other games on the list, you will fight against your opponents using axes and old-age weapons.
AXES.io has a great visual style and good soundtrack. This battle royal game offers 40+ weapon types and 20+ unique heroes. You can play this game either online or offline.
What I liked


– Super easy controls
– Lots of maps with unique gameplay

What I did not like 


– Only 2-minute battles
Download: Android
---
12. Pixel Gun 3D: Battle Royale
Pixel Gun 3D: Battle Royale can be considered an unofficial collaboration between PUBG and Minecraft.
This battle royale game is perfect for small aged children as it has many colorful elements and there's very less violence in it.
This game offers a multitude of maps, characters, weapons, and you can play online fights against 100 other players. In this game, you can play many different modes like Deathmatch, Arena, Co-op Survival, Campaign, and many more.
What I liked


– Ability to put together strike team with friends
– 200+ weapons

What I did not like 


– Random freezes
Download: Android
---
13. Guns Royale
The next best PUBG Mobile alternative on the list is Guns Royale. This battle royale game offers a unique top-down perspective that makes the gameplay more immersive. One of the major highlights of Guns Royale is the ability to play this game in AR.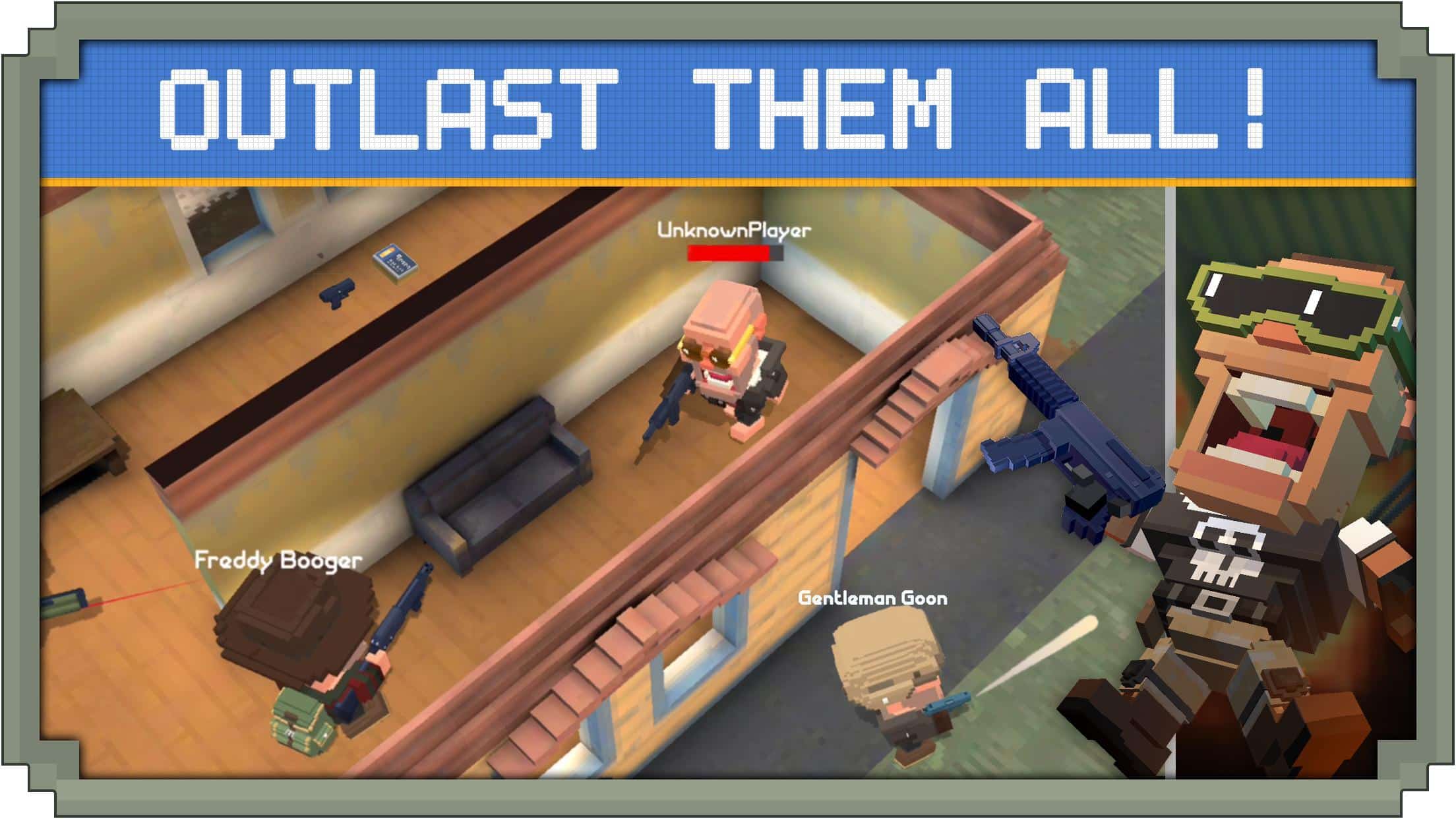 Unlike the other games on the list, the characters of Guns Royale are a bit cartoonish. Overall, it's a great battle royale game.
What I liked


– Intense PVP gameplay
– The ability to customize characters

What I did not like 


– wonky controls
Download: Android
---
14. ZombsRoyale.io
ZombsRoyale.io is a 2D real-time battle royale game. This free-to-play offers solo, duo, and squad gameplay options. Similar to PUBG Mobile, this game consists of 100 players.
You can even team up as a squad to take on other squads to deal with hordes of zombies. 2D graphics, simple controls, and simple mechanics help this game to stand out from the crowd. Winning battles in this game heavily relies on your attention and strategies.
What I liked


– Ability to customize over 1000 unique character cosmetics that are unlocked via in-game coins
– Friends and clans are available for creating a social community.

What I did not like 


– The game is not the most stable and it slows down occasionally.
Download: Android
---
15. Rocket Royale
Rocket Royale is one of the most unique battle royale game. Unlike the PUBG alternatives on the list, the main goal of this game is to build a rocket and fly away from the island. In order to do so, you have to find crafting resources from continuously falling meteors.
You can defend your position by collecting wood and building a fort. Sadly, the environment is 100% destructible and every building can be destroyed or dismantled.
Rocket Royale multiplayer offers Solo, Duo, and Squad up to 3 players per team gameplay options. As you progress you can discover new characters, hammers, avatars, custom rockets, and even dances.
What I liked


– A unique approach to battle royale game.
– Real-time fast-paced 25-Players online matches.

What I did not like 


– Progression is difficult in the beginning.
Download: Android
---
Found your PUBG Mobile style alternative?
There are a lot of battle royale games in the mobile gaming market other than PUBG Mobile, the market leader but one question stands out if it is perfect that you need to ask yourself. Which game is best for me? Although I laid out the good and bad about probably the best games like PUBG mobile, it all boils down to your preference and liking for it.
Just like you, we are also waiting for Valorant Mobile to launch. We will cover it as soon as it launches to the public.
Also Read-