Spotify is one of the most popular music streaming services that is used by millions of users across the globe. The sound recommendations help you find the best artists and their music.
It is considered the benchmark of audio streaming space and other players are compared to it for gauging the quality of services. However, it is not compulsory to like it and you may find it as good as others.
It might not be your cup of tea, so you can look for Spotify alternatives to stream music online, listen to podcasts and more.
We will talk about some of the best alternatives to Spotify that are cheaper and better including free (Without ads) and paid options.
Best Spotify Alternatives
Apple Music
YouTube Music
Amazon Prime Music
Tidal
Qobuz
Deezer
Soundcloud
JioSaavn
Wynk Music
Gaana Music
Pandora
iHeartRadio
Hungama Music
Yandex Music
Rock My Run
1. Apple Music
The first Spotify alternative on the list is Apple Music. Spotify presently has a large song collection with a music library offering more than 80 million songs, while Apple Music boasts a much larger selection of 100 million tracks.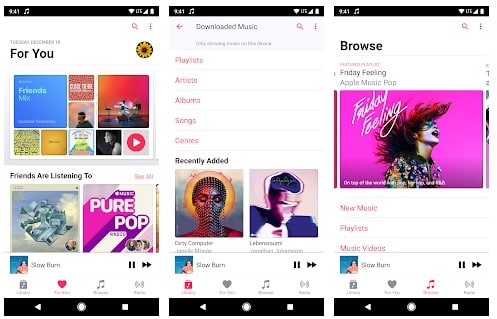 Similar to Spotify, you can download your playlists for offline listening. Furthermore, Apple Music also allows users to follow playlists created by other users.
Subscription pricing for Apple Music is nearly similar to that of Spotify. Apple Music still doesn't have a collaborative playlist like Spotify.
PROS
Largest music collection in the music streaming space from artists
Spotify like music recommendations from new artists
Free 6 months subscription with most Apple products
CONS
No free plan with ads like Spotify
No collaborative playlist where two users can add songs
---
2. YouTube Music
YouTube Music is another alternative to Spotify worth trying. Lately, YouTube has been improvising the YouTube Music service and their song recommendations have become comparable to Spotify.
In addition to major music labels, many individual creators upload high-quality music to YouTube, which can be enjoyed via the YouTube Music application. You can watch music videos on the YT music app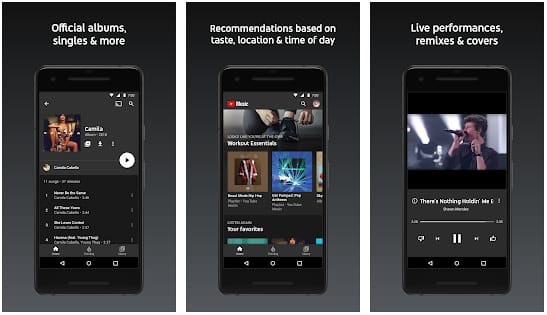 YouTube Music relies on Google's advanced AI for suggesting new tracks, albums, and playlists to users.
Get the YouTube Music monthly subscription for around $9.99 which provides ad-free music coupled with the ability to turn off the phone's screen while listening to music.
You can get YouTube music for free by subscribing to YouTube Premium. The premium family plans make it considerably cheap to use.
PROS
Play music videos available on YouTube while keeping the screen off
Live performances and concerts from artists on their official page
A lot of quality covers and remixes from different users
CONS
Inconsistent availability of lyrics for many songs
Some music videos are not playable due to incorrect categorization
---
3. Amazon Prime Music
Amazon Prime Music is an underrated Spotify alternative. Just like Spotify and Apple Music, Prime Music also has an extensive collection of tracks from different genres.
The music streaming service by Amazon comes as a bundled service with the Prime membership which also has Prime Video. You also get other benefits on Amazon.com for shopping.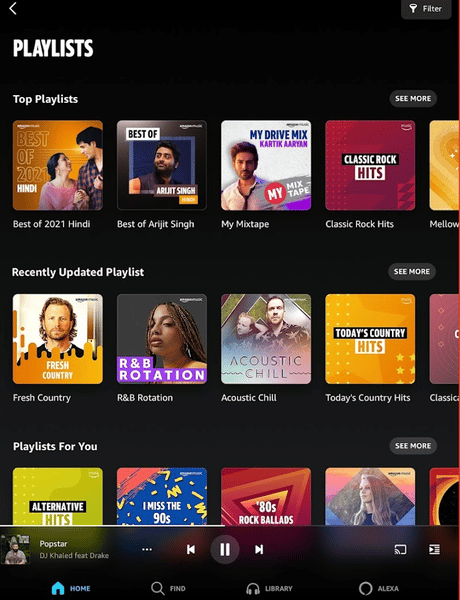 Therefore the music streaming service with 100 million songs practically costs nothing to you. It is apart from the 15 million podcast episodes which you can listen to on the go.
PROS
Free of cost for Amazon Prime users – No separate charges for the service
High-quality audio tracks for all the users at a higher bitrate
Seamless integration with smart speakers – Alexa-only features add useful functionalities
CONS
High-resolution audio is not available on the stream
You cannot create audio stations for your favorite artists.
---
4. TIDAL
Tidal is a subscription-based music streaming service by the American rapper star Jay-Z. If you are an audiophile like me who prefers high-fidelity music, then this app like Spotify is the perfect companion for you.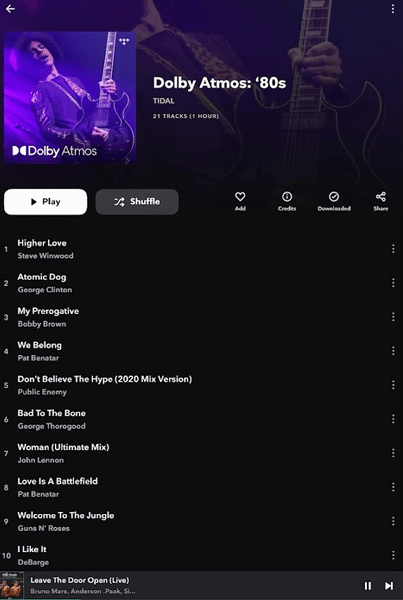 This service prides itself on offering the highest quality music available online. Apart from the audio, they have a curated music-based editorial that is appreciated by the community.
Tidal recently introduced a free tier plan which includes access to 80 million of their songs. You get unlimited skips, which is uncommon in the free music streaming segment. The sound quality in the free plan tops at 160 Kbps, and an ad interruption every 12-15 minutes.
PROS
High-fidelity sound with an optional high-resolution audio tier
Exclusive backstage content, concerts, and live streams
Music focussed podcasts by pioneers of the industry
CONS
More expensive than the competitors by a steep margin
The free plan doesn't have Hi-fidelity music
---
5. Deezer
Deezer is another Spotify alternative worth trying for your music needs. Similar to Pandora, this French-based music streaming service allows users to choose their favorite genres or artists and later the service suggest playlists based on users preference.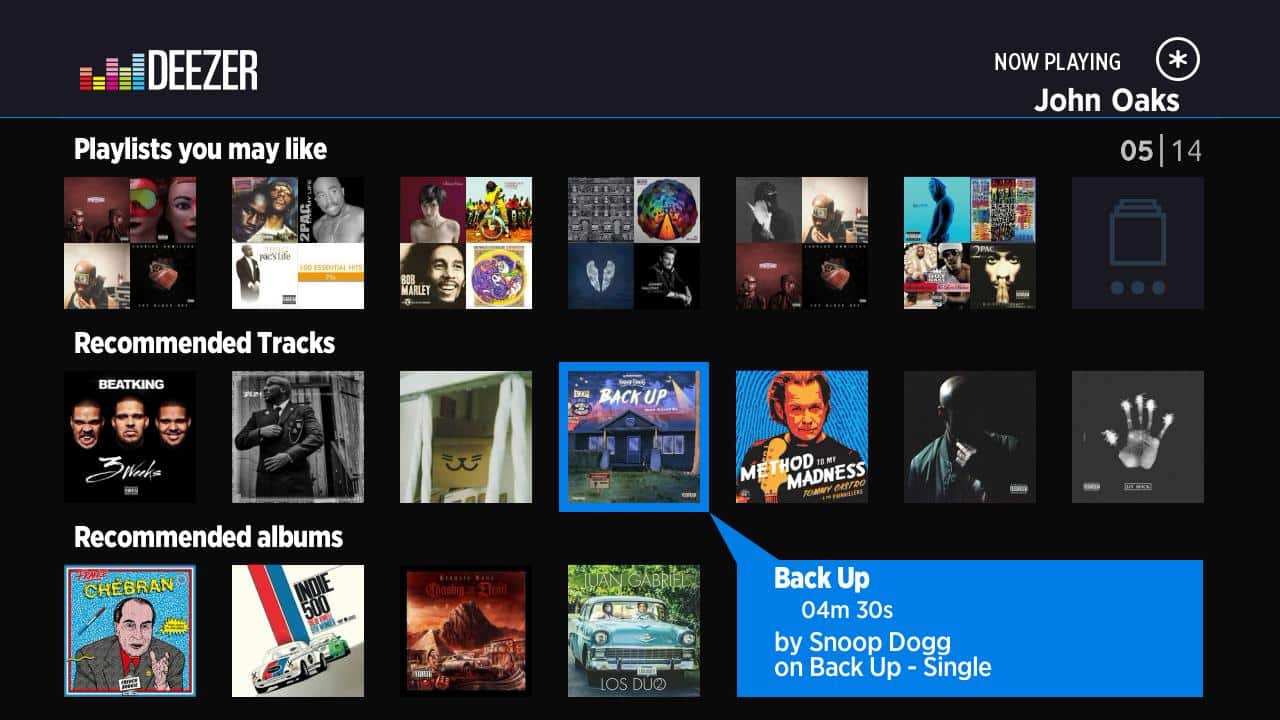 Deezer boasts an extensive collection of 90 million licensed tracks coupled with 30,000 radio channels.
You can get the Deezer monthly subscription for around $9.99 which provides ad-free music and the ability to download music for offline listening.
PROS
Listen to music, podcasts and audiobooks through the app
Load your MP3 songs to the app and play them like a streaming service
SongCatcher lets you find the name of the song playing
CONS
High-resolution audio is not on par with other services like Tidal and Qobuz
The song recommendations lack the edge at times
ALSO READ: Best Free Music Download Sites That are Completely Legit
---
6. Soundcloud
Soundcloud is a popular audio streaming service including tracks by indie artists This popular music streaming service boasts an extensive collection of more than 150 million songs.
Soundcloud is the only platform where you can listen to remixes, beats, remakes and EDM's created by indie creators and upcoming music artists.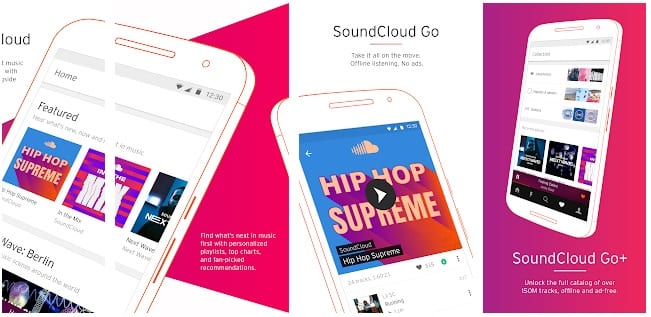 Unlike other Spotify alternatives, Soundcloud is completely free to use and a majority of creators on Soundcloud allow free downloads.
SoundCloud has a clean and very intuitive UI, offers reliable streaming speed without buffering.
PROS
Comment and interact with other listeners of a song
Find the most listened part of a song through the Waveform feature
You can upload your mixtape and tracks on the service
CONS
The sound quality is inconsistent as most user-uploaded content is not checked for bitrate standards.
Lyrics are not available for any songs like other audio streaming services
---
7. JioSaavn

Saavn was acquired by Asian telecom giant Jio to become JioSaavn. It is another alternative worth trying to get taste of a music library focussing on Indian music. Similar to Spotify, JioSaavn offers a streamlined and user-friendly user-interface.
Using JioSaavn Radio you can stream endless music for any mood, song, or artist. Saavn is one amongs the few Spotify alternatives that offer 320Kbps high-quality audio downloads.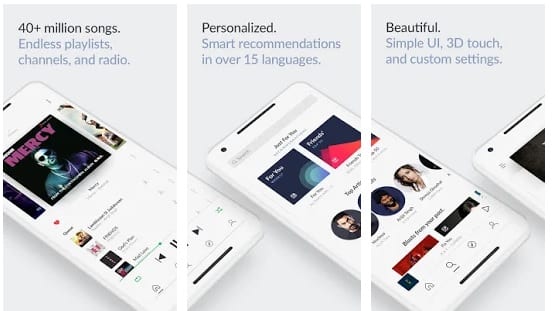 As compared to Spotify, JioSaavn Pro has lower subscription charges. Overall, Saavn is a perfect alternative to Spotify for streaming Indian content.
PROS
Intuitive web player for listening to music on the computer with a user-friendly search bar
Music in 16 different languages, including Telugu, Gujarati, Odia, and more.
Personalized radio stations based on your listening history
CONS
You can listen to free songs in India and other parts of South Asia. For taking it around the world you will need a subscription
No dark mode on the web player.
---
8. Gaana Music
Gaana Music is just like Spotify but focuses more on the South Asian region. In addition to 30 million Bollywood & English tracks, Ganna Music also doubles up as a full-fledged FM Radio.
Ganna is one among many music-streaming services that also offer lyrics for every song.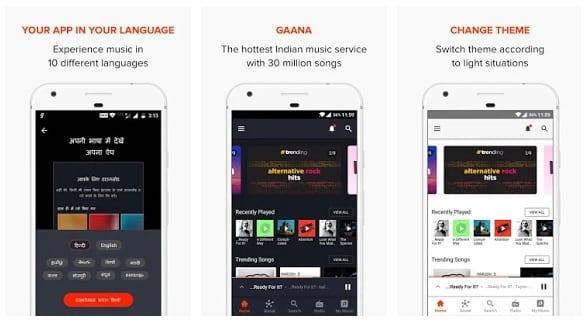 Upgrading to Ganna Music Plus, you can download unlimited songs for offline listening and sync downloads on five devices. Similar to Spotify, Gaana also features a dark theme and the music library is updated daily here.
PROS
Songs in over 16 different languages including Bhojpuri
Curated playlists based on moods and occasions across genres
App interface in 21 Indian languages for ease of use.
CONS
No audio streaming without a subscription
The latest singles of non-Indian artists take time to become available on the app
---
9. Wynk Music
Wynk music is by the telecom bigwig Airtel users can enjoy the service with their SIM by paying a nominal fee. Using Wynk Music, you can browse thousands of curated playlists, and you even follow your favorite artists and playlists.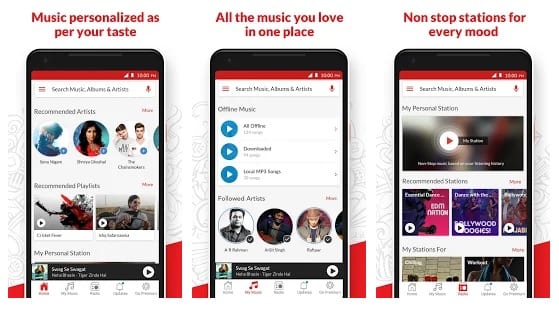 This Spotify alternative is available and ideal for users of India, Sri Lanka, and fifteen countries within Africa. The audio stream quality on the free plays feels on the lower side, anywhere between 64 to 128Kbps.
The web player lets you play music without signing in. Log in to the service and you listen to music in up to 320Kbps bitrate. Wynk Music also functions at low internet speeds.
PROS
Free to use for Airtel SIM subscribers with specific recharge packs
The app uses machine learning algorithms to create personalized playlists based on users' listening habits and preferences.
The latest singles and albums are available with the worldwide release.
CONS
Low-quality audio stream for free users
No lyrics for songs in any of the languages.
---
10. Pandora
Pandora is a free alternative to Spotify. This popular music-streaming service allows users to choose their favorite genres or artists and Pandora suggests the playlists based on the selection.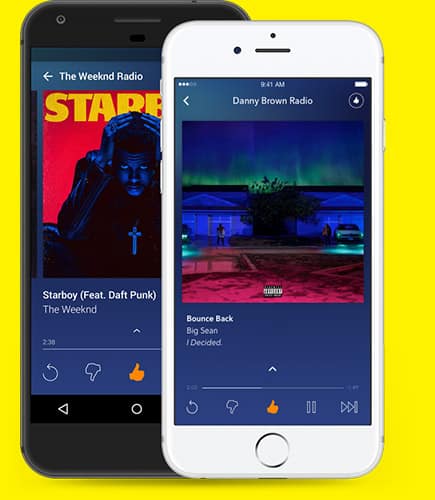 Pandora is completely free to use but the $5 monthly subscription offers a song-skipping ability and removes annoying ads. The free plan will make you watch video ads to access certain playlists on the platform.
Pandora is only available in the United States right now due to licensing restrictions. Earlier it was available in New Zealand and Australia.
PROS
Insightful commentary on the albums and songs
Pandora Stations allows users to create their own stations based on specific songs, artists, or genres
Unlimited audio streaming on the free plans with expected ads.
CONS
The service is currently only available in the US
Video ads for accessing certain custom playlists
---
11. Qobuz
This French audio streaming service made its way at the same time as Spotify. Just like Tidal Qobuz offers high-resolution audio, offering an enriching experience for audiophiles.
Everything here is in at least CD quality: a bit rate of 1,411Kbps with a 16-bit resolution on a sampling rate of 44.1Khz. A lot of data get consumed pretty quality which would be a problem for listeners on an internet plan with a data cap.
Search for an artist or album and you will get a detailed biography about it straight from AllMusic.com. Qobuz boasts of rich metadata about the song like artists, producers, lyric writers, etc, which is way better than the competitors.
PROS
Cheapest service for high-fidelity music with a minimum bitrate of 1,411Kbps
Outstanding editorial selection and curation for different genres
Only one of two services integrating with Roon
CONS
The latest singles are released after a delay on the platform
It consumes large amounts of data for streaming which is not ideal for people on a capped internet plan.
---
12. iHeartRadio
iHeartRadio is different from your conventional audio streaming service. Unlike Spotify, you cannot choose a song directly but tune into a radio station playing the artist or genre. Start with the thumbs up or thumbs down button to let iHeartRadio understand your music taste.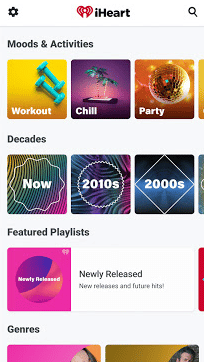 Rate more songs and the radio will get better at playing the music you like. Then you can use the Discover Tuner to control the amount of unfamiliar music that makes it way to your playing station.
It can be set to Family, Mixed, or Less familiar. The latter is an option, which is ideal for filling your playlist with indie and not-so-mainstream songs.
You can skip 6 songs on a station and then the entirety of all songs play. Or, you can switch to other stations to get the skips back.
PROS
Access to 15 million songs along with 1,5000 US radio stations for free
Curated artists stream the best tracks for different occasions.
Ad-free experience on custom stations by users
CONS
No way to pause, rewind or record controls on the service
Lack of hi-resolution audio
---
13. Hungama Music
Start listening to music for free on Hungama Music. You don't need to log in either for streaming audio. Even the web player lets you play music, just like JioSaavn. There are ads in between 15-20 minutes of music streaming which is the industry standard.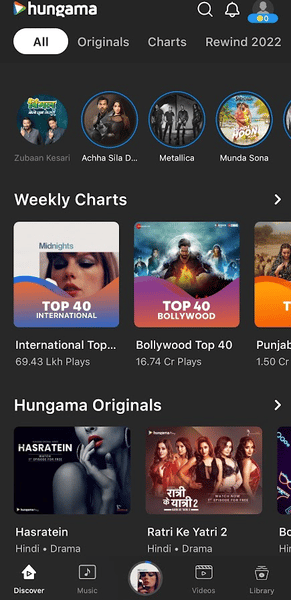 Hungama music lets you download songs for free on the app without requiring an account. It also lets you create and share playlists, like songs and more without signing into an account. You can always log in using a Hungama account or log in via Google, Apple, or a FAcebook account.
You get standard definition audio(without mentioning the bitrate) on the free plan while the paid Hungama gold has 320 Kbps audio tracks.
Hungama music's 30 million music library has a separate tab for music videos. You can search for them and download them to view them without the internet on the app.
PROS
Download songs on the app without needing an account or subscription
Play music and videos from your device's local storage
No video ads in the free plan. You can play music even after turning off the screen.
CONS
The audio bitrate maxes out at 320Kbps, which would be off-putting for few people
No lyrics for the songs, so your sing-along plans will have to be postponed.
---
14. Yandex Music

Yandex Music is a rather unexplored alternative to Spotify. You can use it in certain countries without a subscription. Subscribe to a plan and you can use it from anywhere in the world.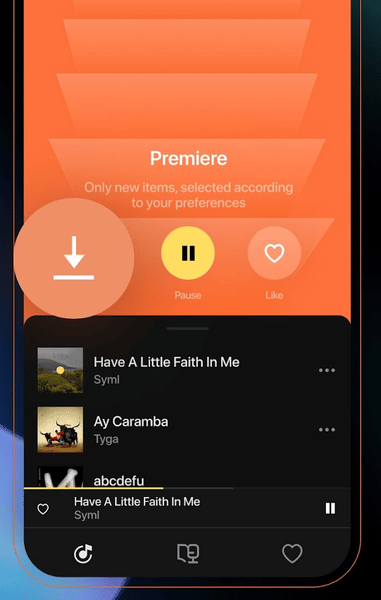 It also has a web player that allows users to listen to music directly from their web browser. The web player has a simple and user-friendly interface that makes it easy to navigate and find the music you want to listen to.
Yandex.Music has a large collection of music from Russian and CIS (Commonwealth of Independent States) artists, which makes it a great option for people looking for authentic local Russian music.
Apart from standard songs, Yandex.Music has a section dedicated to children's music, which includes songs and stories, which is unique and could be interesting for children, and their parents.
PROS
Integration with other Yandex services such as Yandex.Drive and Yandex.Disk
Cheaper than all the competitors in the music streaming space
Better real-time lyrics sync compared to many streaming services
CONS
The app's primary language is Russian so the translation in some elements is not great
Yandex music has limited availability outside the country at times.
---
15. Rock My Run
Next on the list is Rock My Run. As the name of this music streaming service suggests, it is a perfect app for fitness freaks.
Rock My Run has a clean UI and decent music organization tools. You can enjoy music from genres like Pop, Rock, Hip-hop/Rap, Country, Classical, and much more.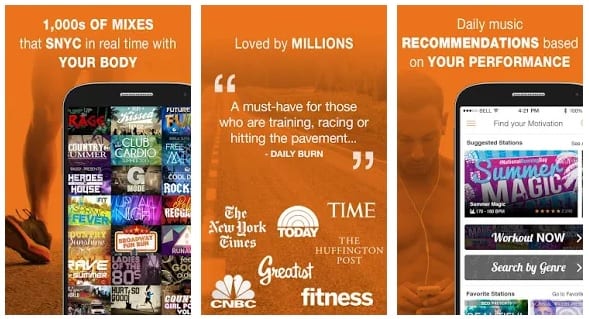 Users can download songs from vast public domains. Rock My Run has a free two-week trial that is enough for the test drive.
PROS
Mashup option to create a blend of songs from different genres
Songs are recommended and played based on your activity level
Old songs radio stations to mix it up and never get bored.
CONS
The song recommendations reach a saturation point and become repetitive after a point
It may not be useful for people who are not fitness enthusiasts.
---
BONUS VIDEO
---
CONCLUSION
So these were some of the best alternatives to Spotify that are worth checking out to listen to songs and music.
Do share your personal recommendations for the audio streaming apps and services you prefer.