Subtitles are very important while watching a movie or a TV series. Especially if the video is in a foreign language that you don't have a firm grasp over, subtitles come in handy to understand the dialogues that are being spoken in the video.
There are over 50 major languages spoken around the world, and mastering each one of them would be an impossible task, for the purpose of watching movies and TV shows without subtitles.
What Are Subtitles?
Subtitles are text that displays the transcript of the dialogues of a scene as the screenplay progresses forward.
They help in understanding what is being said in a scene from a movie, film, or TV show.
The text is generally displayed at the bottom-center of the screen while offering the option to display them on various places on the screen in different fonts, sizes, and colors.
Why Use Subtitles?
Subtitles can be useful in several ways, starting from helping you to understand the dialogues that are delivered in a foreign language.
Deaf or people with hearing issues can make use of subtitles to understand the movie and dialogues.
If you don't want to hear the dialogues, depending upon any reason starting from loud background sounds, or accent that is difficult to understand or irritating, you can simply mute the video and take benefit from subtitles.
People prefer listening to the original sound and dialogues even if it is a foreign language that they don't understand instead of the dubbed version. Cause the tone and pitch of the dialogues help them understand the emotion and feelings of the actors.
Subtitles definitely helps you to learn a foreign language or to improve your grip over them if you started to learn a language.
Best Site to Download Subtitles for Movies and TV Shows
1. Addic7ed
This free subtitle website is among my favorite to download subtitles for movies and TV shows. The site is in 18 languages, offering subtitles in 7 languages on average for any TV show.
There is an option for quick-search as well on the left side of the page, which has a scroll down menu containing the names of several thousand TV shows.
What I liked
Properly synced subtitles for different versions of a TV show.
Subtitles in over half a dozen language for any individual episode of a TV show which is popular.
Dark theme on the website which was recently added.
Full-fledged forum for requesting subtitles. They also have a section to discuss TV shows.
Option to download multiple subtitles in one go.
Subtitles for hearing impaired(text for the mechanical sounds, Eg – "[Door Opens]").
What I did not like
The searching function takes a while to show results
Movie subtitles for only newer movies
The site is not mobile/portable devices friendly. It only meant for computer and large displays
---
2. Opensubtitles
Opensubtitles is one of the most popular website to download English subtitles for movies, TV shows, and documentaries, etc.
The site is available in over 60 languages. The interface of the website has become outdated and the new-age look is in beta mode, which will be official soon according to the forum discussions.
What I liked
Search subtitles in over 55 languages which includes Asian languages like Mandarin, Telugu, Hindi, etc.
Advanced search option which allows the user to search on parameters like IMDB ratings, size, genre, FPS, the format of subtitles, movie year, etc.
Subtitle request section for requesting subtitles for any movie, TV show's episode.
Forum in 12 languages apart from English.
Free Media player by OpenSubtitles which downloads the correct and synced subtitles automatically as the movie, the show is played in the player
Individual ratings for each subtitle by users like you which helps other users such as ourselves pick the correct version to download
What I did not like
Excessive ads and it isn't very easy to download subtitles in one click as various ads keeping on popping.
The website is not mobile-friendly and might irk a lot of users.
---
3. Yifysubtitles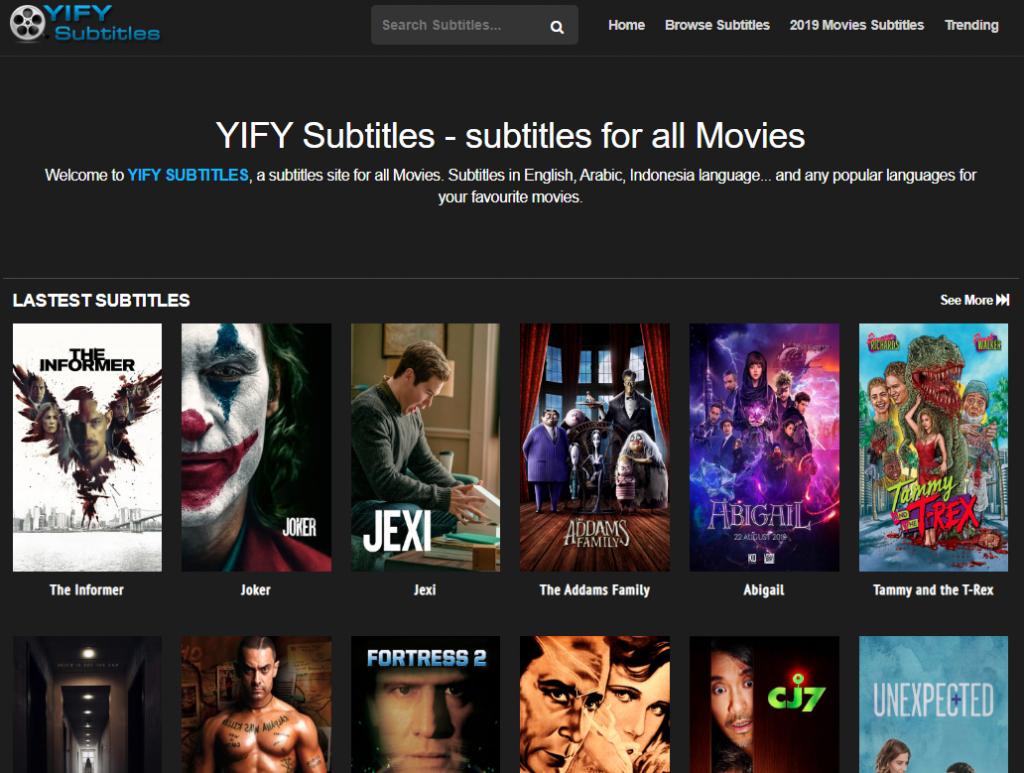 Yifysubtitles is another famous site to download subtitles for free, offering subtitles for the latest movies. The website is relatively straightforward to use and provides mostly English subtitles for not so popular movies.
There are three sites with a similar name, offering the same features and subtitles. I have talked about the one with the least amount of intrusive ads.
What I liked
Easy-to-use user interface.
Synopsis of the movie along with a list of subtitles in different languages.
Search with minimal options like genre, rating and release date sorting.
What I did not like
Finding the download button is a bit of a struggle.
---
4. Subsene
Subscene is one of the most visited sites to download subtitles for movies. The site has a search function that supports variations in search terms while showing results for the searched keyword.
It is among the few subtitles sites that provide subtitles for the hearing impaired people. Subtitles with hearing-impaired friendly text can be searched by checking the Hearing Impaired option in the search filters.
What I liked
Dark theme on the website with blue text. They are easy on the eyes for users who spend much time looking on a screen.
The search bar has the filter to exclude subtitles in a particular language(maximum 3) from the search results.
The search results also entertain spelling errors and show relevant results under the close section.
Forums dedicated to requesting subtitles for movies.
Option to flag low quality, incorrect subtitles.
What I did not like
The search option filters would be confusing for a novice user.
---
5. TVsubtitles
TVsubtitles is a website for TV show subtitles. The site is available in 6 major languages. Subtitles can be downloaded by clicking on the flag of the language. For instance, clicking on the UK's flag takes you to English subtitles.
What I liked
Upload subtitles without registering on the site.
Subtitles file size appears on the download page.
The language of subtitles can be set globally from the Show Subtitles drop-down menu, which sets the language. For instance, if you set it to Spanish, then only subtitles in Spanish will appear on the screen.
Rate(Upvote or Downvote) the subtitles without creating an account on the website.
What I did not like
The search option is generic, lacks the option to do an extensive/advanced search.
Some subtitle zip files contain text spam documents.
---
6. Podnapisi
Podnapisi has over 2 million subtitles submitted by the users for movies and TV series in over 100 languages. The subtitle also runs a community-driven translation project using Weblate, a premium text translation tool.
What I liked
The subtitle site is mobile-friendly, which is not the case with the previously mentioned sites on the list. According to Statista.com research, around 52% of Internet traffic is from smartphones.
The option to categorize subtitles by FPS.
Virtually all subtitles are audited for validity and quality by the moderators.
The subtitles can be searched in two modes, via movie database and normal keyword search. Searching movie database pops open option to select the year of release, episode and season number to narrow the search.
What I did not like
The subtitles for a particular searched movie or TV show are not organized in an orderly manner so a user might need to search scout through a handful of entries.
---
7. Isubtitles
Isubtitles is a growing website to download subtitles for movies, films, and popular TV shows in several languages. The website has a gigantic collection of subtitles for indie movies.
What I liked
Subtitles can be previewed on the download page before downloading them, from the Preview section.
The site search has suggestion-based results as the users type further.
The site is mobile friendly just like Podnipsi.
What I did not like
Search does not entertain spelling errors.
No option to filter subtitles on the download list page.
---
8. Subdl
Subdl is a moderately popular site for downloading subtitles for movies in English and other languages. The site's homepage has a clutter-free search bar to search for subtitles of your choice.
What I liked
Subtitles are classified on the basis of their video release. For instance, DVD release, Blu-ray release, etc. have a separate section of subtitles with different time-stamps, runtimes because of different movie cut versions. They can be filtered by language.
Upto 4 languages can be selected for filtering search specific to the respective languages.
What I did not like
No user rating that would help the downloaders ascertain the quality of the subtitles.
Excessive overlapping ads on the site.
---
9. My-subs.co
My-subs is one of the most organized sites for downloading subtitles. Each subtitle can be downloaded in the direct SRT format and not in compressed zip files like every other website offers.
What I liked
Subtitles are segregated into different sections for various languages.
Separate search results for movies and TV shows on the same page.
The site is mobile and other portable devices friendly.
Users can contribute to translate subtitles of their favorite movie, TV show into their local language by clicking on Join Translation is given in the particular title's subtitle box.
What I did not like
No advanced search or filter for subtitles in unfamiliar languages.
No option to request subtitles for any movie or TV show.
---
10. Megasubtitles
Megasubtitles is a simple, and easy-to-use website for subtitles. The search bar is on the top and the search results appear below it in real-time search. The subtitles can be directly downloaded in SRT format just like from My-Subs.
What I liked
Subtitles are listed down below a movie's poster and short synopsis.
One-click subtitles download meaning there are no redirects to different pages to download a particular website like many of the site's competitor practices.
What I did not like
Excessive intrusive ads in the subtitle section.
No option to request subtitles for any movie or TV show.
---
How To Create Your Own Subtitles?
Budding filmmakers, content creators would be looking for a robust, easy, and free method to create their subtitles for their videos. Subtitles help reaches a broader audience and helps transcend your art-form into different language speaking demographics.
Before moving forward, we need to understand the two types of subtitles, which are external and embedded. The former subtitles require the insertion of the subtitles over the video while the latter is embedded into the video.
The latter kind of subtitles comes in handy for playing subtitles in video players who don't support the required subtitles format or don't support subtitles at all.
There is a freeware application available for both Windows and Mac OS (7+) to create your own subtitles.
Steps to create your own subtitles:
First of all, download the Aegisub application. There is an option for portable versions as well if you are not looking to install the application yet and want to give it a spin. Launch the application.
Open your video from the Video drop-down menu. The video takes some moments to load, depending on the size of the video file.

Head-over to the text-box on the rightwards of the window and add subtitles frame by frame.
Subtitles can be customized into different fonts, shapes, colors and more with the help of Styling Assistant which can be accessed from the Subtitles drop-down menu.
Once you are done creating and adding subtitles to your video, it is time to save them. Head-over to the Files drop-down menu and click on Save Subtitles As or alternative press Ctrl+Shift+S. A window with saving options will appear. Fill-in the name of the subtitle file and press enter.
The subtitle file will be saved in "*.ass" (Advanced Substation Alpha) format. This subtitle format is considered as the next-gen subtitle format and has extension capabilities over the traditional SRT format.
Alternatively, you can also embed subtitles into a video with a very popular freeware video trans-coder application known HandBrake.
Over to YOU
While I have listed down the best sites to download subtitles for movies and TV series, it all comes down to your convenience and ease of use.
Some websites have kept it straightforward, whereas others have decided to play the game of cat and mouse. The needed subtitles can only be downloaded by making the user shuffle between several pages before getting the option to download subtitles.
Beware of misleading ads and extra adware that some of the ads accompany.
I pass the baton to you for suggesting a better site to download movie subtitles. Let us know via the comment section.
Disclaimer – We do not endorse the infringement of intellectual property regarding subtitles creation in any form and respect the laws of the respective country.