Are you unable to access Subscene? Do you want to download subtitles for a movie? If your answer to these two questions is YES, then luckily you have landed on the right article.
As you might know, Subscene is one of the most reliable websites for finding and downloading subtitles for almost any movie or TV show.
In this article, we have shared a list of the best Subscene alternative for anyone who is unable to access Subscene.
RELATED: Best Sites To Download Subtitles For Movies, TV Shows
---
What Is Subscene?
As mentioned earlier, Subscene is a community-driven website that produces quality subtitles for all sorts of media content like Films, TV-Series, Music Videos, and Online Video.
Moreover, Subscene supports many different languages like Arabic, English, French, Italian, Danish, Dutch, Farsi/Persian, Spanish, and many more.
---
Is Subscene Down?
At the time of writing this article, Subscene is online, and its response time is reasonably fast. The subtitles service goes down rarely, and the site becomes offline or shows an error.
If Subscene is down in your place, then you may use sites similar to Subscene shared in the next section of this article.
Is Subscene Blocked?
Subscene subtitle might be blocked in your country because of copyright issues. To bypass the blockage you can use subscene proxy or VPN.
Alternatively, you can also use browsers like opera with inbuilt VPN or tor browser to open Subscene.com
---
Best Subscene Alternatives/Substitute To Download Subtitles
1. Opensubtitles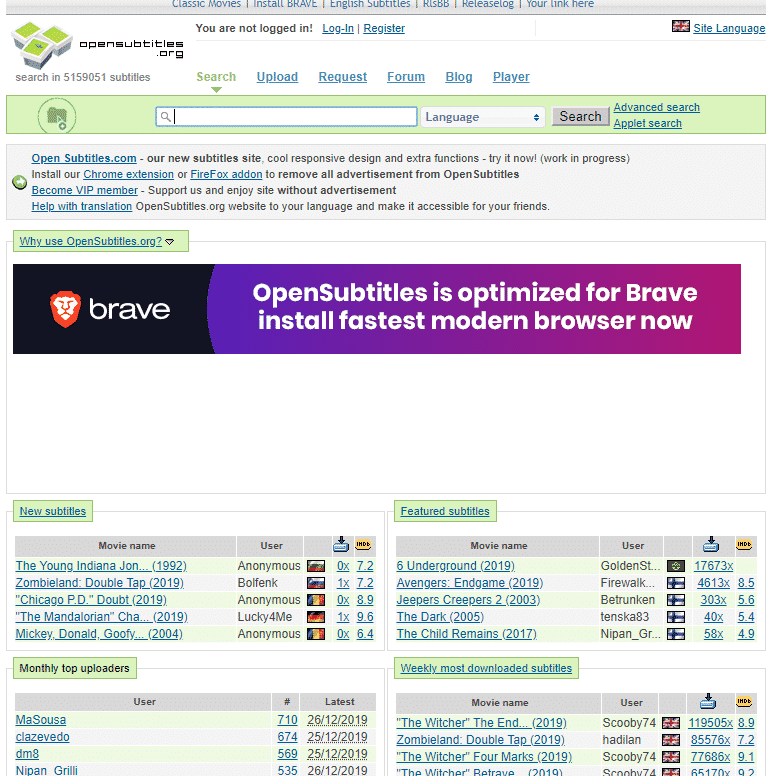 The first and possibly the most feature-packed alternative to Subscene is Opensubtitles. Using Opensubtitles, you can effortlessly download subtitles for numerous movies, TV shows, and documentaries.
Subtitles on Opensubtites are available in around 60 different languages, and you can use filters like IMDB ratings, size, genre, FPS, the format of subtitles, movie year, etc. while searching for subtitles.
---
2. VLSub
The next best subtitle service like Subscene that's perfect for VLC media player users is VLSub. Actually, VLSub is not a subtitles website; instead, it's a simple extension for VLC media player that downloads subtitles from OpenSubtitles.org and plays them as you open your movies. You can install this extension on a Windows, macOS, or Linux computer.
Sadly, VLSub hasn't been updated since 2017, but you can still download and use it.
---
3. Addic7ed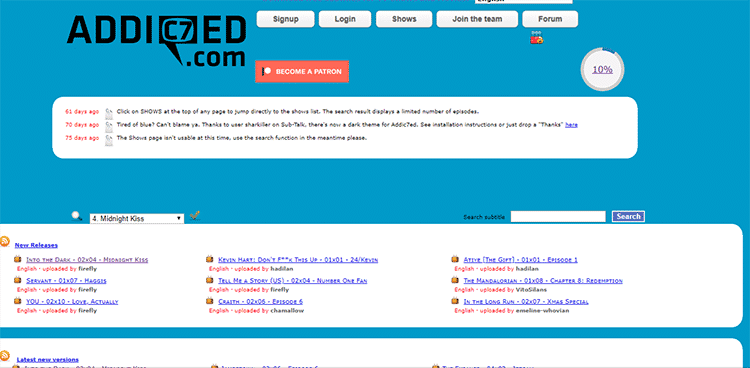 Addic7ed is another free and trustworthy alternative to Subscene. Similar to Subscene, Addic7ed features a dark mode that further complements its easy to navigate UI.
Using, Addic7ed you can download subtitles for both movies and TV shows. Subtitles on Addic7ed are available in 18 different languages. As for downsides, Addic7ed hosts subtitles for only newer movies.
---
4. SubDownloader
If you are a person who prefers uncomplicated things that simply get the job done, then SubDownloader might be the perfect Subscene alternative for you. Unlike the other subtitles site mentioned in this article, SubDownloader automatically searches and downloads subtitles for your movies.
This spyware-free, Subscene alternative host subtitles in 50 different languages, and it can be downloaded on Windows, macOS, and Linux computers.
---
5. SubiT
SubiT is a free and open-source like Subscene. Using SubiT, you can download subtitles for your favorite movies and series by merely right-clicking them and executing SubiT. Additionally, you can even launch SubiT directly and enter the desired movie name to download subtitles.
Sadly, the latest update for SubiT was made in March 2018, and the program has been discontinued since then.
---
6. Megasubtitles
The next best Subscene alternative site on the list is Megasubtitles. This great subtitles service list subtitles below a movie's poster and short synopsis. Subtitles on Megasubtitles can be directly downloaded in SRT format.
Sadly, Megasubtitles doesn't allow users to request subtitles for any movie or TV show. Another noteworthy downside of Megasubtiles is intrusive ads in the subtitle section.
---
7. Open Subtitles FlixTools
Now we have a Subscene substitute, which goes offline. Open Subtitles FlixTools is a tool using which you can seamlessly download subtitles from OpenSubtitles.org.
FlixTools allow users to download multiple subtitles files, search for subtitles using IMDB IDs, and it even synchronizes subtitles.
Since this tool is only available for macOS, it converts your videos automatically into iTunes compatible format, including subtitles, metadata, cover art, and more, and adds it into your iTunes library.
Visit Open Subtitles FlixTools
---
8. Subtitles App
Subtitles work like magic and Automatically downloads subtitles for your movies and TV shows. In order to use this Windows and macOS app, simply drop your videos into Subtitles. This Subscene alternative can find the right subtitles even if your files don't have the right name or the correct format.
Subtitles supports more than 40 languages, and its interface is translated into more than 10. Lastly, Subtitles is entirely free to use.
---
9. Isubtitles
If you watch Indie movies created by upcoming filmmakers, then Isubtitles might be the best Subscene alternative for you. Isubtitles hosts subtitles for movies, TV series, and Indie films. Unlike other subtitles website, Isubtitles allows users to preview subtitles before downloading them.
Moreover, Isubtitles can be used on smartphones as its mobile-friendly.
---
10. Caption
The last best alternative to Subscene is not precisely a website; instead, it's a great little software that takes the effort out of finding and setting up the right subtitles. You can install this software on a Windows, macOS, or Linux computer.
Caption relies on OpenSubtitles and Addic7ed for downloading subtitles. Thanks to the open-source nature of Caption, you can add your sources for downloading subtitles.
---
Some Of The Popular Subtitle Searches On subscene include that of the Game Of Thrones, Eternals, Sex Education S03, Spider-Man No Way Home, and WandaVision. People also search for subscene subtitle for TV shows.
You can also download subscene app or APK if you are not able to access its website.
CONCLUSION
So these were some of the best websites and programs that act as a perfect alternative to Subscene.
Do share any of your personal recommendations for the best sites like Subscene in the comments section below.