Gone are the days when people relied on Cable TV for watching movies and TV shows.
Nowadays more and more people watch TV shows and web series online on their Phones and computer.
OTT platforms have started showing web series online.
Well if you have been scouting for some of the best Free web series streaming sites that provide full seasons and episodes with English subtitles in high quality then this article might help you.
Watch TV shows online for free without getting any subscription or paying any money.
There are a handful of sites for streaming shows by showing ads to cover their cost.
Best Sites To Watch Series Online for Free
1. Vumoo
Vumoo is a popular service for streaming some of the most popular TV series online.
This streaming service offers full episodes of TV series and web shows from many different genres like anime, comedy, documentaries, drama, and much more.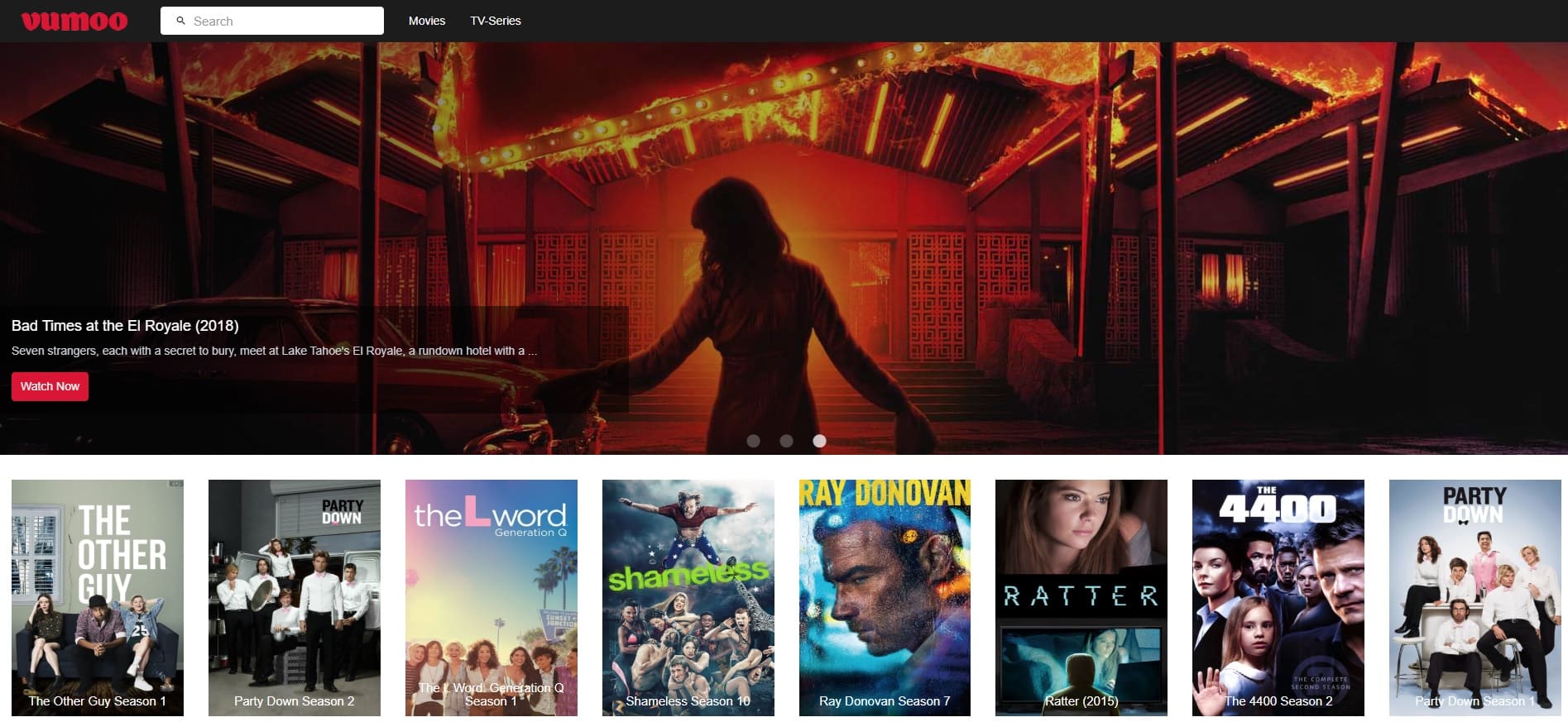 Apart from many modern TV series Vumoo also offers some of the classic TV shows that were once aired on TV.
Overall, Vumoo is a perfect service to watch TV series online for free, and the quality of videos is impressive as well.
Visit Vumoo
---
2. Tubi
The next website to watch TV shows online for free is Tubi. This streaming service has a good collection of web series and movies with full episodes. Users can click on a show and start watching it without the hassle of creating an account.
That said if you create a free account Tubi will offer more personalized content based on your preference and activity. Furthermore, you can create a playlist for your favorites.
The next advantage of Tubi is the native Android and iOS applications that can be used when you don't have access to your computer.
Lastly, Tubi offers good streaming quality, and a user-friendly interface makes the streaming service a perfect choice for streaming movies online for free.
Visit Tubi
---
3. Crackle
Crackle is an ideal source for watching TV shows and exclusive movies. Since Crackle is owned and operated by Sony, you can rely on Crackle for the best streaming quality and reliability.
Similar to Tubi, Crackle has native Android and iOS application. Though advertisements on Crackle might irritate some users, they are not a big issue.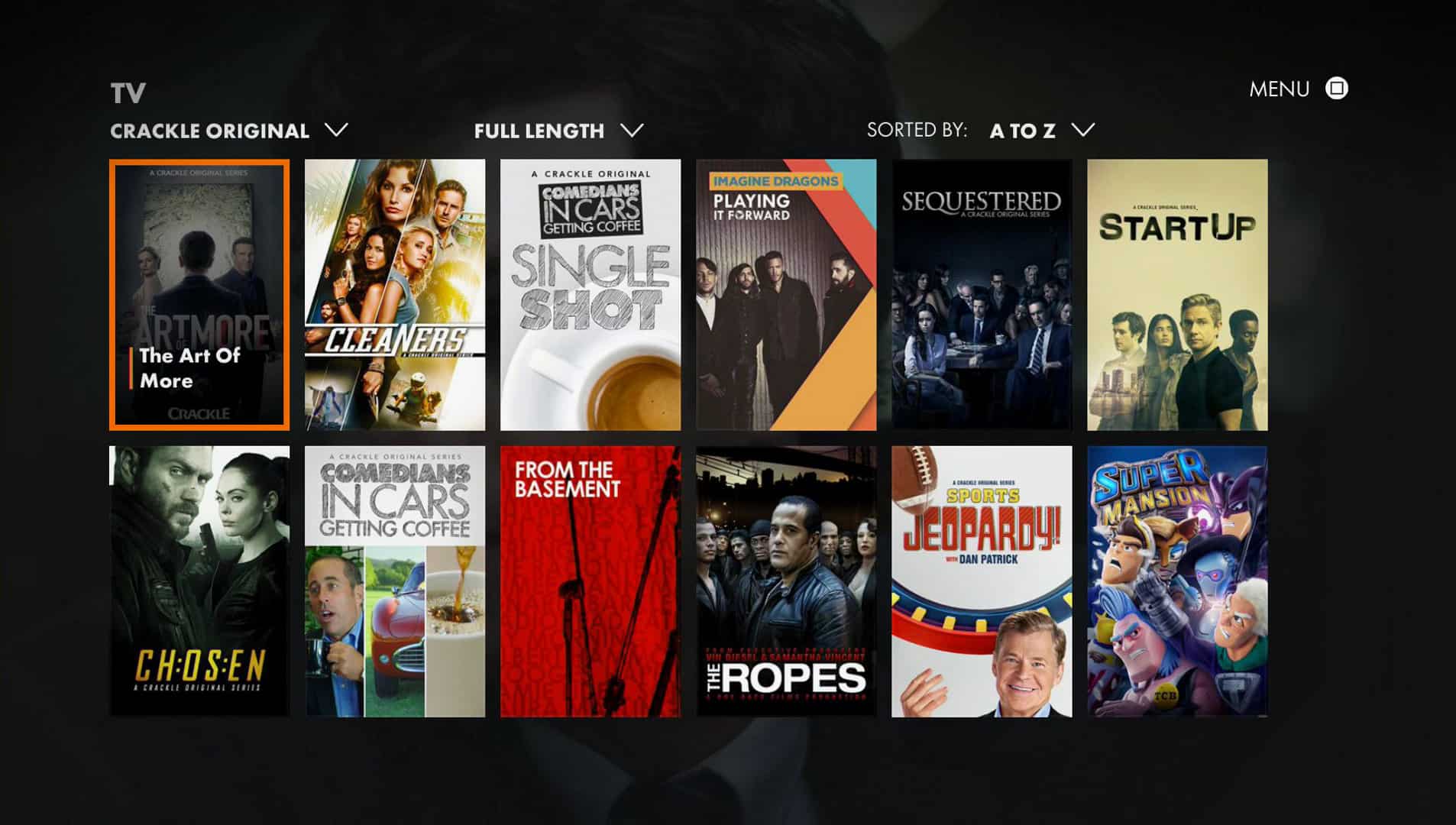 Crackle has impressive filter features like the genre, alphabetical order, full episodes, recently added, trailers, clips, and much more.
Lastly, there is no limit as to how much content you can watch in a given time period, and watching videos on Crackle is legal.
Visit Crackle
---
4. YouTube
If you are reading this article, chances are you already use YouTube. Surprisingly, you can watch many TV shows online for free on Youtube.
Unlike other services the content on YouTube is not organized, you should remember the name of the TV show that you want to watch. Well, what you get in return is unmatched streaming quality, speed, and reliability.
Youtube has many classic shows like Mr. Bean and He-Man that are very well curated and are available to watch free of cost. Though you have to pay for watching new TV shows and movies.
Visit YouTube
---
5. Yidio
The next familiar streaming website is Yidio. Well, Yidio helps users to explore different TV shows and TV series.
Yidio offers thumbnails and IMDb information about these shows and then redirects users to third-party websites like Amazon Prime, Netflix, and iTunes.
That said, there is an entire free section that offers many exciting TV series.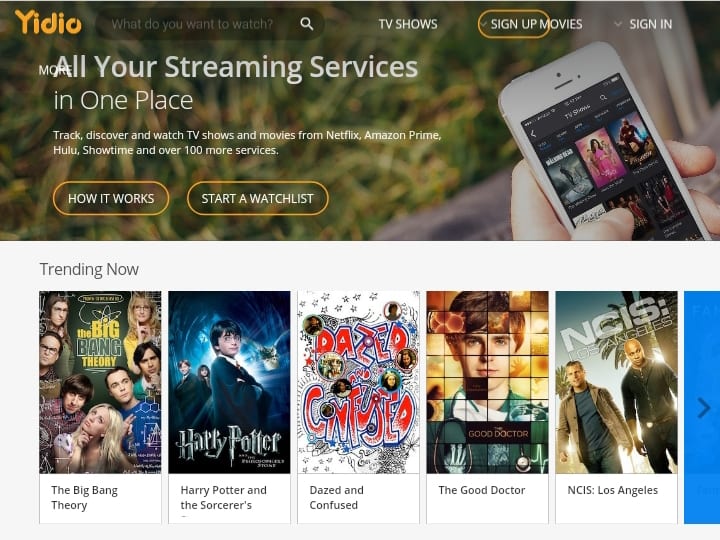 As for downsides, free listings on Yidio aren't the most accurate or updated. Furthermore, you may find that most of the free offerings have short clips rather than the entire episode or season.
Yidio can be considered more of a content exploration tool rather than a service to watch free TV shows.
Visit Yidio
---
6. Popcornflix
Popcornflix has a collection of more than 100 TV shows that are very hard to find. These TV shows were aired via cable TV, and you can even watch some classic titles from the 90s.
Some popular titles on Popcornflix include The Adventures of Super Mario 3 Bros, Sonic the Hedgehog, The Legend of Zelda, and much more.
Apart from using Popcornflix to watch tv series online, you can use this service to stream a massive collection of movies. After creating a free account, you can continue watching videos on your smartphone or tablet using the native Android and iOS applications.
Overall, Popcornflix has a clean interface and well-categorized sections.
Visit Popcornflix
---
7. Snagfilms
The next completely legal popular service to watch tv shows online is Snagfilms. You can watch tv series for different genres like sports, history, military, pride, wildlife, kids, family, and much more.
Snagfilms offers decent streaming quality and it also offers apps for Android, iOS, Windows, Roku, and Smart TV.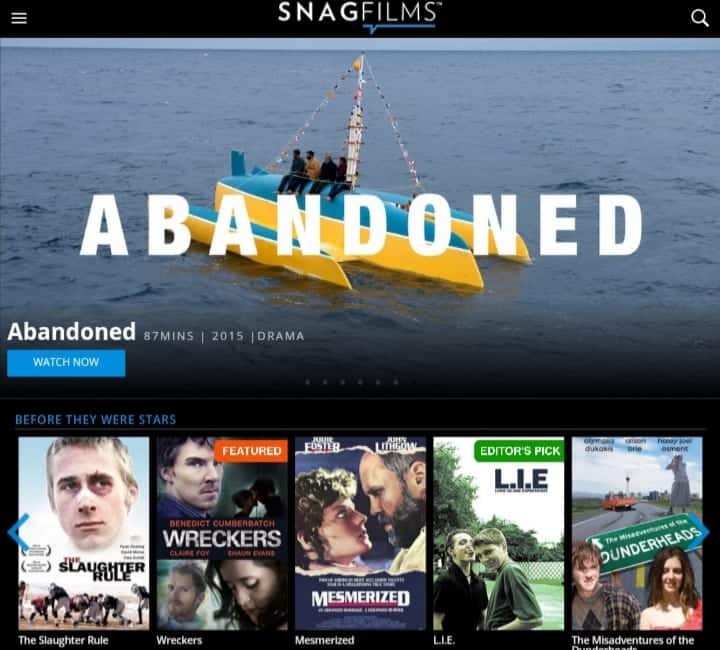 As for downsides, advertisements might irritate some users, they are not a big issue though. Lastly, you can find many rare indie films and award-winning documentaries.
The interface is fairly easy to navigate and categorizes content based on TV shows and movies.
Visit Snagfilms
---
8. Pluto TV
Pluto TV can be considered as a service to watch TV online free of cost. Similar to cable-based TV Pluto TV offers a collection of TV channels.
This service can be used to watch TV shows, news, and sports aired on different TV channels. The initial setup of the website takes some time, but after that, the content loads up quickly.
The only downside of Pluto TV is that you can only watch content that is being streamed at the moment. Apart from that, it's the best free online TV on the list.
Visit Pluto TV
---
9. CW TV
CW TV offers the best streaming quality but the free content on the website is very limited. That said, you can still enjoy quality content by sparing some money. CW TV has a massive collection of superhero series, science shows, dramas, documentaries, and much more.
The major advantage of CW TV is the best video quality and faster streaming speeds.
Visit CW TV
---
10. FlixTor
We are just getting started with streaming services such as FlixTor, which automatically scans popular streaming websites every hour to feature the best-quality shows and movies.
Well, FlixTor describes itself as "a fully automated Video Search engine." Furthermore, you can filter TV shows and movies based on year, ratings, and language.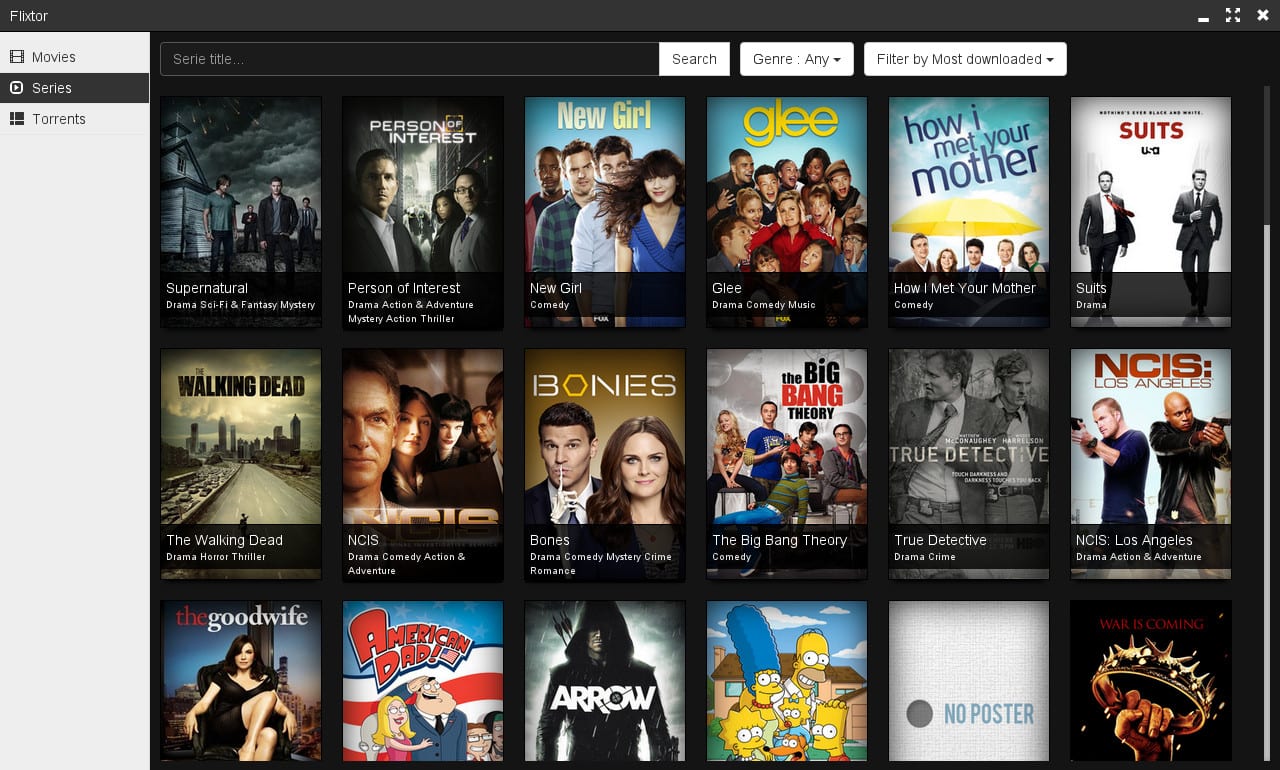 FlixTor has separate sections for TV shows, TV episodes, and movies. Apart from that, if you prefer getting VIP access you can download videos, watch in 1080p, and email requests for missing Movies and TV Shows.
Moreover, VIP access can also help you to use Chromecast and Apple Airplay.
Visit FlixTor
Also read – Best Flixtor Alternatives
---
11. Peacock
Surprised to find Peacock here amongst the sites to watch TV online for free? You are not alone. The TV streaming services offer over 40,000 hours of content to watch without paying anything.
First of all, you need to be physically located in the US, or a VPN would do just fine. Then register for a free account and log in using that. You are free to watch TV shows online without paying anything.
Swerving into the content department, you will find popular shows like The Office (US) Parks and Recreation. You can watch a few seasons or episodes for free for popular TV shows.
Bear in mind that you will encounter ads while streaming shows for free. It is a decent tradeoff for accessing premium content without paying.
Visit Peacock
---
12. The Internet Archives

The Internet Archives is the library of the world wide web. You can find virtually everything here which has been online.
Consequently, it houses an extensive library of shows and movies belonging to different eras. You will find feature films, anime classics, older TV shows, the content of the public domain, and more.
Here you have the option to download TV shows for offline viewing, which depends on the contributor's offering. A lot of them offer various formats to download the shows in, ranging from OGG to H.264.
Anyone can upload the content here, so quality consistency is difficult to maintain.
Visit Internet Archive
---
13. Xumo
Offering a combination of website and app, watch TV shows for free, supported by ads.

Find over 190 channels on the platform, which can be streamed online. The website also has a schedule for all the channels that air TV.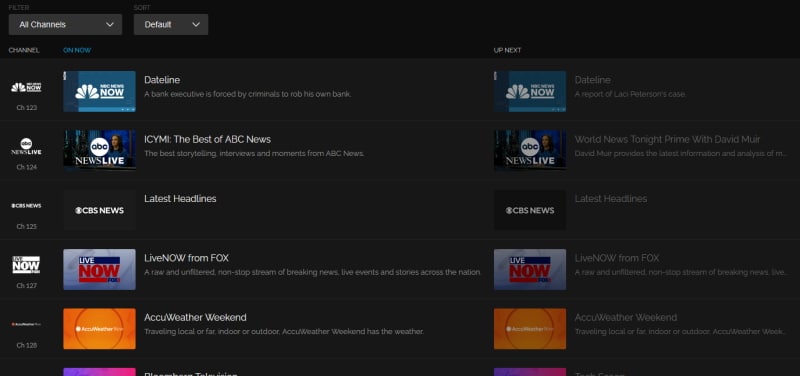 Most of the content is available in 720p or higher. Look, you will not get the latest shows here but American Classics, Hi-Yah, FilmRise, and Samuel Goldwyn Films has got you covered to keep going.
Pluto comes close to Xumo when it comes to the blend of channels and a long feed of news networks. Be prepare for an ad every seven minutes that will most likely hinder your viewing experience.
Anyone can upload the content here, so the quality consistency is difficult to maintain.
Visit Xumo TV
---
14. The Roku Channel
Roku is a media player that connects to the Internet for streaming content from OTT services. Along with that, we can also load various apps for consuming video content.
Roku offers a free-to-watch channel on their app, available for Android and iOS, amongst other platforms.
Watch many live news channels for free apart from a wide range of movies and TV shows, which are running 24×7, without any breaks.
If you feel that the content is limited, subscription packs offer a diverse range of content. They are premium and provide a 7-day individual trial available right away.
Visit The Roku Channel
15.

Crunchyroll
Crunchyroll is the best website to watch anime series online.
The site has over 25000 popular anime show episodes available to stream online.
This includes Demon Slayer, One Piece, Attack on Titan, and My Hero Academia.
The site UI, Genre wise listing are just amazing, with no lag and high-speed streaming. Crunchyroll also provided subtitles and English dubbing of anime shows.
You can watch free content in 480p with ads.
You can also try a 14-day free trial with no ads,
However, if you are an anime fan, getting the subscription is completely worth it.
Visit Crunchyroll
---
Also Read-
Conclusion
So these were a few of the best websites to watch tv shows online for free.
---
BONUS VIDEO