Searching for a legal free movie downloader app to download and watch movies online?
In this article, we will help you to find out the 20 of the Best Free Movie Download Apps For Android mobile using which you can stream or even download new free movies for offline watching in high-quality good print.
Smartphones have completely revolutionized the way we watch movies and TV shows.
Gone are the days when people relied on physical Compact discs for storing and sharing media files.
With the arrival of OTT apps, the new generation now prefers watching movies on smartphones and tablets.
Well, here's a list of some exciting applications that will help you stream and download movies.
---
Best Free Movie Download App For Android Mobile
1. Modbro
Modbro is an excellent movie downloader application for streaming and downloading movies. A majority of content on this application is available in high-definition quality. Moreover, the streaming and downloading speeds are also reliable.
Modbro offers an enormous collection of free movies and TV shows.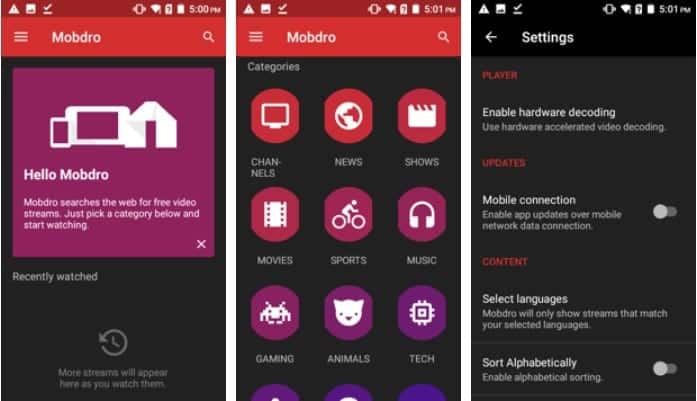 Content on Modbro is very well organized, and search filters like language and genre make it easier to find content. Lastly, the installation process of Modbro apk is similar to any other application. You can use Modbro to freely download a new movie.
PROS
Clean UI which does not crowd your screen
Language and genre filters
Content is organized in categories
CONS
Random playback issues
Official app not available for iOS
---
2. Popcornflix™- Movies.TV.Free
Popcornflix is the next perfect application for free movie download. Well, Popcornflix has an extensive collection of around 700 free movies all available in high-definition. This catalog is enough for a year if you watch two movies a day.
Moreover, Popcornflix regularly updates and adds more new movies to the application.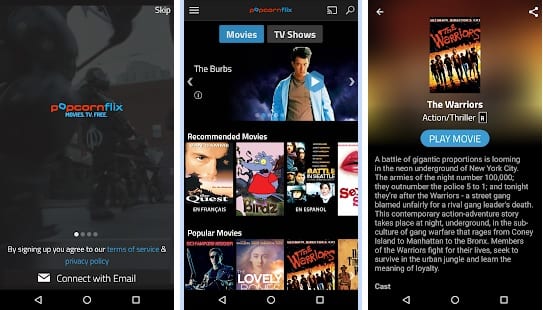 Movies on Popcornflix are very well organized into different genres like Comedy, Romance, Family/Kids, Drama, Urban, Action/Thrillers, Horror, Espanol, Documentaries, Bollywood, and much more.
Popcornflix is a legal application and can be easily downloaded from Play Store and the Apple app store. Lastly, the app has no watching restrictions, so you can watch as much you want.
PROS
One of the broadest content libraries (movies)
Fastest on the Internet to upload the newest episodes and the latest movies
Movie subtitles available for virtually the entire collection
CONS
Slow streaming speeds for few videos
Small catalogue for TV shows
---
3. Crackle
Crackle is one of the best free movie apps for android that is available both for Android and iOS users. Similar to other applications, Crackle has a decent collection of TV shows and exclusive movies.
Furthermore, Crackle offers the fastest streaming speeds, and the UI is clean and easy to navigate.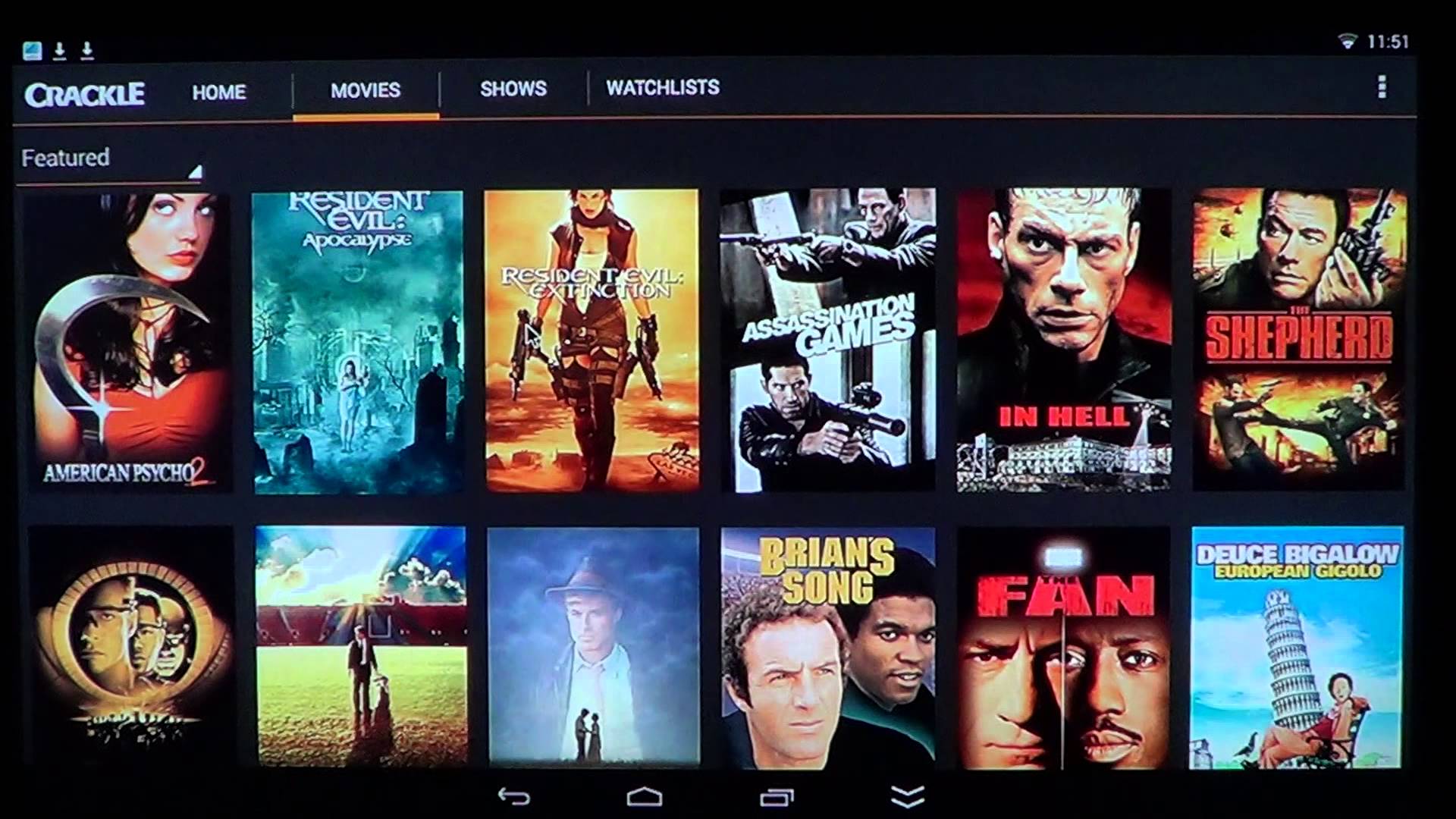 Crackle displays some random advertisements, but they are not a big issue. Crackle has impressive filter features like the genre, alphabetical order, full episodes, recently added, trailers, clips and much more.
Once you log-in, the application will start suggesting personalised content. Lastly, there is no watching limit on Crackle as well.
PROS
Fast download and streaming speeds
Available for both iOS and Android
Wide collection of movies
CONS
Limited UI customization features
Unavailable in many developing markets
---
4. Megabox HD
Megabox HD is another useful application for free movie downloads. As the name of the app suggests a majority of content on Megabox is available in HD quality. You can either stream or download free movies for offline viewing.
Megabox HD is not available on Play Store, so you have to download the application manually and then install it.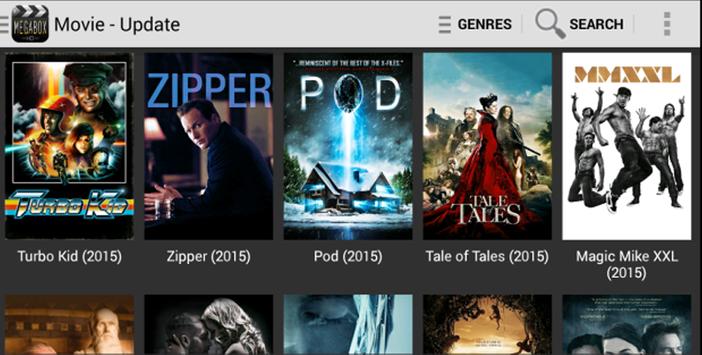 Surprisingly, Megabox HD is also available for Windows and MacOS. So you can enjoy your movies and TV shows on a bigger screen. Megabox HD has a decent collection of some latest and exclusive TV shows and movies.
Lastly, if you create a free account, you can add movies to your watchlist.
PROS
The app is available for PC
An enormous collection of exclusive movies
Does not charge a fee
CONS
The user interface feels Outdated
Lacks personalized content
---
5. YouTube
The next application on the list possibly came pre-installed on your smartphone. Yes, YouTube has a massive collection of movies. Many old movies are uploaded by production companies on their YouTube channels.
Moreover, a majority of indie filmmakers upload their content on YouTube.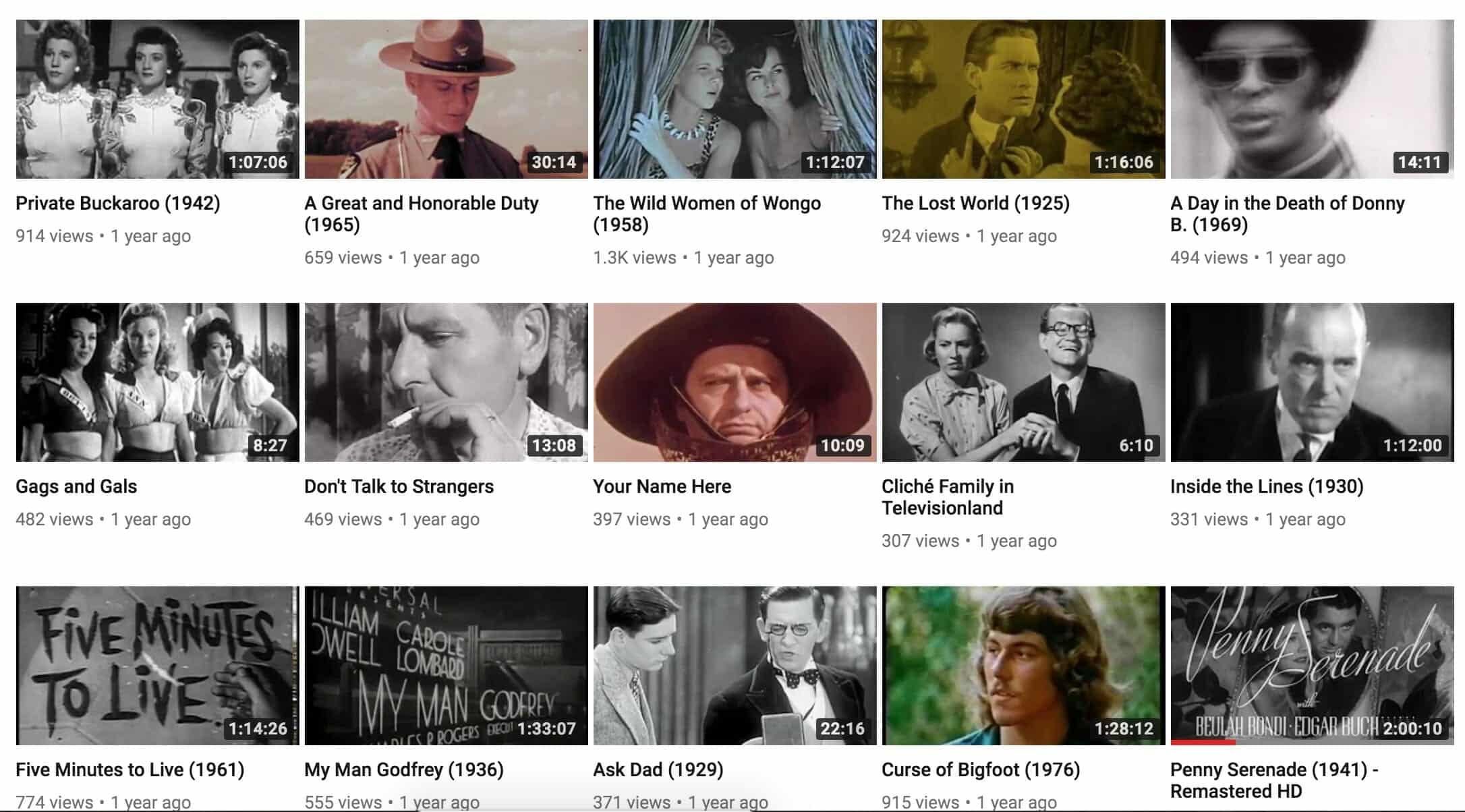 So if you are looking for a movie downloader app YouTube is a great choice. It is worth noting that you can even buy the latest movies on YouTube.
Moreover, YouTube offers unmatched streaming quality, speed, and reliability. There are also some users who upload the entire film on their channel. These movies are generally taken down, but you can still find some of them.
PROS
No buffer of any kind for any stream
The website interface can be viewed on a variety of devices
Available for a wide range of platforms
CONS
Fairly difficult to find full movies
Un-skippable ads through the movie by the uploader
---
6. Tubi
Tubi offers thousands of hit movies and TV series for free. Well, Tubi is a very well developed application using which you can download free movies.
Tubi allows users to personal queue to bookmark which videos they want to watch.
Moreover, new TV shows and movies are added to the collection on a weekly basis.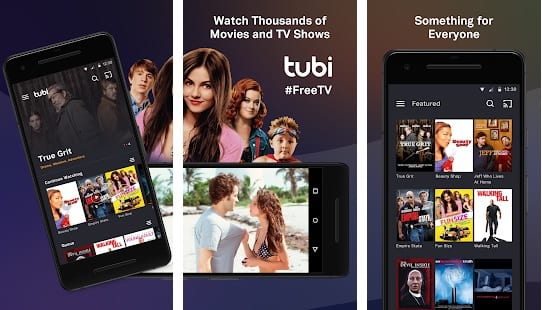 A majority of content on Tubi is available in HD quality. Tubi also has a dedicated "Not on Netflix" category.
You can even stream your content on a more prominent display as Tubi supports Chromecast, Apple TV, Roku devices, Amazon Fire TV, and many other streaming devices. Lastly, Tubi is 100% legal and offers unlimited streaming.
PROS
Completely free and legal to watch, supported by ads
Supports Chromecast and Firestick TV
Suggest Personalized content based on your viewing activity
Dark theme is available for the app
CONS
Limited UI customization features
Lacks latest content that is trending on the Internet
ALSO READ: Watch TV Shows Online For Free | Sites For Streaming Full Episodes
---
7. TorrDroid
Popcorn times has stopped working, and therefore it's time you meet TorrDroid. It is not the same, but you can watch movies after downloading them on the app.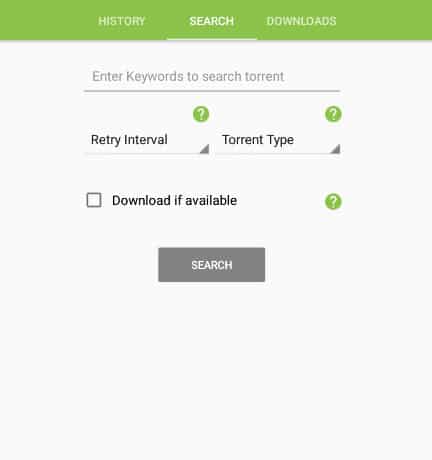 For that reason, it is amongst the best movie downloader app for Android. Search for your favorite movie, and it will display torrent results. Tap on the download button next to a movie torrent for downloading it.
If you are unsure which one to download, tick the Download if the available box, automatically downloading the most reliable movie file available.
Once the mobile is downloaded on the phone, you can play it using any video player available. TorrDroid doesn't have an in-built video player, which is not that big of an issue for most Android phones, which are shipped with a capable media player.
PROS
Movie download is fast, offering the maximum possible speeds.
Zero ads on the app and providing an organic user experience.
Every movie on the torrent radar is available.
CONS
No way to preview the movie before completing the download.
The app does not entertain typos in searches.
---
8. Lifetime
Lifetime is not from the list of just another movie apps for Android. It offers a wide range of free TV shows and movies. This on-demand service has a massive collection of old sci-fi movies and geek-documentaries.
A majority of content found on Lifetime is sourced from U.S based satellite television channel Lifetime.
To enjoy Lifetime for free you have to provide your channel operator credentials or ID. Overall, its a great free movie downloader app for watching movies online.
PROS
An impressive collection of anime
Newsfeed-style homepage
Latest TV reality shows on the platform
CONS
During playback audio or video freezes
Lack of latest movies and TV shows
---
9. iflix
iflix is also one of the best Android movie apps. Lets get this straight, iflix claims to be a forever-free app and it's funded by advertisements. Using iflix you can stream on two devices at the same time.
iflix can be effortlessly downloaded from the Google Play Store. A majority of content on iflix is available in either 720p or 1080p.
Since iflix is compatible with Chromecast you can easily cast your content on a bigger display. Lastly, content on iflix is very well segregated into different sections based on language, movie genres, and there's a dedicated section for news and kids as well.
PROS
An enormous collection of popular titles
Supports Chromecast for your TV
Set reminder for coming soon shows
CONS
Slow streaming speeds
Supports limited number of smartphones
---
10. Vudu
The next free movie apps on the list is Vudu. You can directly download Vudu from the Google Play Store. Vudu allows users to watch and rent HD movies and TV shows on their Android smartphones, tablets, and TV box.
It is worth noting that, Vudu is completely free to use but you have to watch limited commercials to enjoy this app. Vudu offers stunning video quality of up to 4K UHD coupled with Dolby Vision HDR for crystal clear sound.
PROS
Neat UI on both website and app
Collection of over 100,000 movies and TV shows across different genres
Up to 4K UHD video quality
CONS
Random app crashes
Premium account required for accessing all the content.
---
11. ConTV
Similar to Vudu, we now have a free movie downloader app for Android that serves content on both app and website. CONtv is the best for watching movies, TV shows, and comics.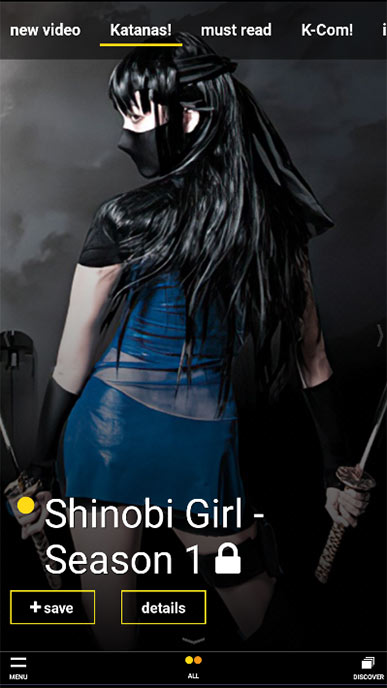 Apart from watching movies online, you can also read comics of different genres here. In terms of movie genre, we can also watch Kdrama, Katana movies, amongst others.
Sign up for a free account and reap countless benefits here. Resume where you left off, enjoy cross-platform watching, and create a library of your favorite movies and TV shows.
Apart from smartphones of iOS and Android, the ConTV app is also available for the iPod series.
PROS
Live TV stream that runs 24×7
Stream movies, anime, and TV shows
Read a wide range comics on the app itself
CONS
The latest movies take time to appear on the platform
Movies and shows thumbnails sometime fail to load
---
12. BeeTV
BeeTV offers all the latest TV series and movies to download, watch without paying a penny. It can only be downloaded from their official website since app stores don't allow apps.
When you open a movie or a TV series to stream, it will display several stream servers with different video qualities. Select one to start playing with the option of subtitles.
While selecting the stream, you can copy the link to your clipboard and share it with others. That's not all, and it can also be watched in web browsers.
We get movies and shows dating back to 1951 on this Android movie streaming app.
PROS
Different servers for streaming movies

Share and watch streaming links with others on a web browser

Subtitles available for the majority of the streams
CONS
Some links suffer from a delay in streaming

Consistent pop ad for an app while streaming anything on the platform
---
13. TeaTV
TeaTV is yet another app for free movie downloads and watching. The user-interface feels inspired by BeeTV on some fronts.
Overall the movie app feels very organized, with different sections providing various kinds of content. You have a watchlist for TV shows and movies you are planning on watching, a section for upcoming episodes of shows, and films.
A separate section for movies downloaded by you on the device. Moving on, we can sync with Traktv, Real Debrid, and Premiumize.
We also get a wide variety of options for customizing the movie's subtitles here. Change fonts, color, and size through the settings.
A feature worth having on all streaming apps is a Safemode. It blocks adult content when enabled, which can come in handy when children use the device.
PROS
A dedicated section for TV shows and movies subtitles storage

Search suggestions when a user types in a word in the search dialogue box

Subtitles settings for choosing the available options by themselves when streaming
CONS
Few streaming links for older movies

Buggy download section that sometimes does not display the list
---
14. MX Player
Initially launched as a video player, MX Player gradually became a full-fledged video-on-demand platform. Like Tubi, MX player also relies on the ad-supported model.
Watch and download free movies across 12 languages, including English, Tamil, and Hindi. They boast of the library with over 150,000 hours of content. The platform was rebranded in 2019 as an OTT platform.
Several agreements with leading South Asian distributions were also inked, making way to watch Bollywood movies for free.
MX player started producing shows and movies, carving a niche audience for their content. With no restrictions or payments, you can consider it one of the best movie downloaders for Android and iOS.
For watching movies in different languages, subtitles might not be available in your preferred language. You can upload your subtitles in various supporter formats.
PROS
Regional content in 12 different languages

Share movies, audio, and other files between different devices with ease

New HW+ encoder for advanced hardware acceleration to watch movies and shows
CONS
The latest releases are not always available

Lack of US-based content
---
15. AnYMe
Now we have one is for the Anime fans out there. Watch Anime movies for free on the AnYME app without making your pocket lighter.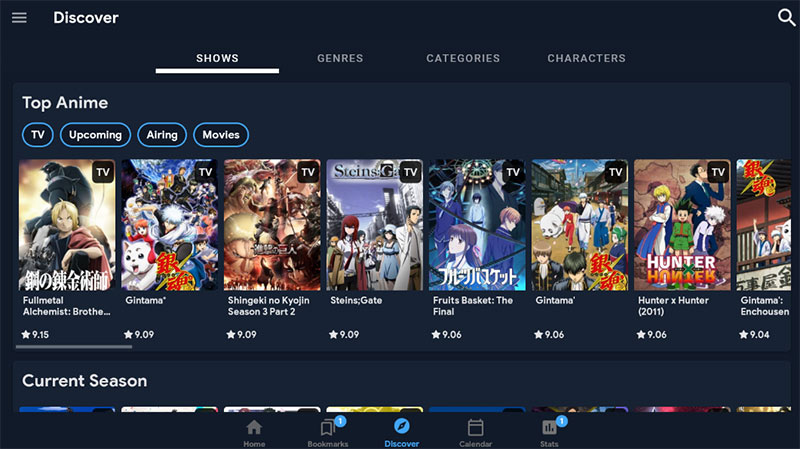 After launching the app, you can log in using the MyAnimeList account or register for a new one. The log-in process can be done later by skipping the login page.
Search for any Anime movie and show to watch them on the app. When you select a particular Anime, head to the video tab of the listing. It will take you to the external streaming link.
Many of the streams are hosted on different YouTube channels. This way, you will not encounter server sided buffering and other issues.
PROS
Intuitive search to find Anime

Sync your Anime preferences and watchlist using MyAnimeList account

Find original OST for Anime in the

Songs

section
CONS
Opens third-party links in browser to watch streams

Anime categories are jumbled
---
16. VideoBuddy
With VideoBuddy, watch Bollywood and Hollywood movies online on the Android smartphone. The movie streaming app is not available on the Play Store for obvious reasons, so you will have to download it from the official website.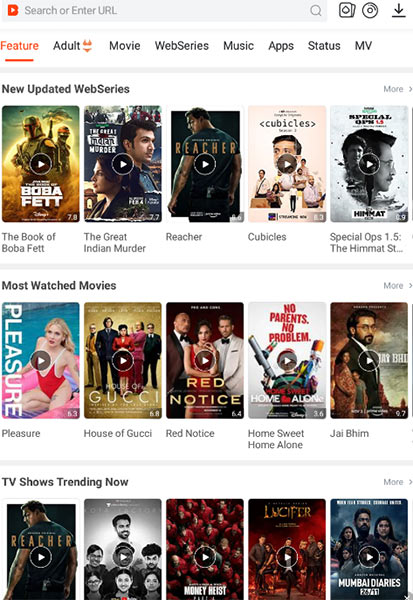 Not only movies, watch TV shows and webs series here directly on the app itself. Use the search box to find the movie to stream online.
It will display results in different sections – All, movies, web series, videos, and music. Even if you misspell the name, it will rely on keywords for matching up with the content library. There is a catch here when the name involves a single word, and you type it wrong, the results are not helpful.
Apart from streaming movies, you can also download them on the device, which works half of the time.
PROS
Create watch parties to watch movies with friends online.


Pop up mode to watch movies, and shows outside the app while using other applications on the phone.

HD servers for all the movies.
CONS
Mandatory advertisement roll before the movie stream starts.


No subtitles option is offered for the content.
---
17. VidMate
VidMate's user interface is similar to what VideoBuddy has to offer. Maybe it can be the other way around, and there is no way to know it.
There is, however, a stark difference here. We have to download movies to watch them. You need to download the torrents in the app using the BT plugin, which gets loaded automatically on the first try.
The way it works is by showing torrent results showing movies and shows. Select the one you want, and it will show different video qualities such as 720p, 1080p, etc. Tap on the download button next to a file, and it will start downloading.
That's not all, create an account and keep a playlist of your favorite movies and shows to watch online.
You can also create a vault, Private Files, to keep your downloads hidden, which cannot be seen by other people using the device. There is a 4-digit pin that is required for accessing the private vault.
PROS
Watch movies in a variety of video qualities, ranging from 480p to 4K.

Download movies from different websites by pasting their URL in the search box.

Keep video files concealed in a private vault.
CONS
Movies need to be downloaded before you can watch them.

Subtitles are not available separately.

---
18. Prime Video
You must be surprised to find Prime video on the list of free apps to download movies. When we subscribe to Amazon Prime membership, you don't just get fast and free shipping, but the Prime video service comes bundled as a freebie and Music in many regions.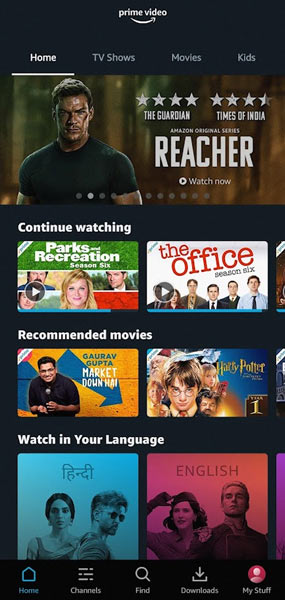 The content on Prime video is diverse, and the library is only getting with each passing week, especially in the developing markets.
Their app is available across all major platforms, including TV video game consoles. Download movies on the app and are available to view offline in-app for a period of 30 days without Internet connectivity.
You can download movies and only stream them online on the app/website. To keep your watching activity separate, maintain different profiles for different members sharing the Prime account.
PROS
Watch, record, and download movies, TV shows, comedy specials, documentaries, live sports and TV channels.

Available for all kinds of smart TVs, and digital devices.

Subtitles and audio in multiple languages, focusing on regional native lingo.
CONS
Limited library compared to its competitors.


Individual channel packs are expensive.
---
19. Disney+

Disney decided to dive into the content on-demand through the OTT channel. They have partnered with different local partners in various regions.
Compared to Prime Videos, it offers a wide range of movies and shows, relying on the local partner. You can even watch a wide range of live sports in different regions.
Disney+ is available on Android, iOS, Windows, and other major platforms. You can stream the movies on the website as well as the app.
Like other apps, you can also download movies and watch them. You need the Internet to log into the app on every launch to access the offline content.
PROS
Enormous library of International and regional content catering to different demographics.

Disney movies are available exclusively on the platform.

Trial period for a few regions provides access to a limited number of films.
CONS
Advertisements for the premium users.

Buffering issues for trending movies.

---
20. UlluTV+

Last on the list for downloading and watching Hindi movies online, offered on UlluTV. It is a rather popular platform in the South Asian subcontinent.
You won't find any Bollywood or Hollywood movies here. Almost everything on UlluTV is original and created for the platform. The content touches different genre horizons.
The first episodes of all the shows are available for free. You can even watch many movies for free here and download them on the app for watching later.
Register for a new account or use the social media integration – Facebook, Google, or Apple Accounts which work without any hiccup.
PROS
Library of original content only found on the platform.
No need to register for an account; use social media accounts to log in.
In-app speed test tool to check whether the buffering issue is due to speed or server issues.
CONS
Lack of mainstream content.

App under hot waters for unregulated content that may be inappropriate for certain age groups.

---
Also Read
---
In case you are not able to download movies in the app you can also use online video downloader tools to download the movies. Just copy and paste the link and hit download.
Users are strongly advised to use VPN for privacy and understand the risk of downloading copyrighted content.
Conclusion
So these were a few of the best free streaming apps on Android to download and watch free movies online.