With Facebook, Instagram, and Twitter leading the social media platforms, Social networking sites like Tumblr survive using their uniqueness.
Tumblr, one of the largest microblogging, Image-board platforms, which garners over 400 million views allows its users to post photos, videos, and short text blogs. 
It also allows you to manage your blog from a user-friendly dashboard and follow other blogs.
Micro-blogging took off when conventional blogging was just getting into the seasoned stage for users to express themselves.
The idea of blogging and instant messaging clubbed together became an instant hit with the soaring popularity of the likes of Twitter, 4Chan, and of-course Tumblr.
Inspired from the platform, several Tumblr alternatives have sprouted up in the recent years.
---
Best Tumblr Alternatives 
Here are the best sites like Tumblr that still have NSFW content. Some are of the threads in these Tumblr alternatives and are banned in few countries, which can you access using best VPN services around.
1. Reddit 
The front-page of the Internet, as everyone calls it. Reddit started with a simple link submission forum where users submitted third-party links with a custom title and the ability to comment, discuss the thread with other members.
You can use their mobile application provides a better user experience on the updated interface of the platform. Their recent feature update has added messaging with the option to create group message rooms.
What I liked
User Aggregated Content
What is popping on the Internet right this minute? Head over to the homepage and sort by all. Content is visible based on the engagement, up-votes on a post.
User-created communities
Even if a single user feels passionate about something, they can create a subreddit on it, and others can join it. Subreddit moderators and administrators can regulate entry to view, post creation, and other aspects of the subreddit.
Anonymity


Create an online avatar, and you can engage on the subreddits without revealing your real identity. Don't forget to create a username with an alternate moniker, contrasting from your real name, place, or address.
What I did not like 
Alleged biased moderation
There have been accusations on numerous occasions of global moderators being bias and censoring some of the user-submitted content.
---
2. 4chan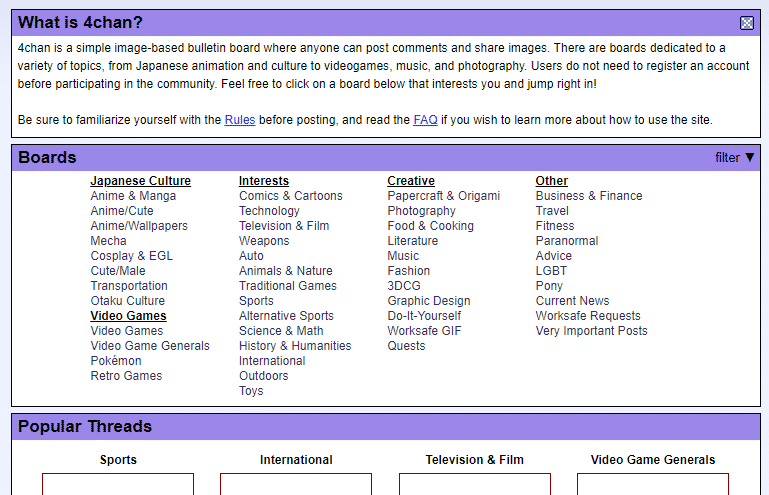 An anonymous posting based image-board website which started focusing primarily on Animes and the discussions around it.
The microblogging website later mushroomed into 72 topics, each having its own board. A board is a discussion thread on specific issues. New boards keep on adding from time to time on an experimental basis.
Users don't need to register or create an account on the platform since posting is anonymous. However, if users wish to keep an identity tagged to their post and prevent impersonations, they can use trip code, which provides registration of sorts, or as FAQ section calls it "pseudo-registration."
What I liked 
Anonymous posting
Users don't need to reveal any part of their identity when engaging in a conversation thread on the website.
The users have the freedom to be completely anonymous while creating a thread, adding a comment and other activities that are within the bounds of the site's rule-book.
Simple and easy to use
Head over to a board, create a new thread by filling up 4-5 boxes along with captcha verification, and your thread will be created instantly.
Or, if you would like to leave a reply to a thread, then click on the reply button and fill a short form with your reply.
Less interference by moderators


Unlike other platforms such as Reddit, Facebook groups, and others, there is less interference by the moderators, administrators. You can post and comment pretty anything you want, as long as it does not infringe on the platform-wide applied policies. 
Filling captcha can be infuriating for religious users of 4chan. There is a 4chan pass available for users to buy for supporting the website. It cost $20 and provides limited privilege like bypassing typing a captcha, reduced post cooldown timers, and the ability to bypass country blocks(with IP range).
What I did not like 
Outdated design
The website interface still feels like being stuck in the early 2000s while their competitors are working on enhancing their user interface quite often.
---
3. Medium.com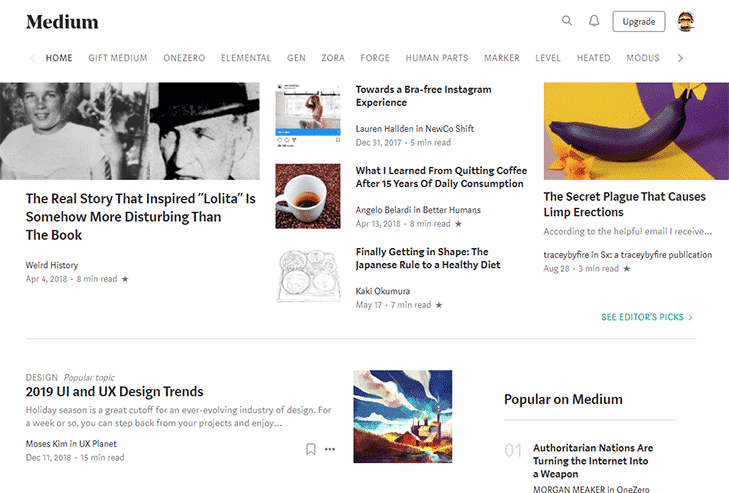 Medium.com was started by Evan Williams, the co-founder of Twitter and Blogspot. The online publishing platform aims to bring amateur and professionals on the same platform to whoever wishes to echo their voices and ideas.

The idea behind Medium is to keep it on the simpler side. Creating and publishing content via their editor is effortless, thanks to their clutter-free minimal editor.
What I liked
Shared revenue for publishers
Writers earn a small amount of money every-time a paid member user reads their article. The authors can join the Medium Partner Program to enroll under the monetization program by default.
Medium has a membership program that currently costs $50 annually or $5/month, granting certain privileges like access to an exclusive podcast, contents, offline leading, journals from reputed writers, authors on the platform.
Reader activity-based news feed
Just like Tumblr, the newsfeed of the user gets tailored according to the reading activity/history of the content read, clapped, engaged by the reader. It is apart from the subscribed topics by the reader.
Better Optimization for Search Engines


Medium adheres to the latest search engine practices, which helps boost the content in the SERPs. As an online content publisher, this is beneficial in reaching a wider audience through organic traffic sources. No need to worry about on-page and off-page; you can put all your focus into producing amazing content.
What I did not like 
Start from scratch for amateurs
The tailored newsfeed has its downside as well. Users starting on the platform are often on the receiving end of Medium's often controversial content visibility system, which sometimes results in a lack of visibility to new and aspiring authors on the platform.
---
4. Newgrounds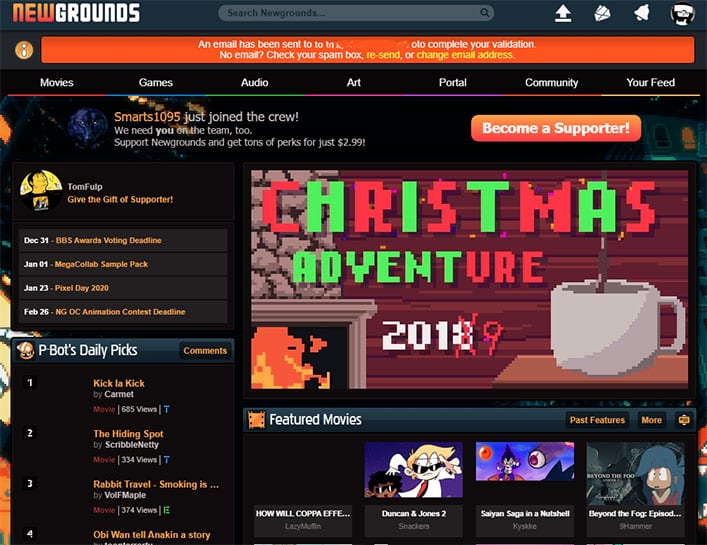 The oldest alternative to Tumblr and it has been around almost a decade before the micro-blogging site took-off. It started by the then-teenager founder Tom Fulp in the guise of a fanzine(a magazine by fans) to 100 odd subscribers, under the name New Ground Remix.
What I liked 
Interactive content to get hooked up
HTML 5/Flash player games enthusiasts can head over to user submitted games under the Game tab and play, rate the games available there. Other tabs like Audio showcases music recommendations, user submissions, etc. which would be a haven for the audiophile in me. There is also a dedicated section for artists to showcase their art and earn feedback for the same. Users can follow other users to get their updates in their feed. There is no restriction on NSFW content like Tumblr, as filters like are present, which can be applied with a click of a button.
Exclusive forum
Apart from the user submissions and the comment system for discussions amongst the users, there is a traditional-looking forum titled community with sections like How-Tos, Animation, game development, programming, etc.
A Platform for Independent artists


Upload your music, digital/physical art on the profile page, which are processed through the

scouting

method. Your work will appear in the public area for everyone to see when scouted by the system. Stolen, prohibited, and spam content is not allowed on the platform.
What I did not like 
Mobile App is a letdown
The mobile version of the website is a relief since the mobile app is on the thinner side of the spectrum.
---
5. Pinterest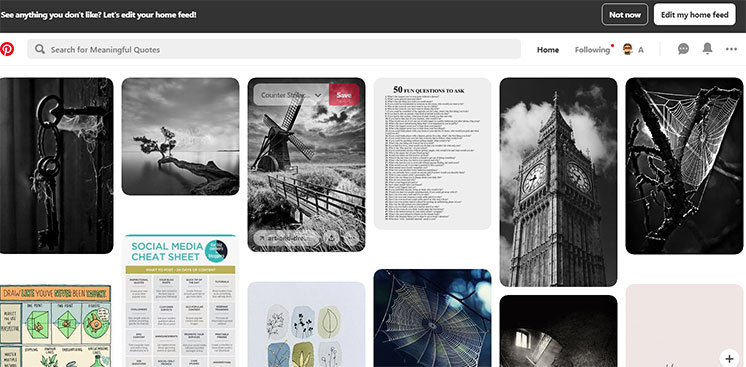 Pinterest is a visually driven social media-website that means that you need to post an image, video or GIF with the link to pin it(post) to the website.

When you share something on Pinterest, it is posted on the site as a pin as a social bookmark. Sharing someone else's pin is known as repin. The website also provides an option to create a group of pins, called boards to collect pins related to a topic in a place, just like a real-life board with pins.

What I liked 
A Picture is Worth a Thousand words
The adage does stand true in our modern era of technology. Our attention span is lower than a goldfish. Images and videos are easy to interpret in a shorter period, breaking down complex titles, descriptions to images, videos, or GIFs.
Privacy
In the age where privacy concerns are at an all-time high, Pinterest has provided with options like the ability to hide user profile from search engines, activity monitoring based advertisements, etc.
Wider Visibility


Pinterest has taken over Facebook, DeviantArt, and Instagram for driving traffic to your art. All the boards are public, and any user can pin it to their board. You can find a distinct kind of sub-genres in the art and explore the never-ending pin collection, which is personalized according to your interests and activities. On top of that, driving traffic to other sites is easier with Pinterest. In fact, it does better in the search engines as well.
What I did not like 
Videos and GIFs cannot be downloaded
Not a downside, but if I had to nitpick, this would be the thing. Images can be downloaded, then why not videos, GIFS, one might wonder. There are third party Pinterest video downloaders available.
---
6. Ello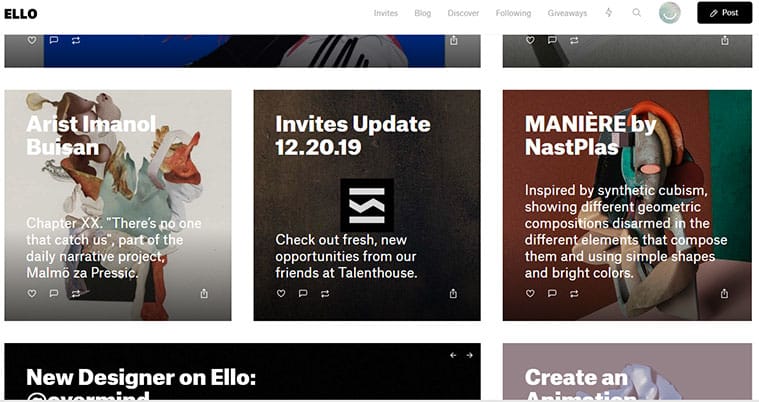 Artists, creators of Tumblr can give Ello a try. The creators' network started as a Facebook styled community, which later transformed into more like a Pinterest style image-centric social media website for creators. 
What I liked 
Sell your artwork
Embed an image with a link in the post and click on the sell button. When you click on the sell button, a popup for adding your product URL appears on the screen. Fill that with the relevant link, and you are good to go.
Freedom to post
All kinds of digital art-form are allowed to be posted. Visibility of NSFW and adult content can be turned on from the settings.

Ad Free


Unlike other social media platforms, there are no ads on Ello. None to follow you everywhere, based on your cookies, history, and other aspects. Interact with different artists and soak in your eyes with their work from a fan account. 
What I did not like 
No dark mode
People who surf for long hours often opt for dark themes on the apps, websites they frequent. There is no dark mode on Ello.
---
7. Pillowfort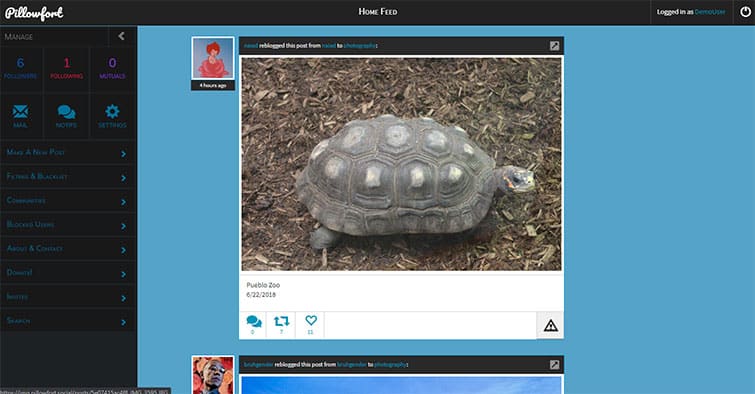 Pillowfort gives a similar look-wise feel of Tumblr. It is in beta-phase and charges a small fee ($5) for creating an account. There is an option for trial through a demo-mode for users to peek inside the discrete social media forum.
What I liked 
Feed like Tumblr
Home feed on the homepage has a post from all communities, based on hearts received and engagement.
Simple form of communities
Users can create communities under any name as long as they comply with the website's rules. Any member can join the community and get their post in the home feed or alternatively tune into the community and browser the post via the vertical feed.  NSFW, Adult content is allowed but often removed by the global moderators, as I have observed.
Filters and Blacklist
Set filters for posts containing specific content, keywords, or tags. This way, you can steer clear of unwanted content or trending topics. Other social media platforms push unwanted content down our throat, putting your preferred posts, content on the backburner, down the pile.
What I did not like 
Community feels abandoned
Although we get it that it is in beta mode, the community is sporadically active at best.
---
8. DeviantArt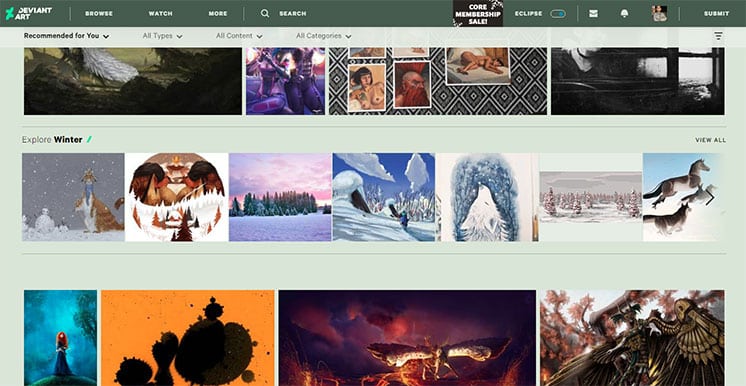 DeviantArt is an online community that features digital art, photography, videography, among other forms of art. It has communities feed similar to Tumblr. The feed can be sorted by different categories. Posts are called deviations.
What I liked
Directly Sell your Art commissions
Any kind of content can be sold by an artist on DeviantArt. It can be done through points by purchasing a commission via the commission widget. Alternatively, an artist can sell their art in the shop section for real money.
Tasteful art in NFSW section
The NSFW content on DeviantArt is a form of tasteful art, created by artists from around the world.
DeviantArt Muro
A browser-based online drawing application powered by HTML5 in all its glory. It was on a hiatus for a brief period before making a comeback. There are over 25 brushes, filters, and a wide variety of presets to make your life easier. Only registered users can save their artwork as

deviations

.




Another notable application feature is the

Redraw,

which records the entire process as the user draws on the canvas. It can later be posted as a film

deviation.

 
What I did not like 
There are none that even if I had to nitpick from the haven for artists.
---
9. Mastodon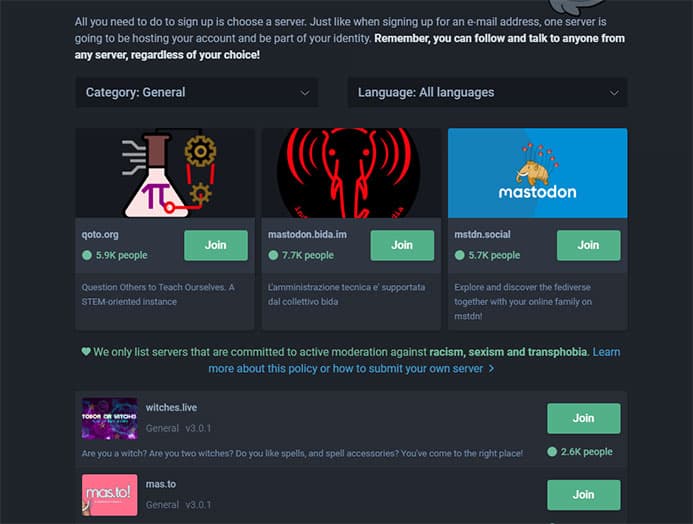 Mastodon is an open-source alternative to Tumblr. The inter-connected decentralized social network has micro-blogging like Twitter, a Reddit like community space. After creating an account Qoto, you have to use the login credentials(especially the Qoto id) for joining different communities. Qoto has a Twitter-like interface itself.
What I liked
Communities managed and hosted independently
The creators, admins of a community are essentially the owners of their community. They are hosted on their own server(or they can use Mastodon hosting), and it is interconnected by a federal social network. All kinds of content is allowed, just like Tumblr used to have before the ban.
Free to Use
The benefit of being an open-source network, users do not have to spend a dime for being part of any community or streams happening live. Minimal server costs are involved, which are borne by the patrons, donors.
Decentralized Social Network
Virtually all the platforms and sites like Tumblr have one thing in common. Their power of control is centralized in the hands of few people. As history is evident, it has not gone down when moderation and the final say are in the few hands.


Mastodon thrives on the federation, meaning a decentralized form of microblogging. Anyone can contribute code and run a Mastodon platform on their own server.
What I did not like 
Wider learning curve
A normal Internet user might find it difficult to understand it on the go. There is a wide learning curve involved in understanding the platform. It would probably take a few days to get a grasp on the functionality.
---
10. Twitter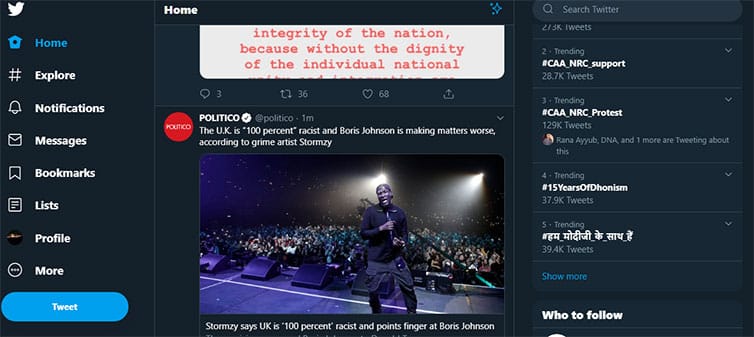 Twitter is a micro-blogging and social media website with a similar vertical home news feed like Tumblr. Users who like a post can re-share it with their followers using the  retweet feature. The home feed has posts from the other user, handles followed by you, and tweets from around the world can be followed by searching hashtags. Users can write a tweet (post) with a character limit of 280(except for Japanese, Korean, and Chinese).
What I liked 
Organic post in the feed.
There is no customization, tailoring of home-feed tweets from users followed by you. All tweets from the account handle followed by the user are visible in the feed. Tweets discovered through hashtag has a certain algorithm for visibility in place.
Fewer restrictions on content
Any kind of content is allowed on the microblogging website while complying with the local laws of the countries they are operating. In countries like Saudi Arabia, Twitter is regulated for various reasons, including the widespread NSFW content on the website.
Twitter Spaces
The world is not limited to 280 characters anymore. It has moved beyond that to video and even audio. Inspired by the Clubhouse app, we have the Twitter Spaces now, where few people can join the spaces either as listeners or speakers. The listeners can also request to speak, and the moderations/speakers can permit you to be vocal.

What I did not like 
Lack of tailored content
Users often have to search through a wide variety of content to scout the content of their liking, unlike Tumblr, Pinterest.
---
11. Ghost

Ghost is a self-hosted media platform that is a good Tumblr replacement. It allows you to host your website and platform sans any content restriction. The idea of Ghost propagated into a successful product through a kickstart funding campaign funded within a short period. Several leading content marketing teams such as Buffer, Unsplash also rely on Ghost for publishing content.
What I liked
Take advantage of the seamless portal for members to sign up for the protected content. Users just have to put their email and get content delivered straight to their inbox.
Turn your members into paying subscribers through the easy Stripe payment integration with support for over 135 support countries. Readers from around the world can pay for subscriptions in their own curries without worrying about conversion and other fees.
Major Scaling Capabilities
A story goes viral on the platform, but that will not be a cause of concern. With over 200 million hits each month on the Ghost (Pro) platform, they are well equipped for the traffic spikes every day. No special caching plugins are needed either to achieve peak performance.
What I did not like
Setting it up requires a bit of a learning curve which is not for beginners. For self-hosting, a server is needed that has to be managed by the owner. On the other hand, you will need to shell out the greens for using the managed platform.
---
12. Dreamwidth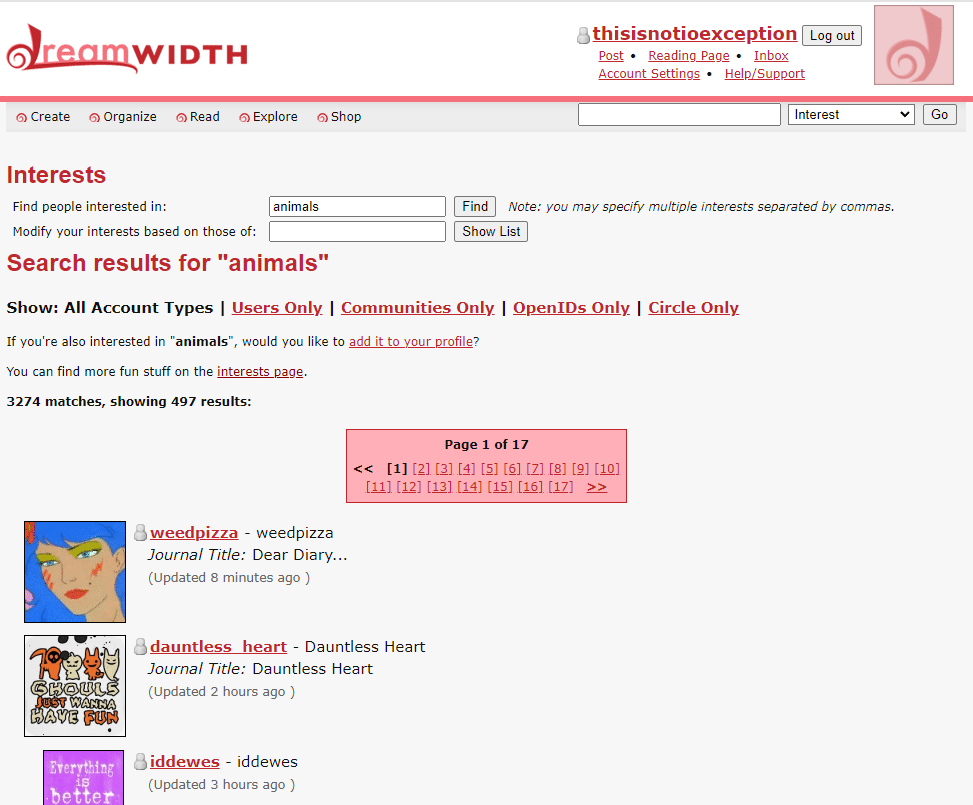 Dreamwidth is a community-driven online journal platform for artists, similar to Tumblr, with threads structure inspired from 4chan. You can create your profiles, add friends, and post content. An explore section is also around with different interests to which you can either subscribe or search through the explore menu. After their recent update, OpenIDs have become easier to use on the platform to log in and keep your account.
What I liked
NSFW Content Cannot Be reported
Now the section of NSFW content is known as Adult Concepts. Users can still tag their posts as NSFW and 18+, but they cannot be flagged by fellow users. As long as the content adheres to the sitewide guidelines, the moderators will not remove it.
No Third-Party Advertisements
There are no third-party advertisements on the platform, which makes the experience better for the users. Unlike Reddit, where video ads are a nuisance in your free, you will find it free from any kind of advertisements that generally hinder the experience.
A platform for the Artists
A unique platform designed for artists without charging any fee. You can join for free or pay to help in paying the servers costs. There are minimal restrictions for your artistic expressions.
What I did not like
When you click on a photo posted by a user, it opens in another tab. A photo display box or viewer would have made things much easier on the mobile.
---
13. Facebook Groups

This may seem like an unconventional suggestion, but groups on Facebook have been growing at an exponential rate for years now. The communities have mushroomed into full-fledged content hubs, driven by their individual users. You can create communities with similar interests and let others join them to post content that adheres to the platform's policies.
What I liked
Screen members Before Admitting
Now you can ask different questions, consent to the rules, and do other things before letting a member join the group. Deny the ones that do not agree to the rules and terms of the group.
Supports over 100 Languages
Never run into the problem of language. Facebook supports over 100 languages for users from around the world. You can even post in your language, and the in-built translator on the platform will translate into your preferred language.
The Facebook app is a full-fledged experience that keeps you engaged on smartphones, tablets, and other portable devices. You can also create group chats for the group and engage with other users.
What I did not like
Inability to restore deleted communities
Sometimes groups and communities get flagged falsely. This results in the deletion of the groups without a chance for the admins and users to make a case.
---
14. Pixiv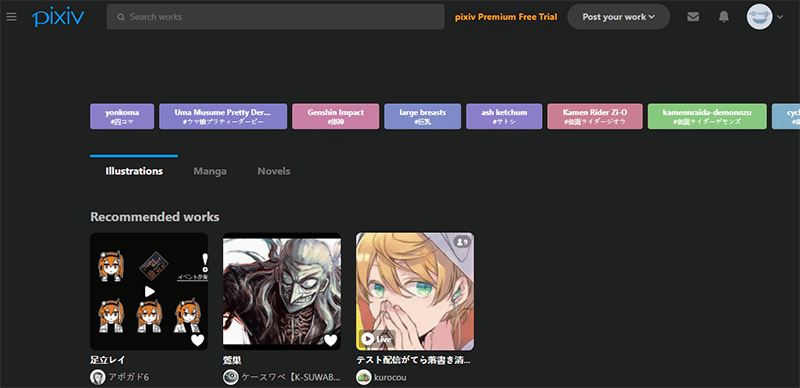 Pixiv started an online community for Japanese artists to showcase their work. Consider it as a DeviantArt for the Japanese style of illustrations, which are inspired by the manga, anime aspects. It clocks over 4 billion page views monthly, housing 50 million-plus members on the platform. This Tumblr alternative has more than 100 million submissions on the site, in different genres and categories.
What I liked
Several leading and indie Manga artists publish their first copy of a new series on the platform. You can follow different artists, categories, and genres. Along with that, set a watchlist to monitor any further releases by your favorite artists. The wagon doesn't stop there, and you can also request new work, teasers from them.
As a creator, this is your chance not just to showcase your work but sell it on the marketplace. Booth.PM, an integrated marketplace, allows small and independent artists to sell their artwork to make an income. Select an art category, set a price, and upload your artwork—all the prices in the Japanese currency Yen.
Read Manga, Novels, and more
Read different categories of manga, novels, illustrations, comics, and more on the site itself. Every piece of literature is divided into chapters, seasons, and episodes. You can read them in the in-built reader that facilitates reading.
What I did not like
Difficult to Translate at times
The website has a basic English interface for the primary pages. When you dive into different sections, only the Japanese language is available. Your browser will try to translate it, but it is not the same.
---
15. Hubpages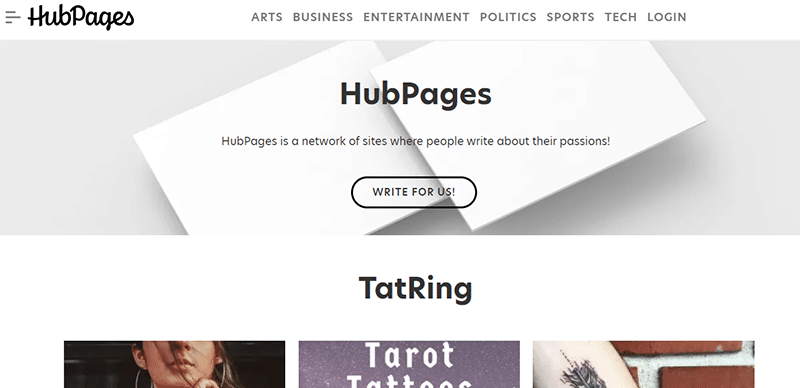 Similar to Hubpages, you can write about your passion or anything in mind. Publish it for the world to read on a group of sites under the Hubpages umbrella. Readers can comment and provide feedback, opinion on the piece. You can log in by registering an account or through Facebook. The latter will require your email and a unique password along with it.
What I liked
Monetization Program for Earning
This is not a get-rich-quick scheme; let's get that out of the way. Publish a couple of articles and then sign up for the monetization program. As more people read your articles, some may click on the ads. This will generate revenue for you, out of which Hubpages will keep a cut to keep the site up and running. The payout is after the earning reaches a certain threshold.
Unlike several other Tumblr alternatives, the content feed on Hubpages can be filtered out according to your configuration. People and topics can be hidden, along with distinct categories.
Blogs can be difficult to set up on a self-hosted platform. Let Hubpages take care of that by providing you a space and a page to do that. Churn amazing content to garner exposure and views while the platform takes care of the stuff behind the curtains.
What I did not like
The presence of multiple ad blocks on the site is often a deal breaker. Regular users may find it obtrusive and a vibe-kill to fight through those ads for viewing the content.
---
Why Was NSFW Adult content banned on Tumblr?
Earlier Tumblr was owned by Yahoo, but in 2017, it was sold to Verizon Media. Which later started implementing stricter policies on Tumblr.
It all started with an incident involving under-age NSFW content, which led to the Tumblr app being removed from the Apple iOS AppStore.
Following a few days later, Tumblr announced the ban on adult content in their blog announcement.
The Tumblr NSFW content fans and communities have reacted with deep regret, and a year later, they still struggle to rebuild the communities affected/removed due to the enforcement of the new rule and are looking for its alternatives.
---
Over to You
So these were some of the best alternatives to Tumblr, in addition to these, you can also use WordPress or Google's Blogger if you are looking to start a blog.