While gamers around the world have been eagerly waiting for any official news or announcement on Grand Theft Auto 6 from Rockstar Games, a fan of the game has gone ahead and created a GTA 6 Map Concept that features all the classic cities and locations of the franchise.
The GTA 6 map concept looks interestingly similar to the map of the United States, which features iconic locations like Vice City (Miami), Los Santos (LA), Liberty City (NYC), San Fierro (SF) and more. All the major game cities are roughly placed where its real-world counterpart is.
Besides featuring old favorites, the map also features few new locations such as New Orleans, Houston, Dallas, Denver, and Seattle/Portland, which never featured in GTA. Also, some other iconic U.S. cities like Chicago, Washington and more southern cities like Atlanta are not included in the map concept.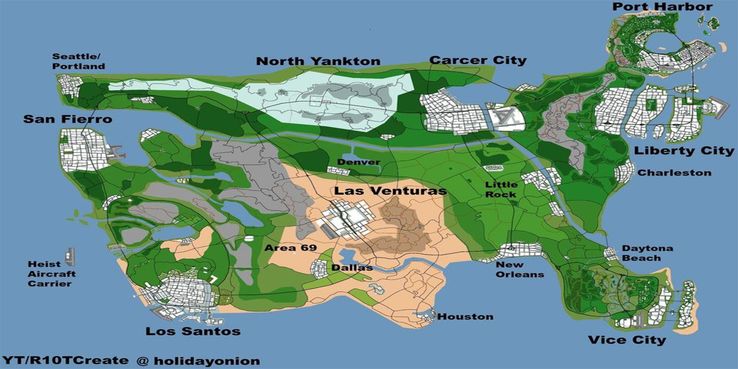 While the GTA 6 map concept may seem nostalgic and cool, it is completely unrealistic from the game point of view. Rockstar would have to make some major compromises to include all the classic cities of GTA, which would mean that each city in the game would lack detailing, something that the company would unlikely do.
GTA 6 is rumored to be announced somewhere in 2020. However, recently a former Rockstar employee hinted that the game may not be released anytime soon and could see a Holiday 2021 launch.
With no official announcement from Rockstar, it appears that gamers will have to wait longer.
Source: Game Rant