If you are stuck on the login screen of your PC, then chances are you have probably forgotten the password of your user account.
Now that this has happened, you might be looking for methods to recover the password of your user account which can be difficult sometimes.
But there's no need to worry, because, with PassFab 4WinKey, you can easily reset the password for your user accounts in the Windows operating system.
In this post, we'll talk about how it works.
---
What is PassFab 4WinKey?
If you are looking for a professional Windows password recovery solution, then PassFab 4WinKey is your best choice.
Well, you might ask What is PassFab 4WinKey? It is a user-interactive Windows password recovery tool, as well as the most straightforward and accessible shareware.
By using this program, you can reset forgotten Microsoft account passwords, reset or remove lost local or Administrator account passwords, or even create or delete user accounts for Windows 10/8.1/8/7/Vista/XP/Server 2019.
Is PassFab 4WinKey Safe and Trusted?
PassFab 4Winkey is a legit Windows password recovery software. It provides a free trial subscription and for paid users a 30-day money-back guarantee.
Moreover, your data and privacy are not violated and remain safe.
The headquarters of PassFab is located in New York, United States.
---
Key Features of PassFab 4WinKey
PassFab 4WinKey is the most straightforward, fastest, and safest application to solve your Windows password problems. It can unlock your computer in a matter of seconds.
More importantly, you do need to have much knowledge about computers because this tool has a simple and interactive user interface. Some other features which make this software a popular tool to solve your problems are as follows.
It supports all types of Windows user accounts.
You can remove or reset the existing domain admin account password.
You can reset your Microsoft account password offline.
You can create a new administrator or domain account to access the locked computer.
You do not have to format or reinstall the Windows operating system.
You won't lose any data while using this software.
---
Editions of PassFab 4WinKey
There are 4 editions available for this fantastic tool so far. For the Windows version, Standard Edition is available for $19.95, Professional Edition is available for $29.95, and Enterprise Edition is available for $39.95.
Also, there is an Ultimate Edition with all the functionalities available for $69.95. At the same time, the PassFab 4WinKey Mac version also has 4 editions, which are $10 more than the Windows version. 
In the Ultimate edition, you will get the following features which are not available in any of the previous versions.
Remove the domain administrator password

Reset domain administrator and user password

Reset admin/standard user password for Microsoft account 

Delete Windows or domain user account

Create a new Windows or domain admin account
---
Technical Specifications of PassFab 4WinKey
The technical specifications required for PassFab 4WinKey are as below:
Operating System:

Windows 10 / Windows 8.1 / Windows 8 / Windows 7 / Vista / Windows XP (32-bit/64-bit)

CPU:

1GHz (32-bit or 64-bit)

RAM:

256 MB or more of RAM (1024MB Recommended)

Hard Disk Space:

200 MB free space and above

GPU:

VIDIA G80+ (GT8600 to GTX1080 TI)

Domain:

Work for Windows 2019/2012/2008(R2)/2003(R2)/2000 servers that act as domain controllers (only available for Active Directory Servers).

PCs:

Fully support various of desktops, laptops, and tablets including Microsoft Surface Pro, Dell, HP, Lenovo, Toshiba, ThinkPad, IBM, Sony, Samsung, Acer, ASUS, etc.

Drives:

Support RAID/SCSI/SATA drives, and FAT16, FAT32, NTFS, NTFS5 file systems.
Note: To know more information about its technical specifications, please visit this page.
---
How to Use PassFab 4WinKey
You can either boot a USB or a CD/DVD to use the recovery tool. With only 3 simple steps, you can regain access to your computer which is locked due to poor human memory. What are these three steps?
Download and Install PassFab 4WinKey to another PC/Mac (not your locked one).

Create a password reset disk (CD/DVD/USB) on another PC/Mac.

Reset the Windows password of your locked computer.
Need more details about using it? Now let's see the complete step-by-step guide of this Windows password recovery tool:
Step 1: Download, install, and purchase the PassFab 4WinKey. Open it while the USB drive is connected to the PC. Select USB Flash Drive as boot media (If you are using Standard edition, then you can only choose CD/DVD). 
Step 2: After selecting the boot media, click on "Burn" to start the burning process. 4WinKey will warn you that your USB Flash Drive will be formatted and all the data will be removed. Click on "Next".
Step 3: PassFab 4WinKey will start burning the USB drive. Wait until the process of burning is complete.
Step 4: Now insert this bootable USB drive into the locked computer. Boot the computer to the Boot Menu interface and change the boot choices, enabling your USB to be the first boot option. 
Step 5: On restarting the PC, you will see the PassFab 4WinKey interface. Select the Windows operating system and click on "Next".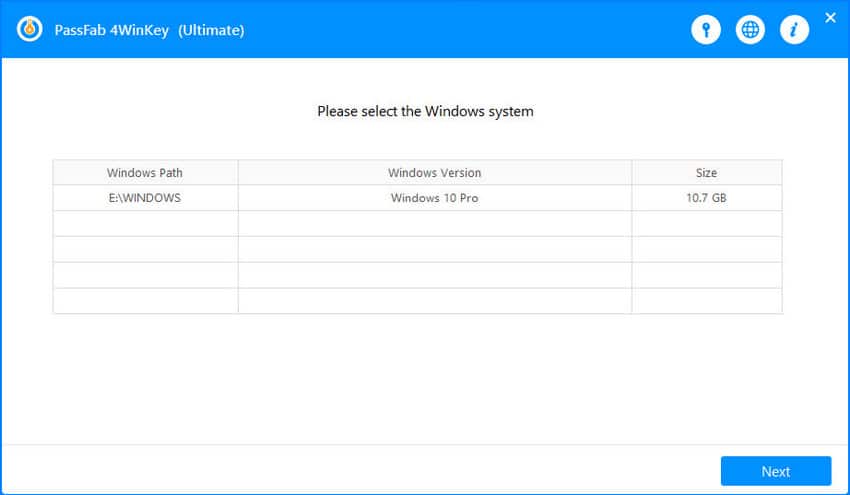 Step 6: You will see all the user accounts (Microsoft, Admin, Local, guest, etc.) in a list. Select the user account for which you have forgot the password and the feature you want to use.
Step 7: For instance, if you choose to remove the password and click on "Next", the password will reset to blank.
Step 8: Click "Reboot" and restart your computer. Now you can successfully sign in to the computer without a password.
Last but not least, here is a video tutorial from YouTube about how to use PassFab 4WinKey to unlock your PC:
---
Bottom Line
So, you have learned about the PassFab 4WinKey review. It is an amazing Windows password recovery software that you can use to recover the password for almost all user accounts without any effort.
You just need to choose the user account and the operation, finally, it will set the password based on your option. Also, it is easy to use and any person can use it.