Do you want to take your Sims 4 gameplay experience to a new horizon? Are you scouting for some of the Best Mods made for this popular title?
Are you figuring out How to Install Mods & Custom Content in The Sims 4?
Well, if your answer is Yes, then this article might help you.
There's no denial in the fact that the entire The Sims franchise has stood the test of time. The latest addition to this franchise i.e. The Sims 4, was launched in 2014.
Sims 5 is still in development and will take a few years to release.
Despite being a seven-year-old title, there's no decrement in the popularity of this game.
As you might know, mods and custom content make this life simulation video game even more enjoyable.
In this article, we have shared some of the best mods for the Sims 4 that are worth checking out.
---
What Are Sims 4 Mods?
Mods is a shortened term for game modifications. Generally, mods are used to alter or add one or more game features.
In Sims 4, Mods can make your life easier and unlock new possibilities. Moreover, mods can also be used to add additional content to the game. To use mods, you have to download them and place the downloaded files at the right location.
---
How To Install Sims 4 Mods?
In this section, we have shared a simple step by guide following which you can install any mod made for The Sims 4. You can skip this section if installing mods is one of your hobbies.
Before installing any mod, it's important to check whether or not the game supports custom content. Firstly, open Sims 4, and on the main menu, click the three dots at the top right-hand corner. Next up, select Game Options, and then Other.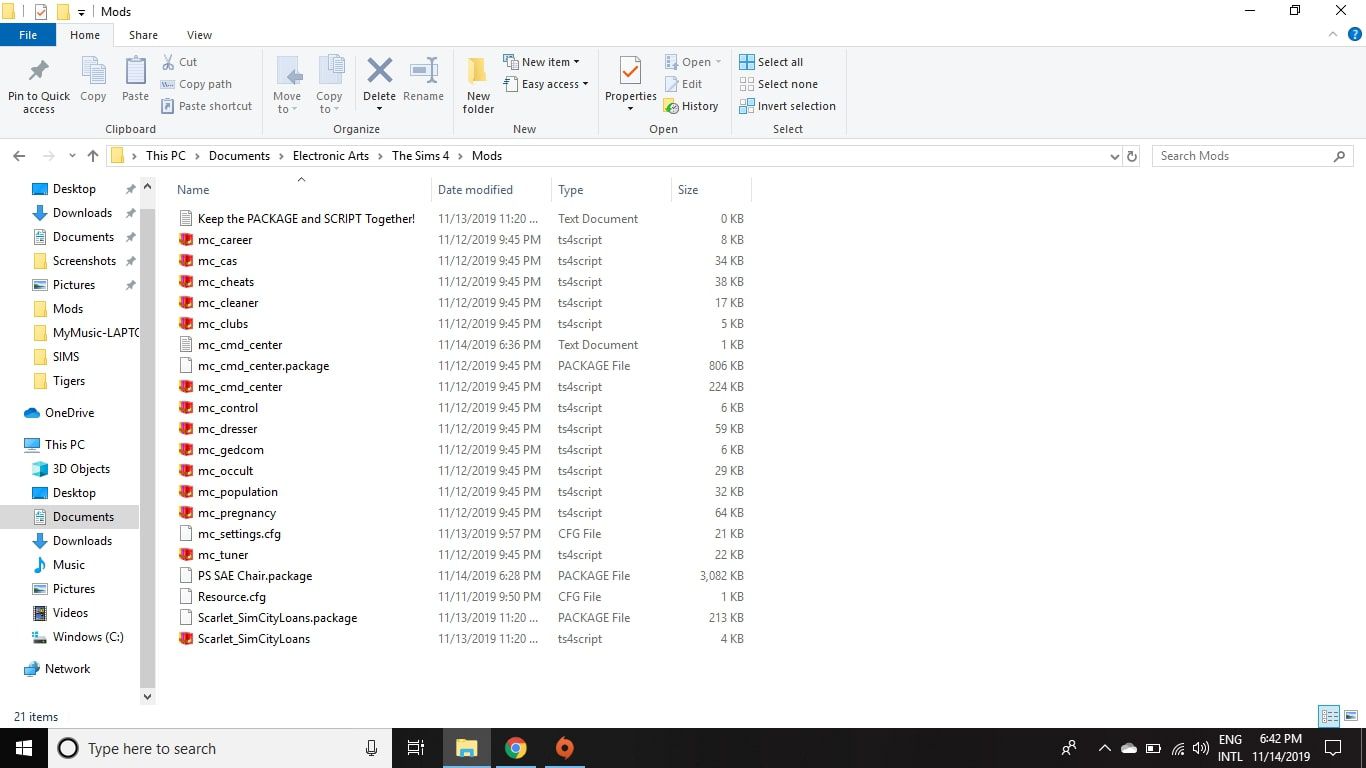 Once you are in the other section, checkmark both Enable Custom Content Mods and Script Mods Allowed. Locate the downloaded mod file on your computer and copy it on to your desktop for easier access.
Open the mods folder from Documents > Electronic Arts > The Sims 4 > Mods. Lastly, drag and drop the mod file from your desktop to the Mods folder.
---
Best Sims 4 Mods
1. UI Cheat Extension
No matter what game you are playing, cheat codes always come in handy. A majority of veteran players thoroughly learn and remember the main cheat codes. However, if you can't match the capabilities of these veteran players, then the UI Cheat Extension mod might impress you.
As the name of this mod suggests, it enables the UI cheats extension, which allows you to use cheats by directly clicking on the UI, as opposed to typing a command.
In order to install this mod, you have to place both the .package file and the .ts4script file in your mods folder. Lastly, the latest version of UI Cheat Extension i.e. v1.15.1 is compatible with Legacy Edition only.
---
2. Faster Eating And Drinking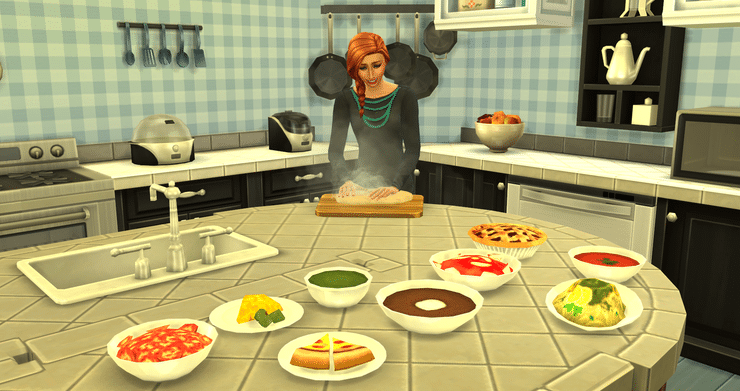 Faster Eating And Drinking is one of the must-have Sims 4 mods. Sims waste a considerable amount of time while having food by indulging in activities like talking or watching TV.
This tuning mod helps sims to get on with the business of eating and drinking. This mod does not completely alter other activities like chatting.
Once you install this mod, Sims will have the ability to take several bites/gulps in a row without stopping to do other things.
Download Faster Eating And Drinking
---
3. Simulation Unclogger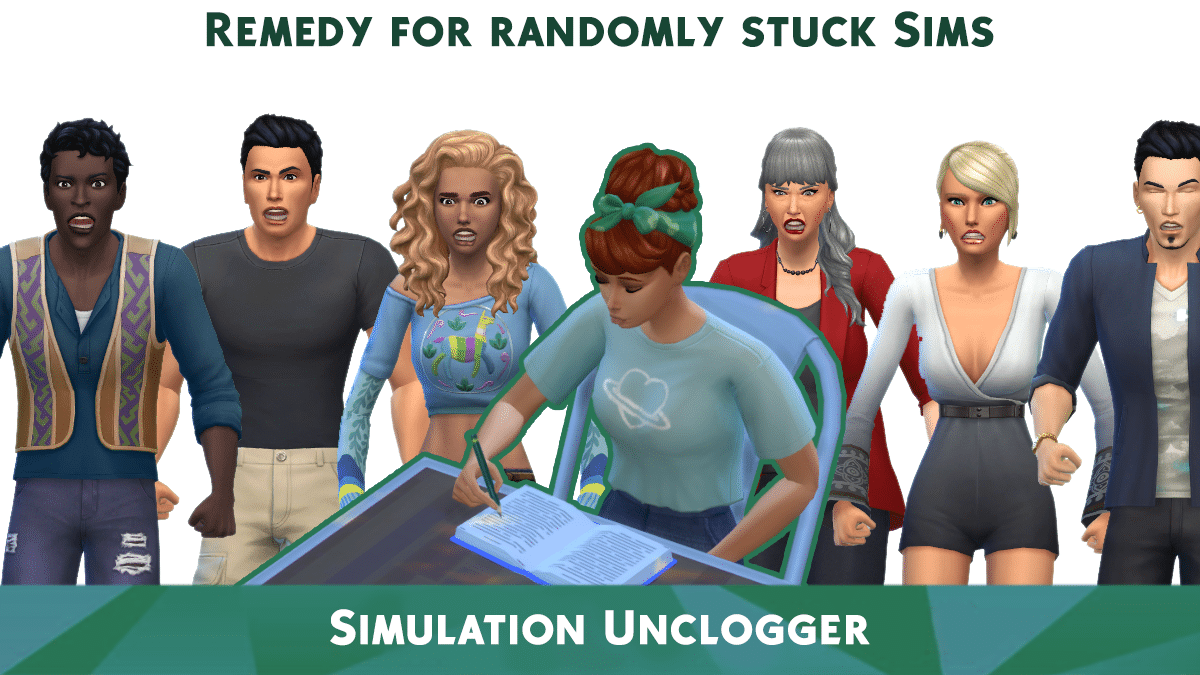 Simulation Unclogger is a perfect mod for gamers rocking older systems or low-specced PCs. This useful mod automatically detects when a sim causes the simulation to get stuck, rendering the game unplayable and attempts to fix it.
Simulation Unclogger fixes autonomy lags caused due to many autonomy requests. Some other problems fixed by this sims 4 mod are sims head bobbing, sims doing nothing for a few hours, time slowing down on Speed 3, and time going back to the past.
You can even check out the Simulation Lag Fix mod for fixing some of the above-mentioned problems.
---
4. Meaningful Stories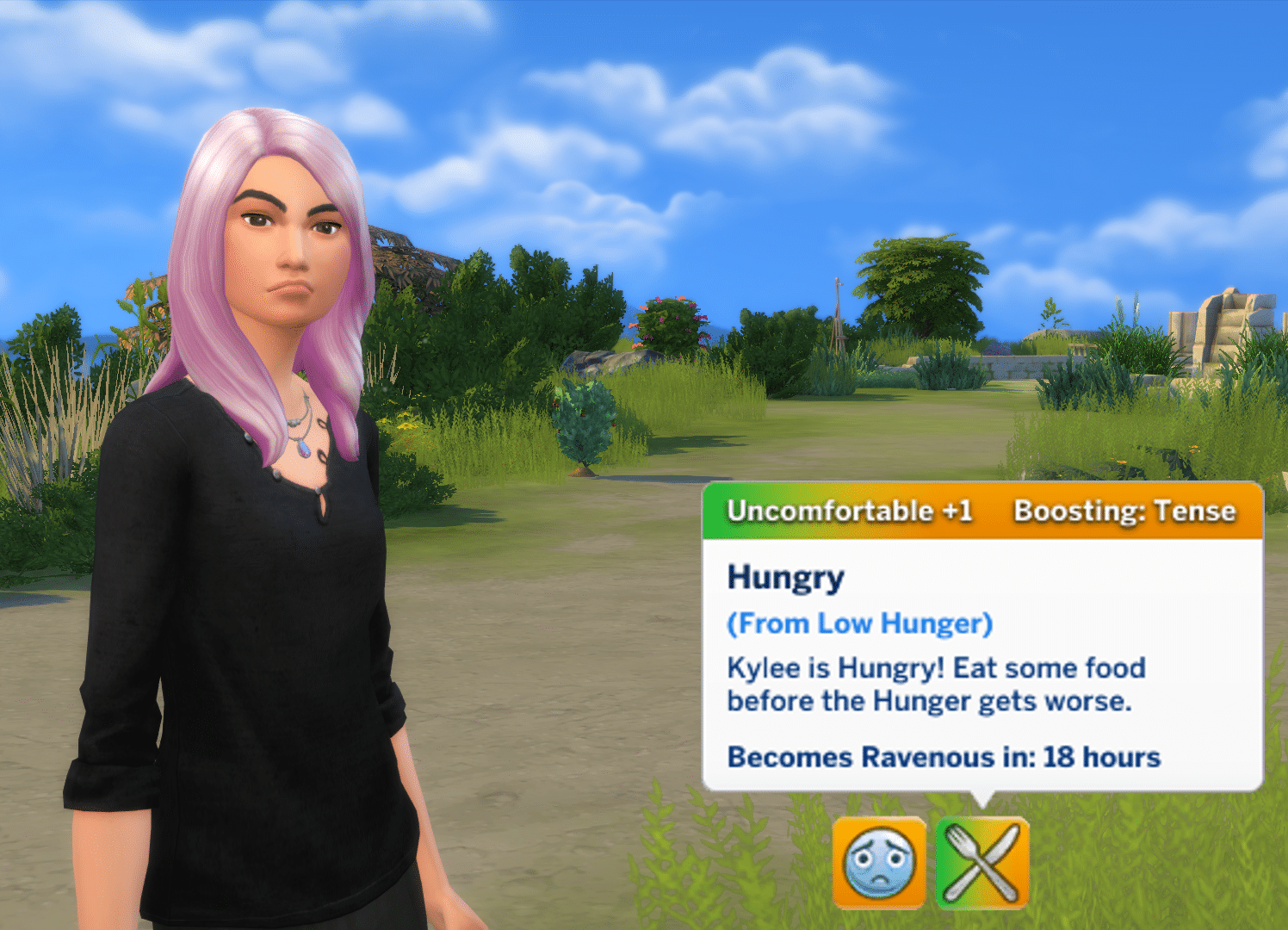 Meaningful Stories is one of the best sims 4 realistic mods. At times seems that the moods and emotion in The Sims 4 are a bit unnatural. Thankfully, Meaningful Stories fixes that issue as it completely redesigns the mood and emotions system of The Sims 4.
Once you install this mod, the emotions behave in ways that are smarter, subtler, and more varied. Additionally, artwork and objects with an emotional aura will no longer affect your sim's moods immediately.
Meaningful Stories also sports extreme mood swings. In a nutshell, Meaningful Stories take the moods and emotions of sims one step closer to real life.
---
5. Old French Village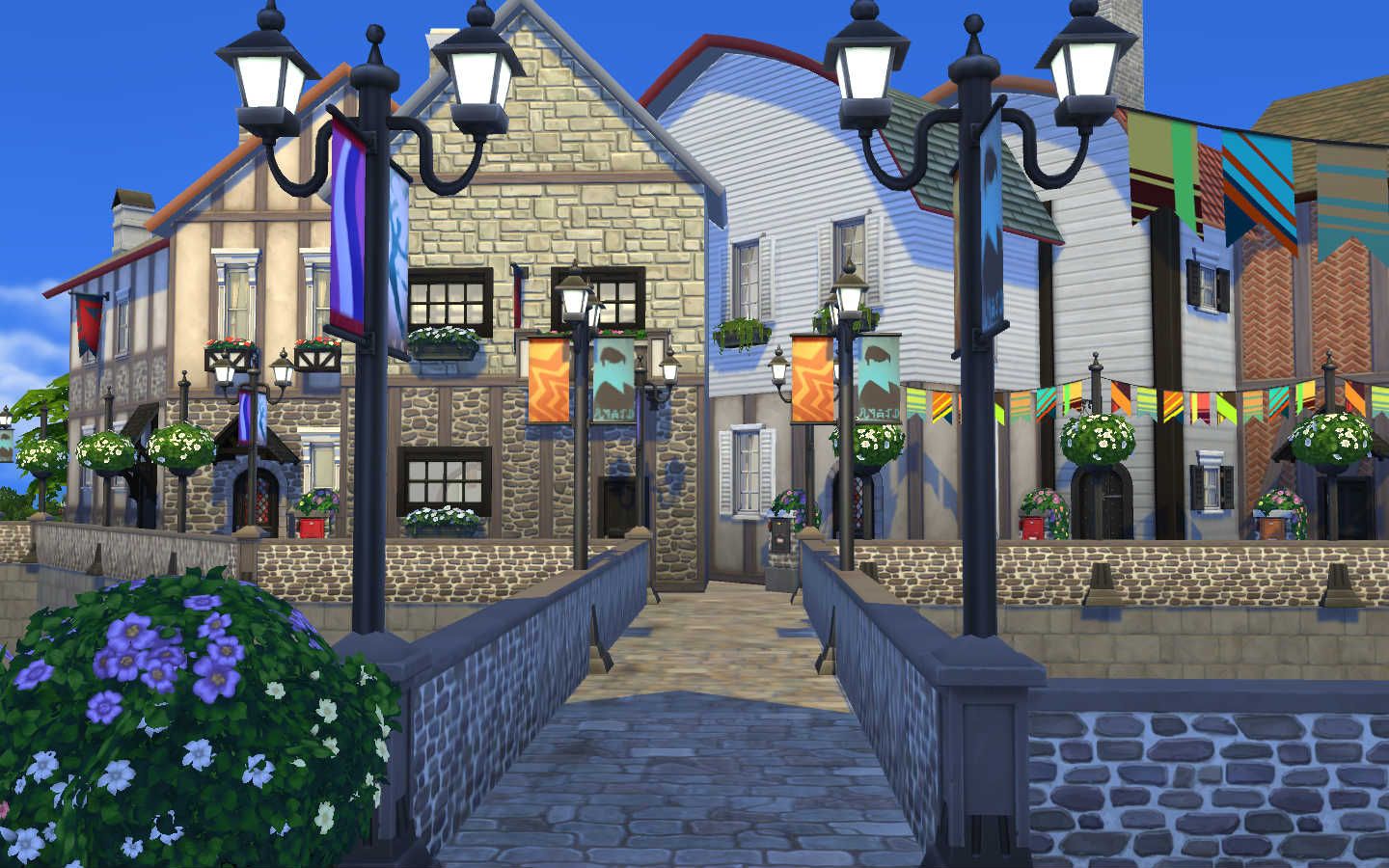 Old French Village is another unique mod for sims 4, and it is worth checking out. The design aesthetics of this world mod seem to be heavily inspired by Disney movies.
Surprisingly, the modor catdenny has made the village by only using default assets from the game.
Old French Village features 10 individual cottages, all ranging in style, affluence, and numbers of bedrooms, a castle at the top of the town, a hidden garden, a vegetable garden, a pub, a cafe, and a stream running through the town.
---
6. Ownable Cars
One of the major highlights of The Sims 3 was the ability to drive vehicles wherever you pleased to. Sadly, this functionality was removed in The Sims 4.
Ownable Cars mod adds five drivable cars to the game. The cars range in price from §10000 to §20000. You can easily locate these cars in the Hobbies and Activities > Misc sort in Function Mode and Outdoors > Activities in Room Mode section.
Thes drivable cars must be placed on the terrain and as long as your sim can reach the car it can drive the car.
---
7. "Eternal Youth" And "Immortal" Buyable Traits Mod
Sims 4 allows players to turn off the aging or dying process in the settings. That said, this setting is applied to every single character in the game. To avoid this, you can use the "Eternal Youth" and "Immortal" buyable traits mod.
This mod adds two new traits to the game namely Eternal Youth and Immortal. The former prevents your sim from aging, but nothing prevents the Grim Reaper takes them in other ways.
On the other hand, the immortal trait does exactly as its name suggests. It makes you immortal but you do get old with time.
Download "Eternal Youth" And "Immortal" Buyable Traits Mod
---
8. SimDa Dating App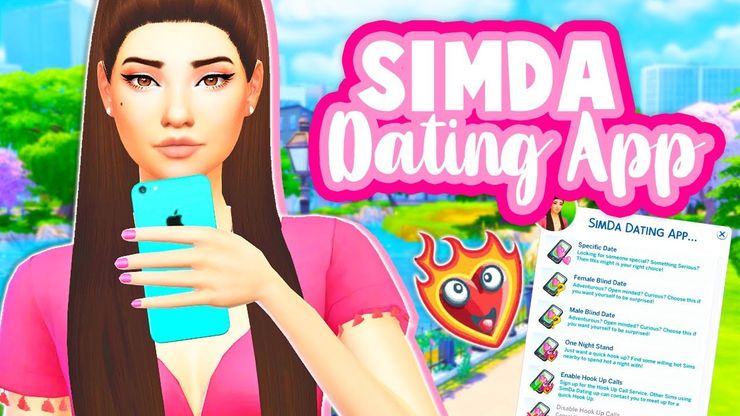 If you have been looking for some of the best sims 4 adult mods then SimDA Dating App is the mod you should install right away. This adult mod for sims 4 can help you find your true love. Additionally, you can even use this app for a blind date or one-night stands.
Using this app you can also choose the location to meet your date. Depending on how the date goes your sims will have a bad date, a good date, or an awesome Date.
---
9. 50% Lower Career Salaries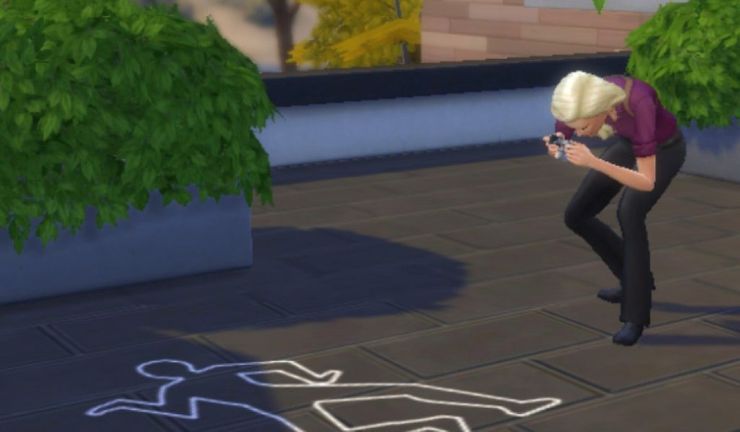 At times you might have wondered that the wages offered to sims for easy tasks is way too much than they deserve. Moreover, as sims progress in a particular career, they get all kinds of bonuses, rewards, and raises in their pay.
At first sight, these payouts look pleasing but they end up making the game a bit unrealistic.
In order to fix this problem, you can check out the 50% lower career salary mod. This mod simply lowers the career salaries by 50% (including the money bonuses when getting a promotion) making the sims 4 worlds a bit more realistic.
Download 50% Lower Career Salaries
---
10. The Sims 4 Go To School Mod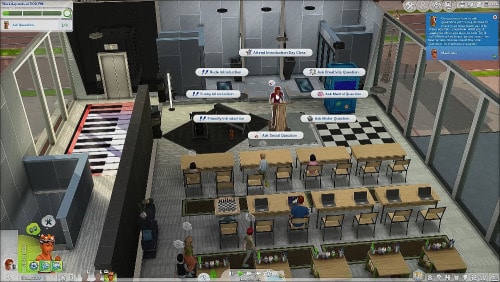 If you were to follow your kids to school or gain education alongside them, then Go To School Mod might help you. Using this mod you can help your Sims achieve their education.
Additionally, you can even attend a different subject every day with the teacher NPC, and demonstrate your knowledge through activity goals. If your sim is feeling a bit low, he can visit the counselor for a spirit boost.
The go-to school mod consists of a Principal, Caterer, Janitor, and even a school Counsellor who can eliminate school boredom.
---
11. Multiple Jobs For Your Sims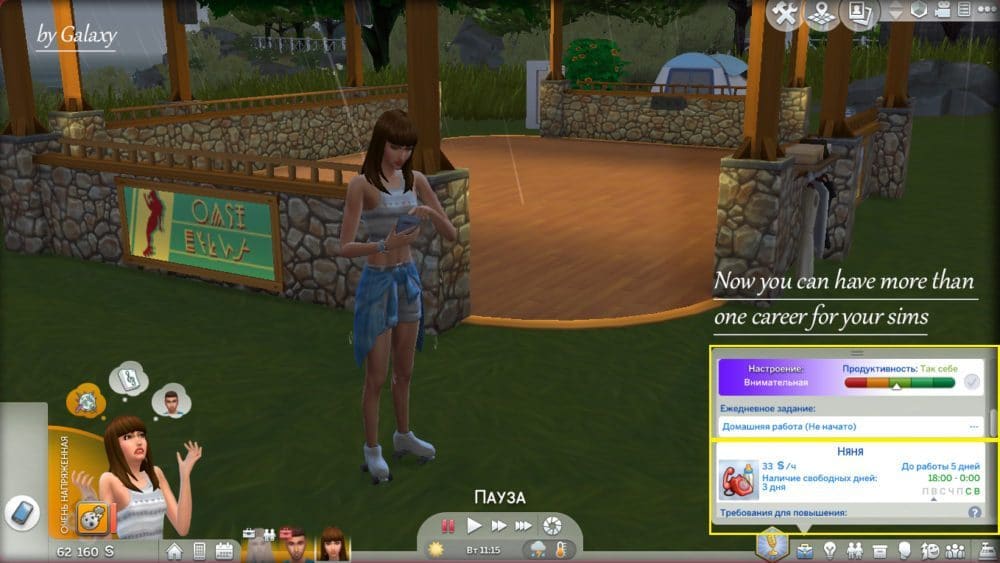 Multiple jobs for your sims is an ideal mod for anyone who wants to increase his earnings or explore different career paths. After installing this mod, you will be able to have multiple jobs and that too in various careers.
For instance, your sim could be a doctor in the morning and a chef in the evening. As a matter of fact, your sims can have as many careers as they want.
Luckily this mod is compatible with all custom careers.
Download Multiple Outputs For Your Sims
---
12. Height Slider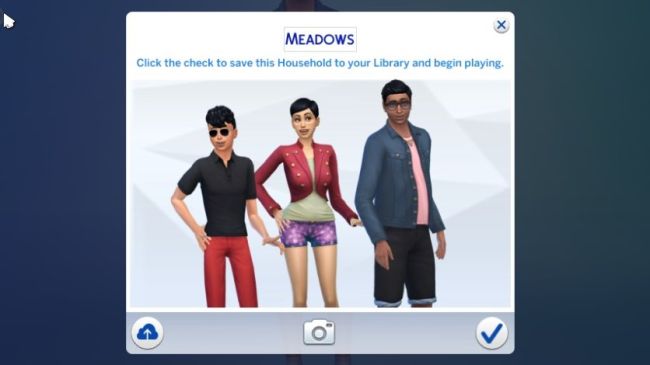 Thanks to the Create-a-Sim tool in The Sims 4, you can create numerous sims with different physical features. Sadly, this tool doesn't allow players to customize the height of their sims. Well, you can now do so by using the Height Slider mod.
To use the Height Slider mod in the game, all you need to do is drag the feet of your sims. Bigger feet will make your sim taller and shorter feet will make him shorter.
---
13. Private Practice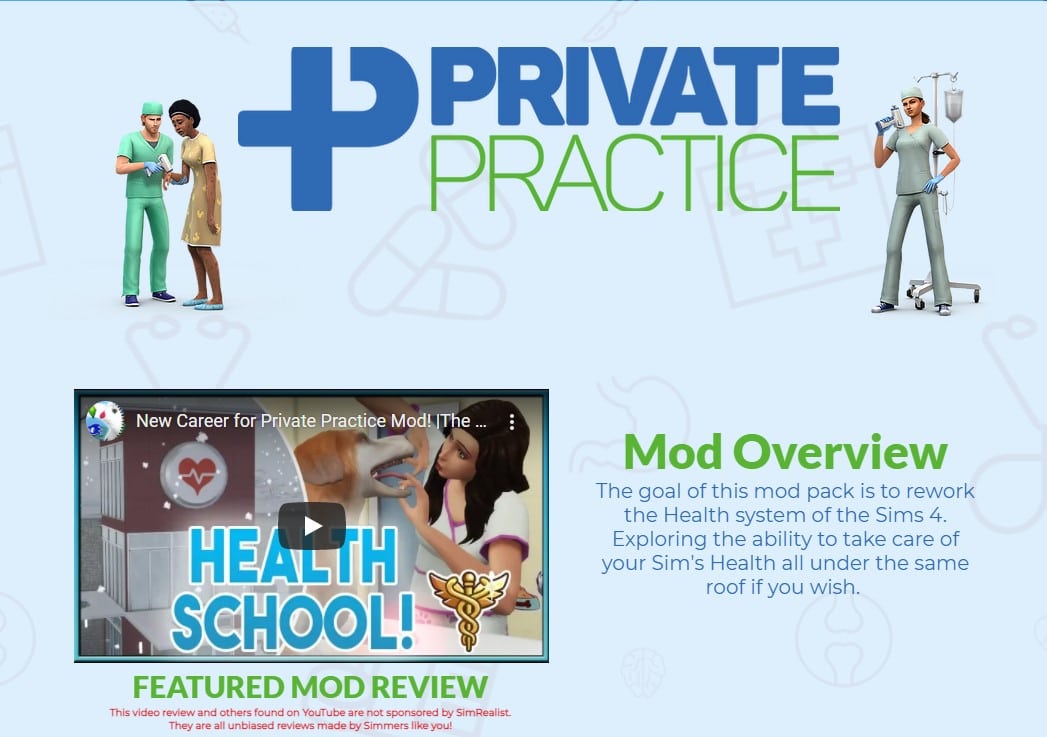 If you want to try a completely unique health system in Sims 4 then do check out the mod Private Practise.
Using the aforementioned mod you can add health insurance, diseases, plastic surgery, pharmaceuticals, and optometry to your collection. Weight and blood pressure are some other well-being of your sims that you can control.
Lastly, this mod is also ideal for anyone who wants to make a health sciences career.
---
14. MC Command Centre

The next best sims 4 mod that's worth checking out is MC Command Centre. Using this mod you can take control of the lives of all Sims living in the neighborhood.
Based on your preference you can change the clothes of everyone in your neighborhood, perform marriage checks, and even fix employment rates for Sims of different ages.
---
15. Better Romance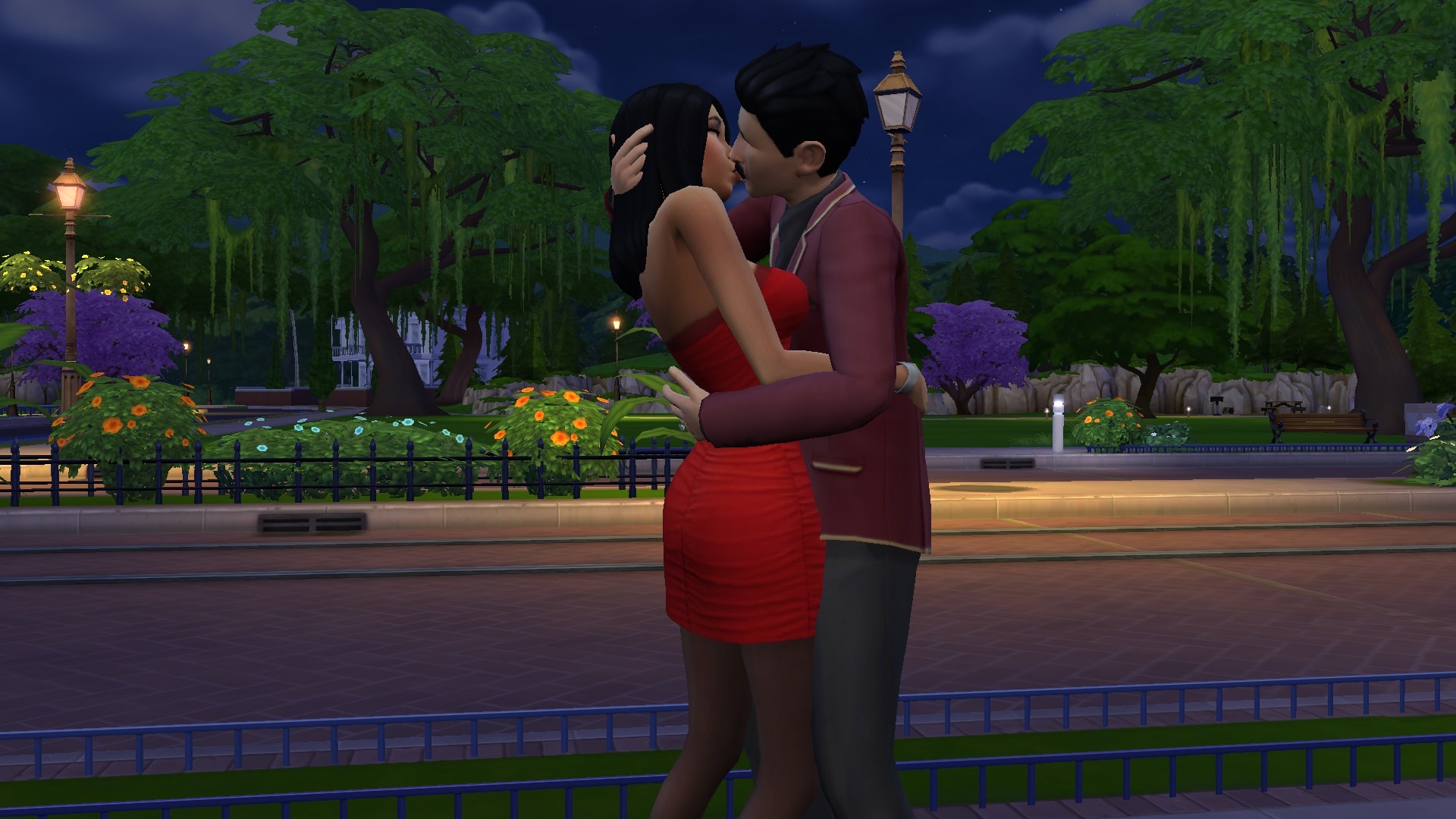 Next on the list is Better Romance. Clearly, Sims 4 is full of love, and it's quite easy to initiate a relationship with another sim.
However, it's with noting that a majority of romantic interactions in Sims 4 are not realistic. Luckily, Better Romance fixes that problem.
With this mod, you can make your sim relationships more practical and realistic.
---
16. Live In Business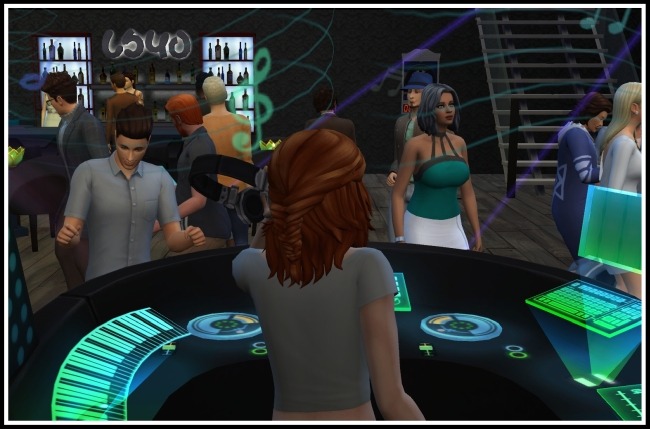 If you are looking for a perfect Work Mod then Live In Business will definitely impress you. With the help of this mod, you can set up shop at home.
This shop can be a cafe, bar, club, daycare, gym. or anything that you want it to be. You will earn a lot by running businesses at home.
Initially, the mod might be a bit complex but once you get used to it, it will be a lot of fun.
---
17. Unlock Every Item In Build / Buy Mode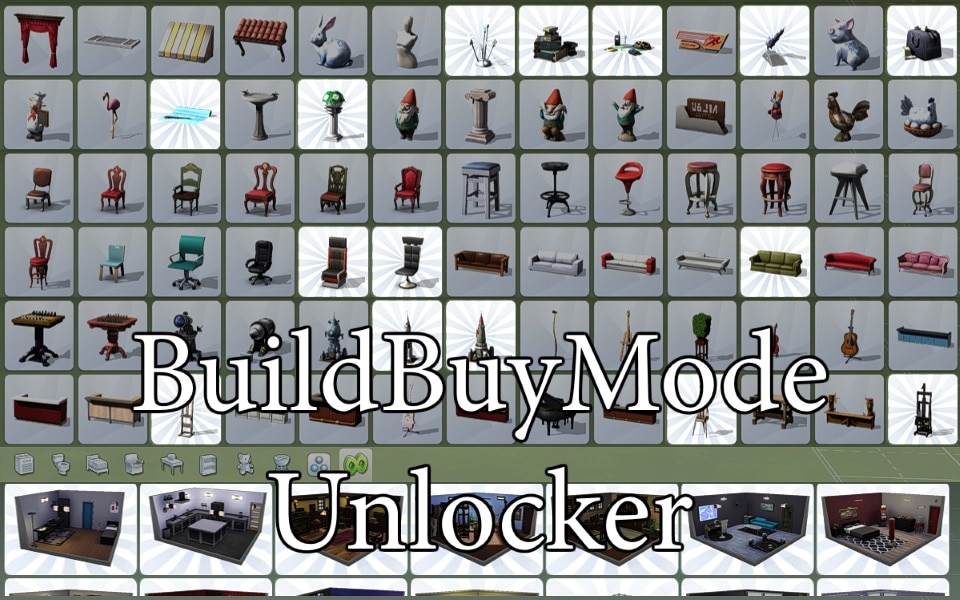 At times it gets tiring completing the career of Sims 4 to unlock Build / Buy mode items.
Luckily, the problem can be instantly thanks to The Sims 4 BuildBuyMode Unlocker mod by scripthoge. As the name of this mod suggests, it will help you to unlock every item and pre-made room.
As a result, you can have a perfect house from the get-go. You can even buy locked objects with this mod.
Download Unlock Every Item In Build / Buy Mode
---
18. Daily Save

Last on the list we have Daily, it's another useful mod that's worth checking out. Sims 4 automatically saves your progress at 5 AM every Sim Day and actually uses seven rotating save slots.
This mod does the exact same thing and autosaves your game with every new Sim day. However, it helps keep your Sim creations safe and gives players 5 weeks of backup saves.
---
19. Playable Pets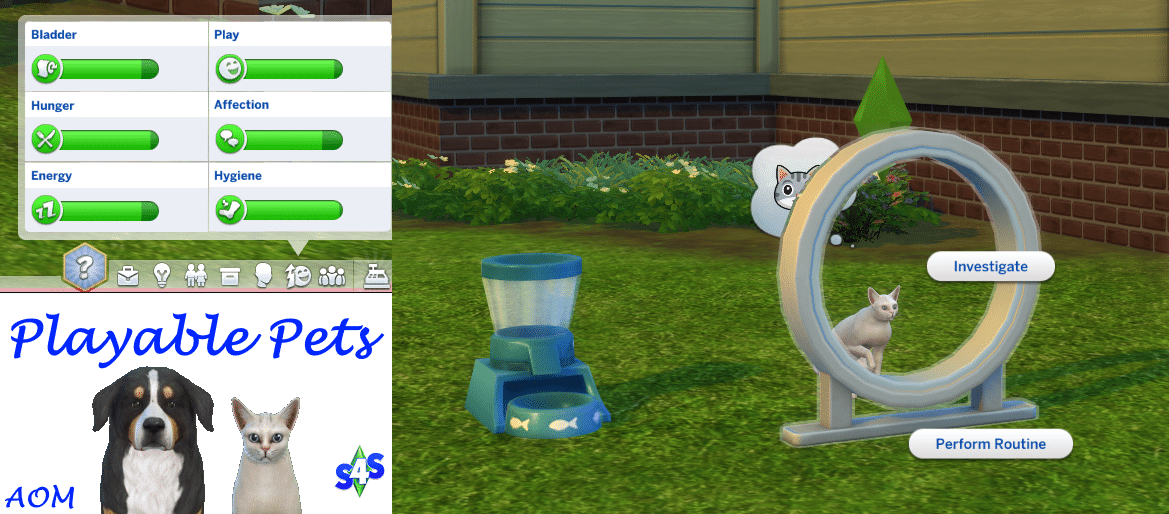 The name says it all, Playable Pets is a mod that's ideal for people who love pets. Playable Pets is a free gameplay mod using which you can tell your Sim pets where to go and what activities to do.
Do note that the mod will help you control your pets but you can't add, change, or fix any pet interactions that are already in the game.
---
20. Zombie Apocalypse Mod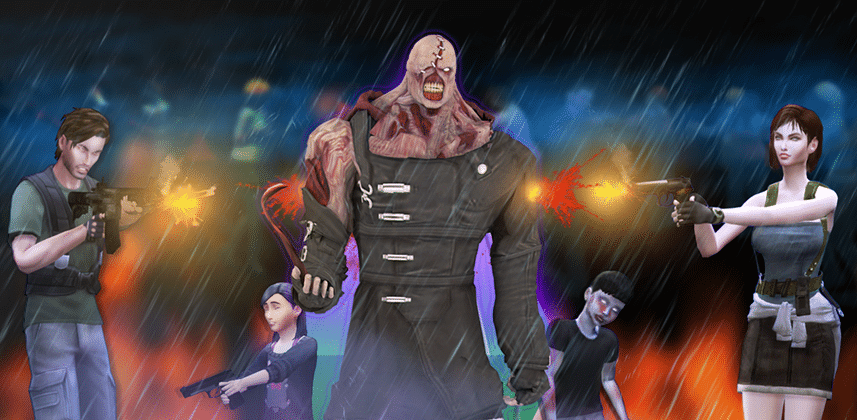 The last mod on the list is ideal for anyone who is on the lookout for some of the best Horror mods for The Sims 4.
The Zombie Apocalypse mod by SACRIFICIAL turns your sim world into an apocalyptic zombie survival game. You can takedown zombies using the Handgun/Shotgun/Assault Rifle. You can even turn your sim into Nemesis and kill others.
Download Zombie Apocalypse Mod
---
Are Sims 4 Mods Safe?
If a mod is programmed, installed, and used correctly it will be completely safe to use. However, if there's any problem with a mod it can result in corrupt data, saved game losses, and severe glitches.
We advise our readers, to regularly update their sims 4 mods and install the latest patches.
---
Are Mods In Sims 4 Free?
Yes, almost every mod made for Sims 4 is free to use. The active modders community of sims 4 is doing a great job and they are coming up with unique modes that offer new ways of expanding and developing on a regular basis.
---
CONCLUSION
So these were some of the best mods for Sims 4 that are worth checking out. Do share any of your personal recommendations for the Sims 4 best modes in the comments section below.