Amidst all the rumors and leaks, Microsoft on Thursday officially confirmed its next major operating system, Windows 11 at its "What's next for Windows" online event. Windows 11 comes almost six years after the introduction of Windows 10.
In an announcement, Panos Panay, Microsoft's Chief Product Officer, Windows + Devices described the new desktop operating system as "the Windows that brings you closer to the things you love."
Windows 11 comes with new features, a redesigned user interface, a new Windows Store, improvements to performance, and even support for Android applications.
"Today marks a major milestone in the history of Windows," Microsoft CEO Satya Nadella said. "It's the beginning of a new generation. Windows isn't just an operating system. It is a platform for platforms"
Although a leaked pre-release build of Windows 11 had provided us an early look at the new OS, Microsoft has some more revelations up its sleeves.
Redesigned Start Menu 
Microsoft has simplified the design and user experience for productivity, creativity, and ease. It's modern, fresh, clean, and beautiful. Windows now feature rounded corners and glass-like backgrounds.
The new Start menu and updated Start button are both centered on the taskbar to quickly find what you need. The new Start menu looks similar to Windows 10X, Microsoft's canceled operating system for dual-screen PCs.
It drops the Live Tiles and replaces them with a grid of icons that can be repositioned and pinned to the new Start menu. It also brings all the default icons such as Edge and File Explorer to the center.
Start utilizes the power of the cloud and Microsoft 365 to show you your recent files no matter what platform or device you were viewing them on earlier, even if it was on an Android or iOS device.
Microsoft has also introduced features such as Snap Layouts, Snap Groups, and Desktops to help you organize your windows and optimize your screen real estate. You can also create separate Desktops for each part of your life and customize them to your liking.
Faster Connectivity
With Windows 11, the company introduces Chat from Microsoft Teams, which is integrated into the taskbar. This allows you to instantly connect through text, chat, voice, or video with all of your personal contacts, anywhere, irrespective of the platform or device they are on, across Windows, Android, or iOS.
You can also connect with your contact who hasn't downloaded the Teams app through two-way SMS. Windows 11 allows you to connect with friends and family through Teams, allowing you to instantly mute and unmute, or start presenting directly from the taskbar.
Best PC Gaming Experience
For gamers, Microsoft is bringing DirectX 12 Ultimate, which can enable breath-taking, immersive graphics at high frame rates; DirectStorage for faster load times and more detailed game worlds; and Auto HDR for a wider, more vivid range of colors for a truly captivating visual experience.
Windows 11 also supports your favorite PC gaming accessories and peripherals. With Xbox Game Pass for PC or Ultimate, gamers get access to over 100 high-quality PC games with new games added all the time, and it's still just as easy to find people to play with, no matter if they are playing on a PC or console.
News & Interests Widgets
Windows 11 brings you closer to the news and information you care about faster with Widgets – a new personalized feed powered by AI and best-in-class browser performance from Microsoft Edge. Widgets include things like your weather, Bing maps, calendar, news, sports leaderboard, and more.
When you open your personalized feed it slides across your screen like a sheet of glass so it doesn't disrupt what you are doing. For creators and publishers, Widgets also opens new real estate within Windows to deliver personalized content.
An All-New Microsoft Store
The new Microsoft Store has a revamped Entertainment tab, which will soon be welcoming leading first and third-party apps like Microsoft Teams, Visual Studio, Disney+, Adobe Creative Cloud, Zoom, and Canva to the Microsoft Store to offer incredible experiences to entertain, inspire and connect you. In addition, even Notepad and Paint will be coming to the Microsoft Store on Windows.
Bringing Android Apps To Windows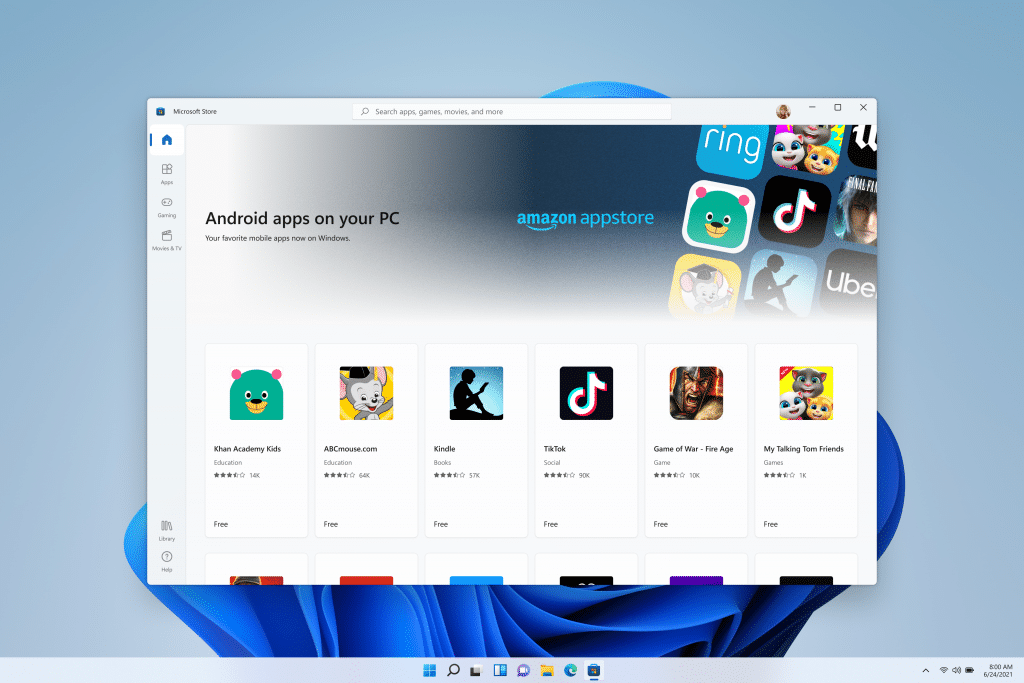 Microsoft is also bringing Android apps to Windows 11 for the first time. Starting later this year, people will be able to discover Android apps such as TikTok in the Microsoft Store and download them directly through the Amazon Appstore.
Other Features
Microsoft promises that Windows Updates will be 40 percent smaller and more efficient than in Windows 10, as these updates will now majorly take place in the background to provide a seamless experience to front-end users. Windows 11 is touted as "the most secure release yet".
Windows 11 also comes with new sounds and alerts, including the fresh start-up sound. Additionally, it has new themes, some new wallpapers, and an improved dark mode.
Further, Windows developers and independent software vendors (ISVs) have been provided with the ability to bring their apps regardless of whether they're built as a Win32, Progressive Web App (PWA), Universal Windows App (UWP), .NET, Xamarin, Electron, React Native, Java, or any other app framework.
"Windows is more than just an operating system; it's a fabric woven into our lives and in our work. It's where we connect with people, it's where we learn, work and play. Over time it's remained familiar and adapted to us. We hope you're as pumped as we are for Windows 11," Panoy concluded.
"We can't wait to see what Windows 11 empowers people to do and inspires them to create."
As expected, Windows 11 will be available through a free upgrade for eligible Windows 10 PCs and on new PCs beginning this holiday and continuing into 2022.
To check if your current Windows 10 PC is eligible for the free upgrade to Windows 11, visit Windows.com to download the PC Health Check app. In addition, Microsoft will start sharing an early build of Windows 11 to the Windows Insider Program from next week.