Art is in everything that surrounds us. The phonebook, that crooked brick on the footpath, and even the birds, in their chirps on the branches of the trees. As an illustrator, you require the right set of tools to do justice to the blank canvas.
The digital world of today doesn't warrant a palette of colors and paper for creative expression. Take advantage of the free drawing software and tool that can replace your brush, pencil, and pastel colors.
Draw directly on them and let the dust settle on the scanners. With the help of this drawing software, you can deliver projects on a timely basis. Got some revisions to make? Not a problem, or a whole rehaul? Not a sweat.
What is a Drawing Software?
Drawing software is a fundamentally computer-based application that facilitates creating art on a monitor.
They are aided by a plethora of graphic tools needed while drawing—for instance, pencils of different widths, brushes, pastel colors, and more.
Professionals use high-end graphics tablets with a stylus to draw imagery that appears directly on the drawing software. Some artists use Apple iPads for the same, given their commendable cross-platform support.
To get started, a mouse is more than enough. It is when you go for hand-drawn sketches that's where stylus shine. We have listed below some of the best free drawing apps and software that work on Windows PC, Mac, iOS, and Android smartphones.
Best Free Drawing Software
Krita
Paint.net
MyPaint
Alchemy
GIMP2
Inkscape
MediBang Paint

Expression Design

OpenBoard
AutoDraw
Platform – Windows, macOS, Linux
Starting with open-source drawing software, Krita lands on its feet pretty well. You can download it as a portable version if installing it feels like a tedious task.
You can create different sessions for elements of a project that warrant distinct workflow. Tabbed canvases can be managed from the top bar.
Features
Brush stabilizers come in when handy with shaky hands. Don't let that get in the way of your drawings.
Painting assistants help in establishing perspective, or even concentric shapes of any type.
Vector tools are included for creating animated drawings, including comic strips.
Resource manager lets you add new brushes, presets, or patterns from the Internet. You can create your own.
Why You Should Give it a Try
Shareable brushes preset and more with other Krita users. Head to the forums and communities to discover a huge library of media assets.
Left-click bar comes in handy when you require different kinds of brushes at your disposal.
Add new functionalities using the custom Python plugins.
Portable drawing software that you can take anywhere with you. Carry it on your flash drive and plugin to start weaving your creations.
The Room for Improvement
Lacks image retouching tools like Photoshop.
The text tool lacks intuition. You will need to open a new window for adding text.
Platform – Windows
Powered by .NET framework, this free drawing program Paint.net is a very powerful free Photoshop alternative. A very-lightweight application that is under 15 MB to download.
However, the file size does not do justice to its capabilities. You can take rely on it for all your editing and sketching needs.
Features
Often change your mind while drawing? The unlimited history will come in handy. Only limited by the space available on the hard drive.
Thumbnail-based tabs make it incredibly easy to distinguish between different tabs. Don't check each tab to find the element to paste; simply look at the thumbnail.
Works on most computers, irrespective of configuration. Whether you are running Intel Atom or a Xeon, this drawing program doesn't bog down.
A wide variety of blur effects to add relevance or reduce the prominence of an object.
Why You Should Give it a Try
Large library of plugins that add different utilities to the software.
Paint.net does not hog up the resources of your computer. You can work simultaneously run different apps.
Ideal for people looking to create sketches and pastel color drawings
Impeccable online support through the community and forums.
The Room for Improvement
Does not support external fonts for text formatting.
No project documents for future reference.
Platform – Windows, Linux, macOS
Developed by a veteran graphics designer, this open-source drawing program does more than what meets the eye.
You can move the canvas around using the right mouse button, giving out a feel of the real canvas.
Features
Pretty good crayon-based brushes mimic the hand pressure effect.
Designed especially for digital painters, with a wide palette of colors.
Unlimited canvas with respect to any image that is added or created.
Calibrate canvas symmetry for axis-based painting.
Why You Should Give it a Try
Pressure-sensitive sketching and drawing for graphics tablets.
Gamut masking color is available that can be accessed from the topbar.
Go full-screen and remove all the OS's distractions. Let the tools and brushes be your weapons.
Separate scratchpad for testing your brushes before using them on the canvas.
The Room for Improvement
If you are looking to add images to the canvas.
The position of toolbars cannot be changed for the most part.
Platform – Windows, Linux, macOS
Before drawing, everybody has a rough concept. An outline that forms the structure of what you have in mind. Let us bring that to digital with Alchemy.
The features of the free sketching app have been intentionally reduced. The developer wants an interactive focus on the attempts instead of perfection.
Features
Record your sketching sessions and make a time-lapse for future use.

Perform accurate tracing of images by loading them in the background. It comes in handy for recreating higher-resolution replications.

Export files in SVG and PNG format.

Minimalist, distraction-free user interface. Go all out with the full-screen and the collapsible menu.
Why You Should Give it a Try
The simplest way to create shapes is using a stylus.

Advanced level of tracing without any extra features to make it complicated.

Modules can be added to improve the behavior of the application.

Keyboard shortcuts for every action and feature.
The Room for Improvement
Excessively basic for the simplest of requirements.

Alchemy's supposed "plugins" do not add utility.
Platform – Windows, Linux, macOS
GIMP stands for GNU Image Manipulation Program. Linux users would be familiar with this free drawing software that has been around for over two decades.
Originally an image retouching tool, it has transformed into a full-fledged drawing program capable of composition and authoring.
Features
Reliable integration with Swatchbooker, Scribus, and Inkscape

Advanced scripting with C#, Python, Perl, and Scheme languages for augmenting capabilities.

Paintbrush set from MyPaint. You can choose not to install and rely on the default set.

Sub-pixel sampling for anti-aliasing based application by all the tools.
Why You Should Give it a Try
Add different paintbrushes and tools using compatible plugins.

Fantastic content awareness fill using the

resynthesizer.

Add new functionalities and create automation using scripts.

In-built converter to sRBG profiles while importing an image(with different rendering techniques)
The Room for Improvement
Inconsistent text formatting toolbar with a narrow scope.

Dated UI is in line with what is offered on the modern drawing programs.
Platform – Windows, Linux, macOS
Inkscape is a design software that is developed keeping in mind the vector graphics. You will find animated tool icons on the application.
Start doodling on Inkscape instead of a napkin. Sketch a mindmap and then let this drawing software take it from there.
Features
Embedded bitmaps can be attached and created for different objects.

Edit the document tree using the XML editor in real-time.

Advanced vector viewer included that is a separate application.

Interactive transformation of the objects in real-time as you drag them around.
Why You Should Give it a Try
Node editing lets you edit schematics of what is displayed on the graphs.

Versatile object creation tool aided by pencil, calligraphic, and other tools.

Broad support for SVG formats, including EPS and sk1.

Newer Mesh gradients with a variety of control points for the objects.
The Room for Improvement
Basic history tool with room for making it intuitive.

The user interface has a wider learning curve.
Platform – Windows, and macOS
In the latter half, we have a free digital painting software. MediBang Paint is a drawing app that is designed for manga creation as well.
You will need to install the latest version of the Microsoft Visual C++ redistributable in order to use all the features.
Features
An extensive range of brush tools, ranging from preview to control window.

The keyboard shortcut for every function in the top toolbar. Press an alphabet, followed by the number.

A snappy user interface, ideal for users of different levels of computer knowledge.

No perceptible lag on the screen, even while using the stylus.
Why You Should Give it a Try
Collaborating working using the cloud option.

Extensive library of in-built fonts.

Dedicated manga creator using the cloud.

Version management by signing into the MediBang Paint account.
The Room for Improvement
Lacks more refined pencil tools.

A lot of the features are tied to the MediBang Paint account
Platform – Windows
Expression Design is a vector-based drawing software by Microsoft, which was discontinued a while back.
You will need to install the latest version of the Microsoft Visual C++ redistributable in order to use all the features.
Features
Simplified user interface that feels at home.

Multiple workspaces to work on different projects.

Text formatting toolbar on the screen, with all the relevant options.

Pixel preview mode for post-rasterization, as in how the image will look on the web.
Why You Should Give it a Try
An effortless blending of Vector and Bitmap graphics.

Multiple paths in editing for different layers.

Different display qualities are available for various platforms.

XAML clipboard format options for exporting to different editors.
The Room for Improvement
Basic editing tools.

No developer support as the app has been long discontinued.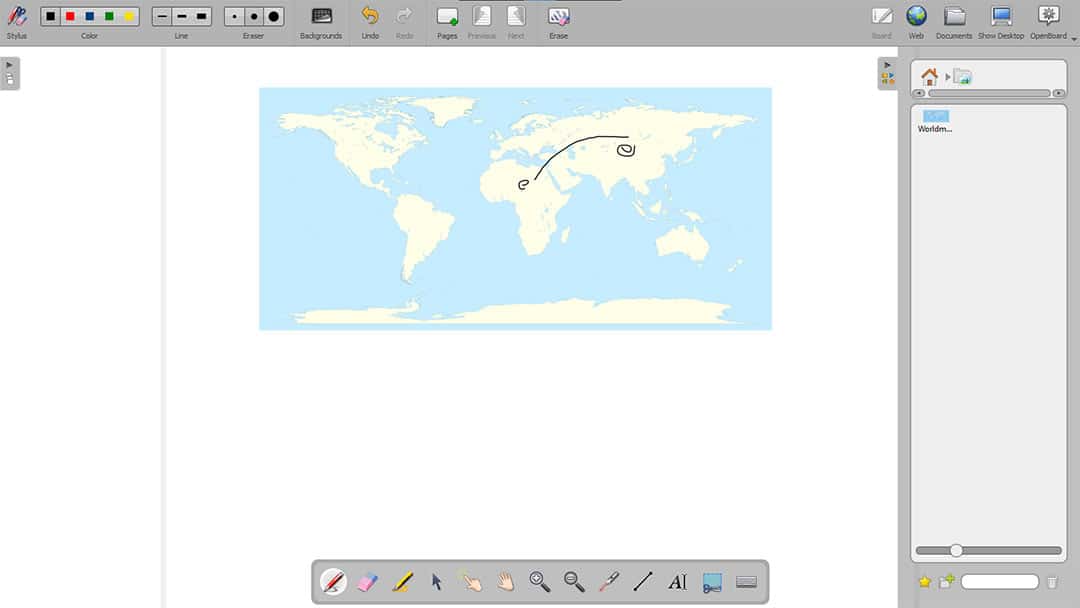 Platform – Windows, Linux, and macOS
OpenBoard is all about simple doodling and getting your hands dipped in the digital drawing software arena.
Only available on the full-screen, and you can use it with the stylus or a mouse-keyboard combination.
Features
Live-record your session along with audio for tutorials or future references.

You can add an unlimited number of pages, acting as different spaces.

Grids and solid color background option with size calibration.

Sleep mode when you leave the drawing board for a break. Click anywhere to return to where you left off.
Why You Should Give it a Try
No learning curve, and anyone can use it, be a child or an adult.

Easy-to-use layout, designed for users of different levels of experience.

Suitable for amateurs who are new to computer-based drawing.

Use a whiteboard for teaching in schools and universities
The Room for Improvement
Text tools lack depth

No developer support as the app has been discontinued long.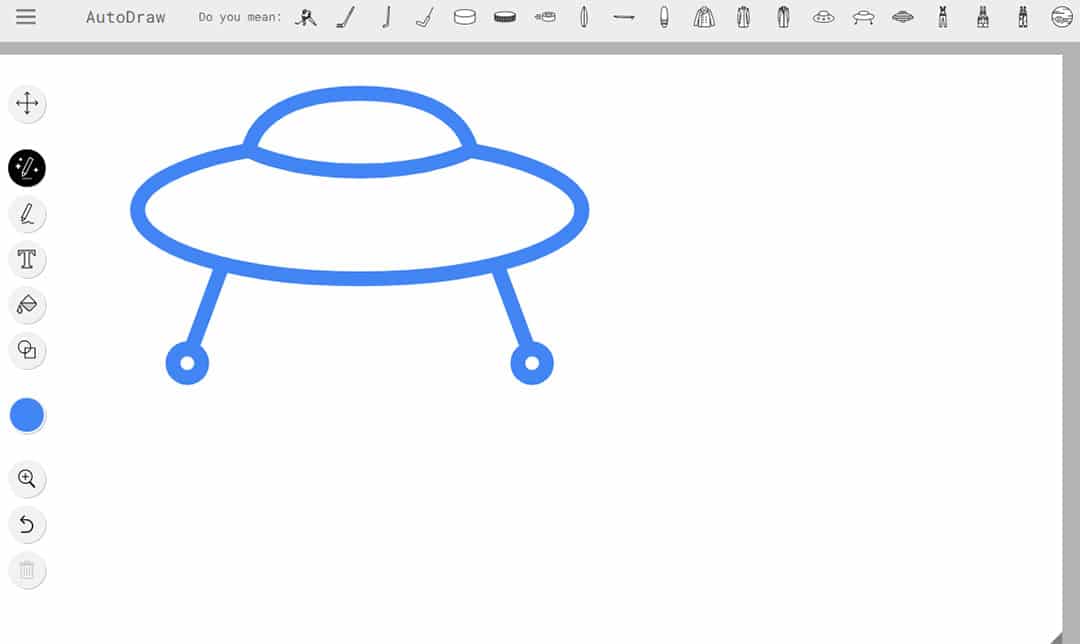 Platform – Online
Why install an application when you can do the same online. AutoDraw is an online free drawing program that does not require any registration.
Powered by HTML5, you can use the online tool on any modern web browser.
Features
A variety of premade objects using the drawing pens, such as shirts, coats, celestial bodies, etc.

Over a dozen fonts in the text options to choose from.

AutoDraw feature that lets you draw rough figures and then suggests premade templates of different objects. 

A plethora of keyboard shortcuts to access all the functions.
Why You Should Give it a Try
Beginner-friendly and the AutoDraw feature sweetens the pot. 

You have access to objects created by different artists. 

No registration or signup is required. All you need to do is visit the website and start drawing.

Saves progress through your history based on the web browser cookies.
The Room for Improvement
Lack of advanced drawing tools for professionals.

No dedicated stylus support.
Things to look for in a good Drawing Software
We laid down the list of the best free Drawing software above. There are some pointers in choosing the one that suits your needs. Whether you are a professional or a beginner just starting out, look at some of these to make up your mind.
Colors Spectrum
Few drawing programs provide only a few colors option in their pencils. You may need the whole RGB color spectrum on a few occasions to find the perfect shade for your drawing.

Export Formats
PNG and JPEG do justice to a lot of the art, but including BMP, Vector doesn't hurt anybody. Few good drawing software also provides PDFs and XMLs.

Cross-platform Compatibility


Your drawing should not stop just because the device is not available. An ideal drawing software should have multi-platform compatibility. Draw while commuting on public transport.

Computer Configuration


Few of the drawing programs take up a considerable amount of your computer's power. Make sure to check the recommended hardware requirements before installing any of the applications.

Accurate Calculation
Professionals drawing up structures need to emulate real-life models in an animated form. For that to happen, the calculations of each axis point need to be relative to the real world. One inch here and there can sabotage the entire design.

Right toolset


Check whether the drawing software has the right set of tools that you need. For instance, many drawing design software house specific kinds of pencils, which might be the ones that you need.

Plugins Integration


Plugins are necessary for increasing the abilities of an application. Ensure that the drawing software has an ample amount of plugins, along with easy integration. Having community-driven plugin forums like MediBang Paint is a bonus when it comes to plugins.
Over to You
Everything is in front of you. We presented you with a few of the best free drawing software available right now. You can take them for a trial run before finding the one that ticks all the boxes.