As the title suggests, in this article we will share some of the best Roblox VR Games.
If you have ever played a VR game, you might know about the whole new experience it offers in a three-dimensional environment that feels lifelike.
Roblox has been in existence for over a decade now and the popular gaming platform now supports Virtual Reality games.
That doesn't mean that you can play all the Roblox games in VR. But thanks to a few developers on the Roblox platform who have integrated Virtual reality in their game titles.
You can easily play these games using a VR headset like Oculus, HTC Vive, etc.
The VR Roblox Games shared in this article works completely fine and have been played by thousands of gamers and will definitely impress you.
RELATED: Scariest Roblox Games
---
Best Roblox VR Games In 2023
1. VR Hands
The first VR game on the list is VR Hands and it's ideal for anyone who owns an Oculus Rift. The primary objective of this game is to pick up objects and push people with your huge hands.
Furthermore, computer-generated hands can also be used to interact and play a variety of games with others on the server.
---
2. Cleaning Simulator
Cleaning Simulator is one of the best Roblox games that support VR. If you ever wanted to be a Janitor then Cleaning Simulator will help you do so. In this game, you act as a Janitor of the Bribbleco building.
Your primary objective is to keep the environment clean and complete the assigned tasks. New objectives are unlocked when you progress to higher levels.
---
3. Laser TAG VR
The name says it all, Laser Tag VR offers an immersive laser tag experience right at the comfort of your home. While playing you are spawned in a classic arena and you run around the map shooting your laser gun at others. The more you shoot the more points you acquire.
---
4. Koala Cafe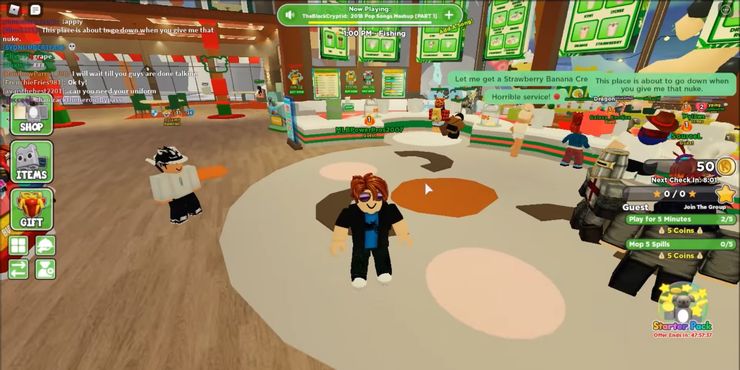 Restaurant-inspired Roblox games like Work at a Pizza Place are quite popular among children. Koala Cafe is a VR game that simulates a cafe where you can either serve the customers or be a customer. The game supports up to 50 players and you can take part in different aspects of the business.
---
5. Edgeworks
Edgeworks is another great VR game for Roblox that's worth checking out. In this high-intensity puzzle game, you have to tackle various obstacles to pass and finish the tasks. While doing so you can use several guns and performs activities like climbing, freerunning, and parkouring. The game costs 450 Robux.
---
6. VR Escape Room
VR Escape Room will take your anxiety to a new level. To progress, you have to unlock and escape rooms by solving puzzles as fast as possibles. Sounds and the environments of VR Escape Room are designed to increase tension. To complete this free Roblox VR game you need good hand-eye coordination.
---
7. Opposer
Next, we have a physics-based fighting game that goes by the name Opposer. While playing opposer you fall down from huge walls and when doing so you can try out several guns and RPGs. Additionally, you can have fun with your friends playing minigames. Sadly, Opposer cannot be accessed by non-VR users.
---
8. Cook Burgers
Similar to Koala Cafe, Cook Burgers is a Restaurant-inspired Roblox VR game. In this game, your task is not only limited to cooking burgers. Rather, you have to operate the entire restaurant that includes the business side of things. While flipping burgers you can earn a decent amount of Robux.
---
9. Self-Driving Simulator
Thanks to Tesla, self-driving cars are now a reality. Sadly, not everyone can afford them and even if you can they might not be available in your region. Well, the Self-Driving simulator VR game resolves that problem. In this game, you can spend time with your friends inside a car without worrying about driving it.
---
10. Ragdoll Sim
Next on the list is the Ragdoll simulator. If you enjoy games like fall guys and human fall flat then the physics and gravitational laws in a Roblox VR Game, Ragdoll Sim will definitely impress you. While playing you control a person who has a movement of ragdoll and they are numerous obstacles and objects to play around with.
---
11. Paranormal VR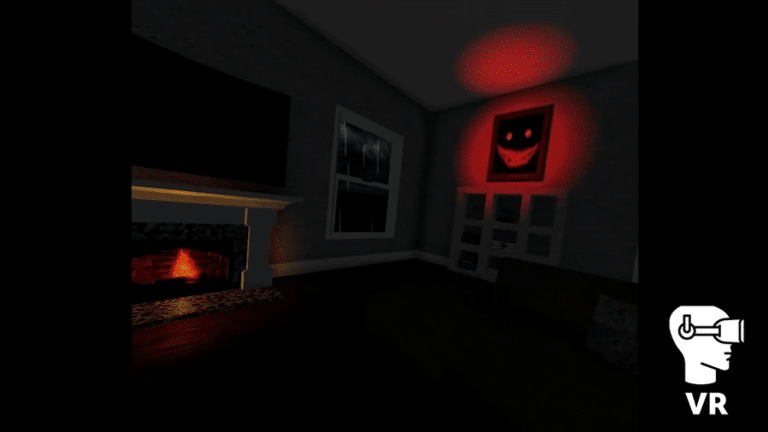 If you are on the lookout for a scary VR game then Paranormal VR might impress you. The VR game for Roblox offers a good virtual reality horror experience set inside a small suburban home.
To fully enjoy this scary Roblox game run it at max graphics and play it with headphones. The game is supported on PC, Smartphones, and Consoles.
---
12. Road to Gramby's
Next on the list, we have Road to Gramby's. In this game, you travel to Gramby's and while doing so you face different troubles and obstacles. To conquer the hurdles you have to be smart and build stuff that can help you progress.
For those interested, yes there are guns in this game.
---
13. Project SCP
Project SCP is another great first-person shooter Roblox game. It's worth noting that Project SCP can be played with VR or without VR. Luckily, Project SCP is not that competitive. As a result, you can have fun trying out new guns and destroying AI enemies.
---
14. Vibe VR
Vibe VR is a perfect VR game for anyone who just wants to hang out in the VR world and interact with other Roblox gamers. You can play several small games like table tennis, wrestling with other players, and dartboard in Vibe VR.
There are always around 30 or 40 players online so you will definitely have some fun.
---
15. Sound Space
If you enjoyed playing Guitar Hero as a child then you will definitely love Guitar Hero. To hit the right notes all you have to do is place your cursor at the right position. Do note that combos can help you fill the progress bar more quickly.
---
Also Read- Roblox Promo Codes and Free Items
CONCLUSION
So these were some of the best Roblox VR games that are worth checking out. You can even use Roblox VR scripts in these games to make them more enjoyable.
Do leave your recommendations in the comments section below.