Roblox is one of the most prominent online game platforms and game creation systems that allows users to program games and play games created by other users.
Users of all ages whether children or adults all play Roblox games.
Lately, the scary Roblox games genre has been gathering attention and if you are having a hard time finding horror games on Roblox that are creepy and underrated then this list of the best scary and horrifying games in Roblox might assist you.
You can also enjoy these scary Roblox games in a multiplayer experience with friends and family.
---
Best Scary Roblox Games
1. Slender Man's Revenge Reborn
Originating on a forum site in 2009, Slenderman is an Internet monster and the primary reason behind the existence of one of the scariest games on Roblox namely Slender Man's Revenge Reborn.
Created by Zoidberg656 and captainjet2c the multiplayer horror Roblox game is crammed with darkness.
Blood, gore, jump scares, and scary scenes are the dominant design elements of Slender Man's Revenge Reborn. To progress, you have to explore and survive the dark environment and find the hidden pages along the way.
Plugging in headphones will undoubtedly make the gameplay really scary.
Download Slender Man's Revenge Reborn
---
2. A Wolf Or Other
If you have grown up listening to horror werewolf stories then the multiplayer scary game on Roblox by the name A Wolf Or Other might horrify you.
Created by Otter Space the classic murder mystery game randomly assigns the players to be innocent, a hunter, or a werewolf.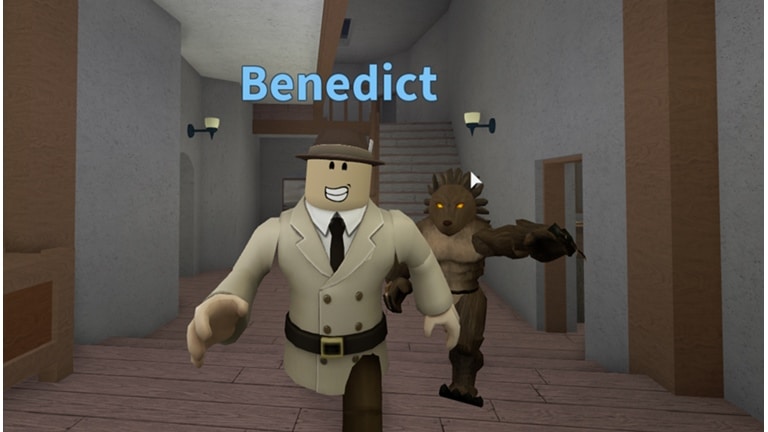 The task of Innocent players is to survive the attacks of werewolves and stay alive for as long as possible. Equipped with a crossbow the hunter has to take down the werewolf and protect the innocents. Lastly, the werewolf is supposed to kill everyone he catches sight of.
---
3. Alone In A Dark House

If you prefer playing RPG Roblox games then Alone In A Dark House would definitely impress you.
The horror Roblox game revolves around a private investigator who has to investigate murders in several small towns.

Surprisingly, the game can be played with up to twenty different players. Small things like ghastly visuals, horrifying sound effects, and an engaging tale have made Alone In A Dark House quite popular in the Roblox community.
To enjoy the game thoroughly we advise our readers to play it all alone and in a dark environment.
Download Alone In A Dark House
---
4. The Haunted Imperial Hotel
The answer to "What's the scariest game in Roblox?" is different for every player but for me it's none other than The Haunted Imperial Hotel.
Synonyms with the term entrance to hell, Imperial Hotel was once a prime real estate. 
Prior to the discontinuation of Halloween of 2009, many demonic rituals took place in the Imperial Hotel.
A mysterious natural phenomenon caused large sections of the hotel with many people to collapse as far as 30 meters into the earth. After the incident, the Hotel became an abandoned site and it is still sinking into the ground. 
Download The Haunted Imperial Hotel
---
5. Zombie Attack
At first glance, a classic zombie survival game might not seem frightening, but the creator of wenlocktoad vs Indra has made Zombie Attacks one of the scariest games on Roblox. 
Similar to every other zombie survival game, you have to team up with your friends and conquer the tough waves of zombies.
Killing boss and rare zombies will help you earn rewards and XP. As you progress, new weapons and challenges are unlocked.
Once you die you respawn as a zombie and the players who were once your comrades are now your enemies. 
---
6. Dead Silence
Dead Silence is one of the best story-based multiplayer horror games Roblox. Even though, Dead Silence allows a maximum of three players, playing this game all alone makes it super scary.
In this game, you are assigned the job of an investigator who has to gather every bit of information about Mary Shaw.
As you progress, you unveil new mysteries about Mary Shaw. After finishing the spooky Roblox game you might end up facing Mary Shaw or conclude that Mary Shaw is not truly an entity. 
---
7. Project Lazarus: Zombies
From time immemorial, zombies and horror have been closely associated with each other and this association is the very reason behind the development of the game Project Lazarus: Zombies.
Created by logitech101, Project Lazarus: Zombies is heavily inspired by the zombie mode in Call of Duty. Similar to Zombie Attack, you are a part of a group of survivors and to survive you have to defend yourself against the endless waves of zombies.
Points can be earned by defeating zombies and later these points can be spent to purchase weapons. Wining against the waves of zombies heavily relies on teamwork.
Download Project Lazarus: Zombies
---
8. Bear Alpha
As the name of this game suggests, it's still in the Alpha stage and the developer Cheedaman is still finalizing it. Bear Alpha is one of the scariest multiplayer Roblox games on Xbox.
Bear Alpha is played among ten players, and out of the bunch one of them is randomly selected to be a bear and the rest are survivors.
The primary objective of the bear is to kill every survivor in a time span of five minutes. In comparison to survivors, the bear has many movement advantages.
The dark environment with a red accent accompanied by scary soundtracks make this game truly spooky.  
---
9. Horror Elevator
Horror Elevator is another super scary short game on Roblox. Created by MrBoxz, Horror Elevator has one of the most unique gameplay. 
The elevator stops on any random floor and each floor has different horror elements and killers. In order to survive, you should always be ready to fight against killers. New floors and killers are regularly added to this game which keeps it engaging.
Scary scenes and soundtracks make Horror Elevator more creepy. 
---
10. The Mirror

Despite being last on the list, The Mirror is an interesting single-player psychological horror game.
Developed by Egroce, the game simulates a mirror that showcases disturbing visuals. Unfortunately, the mirror does its job even when the lights are closed.
According to the developer, the game is based on real psychological phenomena. Once again, the game offers the best experience when it's played all alone and in a dark environment.
---
CONCLUSION
So these were some of the best Scary Roblox horror games that are full of jumpscares and are worth checking out.
You can even try some of the best Roblox VR games to take your gaming experience to a new level.
Do share your personal recommendations for the best scary games in Roblox in the comments section below.