Browser games have always been popular thanks to the fact they are mostly free to play, eliminate the need to download anything, don't require a high-end gaming PC, and act as great time killers.
You can play these browser games in any web browser of your choice including Chrome, Firefox, Opera, Edge, or Safari web browser from your phone or PC.
So in no particular order, these are the best single and multiplayer browser games that you can play online for free solo or with friends.
---
Best Browser Games to Play

1. Wordle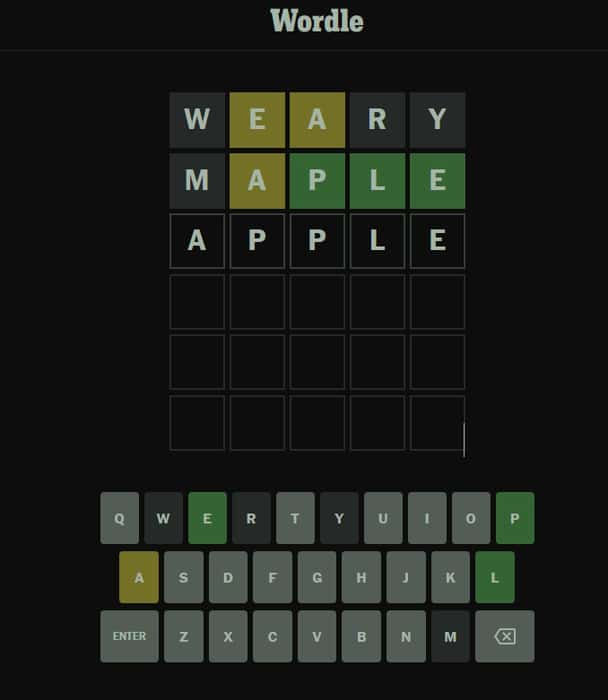 Wordle is a word game that you can play in any browser. Every day a five-letter word is selected and it should be guessed within six tries.
After every guess, the player gets a hint through the colors. If the alphabet is green then its in the right position. The yellow block means the alphabet is part of the word but in the wrong position. Grey blocks mean they are not part of the word of the day.
If you guess the word within six tries, then all blocks will turn green. You will get a score based on guesses, and accuracy in earlier attempts.
---
2. Slither.io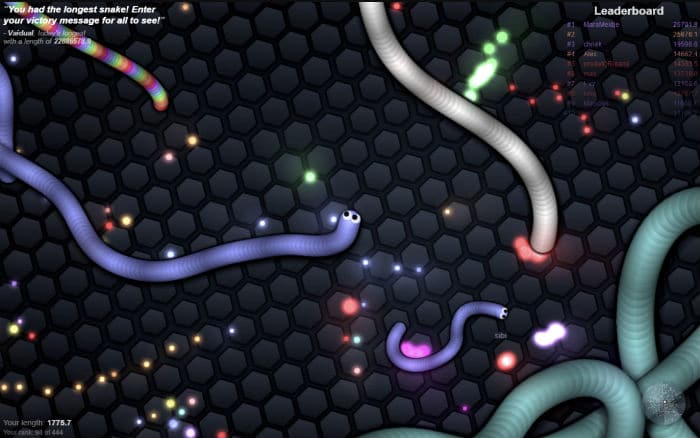 First, on the list, we have Slither.io. The primary objective of this new and improved Snake game is to eat as many glowing dots as possible. You grow bigger in size after eating each dot. However, you are not the only snake on the server.
While eating you have to avoid touching other snakes because touching someone results in instant death. That said if you can trick someone into touching you, they die leaving behind loads of body dots to collect.
Control the snake by directing the mouse pointer in a direction. It has the speed for reaching certain bonuses but it lasts for two seconds every once in a while.
---
2. Skribbl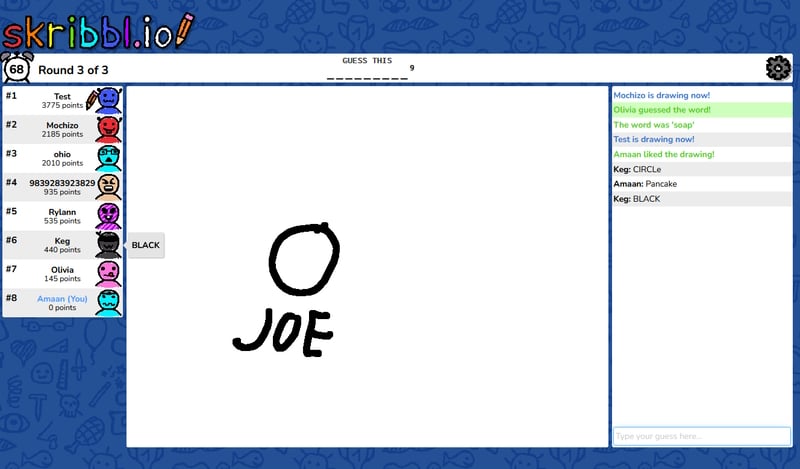 Skribbl is a drawing and guessing game that can be played online with strangers apart from private lobbies with friends.
You can play this browser game without friends with strangers in public lobbies. Everybody gets an object(three options to choose from) that they have to draw and other players have to guess what it really is.
Just like City Guesser, you can play the game in a browser with friends. Create a private lobby, set the number of round, and start playing.
Get on those inside jokes by adding custom words for the guessing game. You get options from the words added by you instead of the standard pool of the game.
---
3. Snail Bob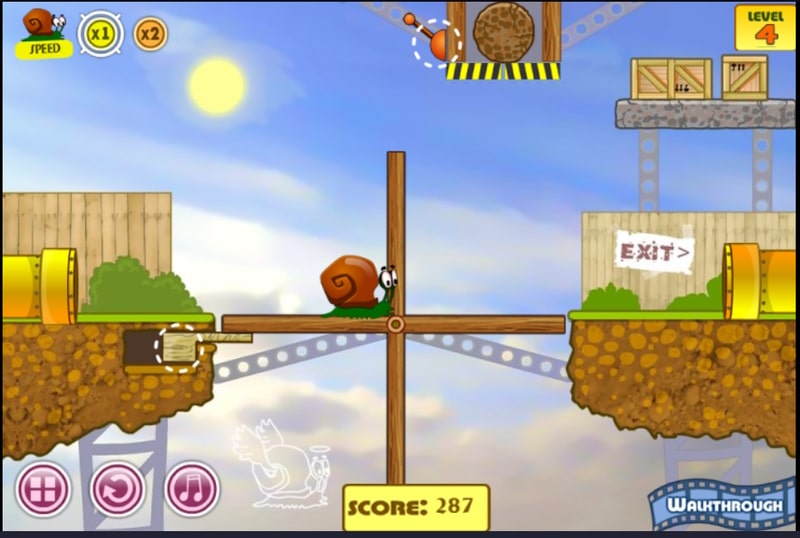 You play a Snail named Bob in this web-based game. His home is destroyed by humans and kicked out. Now it is your job to guide him and help him find a new home.
The game has a fun point and click mechanics using the mouse. Press different levers to guide him through the level while avoiding different obstacles.
You have to use logic and puzzle to complete levels. The difficulty of the puzzles increases as you progress in the game.
It remembers your progress and keeps the saves in the browser. You can come back later and resume from where you left off to start from a new level.
---
4. War Brokers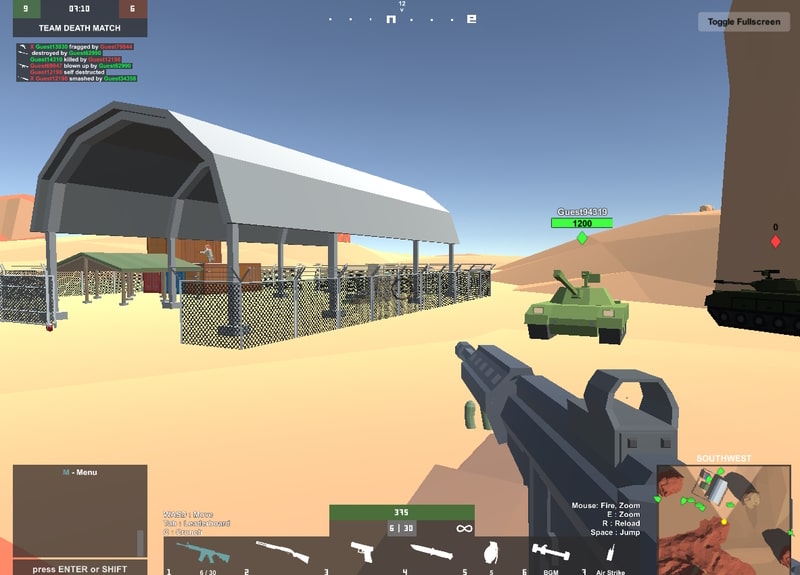 If you are a fan of first-person voxel team shooter games then do check out War Brokers. Despite being a game for browsers, War Brokers offers high-quality graphics coupled with a lag-free gameplay experience.
At first glance, War Brokers might look similar to Roblox Games but it is not. Save your progress and weapon upgrades by creating an account on the website.
The game features fast-paced, tactical combat, with a variety of weapons, vehicles, and objectives to play. Players engage in battles in various settings, including cities, forests, and deserts.
In addition to guns and machines, you can even find vehicles such as helicopters and tanks on War Brokers' large map.
---
5. Squadd.io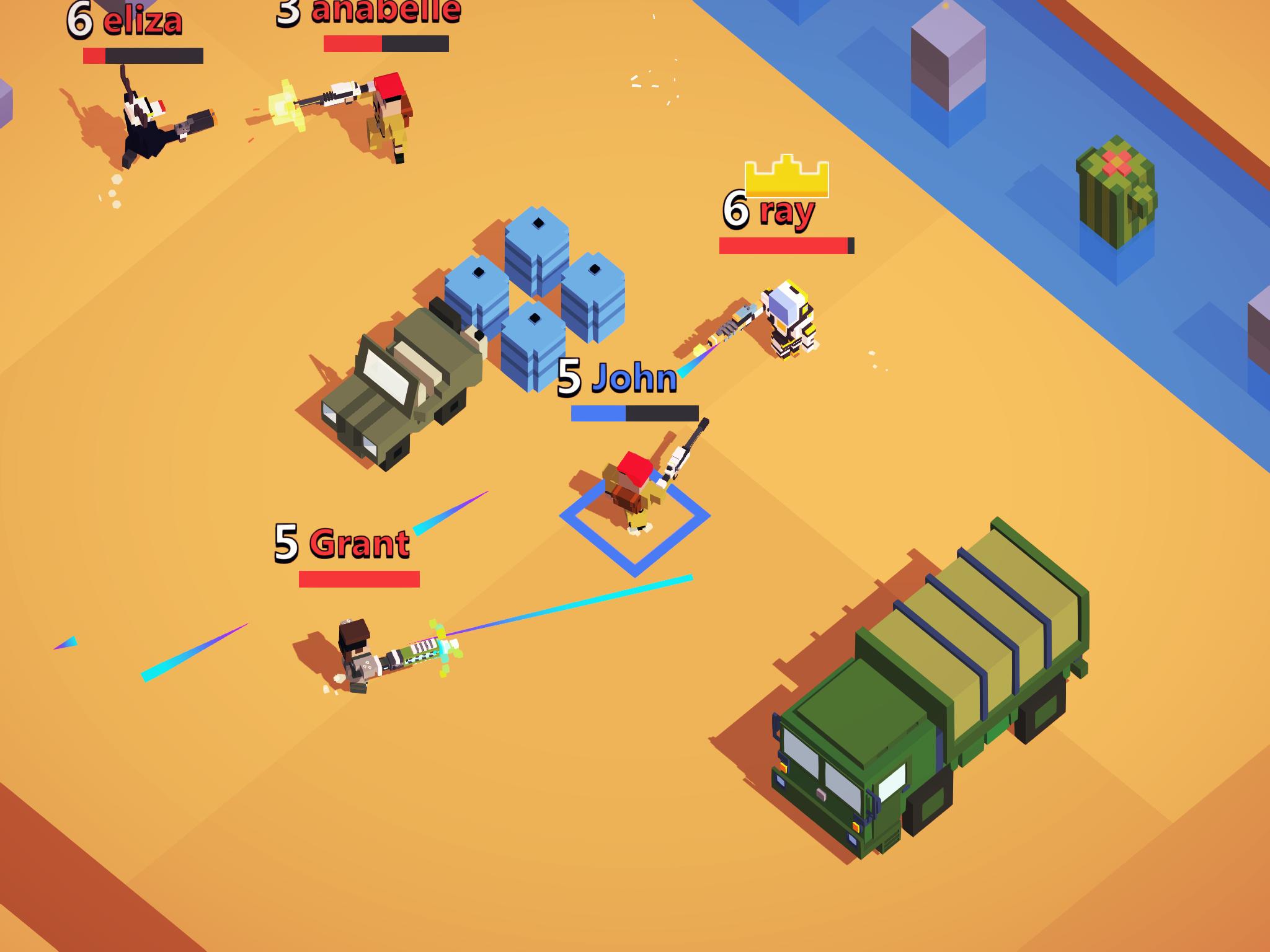 Moving on, next on the list we again have a popular shooter browser game that goes by the name Squadd.io. In this isometric shooter, you have to fight against the enemy team and stay alive as long as you can.
As you progress and earn points different weapons and characters get unlocked. After opening the website you are instantly thrown into fast-paced matches.
Since it's a free multiplayer browser game you can form a team with your friends.
---
6. Mars Tomorrow
Mars Tomorrow is set in the year 2100 and your primary objective is to make Mars suitable as a habitat for human beings. The reason is the degrading conditions of the earth.
Players take on the role of a colony manager tasked with building and managing their own Martian settlement, from its earliest beginnings to a thriving community.
The background music adds to the overall experience of this real-time strategy game that you can in the browser.
Once again despite being a free browser game, the graphics quality of Mars Tomorrow is quite impressive. You can progress by producing goods and erecting new buildings that will attract the settlers and increase the size of your colony.
---
7. Sunset Bike Racer

Hop on your motorcycle and speed through gorgeous tracks as the sun sets in the background. This game has it all, from challenging courses filled with obstacles to a variety of bikes to choose from.
Each bike has its own unique strengths and weaknesses, so you can pick the one that best suits your racing style.
When you are n the game, it is all about speed. You will race against the clock and perform stunts to gain speed boosts and reach the finish line as fast as you can
The fast-paced, arcade-style gameplay will keep you on the edge of your seat. Whether you're a seasoned racing fan or just looking for a fun and exciting game, Sunset Bike Racer is sure to deliver.
---
8. City Guesser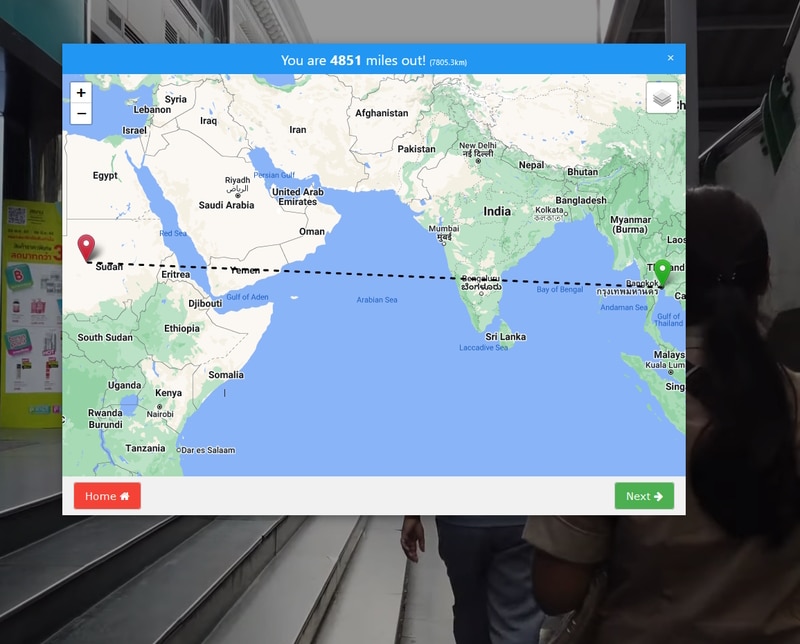 Can you guess a city by a video of the streets of the location? That's exactly what City Guesser is all about. Find the city's name through flags, billboards, bus signs, graffiti, cars, and other things in proximity.
Then pin your guess on an animated map and see how far you are from the location of the video. The closer you are to the location, the more points you get. The time is taken to locate also affects the points.
The real fun starts in multiplayer mode. You can get on Discord and play it as a multiplayer browser game. The lobby leader can decide on regions, number of rounds, and timer for the game.
Guess the location, score points, and compete against your friends on the scoreboard. The player with the most point wins at the end of the game.
---
9. Treasure Arena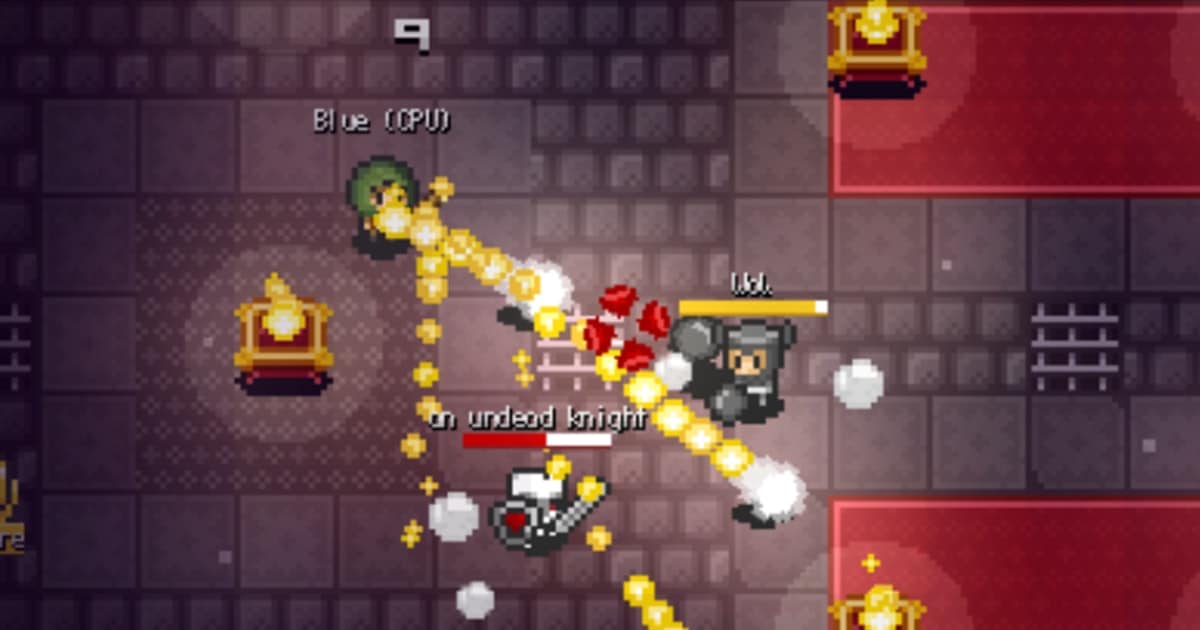 Treasure Arena is the next 16-bit adventure game you can play on a browser for free. In this game, you have to battle in a dungeon to acquire gold. That said, you are not the only one on the server looking for gold.
While fighting, you might die and get respawned but luckily there are unlimited respawns. However, the battles last only for a limited amount of time. As soon as time ends the player with the highest amount of gold wins.
---
10. Pokemon Showdown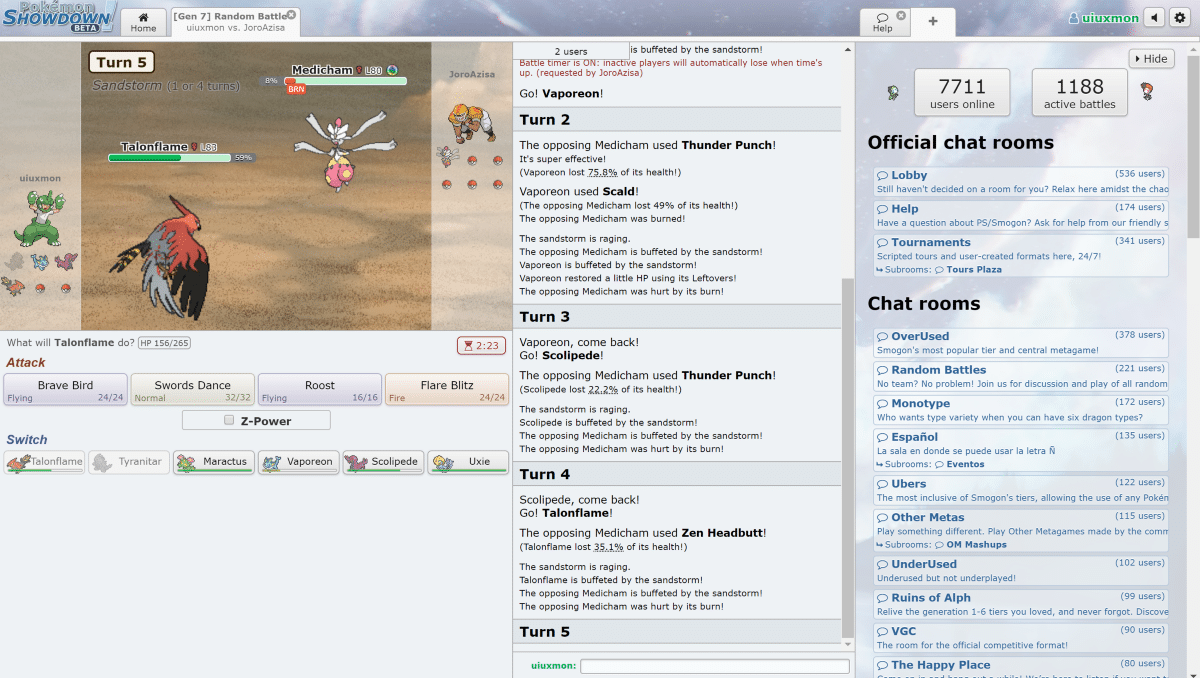 Pokemon Showdown is a Pokemon game that focuses heavily on battling trainers. As soon as you launch the game, you can jump straight into matches.
Winning a match heavily depends upon the moves you choose and your ability to counter other trainers. Apart from playing Pokemon Showdown online on a browser, you can even download it on your PC.
---
11. Fallen London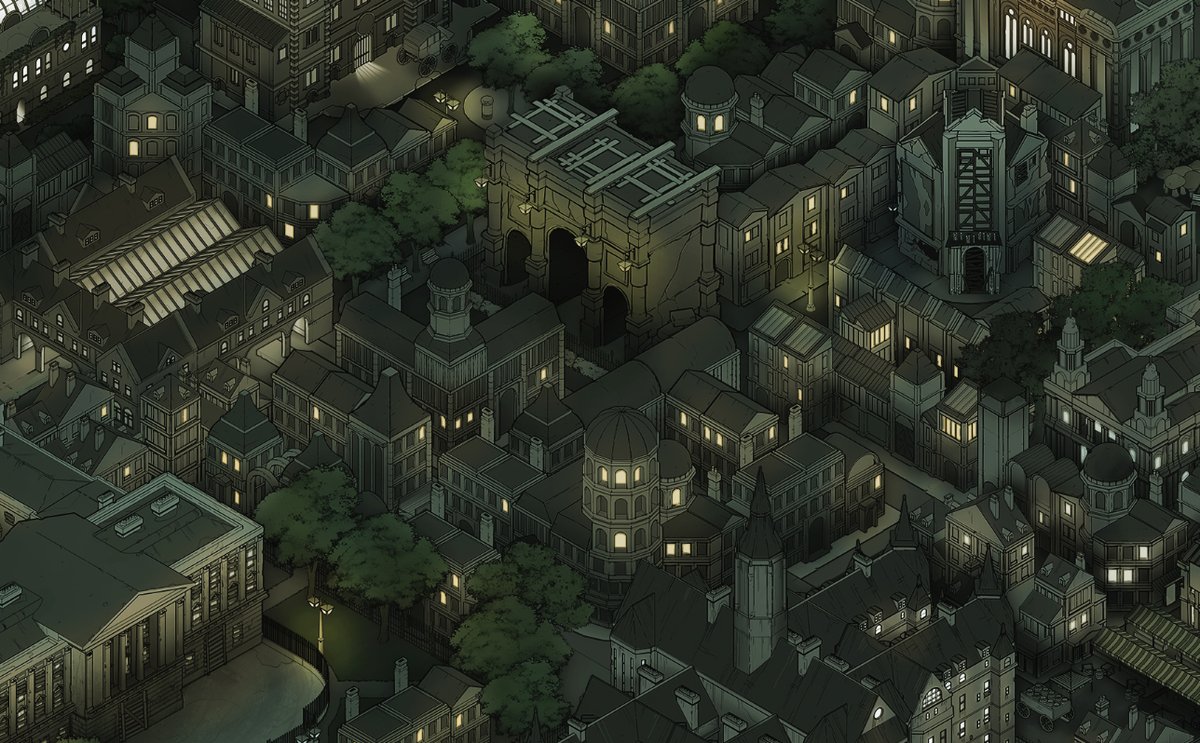 Fallen London is a free-to-play text-based browser game. The long-running narrative game offers an immersive experience coupled with a good storyline.
You start by choosing a name and a 2D avatar to begin the journey. One of the things that set Fallen London apart is its branching narrative system.
With multiple paths to success and failure, you will have the chance to shape your own story as you explore the city and interact with its many memorable characters.
The economy of the game, based on a currency called "echoes," adds another layer of depth to the experience, giving you a chance to earn, spend, and grow your wealth as you progress through the game.
The developers update the game on a regular basis and new content and stories are also added regularly.
---
12. Quick, Draw
Quick, Draw. The name says it all while playing this entertaining browser game you have to draw certain objects within 20 seconds.
Don't worry if you are bad at drawing since an Artificial Intelligence bot will try to guess what you've drawn. If you are able to draw an object you move on to the next level.
---
13. Agar.io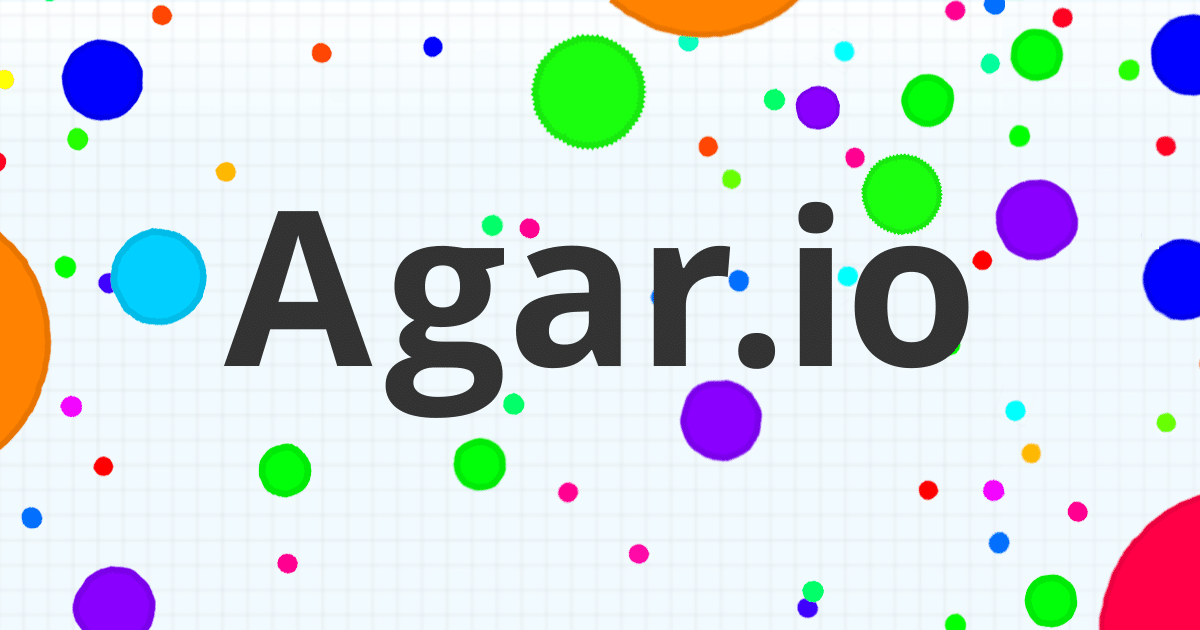 Agar.io is a simple-looking yet challenging browser game that's somewhat similar to Slither.io. In this game, you start out as a small circle but eating little colored dots helps you grow your size.
When you are small you move faster and can avoid being attacked by larger circles. As you grow you gradually slow down and the little colored dots no longer help you grow bigger. Consequently, you must eat the other players.
The game even allows players to split their big circle into two smaller ones.
---
14. Prodigy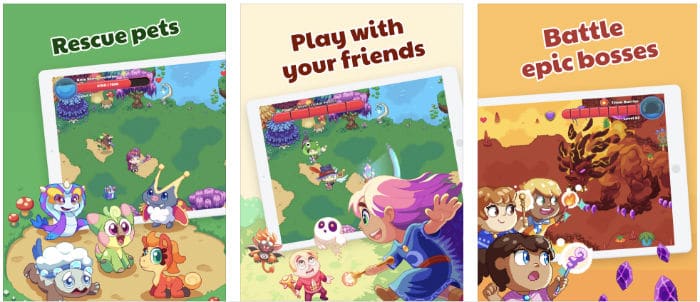 Prodigy is another browser-based game that's worth checking out. The fantasy-inspired MMORPG (massively multiplayer online role-playing game) has more than 50 million active players around the globe.
Designed for younger children the developers claim that the game boosts confidence and improves math skills. To battle creatures and bosses the player must answer a set of mathematic questions.
---
15. RuneScape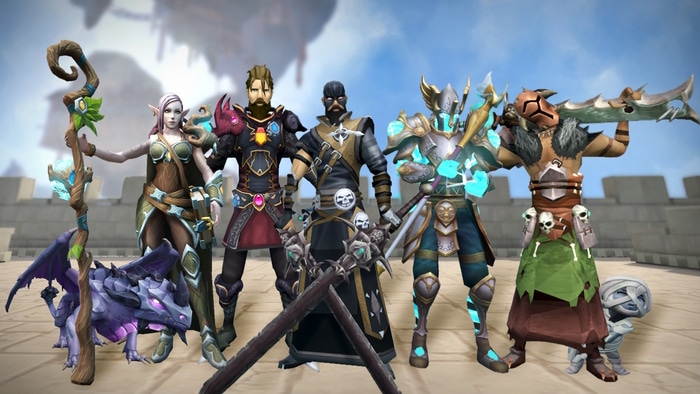 Are you a fan of FPS games then RuneScape is perfect for you? The game was launched in 2001 and its popularity has only seen growth since then.
The game is intended to be played in the RuneScape client but is playable on supported browsers. You will need to log in using Facebook, Google or a RuneScape account to play the game in the browser.
Players have a vast open world to explore, filled with cities, dungeons, and landscapes to discover. The game also offers a wide variety of activities to participate in, including combat, crafting, fishing, and mining.
The world of Runescape is constantly evolving, with new content and challenges added regularly. The game also features a level-up system, where players can improve their skills and gain new abilities as they progress.
The combat system is based on a turn-based system, where players take turns attacking each other in battles.
---
16. NeoPets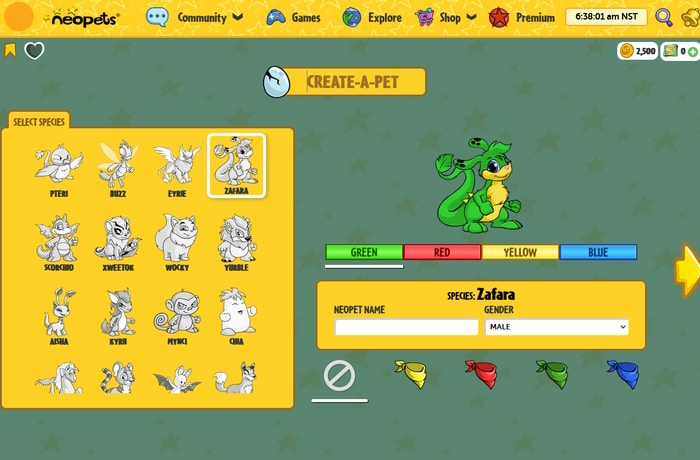 Having a pet at home is a joy that not everyone can relish because of various reasons. You can get one virtual pet from NeoPets in this cool browser game.
Create your own pet on the welcome screen and then start the journey.
Users can interact with their Neopets in various ways, including feeding them, playing games with them, and participating in various events and activities.
In addition to pet care and gaming, Neopets has a rich history and lore, with an extensive world-building component that includes various species of Neopets, locations, and a backstory.
NeoPets also has a buzzing community where users can interact with each other through chatrooms, forums, and other social features.
---
17. World's Hardest Game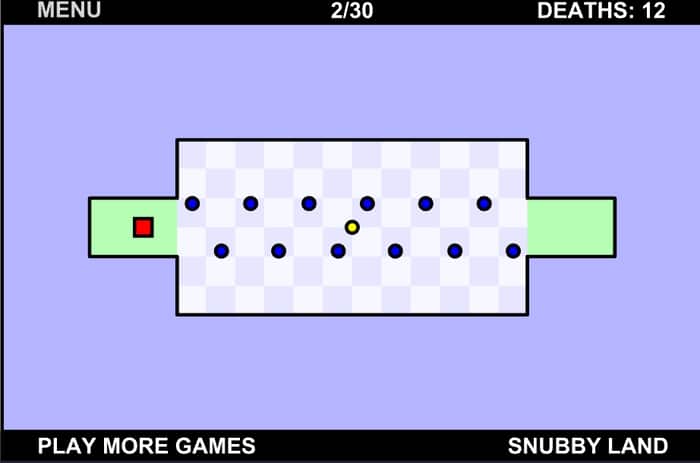 You never think of a browser game being as challenging as a PC video game. This game will test your hand-eye coordination like a first-person shooter game.
The game's objective is simple you have to move from point A to B by dodging each obstacle along the way. Control the red block through the arrow keys for playing the game.
Chances are unlimited but you die on touching an obstacle. The difficulty increases as the player move to higher levels.
Your score is the number of deaths on the way to completing 30 levels. It's a simple yet addictive single-player browser game. You can also compete with friends by comparing the score.
---
19. Heardle by Spotify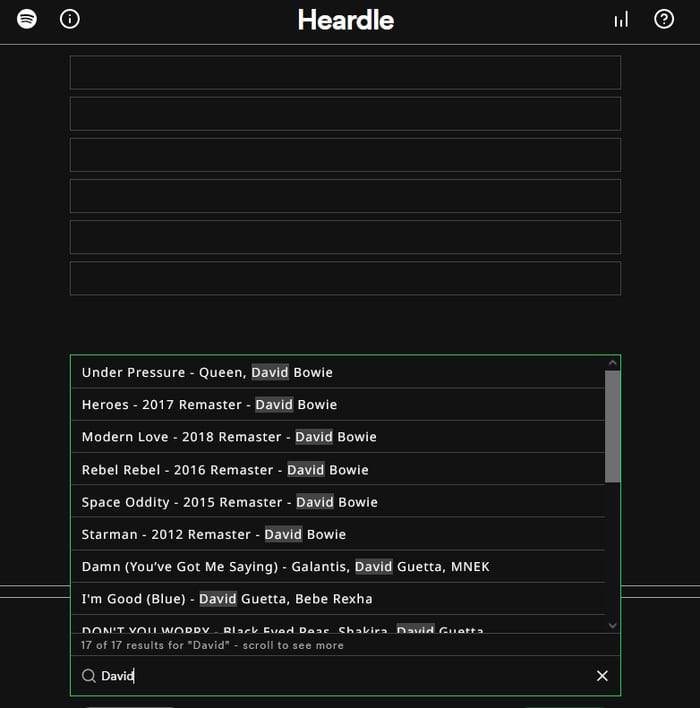 This is a music-based web browser game. Here we have Heardle after Wordle. It's a fun and exciting game hosted by Spotify.
The objective of the game is to guess the song as quickly as possible based on a short clip of the track. It is the perfect way to test your music knowledge and see how well you know your favorite tunes.
You can play Heardle without signing in or requiring a Spotify account. It can be played on a desktop or mobile browser.
Playing Heardle with friends is an even more enjoyable experience. You can challenge each other to see who has the best musical ear and share your love of music. It's a great way to bond over your shared interests and discover new songs and artists along the way.
---
20. Helicopter Game

So, imagine you're sitting at an old-school arcade and you come across this classic game. You sit down and you're given control of a helicopter.
You control the helicopter either by using the left-click on the mouse to keep it from falling. The helicopter moves up and down based on what you do, and you gotta be quick to avoid those obstacles.
The score is the distance you have covered in meters. Your high scores will be saved in the browser until the cache and cookies are cleared.
It's a simple browser game, but it is also really challenging and super addicting.
---
21. Akinator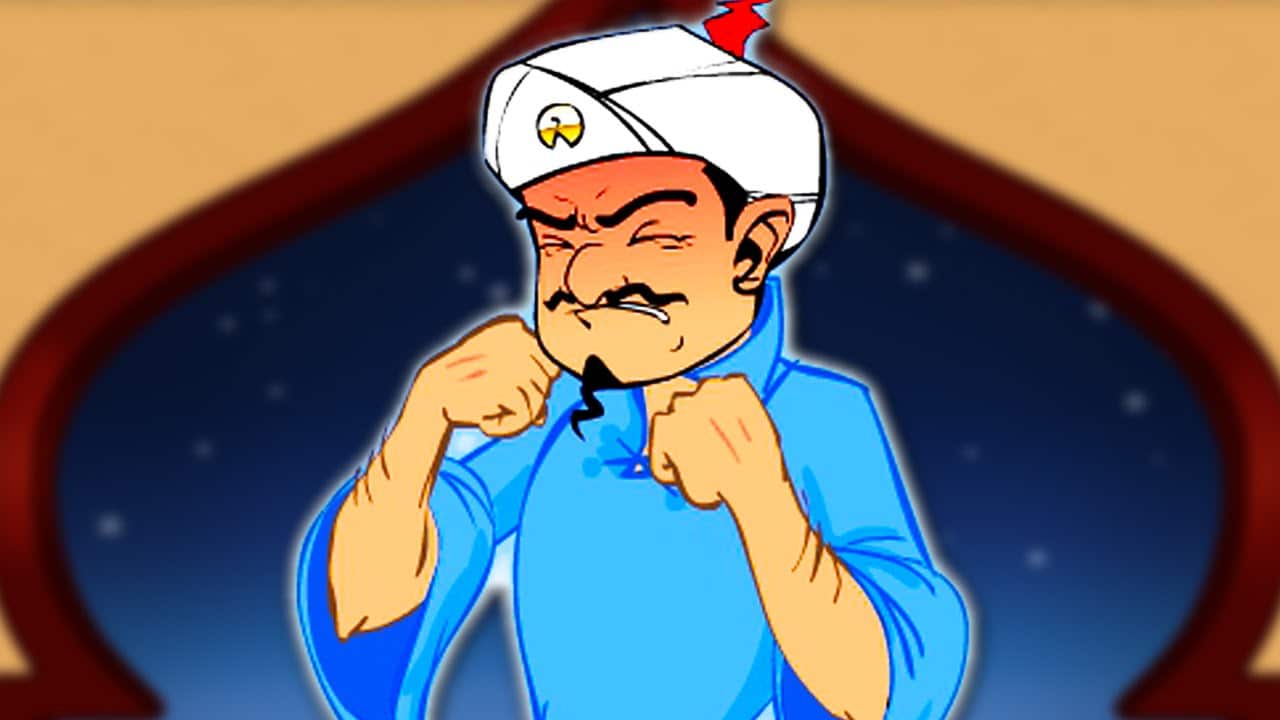 Next on the list, we have a great time killing and entertaining browser game Akinator. To play this game you have to think about a character, object, place, or animal. Once that's done, Akinator will start asking you simple yes or no questions.
After a series of questions, Akinator will precisely guess what you were thinking about based on your answers. Do try the game to witness the magical powers of Akinator.
Akinator asks anywhere between 12 to 25 questions to guess what you have in mind. Its a fun guessing game to play in the browser.
---
22. Slow Roads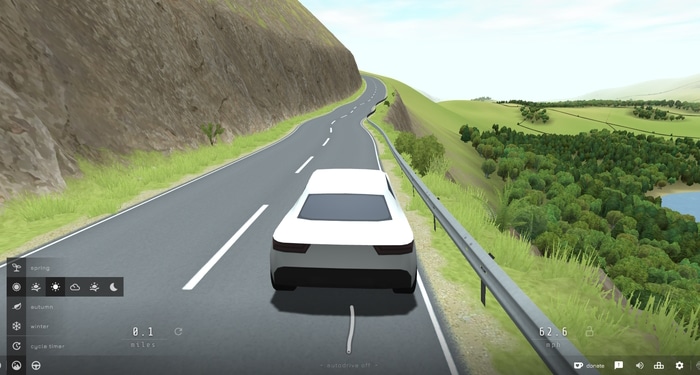 This is one of my favorite games to play after a long day at work. Imagine yourself driving around the hills through different seasons.
Slow Roads is an endless driving game that can be played directly in a web browser. The game features smooth, relaxing gameplay and an endless, randomly generated world that provides a unique experience each time you play.
The objective is to drive for as long as possible, taking in the beautiful scenery and enjoying the serene atmosphere of the game.
You can choose different seasons, and times of the day to make your drive more enjoyable. Choose between a car, bike and a coach bus.
---
23. Krunker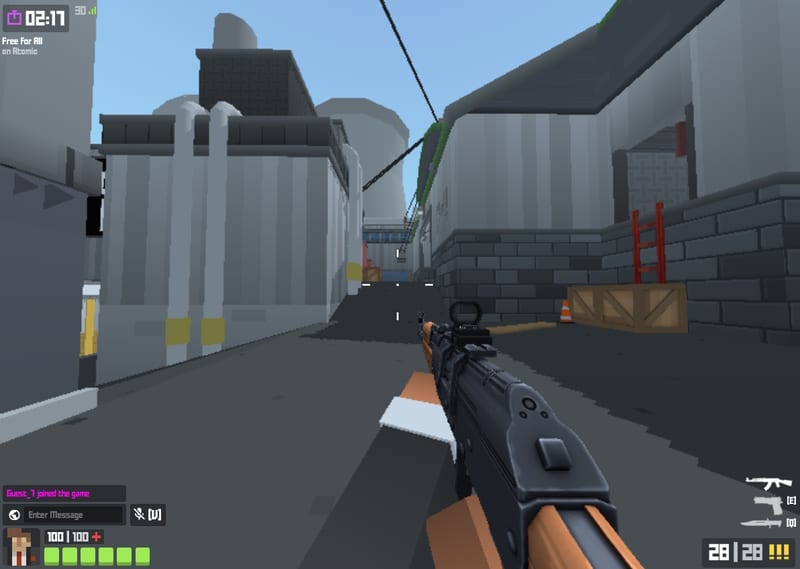 We all have played or heard of Counter-Strike at some point. Minecraft has grown in popularity owing to its availability on smartphones. Combine them two and you have Krunker which lets you play FPS as a browser game.
The graphics are 8-bit, inspired by Minecraft's blocky textures. You get a rifle, pistol, and knife to start the game. You can play it in the browser without needing registration or login.
They have five different kinds of game modes here – Raids, Zombies, competitive, custom, and dedicated. The custom server allows you to make a wide range of customizations.
They have a battle pass that gets you new maps, themes, weapon skins, and a new commander class. You can buy it through BPP, an in-game currency, which can be earned gradually with a daily cap. The easier way is buy BPP for real money and get the battle pass.
Krunker has over 500 servers around the world in locations like USA, India, France, Australia, etc. You can host your own server and invite friends to play in a private lobby.
---
24. Coma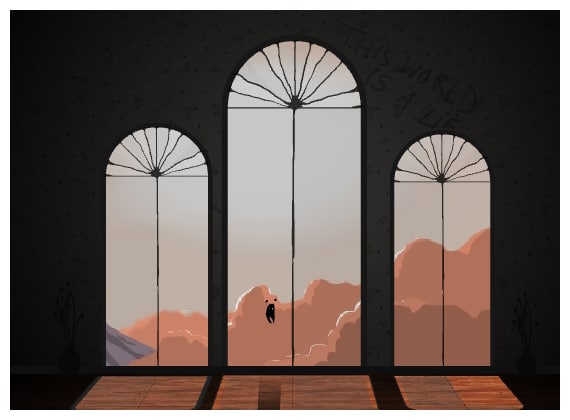 Meet, Pete, a small creature who wants to find his way through the mysterious and subconscious world. This is complemented by beautiful scenery with soothing background music of piano and guitar.
Use the arrows and mouse click for movements and interact with the environment. You will get a pet bird after setting her free from a cage on a tree. She will accompany on the journey.
There are many characters going about their day with which you can interact. They help you in finding different ways to progress in the game. Do remember that you cannot save the game so finish it one go or leave the browser tab open while putting the computer to sleep.
They have a battle pass that gets you new maps, themes, weapon skins, and a new commander class. You can buy it through BPP, an in-game currency, which can be earned gradually with a daily cap. The easier way is to buy BPP for real money and get the battle pass.
---
25. BrowserQuest

BrowserQuest is a free, multiplayer game for web browsers that lets players explore a vast world filled with various creatures, treasures, and other players. It was originally developed by the Mozilla foundation along with a french gaming studio.
The game has simple, retro-style pixel art graphics and a user-friendly interface. You control your character by clicking on a block to move and interact with the environment and other players using the mouse.
Invite friends on the server and you can fun playing in a private lobby. There are public servers as well which can be joined by anyone.
You can also chat with other players in real time, either privately or publicly through the text box. Play with other players in real time, participate in battles, and complete quests together, or you can choose to explore the world solo.
The game appears to be the inspiration behind Doodle Champions Island game which we mentioned in the Google Doodle games article.
---
26. Townscaper

Townscaper is a relaxing browser game that is all about creating your own towns and cities. It is very easy to play – all you have to do is place and remove colorful blocks on a grid. The game's procedural generation system takes care of the rest, automatically generating houses and bridges in the trial version.
What is really unique about Townscaper is that it doesn't have any set goals or objectives. You can just explore and experiment with different building designs, creating your own personalized town or city in the process. It's a really great game for anyone who's looking for a peaceful and creative gaming experience.
---
27. Scary Maze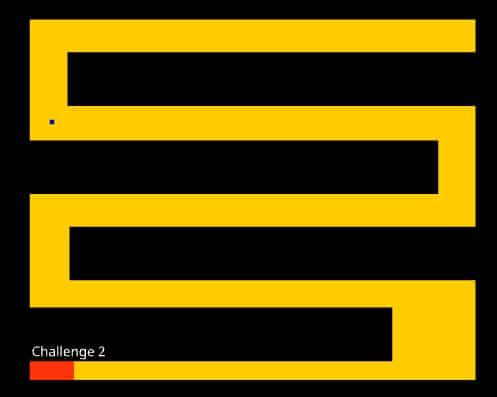 Scary Maze game is a browser-based game that has been around for a while now and is often used as a prank to scare friends or family members.
The game is designed to appear like a simple maze game, where the player must guide a dot through a series of narrow pathways without touching the walls. However, after a few levels, the game suddenly becomes much more intense and a scary image or jump scare suddenly pops up on the screen, often accompanied by a loud scream or other startling sound effect.
It has been criticized for its use of jump scares and its potential to cause anxiety or trauma in some players, especially those with a history of anxiety or heart conditions.
---
28. Mole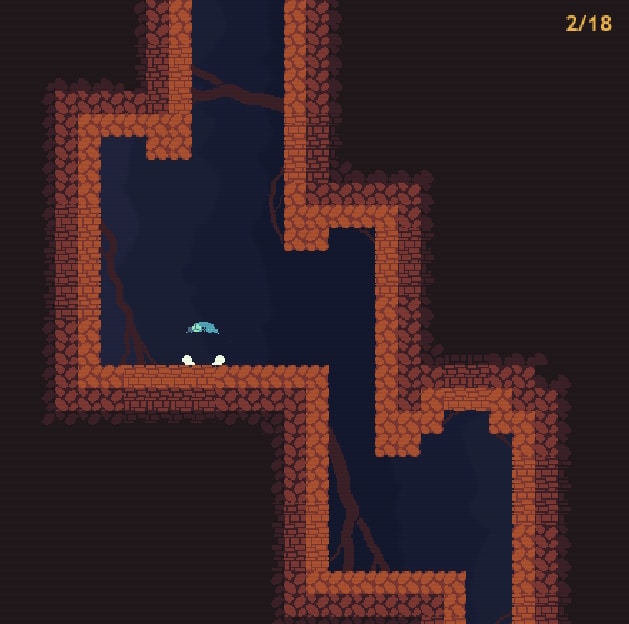 Mole is a challenging game to play with a single button. All you need is the spacebar to move the mole around the block and bring it down the cave.
There are 18 levels that are sections of the tunnel and it is much harder than what meets the eye. Slide down by sticking to the wall and then jump to avoid touching the floor. There will be little ledges along the way which will help you take rest and plan ahead.
---
29. Prince of Persia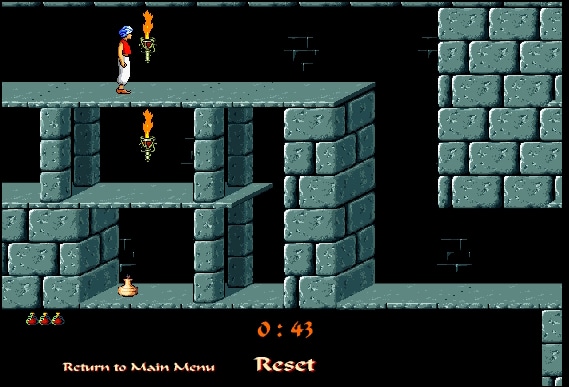 Prince of Persia 2D is a special edition of the video game that has been around for decades. It was made by Ubisoft to promote the POP series.
In Prince of Persia 2D, players take on the role of a young prince who must navigate through a series of obstacles and enemies in order to rescue the princess from the evil Jaffar. The gameplay is based on a series of platforming challenges, where players must run, jump, climb, and fight their way through each level.
The game's graphics are in a 2D side-scrolling style, with detailed and realistic animations for the prince's movements. The levels are designed with intricate traps and puzzles, which require perfect timing and precision to navigate. The game also features a variety of enemies, each with their own unique attack patterns and weaknesses.
---
30. Tetris
Now we have Tetris, a classic puzzle made which has been around since video games became a thing. This time it can be played in a browser and has added neo-based color schemes that hand it a new look.
You can also change the keys from the settings and make other changes to personalize the game for your convenience.
The goal of the game is to arrange the blocks(Teromino) so that they form complete horizontal lines across the Tetris Matrix. When a complete line is formed, it disappears, and any blocks above it will fall down to fill the gap.
The game starts at a relatively slow pace, with one block falling at a time, but as the game progresses, the pace quickens, and more blocks fall at once. If the player is unable to arrange the Tetrominoes so that they form complete lines, the blocks will stack up to the top of the Tetris Matrix, and the game is over.
---
Frequently Asked Questions
What is the best browser-based game?
There are many great browser-based games out there, so it's difficult to say what the "best" one is since it ultimately comes down to personal preference.
You can get started with Skribbl when you want to play with friends. City Guesser is good when you have an interest in geographics. Wordle is a fun game to play if you are good with English spelling.
---
Conclusion

So these were some of the best Best Browser Games. You can play them in any modern web browser on most devices including smartphones. Bookmark them in the browser and play them anytime.