There are times when you want to know the approximate location of someone on the Internet.
For instance, when you get a too-good-to-be-true offer or see a fishy discount page, it is a good idea to confirm things.
In movies, hackers use a lot of coding to find someone's IP address and precise location.
While it is fantastic, not everyone wants that kind of advanced control.
So, instead, it makes more sense to send someone a link, make them click on the link, and grab the IP address. And it is precisely what IP address grabbers do.
In this guide, we have talked about the best IP address grabbers you can use. We believe that you'd use the resources in a positive and ethical manner.
Before we begin, we shall answer some of the common questions about IP addresses and IP trackers.
What Are IP Addresses?
Internet Protocol Address, better known as IP address, is a numerical label linked with a device connected to the Internet using the Internet Protocol.
A usual IP address looks like 192.0.2.1, but addresses from a new protocol can be more extensive.
Why Are IP Addresses Necessary?
An IP address on the internet does a similar function to a regular address in the real world.
You also have to note that each device connected to the internet will have an IP address.
The two primary purposes of an IP address are network interface identification and location addressing.
In simpler words, an IP address makes it possible for the internet to identify connected devices and point to their location on the globe, at least approximately.
You can use a variety of geolocation software to find out the country, city, ZIP code, and street-level address from a simple IP address.
What Are IP Grabbers?
IP Trackers are advanced-level internet geolocation tools. You can use these tools to understand the location from an IP address.
IP trackers will thoroughly analyze the IP address and compare the data with a database. After this point, information regarding the endpoint user is extracted.
Some IP trackers use augmented technologies to discover the exact location of the connected device. For all these, however, the IP address needs to be grabbed first. An IP address grabbers make it possible to collect someone's IP address by making them click on a URL link.
Now, shall we check out the best IP address grabbers you can use to know someone's location.
Best IP Address Grabbers
Grabify
IP logger
Bit.ly
Blasze IP Logger
Bit.ly
Grabify is the most popular IP address grabber in the market right now. It allows you to grab someone's IP address by sending them a simple clickable link. As soon as they click on the link, you can see the details on Grabify dashboard.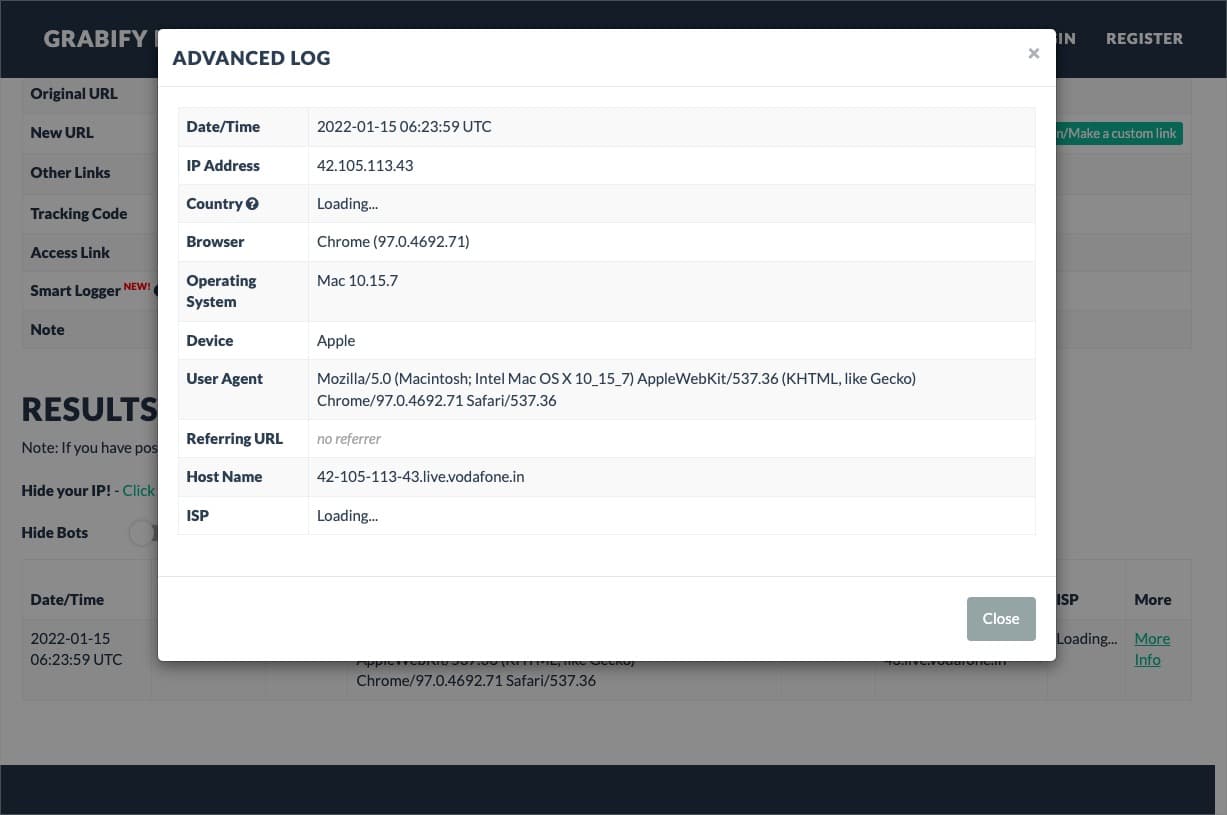 You will also love the Smart Logger feature from Grabify. It allows you to capture additional information of the user's device, such as its battery life, charging status, device orientation, screen orientation, etc. By the way, you may not need much of such data.
The Results section of Grabify works quite magically. It will show you a timestamp and provide information about the User Agent.
You may have to wait for a few seconds to see the exact location on the screen. If you do not want to wait, you can copy the IP address and use another IP analyzer tool.
IP Logger is another send-link-get-IP service that you can check out. As you did in the case of Grabify, you can put the target URL on the IP Logger website.
In seconds, the website will give you an IP Logger shortened link for collecting statistics. You can also access the datasheet instantly.
Compared to Grabify, IP Logger offers a number of additional features. First and foremost, you can choose one of the many URL types. More importantly, you can shift between tabs to see logged IP addresses and a data view. There is also an option to export the IP addresses that you have collected.
If you are looking for advanced data and metrics from an IP address, IP Logger is the place to go.
The export option comes in handy when you are into data analytics and marketing. It is also impressive that you can see a list of top countries, cities, and browsers while going through the IP address data.
Bit.ly is not a dedicated IP address grabber service, per se. However, if you have a premium subscription, it can be used for advanced analysis. As you may already know, Bit.ly is a URL shortening tool that works with a lot of platforms. Under the hood, it has so many options.
From a usability standpoint, Bit.ly is a better choice for marketers. You can use the power of Bit.ly service to know more than just the IP address of the person. Like we did in the case of IP Logger, a data export feature is also available.
Another impressive part is that you can get deeper insights with every click. This type of real-time data will help you make data-driven decisions.
In other words, if you need more insights than a list of IP addresses, it makes sense to choose Bit.ly.
Blasze IP Logger is another straightforward IP address grabber that you can check out today. While it does not offer many advanced features, you can get the job done.
One problem with Blasze is that it doesn't offer many customization options.
Therefore, if you are looking for increased privacy, you may need to use a third-party URL shortening service like Bit.ly. If you are okay with this step, Blasze is a great choice, indeed. You must make sure that Blasze IP Logger can provide all the data you need.
Reliability is not the best quality of Blasze IP Logger, though. Due to DDoS attacks, the website gets a lot of downtime. So, there could be times when you cannot access this IP logger tool. If you keep this aspect aside, Blasze needs to be on this list.
The ps3CFW.com IP Logger is another way to find out someone's IP address by sending them a link. Unlike the other platforms, this IP grabber does not offer advanced statistics. On the other hand, you can only get the IP address of the person who clicked on the link.
It means you may need a third-party IP tracker software to find out the location and other details. At least for some people, it could be a blessing. Dedicated IP tracker softwares will be using high-end databases that provide you with more accurate location data.
If you are fine with these aspects, you should check out the ps3CFW.com IP Logger. The website is also home to other tools like IP Ping Test, Nameservers fetching, CloudFlare Resolver, IP Geolocation, etc. But, if you do not want these features, you can keep everything simple.
Conclusion
We believe these IP address grabber tools will help you get accurate data for your analytics needs.
Of course, we must add that these tools are made for ethical purposes. Therefore, you may want to stop yourself from using the tools for unethical concerns, if any.