If you are looking to Download Minecraft Bedrock Edition For Free then you have opened the right webpage. Simply continue reading.
Despite being a decade-old game, Minecraft's popularity hasn't decreased a bit. Available in two different versions namely Minecraft: Java Edition and Minecraft: Bedrock Edition the game has over 500 Million Players.
In this article, we have shared multiple methods that will help you Download Minecraft: Bedrock Edition.
NOTE: Before proceeding, we would like to inform you that the name Minecraft Bedrock Edition has been officially dropped. Consequently, the game now goes by the name Minecraft For Windows 10. 
Minecraft Bedrock Edition System Requirements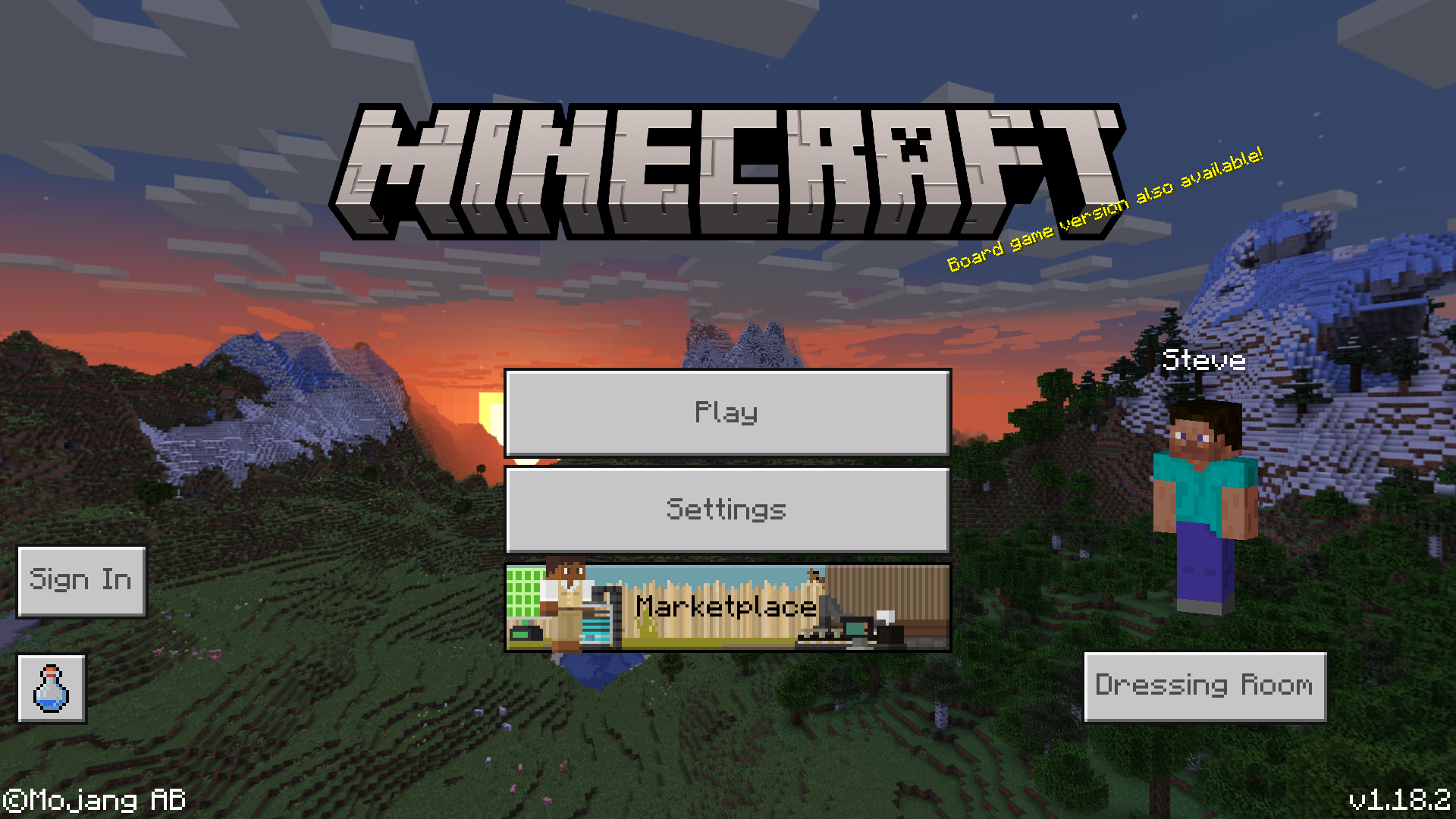 Before sharing the actual installation process of Bedrock Edition Minecraft it's important to know whether your PC fulfills the minimum system requirements or not.
CPU: Intel Core i3-3210 3.2 GHz / AMD A8-7600 APU 3.1 GHz or equivalent
RAM: 4GB
GPU (Integrated): Intel HD Graphics 4000 or AMD Radeon R5 series with OpenGL 4.4
GPU (Dedicated): Nvidia GeForce 400 Series or AMD Radeon HD 7000 series with OpenGL 4.4
HDD: At least 1GB of free space for game core, maps, and other files
OS: Windows 7/8/10/11
If your PC fulfills the aforementioned requirements then you won't face any compatibility issues while Downloading Free Minecraft.
---
Download Minecraft Bedrock Edition On Windows 10
In this section, we have shared three easy-to-follow methods that will help you download and play Minecraft Bedrock Edition on a Windows 10 PC.
---
1. Download Bedrock Edition On PC Using Mojang
If you own a copy of Classic Minecraft that was purchased before October 19th, 2018 then you can easily download the Bedrock Edition Of Minecraft for free. To do so, follow these simple steps.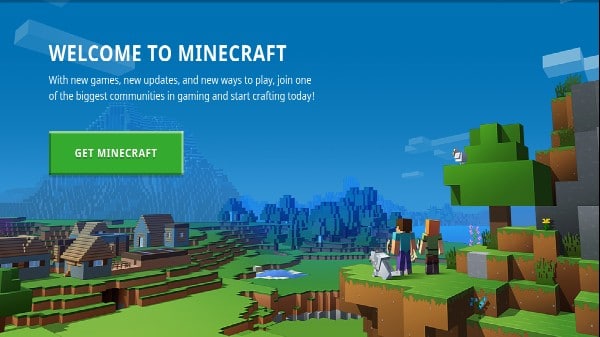 Firstly, open your browser of choice and visit the Mojang Website.
Next, log in to your Mojang account using your Minecraft email address and password. (kindly log into the Mojang account that you used to purchase classic Minecraft)
Locate the "Minecraft For Windows 10" section and press the button that says "Claim Your Free Copy".
Instantly you will be redirected to the Microsoft Store, here you have to press the Redeem button. (ensure that you are logged into your Microsoft account)
You have now successfully claimed the game and you can directly download it from the Microsoft Store on your Windows 10 PC.
If you don't own a copy of Classic Minecraft then follow the next two methods to install Minecraft For PC.
---
2. Download Minecraft Bedrock Edition For PC Using Demo
If you want to Download Minecraft Bedrock Edition For Free then this section is ideal for you. Follow the steps carefully.

Firstly, open the Minecraft Free Trial Webpage on your browser of choice.
Next, click on your platform of choice. The Minecraft Free Trial is available for Windows, Android, and Playstation.
You have to now press the Dark Grey download button that says Get Free Trial. Once again ensure that you are signed in to your Microsoft account.
Follow the on-screen instructions to download the game on your PC.
If everything goes well the Demo version of Minecraft Bedrock Edition will now be installed on your PC.
You can enjoy the Minecraft Demo Version for a limited amount of time.
---
3. Download Bedrock Edition On PC Using Microsoft Store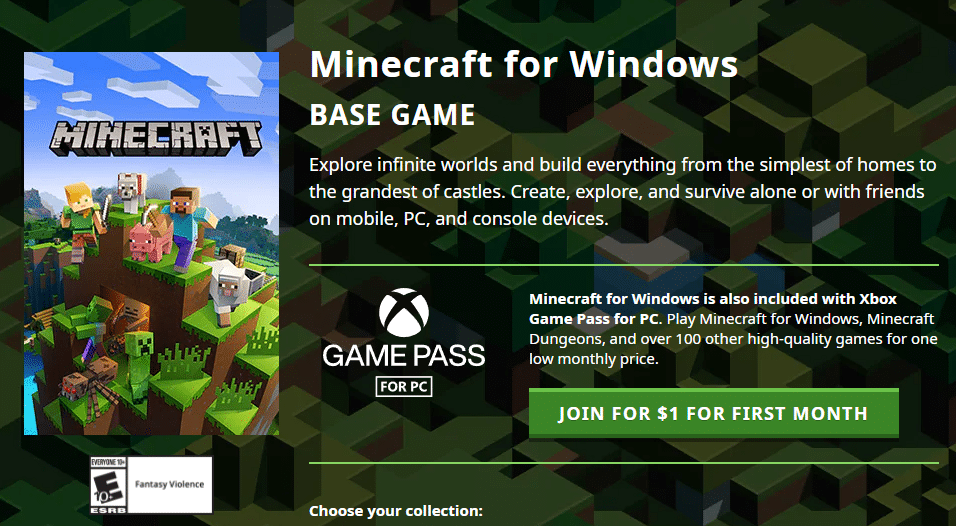 Lastly, you can purchase Minecraft For Windows 10 directly from the Microsoft Store.
To do so open the Microsoft Store and search for Minecraft. Once you are on the product page select the version of Minecraft that you want to download and complete the purchase.
Additionally, you can also get Minecraft For Free if you are subscribed to the Xbox Gamepass subscription service.
---
Minecraft Bedrock Edition Pricing
These are different versions of Minecraft Bedrock Edition available for different gaming platforms. In the section, we have shared the pricing of the game on different platforms.
Mobile Version – US$6.99
PlayStation 4 – $19.99
Xbox One – $16.74
Fire TV price – AU$29.95
Windows 10 Starter Collection – US$29.99
Windows 10 Master Collection – US$49.99
Nintendo Switch renditions – US$29.99
Once again if you have an Xbox Gamepass Ultimate Subscription you can play the game on Windows 10 and Xbox Series X|S without paying a penny.
---
CONCLUSION
So this was a simple and easy-to-follow guide on how to download Minecraft Bedrock Edition On PC. If you face any problems while installing the game then feel free to let us know in the comments section below.