Download Managers like Internet Download Managers, also known as IDM, have the capability of downloading stuff from the internet really fast with resume support as compared to native download managers that come with browsers such as Google Chrome or Firefox.
Download managers are able to do that by simply channeling the full bandwidth that you might have on your network and using that to download content at full speed.
Internet Download Manager is able to do this by splitting the download into parts and downloading those chunks individually.
It's definitely one of the best managers out there and probably the most famous one by far too. But remember, the software does nothing special and there are so many alternatives out there that do just as good a job as IDM does. Oftentimes, these managers are also free to download and use.
We will be looking at a bunch of different alternatives for IDM in this listicle and these will be the ones that will work on Windows, macOS, or any Linux distro of your choice. Let's just get started with the list.
Best Free IDM Alternatives
Type: Open Source; Free
Platforms: Windows, macOS, and Linux
Motrix is one of the best available download managers out there with features such as torrent downloads, extensions support for browsers such as Chrome and Firefox's mock user agent switching. By far the one with the most minimalist UI and UX, the download manager has unbelievable feature sets.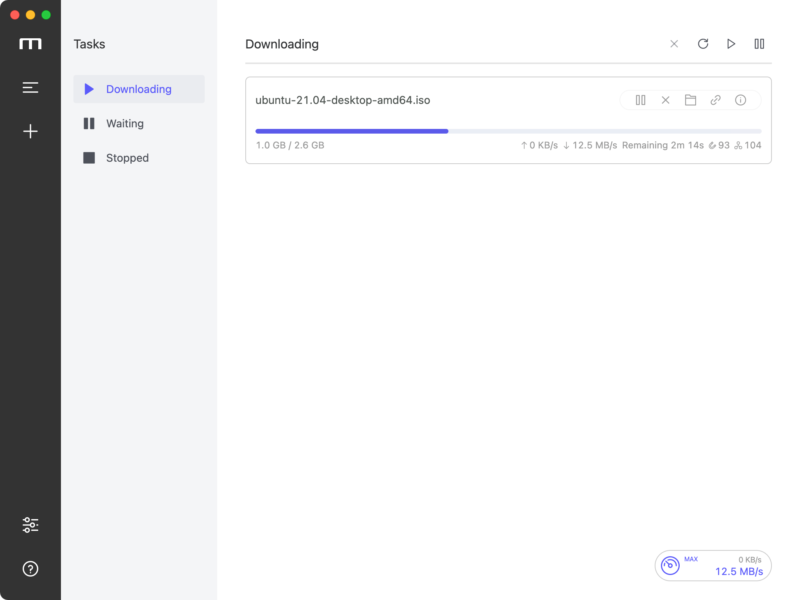 At first look, the app looks like it has been designed first for Linux and macOS and it natively supports Apple M1 Silicon. If you have a MacBook with a touchbar, Motrix will have options for you to control the downloads right from the touchbar itself.
This IDM alternative also can also pick up downloads from the web browser using the official extension.
Type: Open Source; Free
Platforms: Windows, macOS, Linux, and BSD (FreeBSD and OpenBSD)
I have a thing for open source software and this one is definitely something that I personally feel is a better download manager as compared to other options. Persepolis is available for a bunch of different platforms and works great on all of them!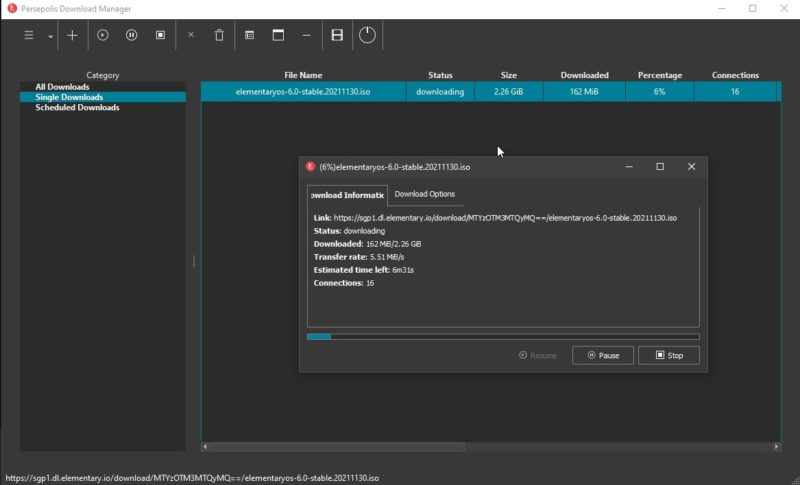 When it comes to features, the list is strong and because it has a community behind it, it has a lot of features that make your life easy using it on a daily basis.
For example, Persepolis can integrate well with Persepolis extensions for Mozilla Firefox and Google Chrome. This lets you download videos in all the quality options available.
Other than that, you have features such as Scheduled Downloads and downloads through your proxy – which the software can automatically detect from your OS.
Persepolis isn't perfect though, you will find the UI a bit inconsistent and unfriendly and on the other hand, it does not support torrent downloads and as per the main developer of the project, that feature isn't on the cards to be brought into the software at all.
Type: Freeware, Free
Platforms: Windows, macOS, Linux, and Android
Free Download Manager is absolutely free and it is also one of the popular IDM alternative around.
The software was also open source for versions between 2.5 and 3.0.852, right now, the website claims the software to be open source and to be distributed until GPL license but there's nowhere to look at the source code.
Apart from that, Free Download Manager comes with a plethora of features and it is one of the few download managers that also works on Android.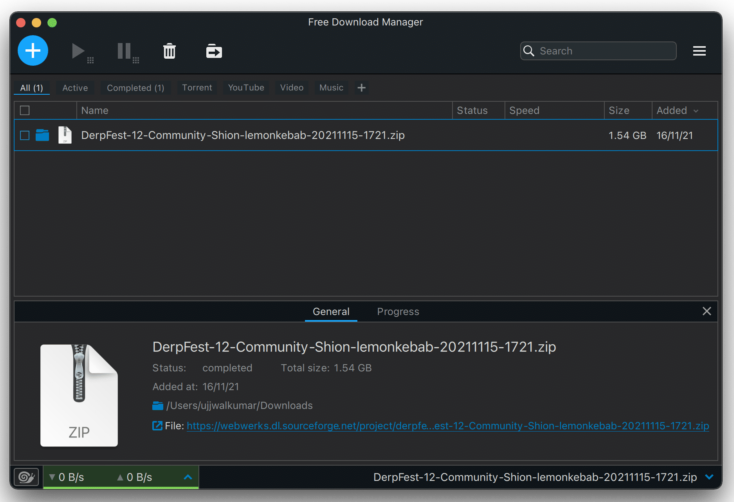 Features include support for torrent downloads using torrent files and magnet links along with previewing video files before downloading them completely. It also supports recovering broken downloads.
You will also be able to adjust the bandwidth a download is assigned either manually or automatically based on your preferences. The UI is simple to use and understand as well. Definitely one of the best free download managers out there as an alternative to IDM.
Type: Open Source, Free
Platforms: Windows, macOS, Linux, BSD, and Android
When you visit the official website to download uGet, it claims to be the Number 1 Open Source Download Manager. While we don't know about the "number 1" claim, it does have all the features that make up for a good download manager.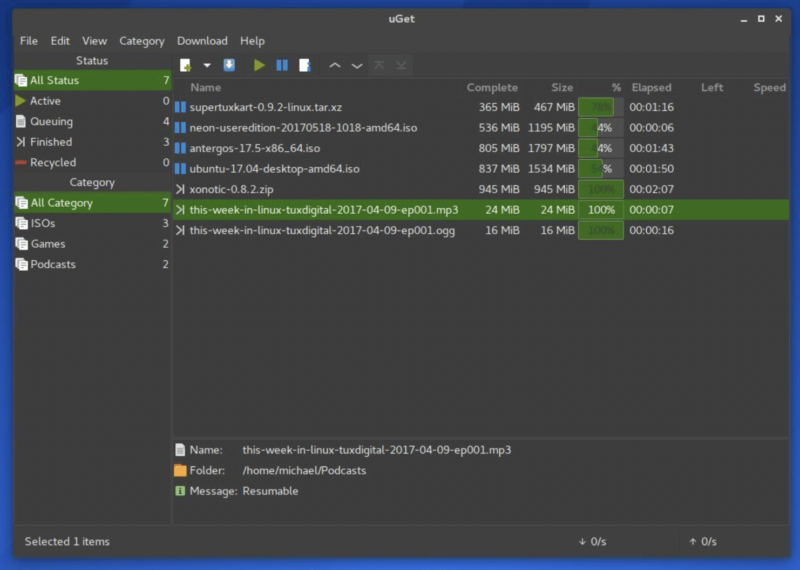 It works on BSD which the FDM misses out on and also has a version available for Android. Moreover,  supports all the features such as support for torrent downloads, replacing your browser's native download manager.
Along with that, you can also use it to download videos from YouTube and some other video websites.
It also comes with FTP support so you can connect with an FTP server and manage the files right from the FTP browser built into uGet. This can replace the need for having an extra download manager such as FileZilla.
Type: Open Source, Free
Platforms: Windows, Linux
FireDM is an entirely open-source download manager that can effectively replace Internet Download Manager on Windows and Linux. You can use the program to download general files and videos from sites like YouTube and Vimeo.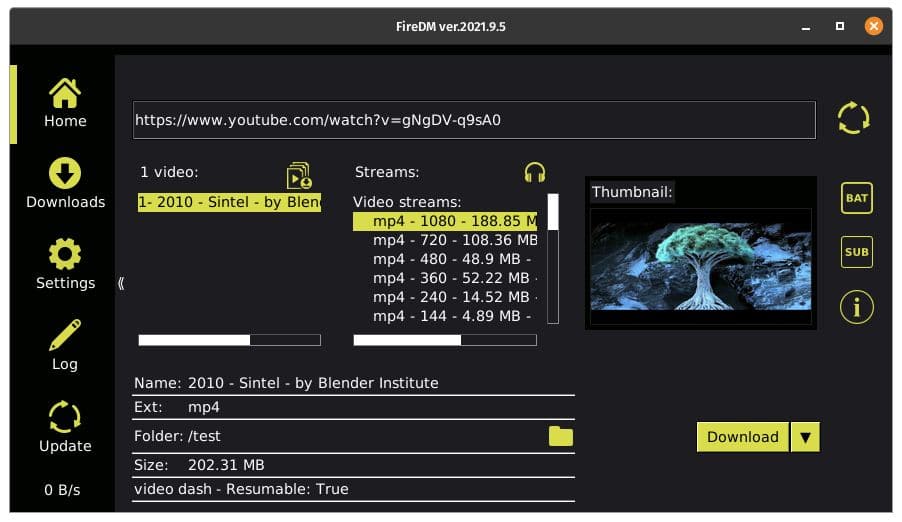 Compared to other IDM alternatives, FireDM packs many features. First and foremost, it fully supports multi-connection and high-speed downloads.
Thanks to automatic file segmentation, resume support, and video subtitle download support, you can have an impressive User Experience on any day.
Additional features include proxy support, GUI theming, regular updates, download speed limiter, and shell command support.
Type: Freemium
Platforms: macOS
Folx is another alternative to IDM, especially if you need a dedicated macOS app. It does a great job of managing multiple downloads with maximum performance.
Thanks to its native support for Apple Silicon, you can unleash the best speeds without draining the battery.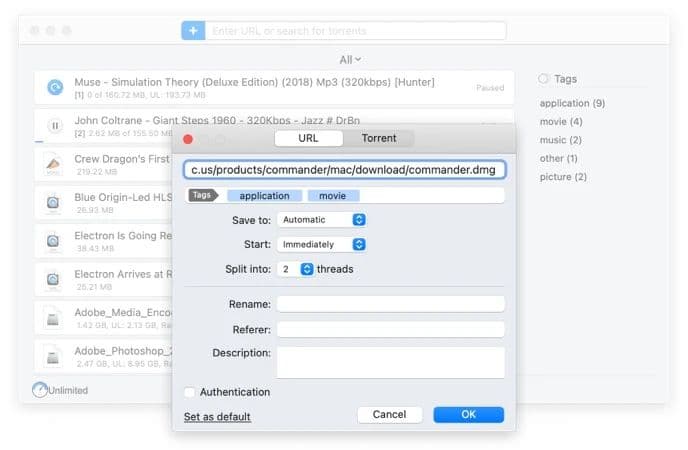 Nevertheless, Folx is a premium tool, meaning that you have to pay for some features. For instance, though the free version offers basic features like download resuming, multiple download slots, you need to pay for extra features like multi-thread downloading, download scheduling, and torrent support.
On the bright side, Folx Download Manager integrates so well with macOS. You do not have to worry about glitches or corrupted downloads.
Type: Free
Platforms: Windows, macOS, Linux
Xtreme Download Manager is another multi-platform IDM alternative. It claims to boost your download speeds to up to 500%, which is impressive on any day. It also packs all the basic features like resume support and browser integration.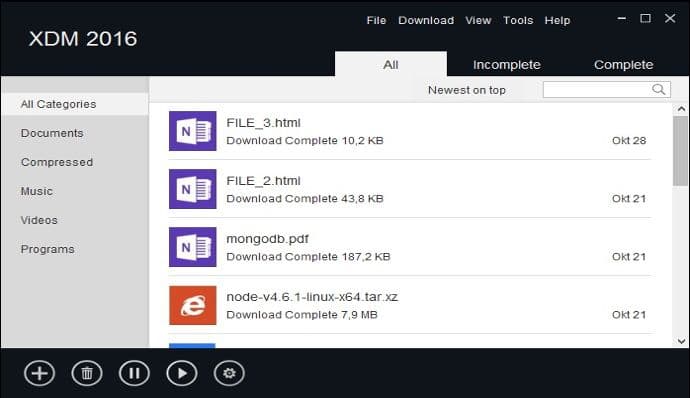 Download categorization is also a great feature in the XDM package. You can find all the downloaded files in proper categories. Even though the software does not take up a lot of resources, the UI is pretty reliable in most instances.
Considering that you do not have to pay anything, Xtreme Download Manager is an option you must look into if you do not want to buy Internet Download Manager.
Type: Free
Platforms: Firefox, Chrome, Opera
DownThemAll is a different Internet download manager alternative than what we have mentioned so far. It brings advanced download options into your web browsers, including Chrome, Firefox, and Opera. Once installed, this free extension can make things easier than ever.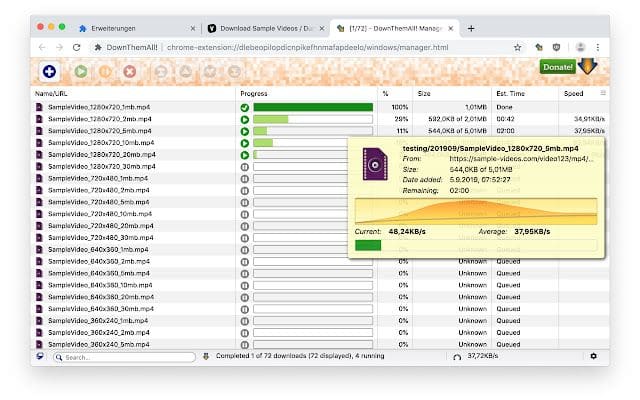 For instance, you can download files through the context menu. There are also options to regulate the total speed of the downloads. If you want to go the conventional way, you can quickly enter the URL and download the file.
Here is the thing, though. DownThemAll does not increase the download speed, per se. But, if you need an impressive set of download management options, you are in the right place.
Type: Open Source, Free
Platforms: Windows, macOS, Linux, Android
Turbo Download Manager is another popular IDM alternative from the open-source world. It allows you to speed up downloads by splitting them into multiple threads. And you can run as many download tasks as you want at a time.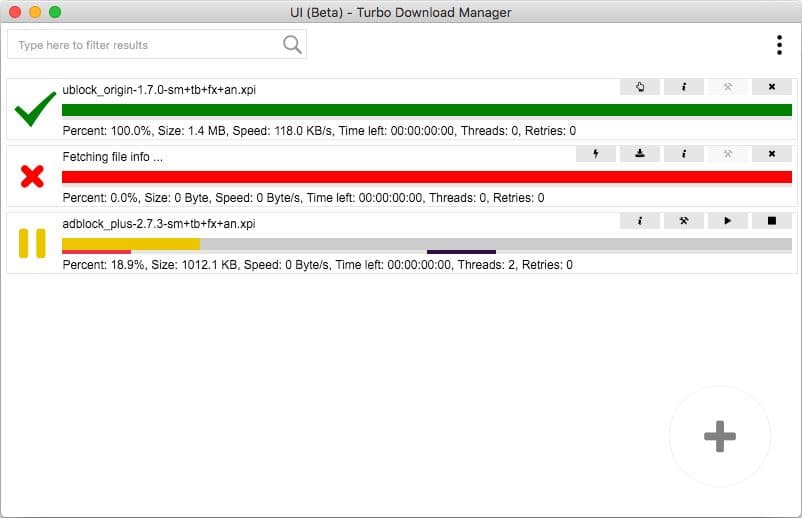 Unlike the other products on this list, Turbo Download Manager does not have an extensive User Interface. You can find only a few icons on the window. However, if you are into minimal User Interface, you will love what this download manager offers.
It is also noteworthy that you can use Turbo Download Manager on multiple platforms and web browsers, including Android.
Type: Freemium
Platforms: Windows, macOS
Ninja Download Manager is a proprietary download manager that offers a free version for Windows and macOS. While the free version is pretty basic, the Pro version packs some unique features. You can integrate NDM with your web browsers as well.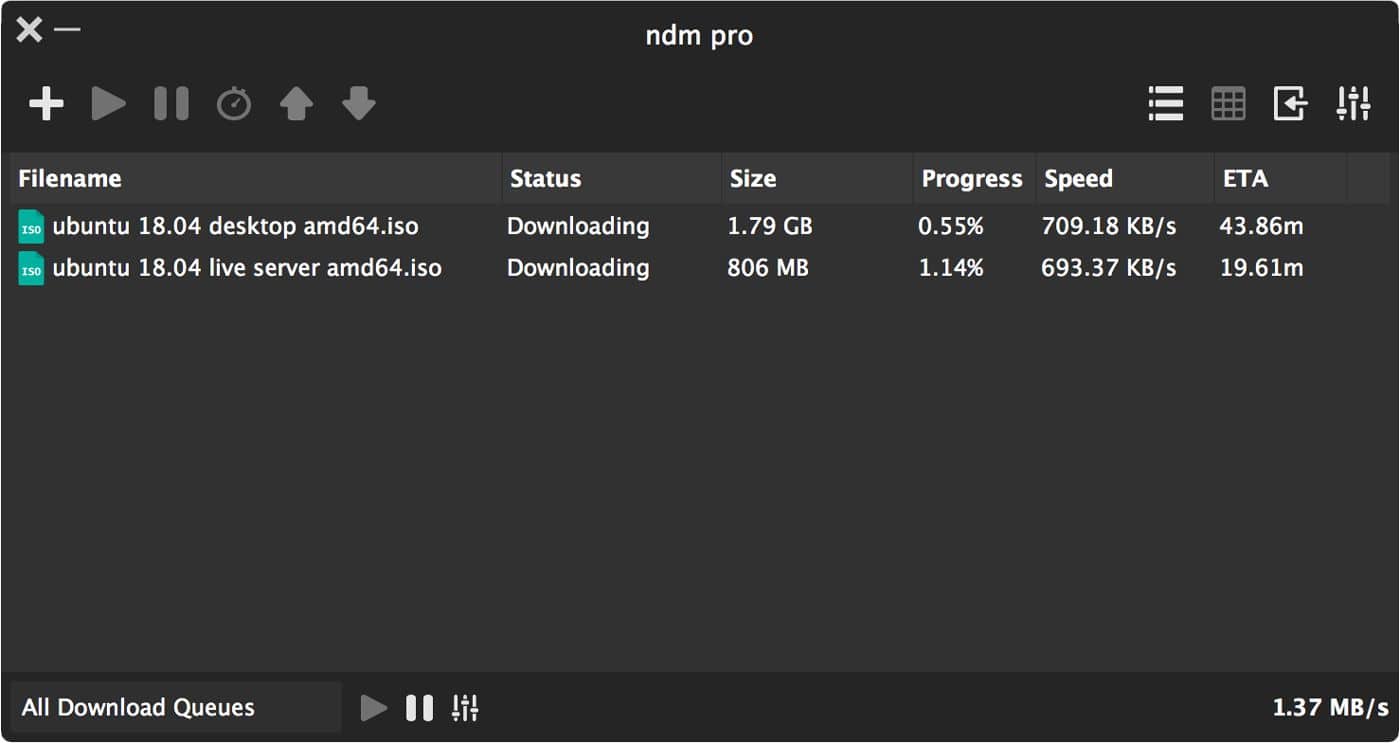 NDM claims to increase the download speeds by 20 times using multiple connections. As you can guess, the option to resume downloads works almost every time. In addition, on both Windows and macOS, you get some handy features like drag-and-drop downloads and scheduling.
Additional features in the package include a password manager, proxy support, and clipboard monitor. All these options are great considering what you have to pay.
---
Conclusion
As you can see, the Internet Download Manager is not your only option for downloading files quickly and effectively. As it happens, many of the apps we have mentioned come with superb features and an intuitive User Interface. It is also great that you have so many open-source alternatives to IDM for Windows, macOS, and Linux.