There's no doubt that the current digital age has "normalized" lots of "abnormalities" that could affect kids' safety online. From sensitive content (porn, violence, etc.) to scammers, cyberbullies, and lots more.
The best way any parent can keep kids safe online is by staying connected with them always. But, the big question is 'How do you stay connected with my kids even when I'm far away?' Well, in such a situation, an advanced parental control app become essential.
A parental control app can always come in handy to help parents ensure their kid's safe online and track their whereabouts. However, with hundreds of parental control apps available online, it can be quite hard to choose the best one that can help you get the job done perfectly.
That being said, we will pick the best parental control app for iPhone in this article. So, without wasting much of your time, let's dive in to find out more.
Dangers That Can Affect Kids Online
Your kids become exposed to several threats when they start getting active online. So, before we proceed to discussing the best parental control app for iPhone, let's take a look at the potential dangers that can affect kids while surfing the internet. 
Scammers
Kids these days are very easy to convince, especially with things they really value (free online games, special gaming tools, etc.). Besides, most cyber criminals could use sites popular among kids to execute their plan, thus identifying possible victims and asking them to provide critical information like parents' credit cards, SSNs, etc.
Cyberbullies
Cyberbullying is a very rampant problem, and from research, about 60% of kids who use social media have fallen victim to cyberbullying, without even considering it to be 'Cyberbully'. Children can be easily humiliated on social media platforms or online gaming events, turning into offensive messages to threaten one another, thus becoming cyberbullying either in real life or across different platforms.
Accidental Download of Malware
Malware is just like computer software that's usually installed on a device without the consent of the user to perform harmful operations like stealing essential information or slowing down the device's activities. 
Phishing
Phishing involves the use of emails to trick people to click malicious links or files, and unfortunately, most kids are prone to click links for free improved online games, free cash, or anything that they find valuable to them. Today, most cybercriminals usually clone sites that are popular among kids and use them to gather emails, addresses, friends, and other vital info they can use to tailor their attacks. 
Although you shouldn't ignore the need to enlighten kids about the dangers of the internet, staying connected with every activity they execute on their mobile device will keep you assured that they're not doing things wrongly.
A trustworthy parental control app like Wondershare FamiSafe can help you manage and monitor your kid's internet access and online activities effortlessly without them knowing. It boasts a wild range of features including real-time location tracking, website blocker, porn blocker, explicit content detection, YouTube Control, and lots more.
Moreover, FamiSafe has a super easy-to-use dashboard that makes navigation around the app very straightforward.
Key Features
Efficiently block apps and websites you don't want your kids to access.

Advanced explicit content detection feature to keep you updated when your kids receive impropriate messages, pictures or others.

Monitor kids' social media activities like the new posts, chats, etc.

Track their live location and check their location history

Set Geofences to receive notifications when kids enter or leave the specific areas.
Availability and Pricing Plans
Working for Android, iOS, Windows, Mac and Kindle Fire, etc. Famisafe provides a three-day-trial version for you to explore the full features before committing to the purchase. Afterwards, there are some flexible plans to choose from:
Monthly Plan – $10.99/month, supporting 1-5 devices
Annual Plan – $60.98/ year, supporting 1-10 devices
Quarterly Plan – $20.99/ quarter, supporting 1-10 devices
How to Keep Kids Safe Online with FamiSafe
Step 1: Download and Install FamiSafe on your phone and FamiSafe Jr on your kids' phone. You can get FamiSafe from Google Play Store or Apple Store 
Step 2: Create Your Profile and Login
Run the FamiSafe app on your phone, and when you're asked to select your identity, choose 'Parent'. Then tap the Sign up button to register an account using your correct email addresses. You can also try third-party access using either your Google or Facebook account.
Step 3: Create Pairing Code
On the new page, tap on '+Connect A New Device'. By doing so, a 6-digit code will be displayed on your phone screen – the code will be required to pair your kid's device.
Step 4: Connect Kid's Phone to Your Phone 
Now, run FamiSafe Jr on your kid's phone and tap 'Pair with Code'. On the new page, you'll be asked to enter pairing code. The pairing code is the 6-digit code you got while setting up FamiSafe on your phone. 
Then complete the data filling on the new page by entering your child's Nick Name and age > Tap 'Done' to proceed.
Step 6: Grant certain access to FamiSafe.
You need complete some setting to ensure the best performance. For example, you can activate accessibility to allow FamiSafe to access the needed information. And also activate Notification Access to allow FamiSafe to monitor the notifications on the kid's phone.
Step 7: There it is! Now you can go back to your phone to check your kids' phone activity, browsing history, etc.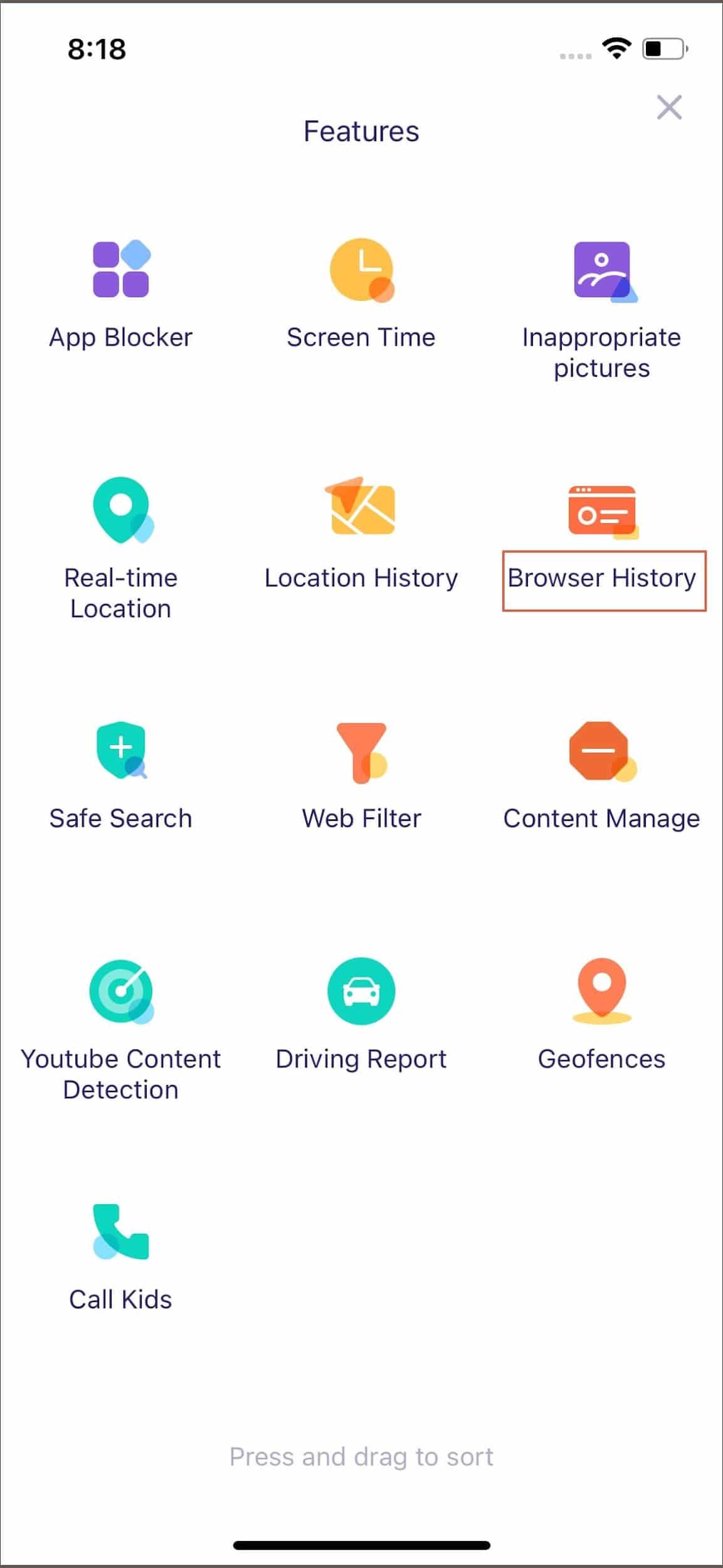 Conclusion
As parents, your kids' online safety should always be a priority to you, and one way to keep up with that is by staying connected with them even when they're far away from home. A trustworthy parental control app can help you balance it all when it comes to keeping a good watch on your kid's online activities. Try FamiSafe first, which comes with a wide range of features that facilitate a seamless tracking process of your kid's activity.