In today's world, data drives everything.
From businesses to governments, every organization runs on calculated decisions based on information collected as data about the quality of output, resources, performance, and feedback.
These data are then used for forecasting, analyzing any possibilities or outcomes, or improving growth by researchers, inspectors, etc.
And thus help better understand the targeted audience, customers, and employees for better outcomes.
As you must know, there have existed several methods to collect such data from times immemorial – be it polls, surveys, ratings, feedback, opinions, choices, or interviews.
However, in the age of rapid digitization, data collection asks for automation, like everything else, to speed up processes, and companies are catching up
So, if you want to keep up with the race, it's time you seriously considered investing in a software tool that can help you collect data.
Not sure which one to choose from the numerous platforms for data collection circulating on the internet?
We have listed the best data collection tools available right now to make it easier for you.
Best Data Collection Tools in 2023
1. Google Forms
Probably one of the most used online data collection tools for free is Google Forms.
Whether it is a college survey or an interview test, Google Forms is probably the best data collection tool that lets you do it all from creating questionnaires, polls, and surveys, to quizzes.
You can customize the layout style, background color, and types of questions from choices of linear scales, multiple choices, and dropdowns. The app also allows you to add elements like logos, videos, and images
And, the best part?
You can check and analyze all the collected data in real time and even export them directly to a spreadsheet for better access.
Key features:
Mobile-friendly and can be used on any device
Real-time data collection, analysis, and reporting
Allows customizable branding and features like drag-and-drop
Can be sent via email reminders
Facilitates third-party integration and collaboration tools
Get Google Forms.
2. QuestionPro
Another one of the data collection applications that many organizations prefer to conduct surveys is QuestionPro.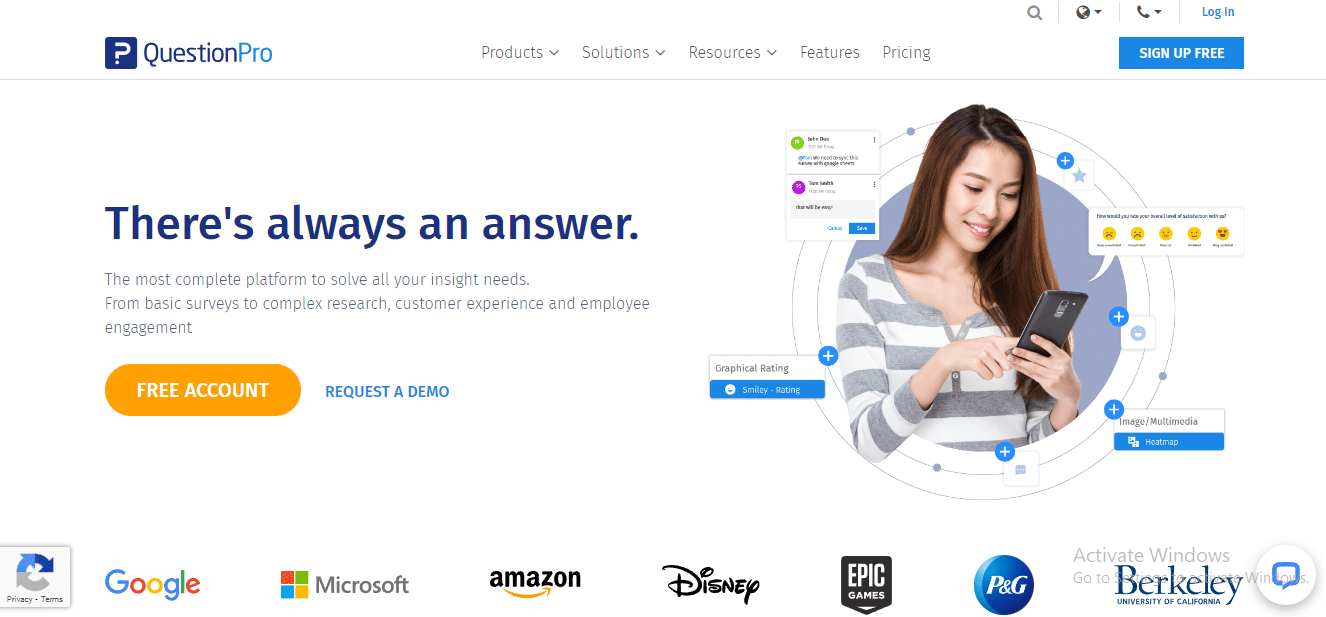 This software has an extremely user-friendly interface. Plus, there are tools to create, analyze, and distribute online quizzes, surveys, and polls, which you can use to gain insights and conduct market research for your business.
However, to utilize the software's full potential, you will need to subscribe to its monthly premium plans starting at $99.
Key features:
Customizable CSS, formats, and question types
Ready-to-use templates
Allows exporting data to different file types like XLS, DOC, PDF, CSV, and PPT, among others.
Unlimited questions and surveys on paid plans
3. Fulcrum
If you are looking for a dedicated mobile data collection app for your business, Fulcrum can be your best bet.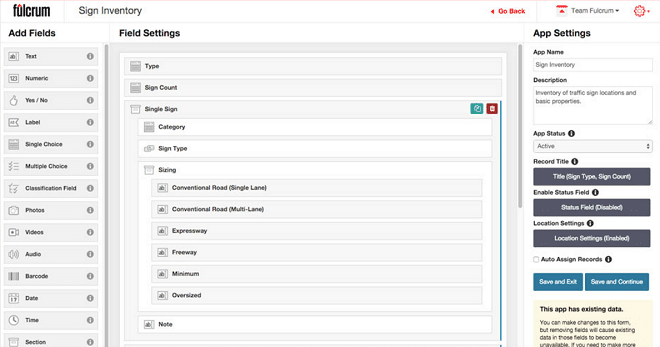 With an existing customer base of over 30,000 users across 100+ countries, the platform is one of the best data collection tools that can be used on both iOS and Android devices.
Fulcrum stands out from the other data collection tools mentioned on this list due to its unique automatic location capture. All data collected via this app automatically gets tagged with a GPS location coordinate.
The app comes with a free trial, after which you switch to its paid plans starting from $15 per month, which is a way better deal than that of other platforms like QuestionPro.
Key Features:
Supported on both Android and iOS devices
Allows data collection in online as well as offline modes
Automated location capture
Negligible to zero training required
Automatically syncs data to cloud
Allows using terrain, hybrid, and satellite base maps
Supports Esri, Mapbox, and OpenStreetMap custom map layers
Allows collecting images, audio, signatures, and barcodes
4. QuickTapSurvey
Want to capture leads for your business at events and gatherings in real-time?
Try QuickTapsurvey.
It is the best data collection software to create data collection campaigns and surveys in just a few minutes and record in-person audits, feedback, and contact details.
You can also choose from 35+ question formats and manage your surveys remotely in offline mode as well.
The software lets you enjoy a 14-day trial before you commit to any of the paid plans it offers.
Key features:
Supported on Android and iOS tablets
Allows in-person lead capture
Setting up surveys does not take much time
Offers global language support
Facilitates unlimited data collection
Get QuickTapSurvey.
5. Zoho Forms
One important feature that you might be looking for in tools for data collection in research is compatibility with other applications since businesses seldom work on only one platform.
If that is your requirement, then Zoho Forms might be of great help to you.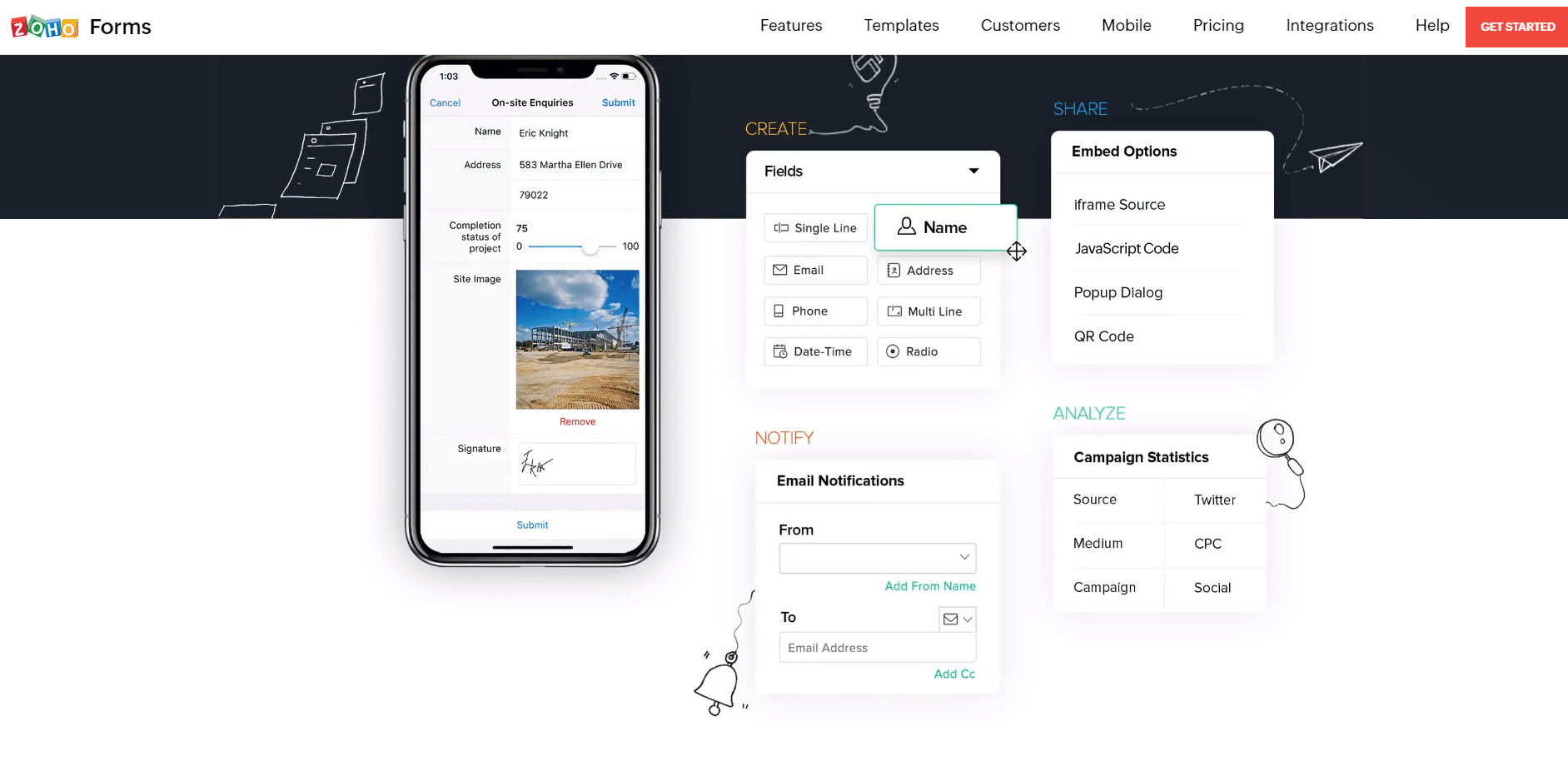 It is a front-end mobile data collection tool that comes with an extremely easy-to-use interface and built-in themes that you can easily customize.
The best part is you can embed forms created using this software onto your website pages or share them via social media posts and email campaigns as well. This will only help enhance your brand's presence and your website's engagement rate by reaching a wider audience base.
Key features:
Easy-to-use interface
Allows creating forms offline and online
Offers SMS and email notifications against submitted responses
Allows embedding forms on webpages
Allows sharing forms via social media
Extends form analytics and UTM tracking
Gets Zoho Forms.
6. Repsly Mobile CRM
If you are looking for an all-in-one data collection and analysis tools software that will let you manage all your business team activities in one place, Repsly Mobile CRM can be a good choice.
It is one of the best data collection tools that also acts as field management software that you can utilize to gain full visibility over customer interactions as well as team activities and monitor them accordingly.
If your business team is remote, that is all the more reason to opt for this CRM since it will have everyone onboard.
Key features:
A comprehensive platform for complete field management involving data collection, analytics, and reporting
Real-time updates on competitors and customer history, GPS tracking, and communication
Offers feature to schedule surveys
Allows customization of forms
Automated data conversion into reports
Get Repsly Mobile CRM.
7. Zonka Feedback
If your business is specifically customer-oriented, then you might benefit from giving Zonka Feedback a try.
You can use the platform to create forms to collect feedback and customer reviews and analyze the same to implement into bettering your services and products.
It is one of the online data collection tools that offers various customization options and formats that you can choose from to suit your company's requirements.
Key Features:
Allows capturing customer feedback and surveys via Android and iOS devices as well as over the web
Offers widgets for chain management, and CES or NPS reports, among other features
Provides multi-lingual support and mediums for form creation
In-built templates and question types
Real-time analytics and reports on company performance
Customizable branding
Get Zonka Feedback.
8. Paperform 
Want an exhaustive set of templates to keep your data collection forms fresh and unique?
Try creating one with Paperform.
From signup forms to lead generation and feedback forms, there are numerous dedicated templates for every requirement that you cannot possibly exhaust. Simply choose one and let the software format the collected data automatically to ease the process of data collection, reviewing and analysis.
Key Features:
Comes with prebuilt analytics for better data collection and conversions
Syncs data automatically to the cloud
Allows Zapier integration for better data sharing across platforms
Offers over 500 readily available form templates
Allows exporting data into files of different types, like DOC, CSV, and PDF, among others.
Data is protected by SLL
Get Paperform.
9. Nebu Dub InterViewer
Forms don't seem enough to help you gain insights into customer and competitor stats?
Nebu Dub InterViewer is here to solve your worries with options for multiple interview modes.
With a market presence of 28 years, the Dub InterViewer by Nebu is one of the best data collection applications that offers telephonic, in-person, as well as over-the-web means of interviewing to help you capture data and gain insights.
You can use this software to fasten up your process of online survey scripting and come up with more engaging surveys and questionnaires.
Key Features:
A multi and mixed-mode interviewing setup with one script encompassing all modes
Offers a readily available media library with numerous templates and question types
International interviewing supports remote and mobile teams
Comes with an intuitive and interactive UI
Offers statistical analysis for hassle-free data navigation
Get Nebu Dub Interviewer.
10. Magpi
If you are already a fan of Fulcrum, then you are bound to love Magpi all the more.
An added pro of Magpi over Fulcrum, however, is its IVR (interactive voice response) feature that makes it one of the best websites available for data collection and research for visually challenged individuals. If you or a staff member has visual impairments, simply use voice commands to input data or utilize a touch-tome keyboard to enter commands.
Besides, the platform also lets you collect and store data, including geolocation, barcodes, signatures, and photos. Plus, it is compatible with both Android and iOS devices.
Key features:
Interactive Voice Response or IVR
Automatically syncs data to cloud
Customizable dashboard, with options to embed spreadsheets, videos, HTMLs. And slide presenttations
Allows API integrations
Top-notch security with AES-256 bit and SSL data encryption
Facilitates data collection, including GPS-enabled coordinates, images, signatures, barcodes, etc.
Supported on both Android and iOS devices
Get Magpi.
11. FastField 
If you own a large business where you have to deal with chunks of data regularly, FastField may be able to make your life easier.
FastField is one of the mobile data collection tools that automatically translate huge quantities of data into summarized graphs and charts in minutes for easy visualization, navigation, and analysis.
Additionally, the platform also lets you export all the data into different file types, including PDFs and DOCs.
Key features:
Extremely easy-to-use and intuitive interface
Allows capturing of images with GPS-enables location, doodles, and annotations
Offers the creation of dynamic forms
Allows API and third-party integrations
Dashboard for quick performance insights, statistics, and trends
Allows offline data collection
Get FastField.
---
Conclusion
These were our top picks for the best data collection tools to use.
FAQs 
What do you mean by data collection?
Data collection is the process of gathering/collecting data and then measuring it to make better decisions.
What are the 5 types of data collection tools?
The 5 most common types of data collection tools include surveys and questionnaires, case studies, interviews, checklists, and rating scales.
What are the most popular data collection techniques?
The most popular data collection technique is conducting surveys and questionnaires. Other popular techniques include interviews, observations, experiments, focus groups, and secondary data analysis.