Kdrama shows have taken the world of entertainment by storm. Millions watch it regularly and more are joining in through word of mouth.
The riveting storylines, natural acting, and visually stunning cinematography help offer a glimpse into Korean culture, including language, customs, and traditions.
This can be interesting, entertaining, and educational for viewers who are interested in learning about different cultures.
Whether you are a die-hard K-drama fan or a newcomer looking to explore this exciting genre, we have listed some of the best Korean Dramas apps available that offer a vast selection of Kdrama shows.
Many of them let you watch Korean content for free while showing advertisements. In addition to that, you can subscribe to their premium plan for access to additional content and features.
You can download the apps on a long list of supported platforms like smartphones, TVs, tablets, and more. Many even let you watch Korean content in the browser itself.
Best Korean Drama Apps to watch KDrama
Few of the Best Kdrama Apps – Summary
Viki
Tubi
iQIYI
HULU
OnDemandKorea
1. Viki
Viki, one of the best Korean drama apps out there, offers a vast collection of award-winning K-dramas, Asian TV series, movies, and reality shows. The app allows you to watch your favorite shows and movies online for free.
However, if you opt for their subscription service, Viki Pass, you can enjoy exclusive content without ads and in HD quality for a lot of the Kdrama series. You can watch them with friends through the watch party where specific shows are streamed together everywhere.
Features
Viki offers ad-free viewing for subscribers. This is a big upside as advertisements can be intrusive and disrupt the viewing experience.
Offers a large selection of Asian dramas, movies, and TV shows from Korea, Japan, China, Taiwan, Thailand, and other countries.
They have a vibrant community of users who can discuss and share their favorite Korean drama shows. You can connect with like-minded individuals from around the world.
---
2. Tubi
How many times have you come across a good Kdrama show but it is always behind subscription? Tubi has a good amount of Korean shows in its large collection of over 50,000 titles.
You can watch Kdrama shows for free and legally without worrying about breaking the law. The way they do it is by showing ads to you and that pays for the streaming on this Korean show app. Therefore, you watch the content for free.
The interface is relatively easy and you don't have to wander around to find the shows. Select a show and then you get the option to use English subtitles over it.
Features
Completely legal and free to watch Korean Shows, supported by advertisements. You don't need to pay a subscription fee or create an account to access its content.
 Tubi is available on a variety of devices, including smartphones, tablets, smart TVs, and gaming consoles.
A library of Korean content that includes movies and TV shows from a wide range of genres, such as action, comedy, drama, horror, and more.
---
3. iQIYI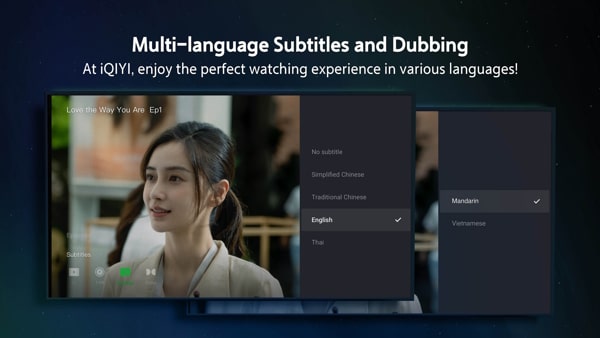 The next app for Kdrama would be iQIYI which lets you watch shows for free. And you can buy a VIP membership to access more content in high definition without the advertisements interrupting the streams.
They produce a lot of their content so you will get a lot of original Korean content on the app. This comes along with the extra content as iQIYI signed a partnership deal with Netflix so you can find a select title here from the streaming giant. You can watch all of it through the in-built video player that lets you choose from subtitles in six different languages.
And as for availability, you can watch Korean shows on iQIYI in most of South Asia apart from China, and Hong Kong.
Features
A large library of Asian content, with thousands of movies, TV shows, and other programs available to stream for free. You can even get the first few episodes of the premium content for free.
Subtitles in 6 to 12 languages for most Kdrama shows so viewers from different regions can watch it without missing the context.
iQIYI offers a range of virtual reality (VR) content, including movies and documentaries. Its VR technology allows users to fully immerse themselves in the content and experience it in a more interactive way.
---
4. Netflix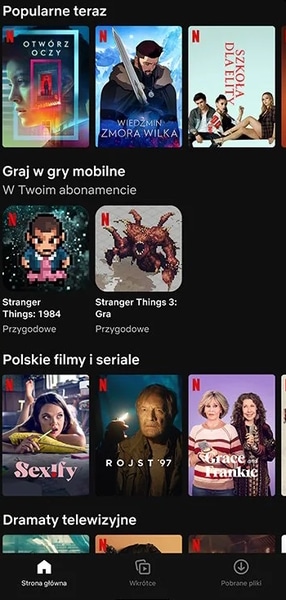 There's no need for an introduction to the app that hosts over 150 Korean series and movies. Millions of people consider Netflix as their go-to app for watching Korean shows. It offers popular shows like All of Us Are Dead and Memories of the Alhambra, etc.
Netflix offers an extensive selection of Korean dramas for you to immerse yourself in. To discover your next favorite, simply search for "Korean dramas" and explore the options. You can even narrow down your search by browsing more specific categories, such as "romantic Korean TV dramas," "Korean supernatural TV dramas," and "Korean TV dramas about friendship."
The app is not entirely free, but it does offer a free trial to new users. The length of the trial period and availability may vary by region, but in most regions, the free trial lasts for one month.
Features
Personalized recommendations based on your viewing history and ratings. It help users discover new Korean shows that they may enjoy, while also helping them easily find content that aligns with their existing viewing habits and preferences.
Create multiple profiles for different family members or friends, each with its own viewing history and recommendations.
High-quality video and audio, including support for 4K Ultra HD, Dolby Vision, and Dolby Atmos.
---
5. Hulu

Hulu is a popular steaming app that offers a vast collection of Korean dramas, movies, and TV shows. It is owned and operated by Walt Disney and offers not only new K-dramas and movies but also classic sitcoms and TV series.
Hulu's Korean content is easily accessible on the app, and viewers can easily search for specific shows, or browse the Korean drama and movie categories. The app also offers personalized recommendations based on a viewer's watch history.
Additionally, Hulu offers Korean content with English subtitles, making it accessible to viewers who may not understand Korean. It is currently available in the US and Japan.
Features
Stream Korean shows on multiple devices simultaneously. With the ad-supported plan, subscribers can stream on two devices at the same time, while the ad-free plan allows for unlimited simultaneous streams.
You can set up parental controls on Hulu to restrict access to certain content based on rating or content type, which can be applied to certain user profiles.
High-quality video and audio, including support for 4K Ultra HD, Dolby Vision, and Dolby Atmos.
---
6. OnDemandKorea
OnDemandKorea, OKD,  is a free app for watching Korean dramas in North and South America. Just like Hulu, the free version is supported by advertisements. You can use the app interface in English or Korean.
You can watch a lot of Korean dramas and shows without paying a penny. And if you want to remove video ads, get better stream quality and access premium content then you can consider subscribing.
But free users also get a way to get premium content. The app has a section where you can watch premium content for 24 hours after being uploaded without subscribing to a plan.
And the entertainment doesn't stop there, OKD has a tie-up with Kocowa to offer more Korean shows, which are available to the paying members.
Features
Sign up for a free account and watch Korean shows for free on the app without requiring payment information.
Watch Korean shows within 1 hour of being broadcast in South Korea and stay immune to spoilers on the internet.
24-hour Premium pass for under a dollar, which is a bargain for watching a series with friends and family without committing to a membership.
---
7. WeTV

WeTV, a relatively new Korean Drama app, is rapidly expanding its content library. Apart from Korean dramas, users can also stream other Asian dramas and movies on this platform. WeTV is owned by Tencent and is available in several countries across Asia, including Indonesia, Thailand, Vietnam, and the Philippines.
The app has subtitles in multiple languages which are available to viewers, making it accessible to non-Korean speakers. The platform is not limited to Kdrama streaming, as users can also explore other Asian content such as Japanese shows, Thai movies, and more.
Features
Along with free content, WeTV offers affordable subscription plans, making it accessible to a wider audience.
Watch Korean shows without creating an account or requiring a login.
WeTV has an active online community where users can interact with each other, discuss their favorite shows, and share recommendations.
---
8. VIU

VIU is a video streaming app for Korean shows that offers a variety of Asian content, including Korean dramas, Japanese dramas, Chinese dramas, and other shows from across Asia. It is available in Asia and across the Middle East.
Their refreshed app has added a slew of features allowing users to adjust various settings such as volume and brightness without interrupting their viewing experience. By simply swiping their finger on the screen, a small window appears with all the necessary settings.
This convenient feature enables users to customize their viewing experience while continuing to enjoy their show. VIU's new media player has great playback features that make it easier to navigate to different scenes.
Features
This modern media player comes with additional features that include bullet comment settings, episode selection, and playback speed adjustment with more speed options such as 3x, 2x, and 0.75x.

Most of the content available on VIU is in high-definition quality, providing viewers with an exceptional viewing experience.

You can download Korean drama from VIU to watch offline, making it convenient when the internet is not available.
---
9. YouTube

YouTube is the biggest video-based social media in the world. And it can become your favorite Korean Drama streaming app.
Certain content on YouTube may be subject to copyright issues and could be removed; however, there are bound to be some Korean sow available for viewing if you search for them at any given time.
There are many channels on YouTube that upload Kdrama shows to watch for free. You will of course get ads, which can also be removed as a premium user.
Features
Interact with other users and creators on YouTube through comments, likes, and shares, creating a sense of community around the Korean drama shows you love.

Watch Korean Shows for free on YouTube without requiring a membership or pay-per-view in most cases. Few studios rent their shows on the app to watch for a limited time.

You can download Kdrama shows to watch them offline on the app when the internet is not available.
---
10. Asian Crush

Asian Crush is a Kdrama app that offers a wide variety of Asian movies and TV shows, including Korean dramas. It is a freemium service available in the US and Canada, that provides access to a large library of content from Asia, including Japan, China, South Korea, and other countries in the region.
They offer a mix of classic and contemporary Asian cinema, with a focus on popular genres like action, romance, horror, and comedy. In addition to Korean dramas, the platform also features anime, documentaries, and short films.
Features
 Asian Crush offers both free and subscription-based plans. The ad-supported plan is free, while the ad-free plan requires a monthly or annual subscription fee.

Massive library of Asian movies and TV shows, including Korean dramas, Japanese anime, Chinese cinema, and other popular genres from the region.

Just like Netflix, and YouTube, the Asian Crush algorithm suggests content based on your viewing history, making it easy to discover new Korean dramas or other Asian content that you may be interested in.
---
11. KorTV

Now we have a Korean TV Shows app from South Korea, available in 100 countries around the world. It offers real-time streaming and video-on-demand. including Korean dramas, movies, variety shows, and more
This app offers over 80 Korean channels that cover a variety of genres, such as news, sports, entertainment, and music. This makes it an excellent option for those who want to keep up with current events or catch their favorite shows as they air.
Features
Kortv offers over 20 Korean live TV channels including KBS WORLD24, MBN, Arirang TV, etc, covering a range of genres, including news, sports, entertainment, and music.

You can also record Korean live channels, such as particular segments and programs to watch them later when you are free.

Two-week long free trial to try the app before purchasing the membership.
---
12. Amazon Prime

When Netflix and Hulu are on the list, then Prime Video cannot be behind in offering the latest Kdrama shows. The streaming giant has over two dozen Korean shows available on the platform.
The availability varies according to the region and new title are added every month so keep an eye out for them.
And the best part about Prime Video is that you don't have to separately subscribe to it. It comes bundled with an Amazon Prime membership.
Features
We get subtitles in multiple languages for K-drama shows, making them accessible to a global audience. In some cases, you may also find dubbed audio options.

 Create a personalized watchlist, making it easy to keep track of K-dramas you want to watch or continue watching.

30-day free trial in most regions, apart from a student discount, which offers the Prime membership at half the rate.
---
13. Mango TV

Mango TV is a Chinese streaming platform that has been gaining a lot of popularity among K-drama fans lately.
It has got an impressive variety of Korean dramas to choose from, which is one of the reasons why people are preferring it over others.
Mango TV app also has amazing community features like user ratings, reviews, and comments. It is a great way to share your thoughts on shows and get recommendations from fellow viewers.
The only downside we can find is that it works only for users in China. You can bypass that by using a reliable VPN.
Features
It offers a broad range of K-dramas, including popular series, classic shows, and recently released dramas. The app caters to a variety of tastes, offering content from different genres like romance, comedy, action, and historical dramas.

You don't have to worry about losing your progress in a series. It keeps track of your watch history, so you can easily pick up where you left off.

30-day free trial is available for every registering user with no questions asked.
---
Is it possible to watch Kdrama for free?
There are several websites and apps where you can watch Kdramas for free, though some may have a limited selection or may require registration or sign-up.
Which app is best to watch Kdrama for free?
A single app to watch Kdrama for free, as each platform has its own selection of content, features, and user interface. The best app for you may depend on your personal preferences and the specific shows you want to watch. However, here are a few popular apps that offer Korean dramas for free:
Viu
OnDemandKorea
Hulu
YouTube
Tubi
Top 10 KDramas That You Should Watch
1 Percent Friendship
Episodes: Ongoing
Genre: Drama, Comedy
Hometown Cha Cha Cha
Episodes: 16
Genre: Romance
Alchemy of Souls
Episodes: 20
Genre: Romance, Sageuk
Crash Landing On You
Episodes: 16
Genre: Romance
All Of US Are Dead
Episodes: 17
Genre: Zombie Apocalypse, Horror
Running Man
Episodes: 592-running
Genre: Game Show
Vicenzo
Episodes: 20
Genre: Crime
Descendants of the Sun
Episodes: 16
Genre: Action, Romance
Move to Heaven
Episodes: 10
Genre: Drama
Partners for Justice
Episodes: 32
Genre: Mystery
Best Kdrama Apps to Use Right Now
You cannot go wrong with the Korean Drama apps we have discussed in the article. We recommend starting with Viki and Tubi. And if you have Netflix subscription, then consider searching for "Korean shows" and you will see the content available in your region.