Much before Parasite bleeped on the horizon and made the world notice the Korean, there lived a simmering demand for Kdrama series.
It kept growing under the radar until the Korean movie swept all the global awards including the Oscars. The Korean wave has taken over the world, which is called the Hallayu.
The word means the growing influence of the Korean culture and art, encompassing music, movies, TV shows, games and more.
One of the major reason behind the increasing popularity of Kdrama is that they are family friendly. Minimal foul language, virtually non-existent violence, and contained intimate moments are a ticket that makes it easier for people from different culture to watch it with family, peers and older people without being offensive.
Besides that, people want fresh content, plots which are becoming a difficult thing in the west. The same old teen romance doesn't cut it anymore.
We can go on for hours talking about the best Kdrama series. Lets discuss the the top rated Korean series that have become popular amongst fans of different genres.
Best Kdrama Series to Watch right Now

1. Squid Game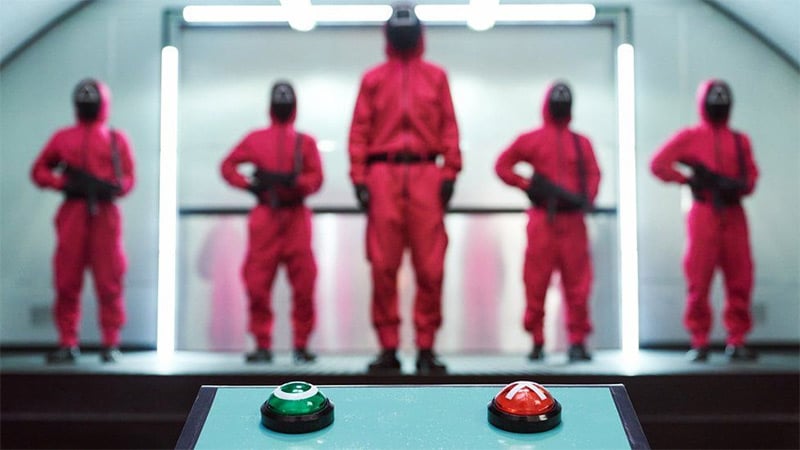 | | | |
| --- | --- | --- |
| IMDb  – 8 | MyDrama List – 8.5 | Where to watch Squid Game? – Netflix |
| Seasons – 1 | Total Episodes – 9 | Genre – Thriller, Survivor, Drama |
Squid game is among the first Kdrama series that transcended languages, culture, and countries. It became Netflix's bigger program with over 1.6 billion watch hours, with the second spot being taken at less than half that figure by Money Heist Season 4, making it into the list of one of the most popular kdrama of all times.
The popular Korean series revolves around an unemployed single father who lives with his daughter and old mother. He comes across an invitation to join a game and win an unimaginable amount of money by showing up at an address.
The game starts with 456 players competing for $456,000 in cash. There can be only one winner after six games played across several days. If a player fails to clear a game, their life will not be spared.
---
2. Sky Castle

| | | |
| --- | --- | --- |
| IMDb  – 8.7 | MyDrama List – 8.9 | Where to watch Sky Castle? – Netflix, WeTV, Viki |
| Season – 1 | Total Episodes – 20+ | Genre – Satire, Dark Comedy, Drama |
Now we have a Kdrama show, the highest-rated drama in Korean cable history. The story here revolves around Seoul's elite side, involving a luxurious residential area Sky Castles( a reference to the elite universities in Korea).
The homemakers of the top engineers, doctors, and professors are determined to rally behind their husbands to help them climb the ladder of success.
This responsibility and their ambition to get their children accepted to top universities. Here the story begins with Han Seo-jin, married to a successful doctor, Kang Joong-sang.
She wants their daughter to follow in her father's footsteps and become a doctor. And to achieve that, Han Seo-jin hires a coordinator who has a 100 percent success rate in getting students admitted to the prestigious Seoul National University.
---
3. Penthouse War in life
| | | |
| --- | --- | --- |
| IMDb  – 8.1 | MyDrama List – 8.8 | Where to watch Penthhouse ? – Netflix, WeTV, Prime Video, Viki |
| Season – 3 | Total Episodes – 48 | Genre – Thriller, Drama, Mystery |
Penthouse War in Life has three seasons, with 48 episodes to watch. The story revolves around the wealthy families of Hera Palace. They have ambitious desires for their children and would do anything to help them get success in life.
The story plot here has two women with contrasting upbringings on the financial front. Shim Su-ryeon comes from a wealthy family, while Oh Yoon-hee has a humble background.
Shim Su-ryeon has a tragic past and attempts to hide it from her husband, who also has a secret that could tear things apart. The end of the first season takes a tragic turn when something unthinkable happens at a party at Hera Palace.
The following seasons shed light on Shim Su-ryeo's secret, whereas Oh Yoon-hee seeks revenge for the turn of events.
---
4. Vincenzo

| | | |
| --- | --- | --- |
| IMDb  – 8.6 | MyDrama List – 9 | Where to watch Vincenzo? – Netflix, TVING |
| Season – 1 | Total Episodes – 20 | Genre – Crime, Law, Comedy, Drama |
Park Joo Hyeong is an 8-years old orphan who an Italian family adopts. So far, so good; just a regular adoption story, right? But it is not.
The boy grows up and is now known as Vincenzo Cassano to the mafia world after being taken in by Don Fabio, the head of the Cassano mafia family.
The starry-eyed boy turned into a mafia now works as a right-hand of don, a lawyer, and occasionally. Hell breaks loose as the throne suddenly has a new Don at the helm, who is not very fond of Vincenzo.
Cassano flees to his motherland, searching for a consignment he once delivered for a client. It is stashed in the building, illegally taken over by a subsidiary of the Babel group. Vincenzo must leave no stone unturned to reclaim the building and change his fortune.
---
5. 100 Days My Prince

| | | |
| --- | --- | --- |
| IMDb  – 7.8 | MyDrama List – 8.3 | Where to watch 100 Days? – Netflix, Apple TV, Viki |
| Season – 1 | Total Episodes – 16 | Genre – Historical, Comedy, Romance |
Lee Yul is the king's nephew who likes playing more than studying. His father leads a successful but bloody coup against the king. Yul's mother dies from an inexplicable accident.
Lee Yul is the crown prince who spends 16 years in loneliness and bitterness due to his past traumas. What awaits him on the journey to the rain rituals is a group of assassins sent there to kill him.
On the other side of the spectrum is Hong Shim, an independent woman who lives with her father. Being the oldest single woman in the village, she has to pay a fine for the recently passed law which dictates that people must get married by the age of 28.
Lee Yul survives the wrath and manages to escape the killers. He lands on the doors of Hong Shim, who takes him under her care. The crown prince suffers from temporary amnesia, so he starts living as a commoner.
---
6. Because This Is My First Life
| | | |
| --- | --- | --- |
| IMDb  – 8.2 | MyDrama List – 8.3 | Where to watch this? – Netflix, Apple TV, Viki, WeTV |
| Season – 1 | Total Episodes – 15 | Genre – Comedy, Life, Romance |
In this Kdrama series, there is a socially awkward IT employee Nam Se-hee is a single man who is in his early 30s. He chose not to marry due to his reasons.
On the other side is a homeless writer Yoon Ji Ho who struggles financially and envies people who own a house. She has given up on dating due to the financial crunch.
They randomly meet and strike a chord over their mutual desire never to desire another person. They come up with the idea to sign a two-year contract to marry.
The marriage only involves being a landlord and tenant while abstaining from mutual attraction. Just like life, things do go as planned due to societal issues, family interventions, and complex problems that arrive between them.
---
7. Move to Heaven
| | | |
| --- | --- | --- |
| IMDb  – 8.6 | MyDrama List – 9.2 | Where to watch Move to Heaven? – Netflix, |
| Season – 1 | Total Episodes – 10 | Genre – Life, Drama, Family |
Move to Heaven is heavily inspired by the book Things Left Behind by Kim Sae-byul. The story rings around Geu Roo, who suffers from autism(Asperger syndrome).
He meets his ex-convict uncle Cho Sang-gu after his father's demise, who is entrusted as the guardian of the recently turned orphan. Together they run the family's trauma cleaning company, "Move to heaven."
As the name may suggest, to a few, the company cleans the blood, bodily fluids, and other infectious material from crime scenes.
On a job, they arrive at a bloody crime scene where Ge-Roo finds incriminating evidence that convicts the victim's supposed boyfriend. The uncle-nephew bond grows after Sang-gu takes the boy under his tutelage for everything in life.
---
8. Goblin (2016)

| | | |
| --- | --- | --- |
| IMDb  – 8.6 | MyDrama List – 8.8 | Where to watch Goblin? – Netflix, Prime Video, Viki, Apple TV |
| Season – 1 | Total Episodes – 16+3 specials | Genre – Comedy, Romance, Fantasy |
Goblin is also known as Guardian: The Lonely and Great God in the west. The popular Kdrama series involves a decorated military general Kim Shin, who belongs to the Goryeo dynasty.
Good fortunes don't stay for a long time. The general is framed by the young king and killed shortly after. This is not the end for him since the Almighty has cursed him with immortality while being in the body of a goblin.
He must witness the pain of seeing his loved ones die as a punishment for killing soldiers to protect the country, which he vowed to protect.
The only way to end his immortality is through the Goblin's bridge, who must pull out the sword from him.
---
9. Snowdrop (2016)

| | | |
| --- | --- | --- |
| IMDb  – 8.9 | MyDrama List – 8.5 | Where to watch Snowdrop? – Disney+ (Hotstar in India) |
| Season – 1 | Total Episodes – 16 | Genre – Romance, Political, Drama |
The story of Snowdrop took place in late 1980 when South Korea witnessed the Democracy movement. The protest was for holding fair elections and overthrowing the dictatorship.
The government in this Kdrama series goes after the protestors, and the whole thing turns blood-violent. One such student Lim Soo-ho is injured and found by Eun Yeong-ro, a girl studying at the university. She takes in for nursing while hiding from the dictator's army.
Once Soo-ho starts recovering, there unfolds a secret that changes the story's dynamics. Over time, the pair develop a romantic relationship that has become complex due to underlying secrets.
---
10. Bad and Crazy

| | | |
| --- | --- | --- |
| IMDb  – 8.9 | MyDrama List – 8.6 | Where to watch Bad and Crazy? – Netflix, TVING |
| Season – 1 | Total Episodes – 12 | Genre – Action, Thriller, Mystery |
Bad and Crazy is a Kdrama show about a corrupt yet practical detective who has a change of heart. A sense of justice prevails in the heart of Su-yoel, who works as a police officer.
The detective is an ambitious person and has raked in promotions in a short period. His heart changes after meeting K, a self-righteous yet crazy person who is also a risk to his soaring career.
Another leading character Lee Hui Gyeom is a lieutenant in the drug squad of the police and has a romantic history with Su-yoel. Unlike Su Yoel, Gyeom is an honest person who relieves her duty with total honesty and dedication.
A promotion is in sight for Su Yoel, but he must solve a narcotic case, but his seniors doubt him coming through with it.
---
FAQ
Where to watch Kdrama Series for free?
You can start with Viki, WeTV, to watch Kdrama shows for free. They require a subscription for watching all the shows. You can look at some of the best Kdrama sites to watch Korean shows for free. Or can even try Korean drama apps on your phone.
Can we get Kdrama shows with dubs?
Many online Kdrama sites offer dubs in English, Spanish, Arabic, and other languages. If the dubs are unavailable, the subtitles are always available in various languages.
---
Over to You
These were some of the best Kdrama series to watch right now. This is, of course, not an exhaustive list, and there are plenty of Korean dramas that deserve your attention.
Consider this list of shows as a way to get started with this category of entertainment.