Roblox is an online gaming platform that enables users to program games and play games created by other users.
Roblox is blocked at work, Offices, Schools, Universities, and other places around the world.
Children's Internet Protection Act (CIPA) makes it mandatory for Schools and Colleges to block certain sites and content including games. This is why Roblox is blocked at schools in the US.
What if you want to get Roblox Unblocked on your school computer/Chromebook or PCs at the workplace?
Roblox Unblocked At School
Unblock Roblox at School using now.gg
now.gg is a mobile cloud gaming platform that emulates any game online.
You do not have to download or install anything separately.
You can simply visit the website on your school Chromebook and click on the 'Play in Browser' option on the screen to log in or sign up and start playing.
Step 1:  Open Roblox on now.gg website. 
Step 2: Hit the 'Play in Browser' button.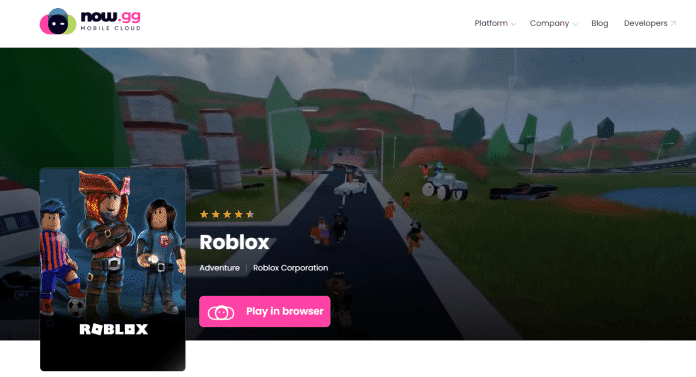 This will redirect you to a loading page or will show you some ads, which you can skip or wait for them to finish.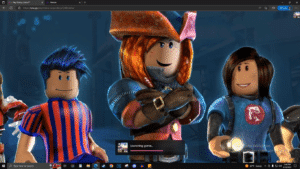 Step 3: Sign up or log in to your existing account on the next page to start playing Roblox unblocked on your school Chromebook.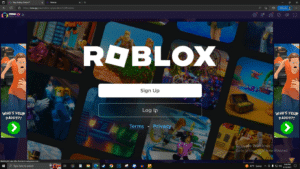 ---
Roblox Unblocked Using a VPN
The most common, as well as an effective way to unblock and play Roblox and play online, is by using a VPN (Virtual Private Network).
A VPN, basically, changes your current location and encrypts your data. 
So, to play Roblox, you can connect to a different IP address that you can choose via a VPN. 
If you are spoilt for a choice, here are a few recommendations for top VPNs to unblock Roblox in school.
The Propriety Lightway protocol of this app makes it the best VPN for playing Roblox in school. Using this feature, you can stream your gaming sessions and make video calls privately from your school Chromebook.
ExpressVPN also boasts of 3000 servers across 94 countries and comes with AES encryption and a kill switch. It is supported on iOS, Android, Windows, Linux, and Mac. 
One of the most widely used VPNs to unblock Roblox on school Chromebook is NordVPN. This feature-rich platform offers super-fast connection owing to its NordLynx protocol. 
You can choose from 400+ servers and also benefit from its AES encryption, malware filtering, and DNS leak protection features. Plus, the app is supported on almost all OS, including FireTV, Windows, Mac, Linux, Android, and iOS. 
Another popular VPN to unblock Roblox in school is CyberGhost. It is also beginner-friendly. So, if you have never used a VPN app before, CyberGhost will make it extremely easy to navigate and use. Its WireGuard feature also makes it ideal for unblocking Roblox on your Chromebook.
With 7000+ servers, you will be spoilt for a choice. Plus, this app is also supported on all platforms.
---
Unblock Roblox and Play Online Without Downloading Using Proxy Websites 
Proxies work a lot similarly to VPNs. The only difference is that they do not use an encrypted connection like VPNs.
Instead, proxies redirect the traffic through a different website. You just need to search for the game through the proxy browsers instead of a normal google search. This means that your school authorities may still be able to detect your exact activities online. 
However, we have a solution for that. 
A popular UltraViolet-based proxy is Nebula, which you can utilize to play Roblox on school PCs without a VPN.
Unblock Roblox Using the Chrome OS Developer Mode
If you have been wondering how to play Roblox without using now.gg, this is one of the advanced methods that just might work for you.
However, here's a little disclaimer. Schools have their own separate network filters, which may hinder you from making such modifications. Hence, this method cannot be 100% relied upon.
Yet, there is no harm in knowing the process at least, is there?
So, let's get started with the steps on how to play Roblox on school Chromebook when blocked using Chrome Developer Mode.
Step 1: Enable the 'Developer Mode' on your school Chromebook. Make sure to have a prior backup of all essential data since this process may wipe off all local data. 
Step 2: After the system is done transferring to the Developer Mode completely, go to download Roblox APK on your Chrome browser.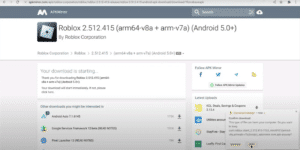 Click on 'See Available Downloads'.
Step 3: Next, click on the download icon next to the latest APK version of Roblox available.
Step 4: Click on 'Download APK Bundle'.
Step 5: Next, click on 'Keep' and then open the file.
Step 6: After this click on the 'Install' option.
Step 7: Once the app has installed on your Chromebook, choose the 'Open' option.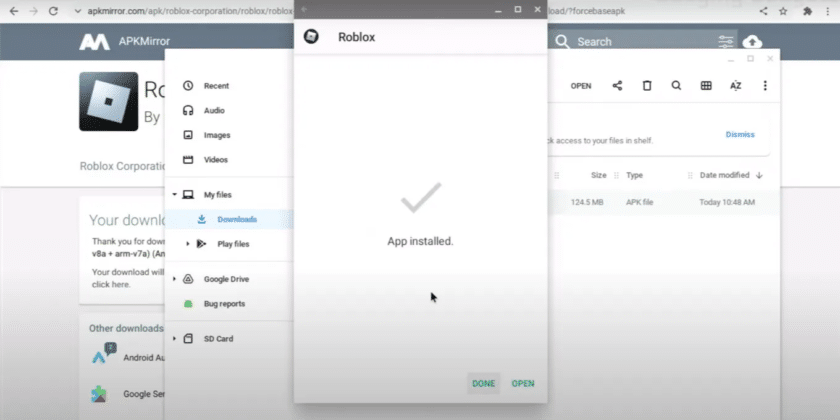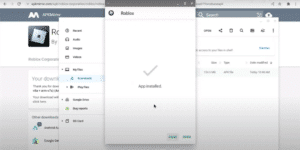 And voila!
You will now be able to play Roblox perfectly on your school Chromebook.
Unblock and Play Roblox in School Using TOR
Yet another way to play Roblox at school without downloading Roblox is by using TOR. 
The Onion Router is a browser specifically designed to work around restricted websites like Roblox. You can download and install the application and log in via this website to play Roblox on your school Chromebook.
One con of this method is that TOR is slow and lags a lot, which might be frustrating for some. Plus, it may not work on some networks.
So, check with your internet service provider beforehand to confirm once.
Now, you can play Roblox on your school Chromebook in a hassle-free manner without getting caught. 
---
FAQs 
Are there any apps to unblock Roblox on school Chromebooks in 2023?
Yes, you can use apps like Hola, TunnelBear, and HotSpot Shield to access Roblox and other such blocked websites. These apps work a lot like VPNs. They let you change your IP address to that in a different country, thus, enabling you to unblock websites otherwise blocked by local security restrictions, like Roblox.
Why do schools block Roblox?
Schools generally block non-educational sites, including streaming platforms, social media sites, and gaming websites like Roblox, in order to avoid all sorts of hindrances to productivity due to distractions. This way, they ensure that students focus completely on their education.
Can you play Roblox on Chromebook without Play Store?
Yes, there are multiple ways to unblock and play Roblox on Chromebook without Play Store. These include using VPNs, proxy servers, mobile emulators like now.gg, and Tor. Read the article above to get a step-by-step idea of each of the processes mentioned.
What are the best VPN apps to unblock Roblox on my school Chromebook in 2023?
Some of the best VPN apps to unblock and play Roblox on your school Chromebook are IPVanish, NordVPN, CyberGhost, ExpressVPN, SurfShark, UltraVPN, AtlasVPN, and PrivateVPN.
Roblox is not working on Chrome. What should I do?
If Roblox is not working on your Chromebook, try the following fixes:
Restart your Chromebook.

Enable Play Store Support

Re-install the app.

Close the app from the Task Manager and re-open it.

Check your Chromebook's data and time.

Check if any installed antivirus is blocking Roblox access.

Delete temporary internet files from Disk Cleanup Utility.

Check if Roblox has permissions enabled from the Firewall's Control panel.
Why is Roblox for 12-year-olds?
Roblox allows players to accept friend requests and chat with other players which may not be safe for children under 12 years of age.