Microsoft is marching forward with Windows 11 and 10 while Apple's macOS Ventura is also upping the game.
What is left behind are old computers with less powerful hardware. They can't keep up with the ever-increasing system requirements of the newer OSes.
Don't worry because there are many lightweight operating systems that can run on old PCs, laptops, and even tablets very smoothly and fastly.
They need anywhere between 128 to 1 GB RAM for running on your computer. Some of them are under 200 MB in size and can boot up quickly like a new PC.
And most of these fast and lightweight OS can run live through USB flash drives. You don't need to install them to use them for everyday work.
So take a look at the best lightweight operating system for older PCs and laptops with less RAM. After that, you can also learn to create bootable media, if required.
Best Light and Fast Operating Systems
| | |
| --- | --- |
| Slax Linux | It runs on anything, even through bootable media as live USB. All you need is 256 MB RAM. |
| Linux Lite | Based on the Ubuntu LTS version, it offers a familiar Windows-like interface. |
| Lubuntu | It is a variant of Ubuntu, Lubuntu uses the LXQt desktop environment. Designed for older computers, especially those with less than 1GB of RAM. |
| Puppy Linux | Extremely lightweight, Puppy Linux can even run entirely from RAM, which means once it's loaded, the system will be incredibly fast. |
| Tiny Core Linux | The core system is just 11MB in size, and the desktop version is around 16 MB. It's modular, so you add what you need, making it perfect for extremely old systems. |
| antiX | Based on Debian, antiX is designed to be lightweight and run on older hardware. |
| ReactOS | It is able to run many Windows applications and drivers |
| Chrome OS Flex | A lightweight Chrome OS alternative and boots up quickly |
| NimbleX | A versatile operating system that can run on just 200 MB RAM |
| Bodhi Linux | An operating system with fast loading time and a beautiful desktop interface(Moksha environment) |
| FydeOS | Similar to Chrome OS but can run Android apps on PC, along with an artistic user-interface |
| Slitaz | Designed for low-end PCs and the size of its core version is only 35 MB |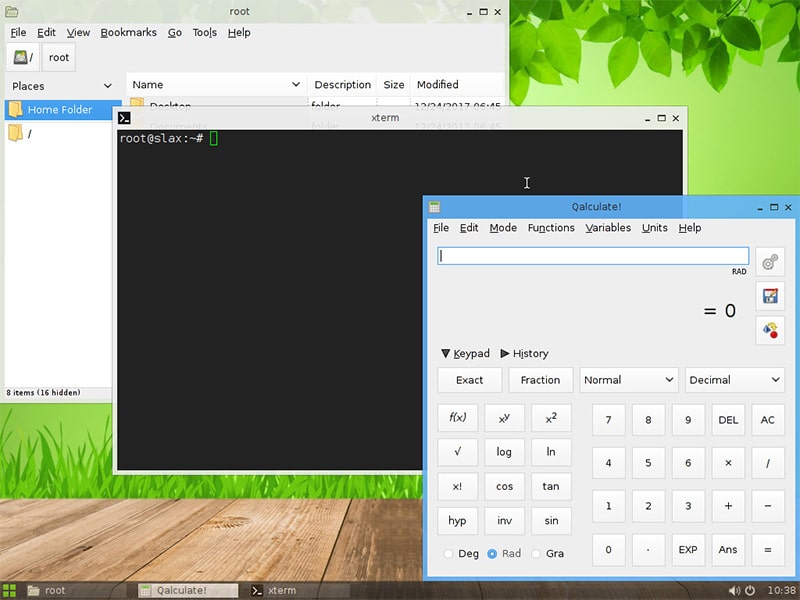 Slax Linux is a lightweight and portable operating system built on the Debian and Slackware distribution. You can run it on 128 MB RAM from live USB or regular installation.
But if you want to use the web browser then you will need 512 MB RAM. Which is not a lot given how smooth the OS actually feels.
Slax uses a module-based system. This means that you can customize the installation by adding or removing modules (software packages) without altering the base system.
Just like other lightweight OS, you can run it live. But it goes one step further by letting you run the OS from the RAM. Select the option while booting up and then make sure to have 512 MB RAM.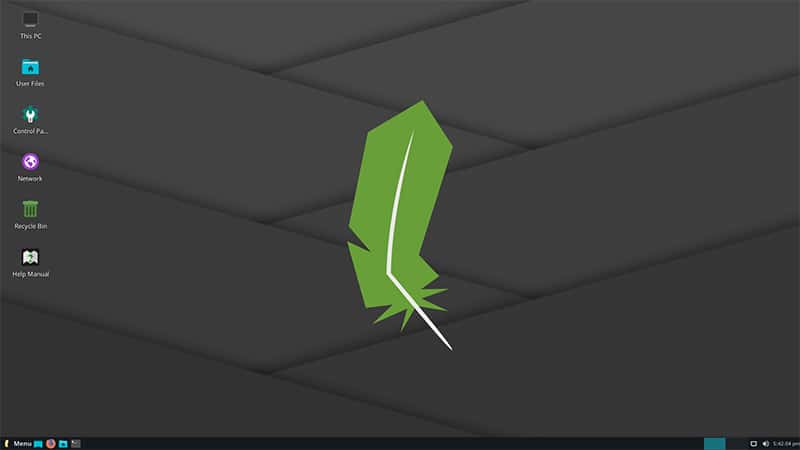 If you have an old PC that struggles with modern operating systems or applications, Linux Lite could be the perfect choice.
It only requires 768 MB RAM to get up and running. And just like other lightweight Linux distros, you can run it live from a flash drive.
You will find a desktop interface similar to Windows here. So if have used Windows in the past then this will place right at home.
Linux Lite is based on the LTS (Long Term Support) releases of Ubuntu. This means you can benefit from the stability and extensive software repositories of Ubuntu.
One of the reasons Linux Lite is so lightweight is that it uses the Xfce desktop environment. Xfce is known for its efficiency and low resource requirements.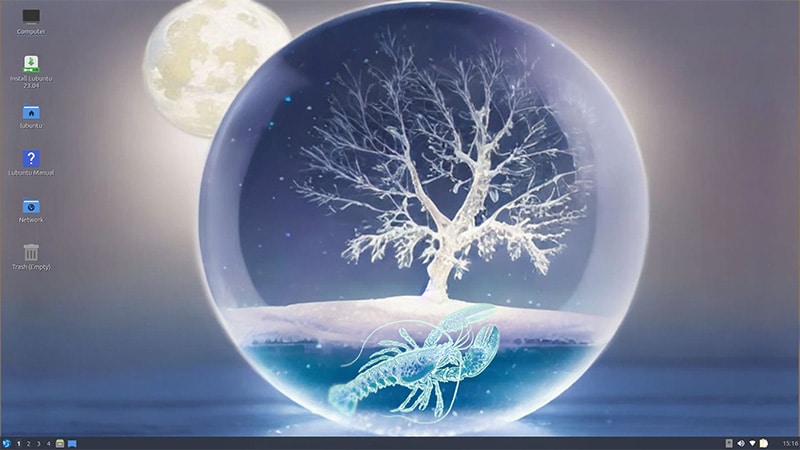 Lubuntu is one of the fastest operating systems for old end PCs. It is a part of the Ubuntu family distribution of Linux that's part of the Ubuntu.
All you need is 512 MB RAM and you can use most of the features on this lightweight OS. But if you are a power user, running multiple applications all the time then 1 GB RAM would be ideal.
Once you have it installed, Lubuntu has got your back. Most of the formats, documents, and files are supported by default. You won't need to install a third-party app for that.
And even then if you feel like you need more, then there is the Discovery Software centre. It houses thousands of apps from the Ubuntu family.
On the graphical front, Lubuntu has transitioned from LXDE to LXQt desktop environment. It's fast, snappy, and has room for customization to your liking.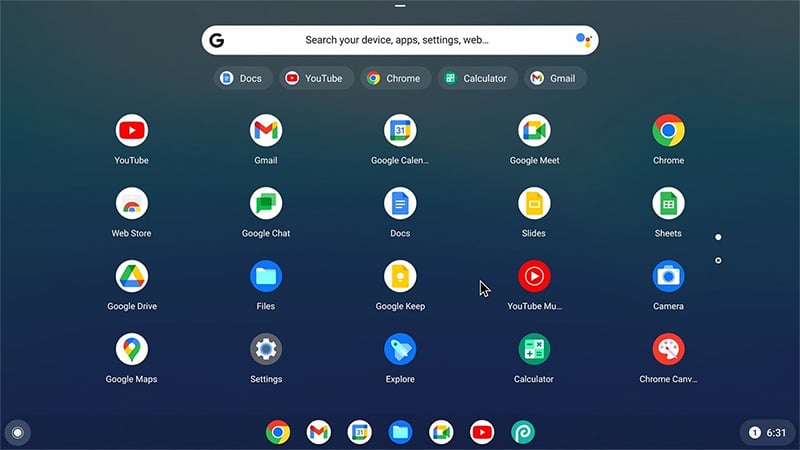 As you know Google's Chrome OS is exclusive to Chromebooks. Installing it on other computers and laptops is a herculean task.
Seeing the demand for it, the company released ChromeOS Flex. A lightweight OS centered around the Chrome browser.
It is designed to run on old hardware and offers a new life to them. You can install it on your PC or Mac(not M1/M2 yet).
Being a fast and lightweight operating system, it loads faster than most OS available right now. And it doesn't slow down over time either.
Unlike Chrome OS, you cannot use Android apps yet on this. You will, however, get Google Assistant to use on the computer.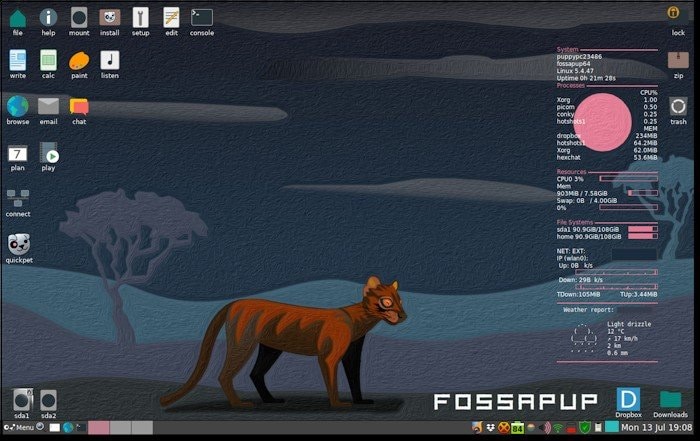 No list of lightweight OS for old laptops is complete without mentioning Puppy Linux. It is particularly known for its small size, speed, and ease of use.
You can get started with 512 MB of RAM on the 32-bit version. Many users reported running it on even lesser but I wouldn't recommend it for stability sake.
While Puppy can be installed on a hard drive, it is often used in what's called a "frugal installation."
In this setup, even when installed on a storage device, it still operates largely from RAM, maintaining its speed advantage.
But If you are running Puppy as a live OS, it gives you the option to save your session to the bootable media.
This way you wont don't lose your settings and data when you shut down.
Over the years, hundreds of "puplets" or versions of Puppy Linux have been developed. These include versions tailored to your specific needs, or built using different base distributions (like Ubuntu or Slackware).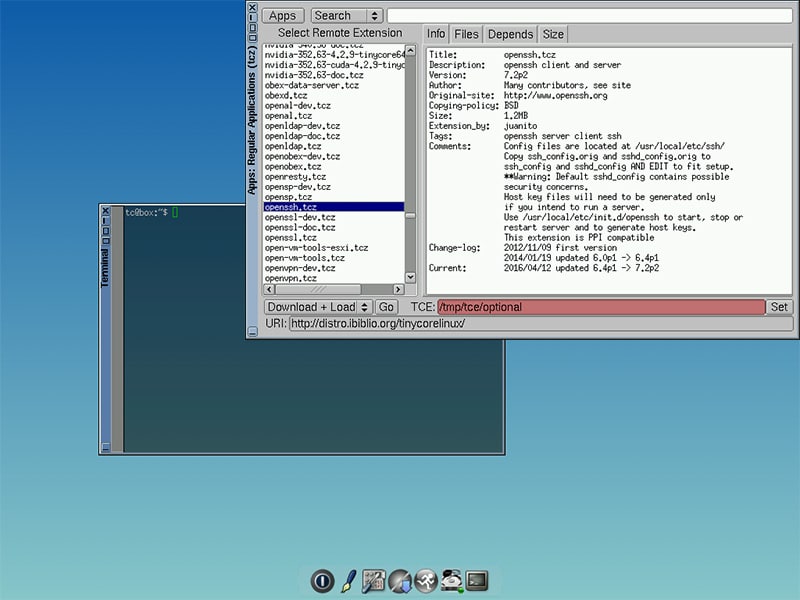 As the name says it, this is a flexible operating system that offers ISO with a size of just 17 MB and can run on 26 MB RAM(core version).
Tiny Core Linux is available in three primary variants. The most stripped-down version is Core, which includes only a command-line interface with no graphical environment.
Then there is the Tiny Core, which includes a minimal graphical desktop environment based on FLTK/FLWM. Its ISO size is anywhere between 40 to 50 MB.
And then comes their most advanced version, Core Plus with 200 MB ISO size.
It is the most extensive version, it offers a more comprehensive set of applications and tools, still being considerably lightweight compared to most other distributions.
Once you have selected the variant, then its time to install your software. To add software, you make use of Tiny Core Extensions.
These extensions are like packages or apps, which can be loaded or unloaded in the system's RAM.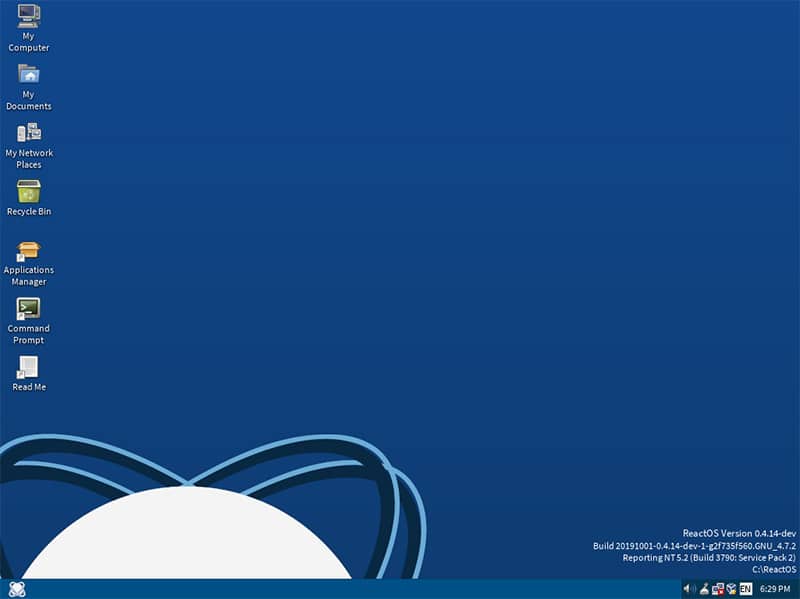 Imagine running Windows applications on a different OS. That is exactly what ReactOS aims to do. Its development started 25 years ago for running applications starting from Windows XP.
In an ideal scenario, you could take a driver or an application designed for Windows and run it on ReactOS without any modification.
But given the massive ecosystem of Windows, it is still a work in progress.
You can run a lot of Windows applications on this lightweight operating system. It can even run several drivers from different manufacturers.
And then comes their most advanced version, Core Plus with 200 MB ISO size.
It is the most extensive version, it offers a more comprehensive set of applications and tools, still being considerably lightweight compared to most other distributions.
ReactOS can read from NTFS file systems, which is commonly used in Windows installations. So you won't have a problem accessing data on different partitions.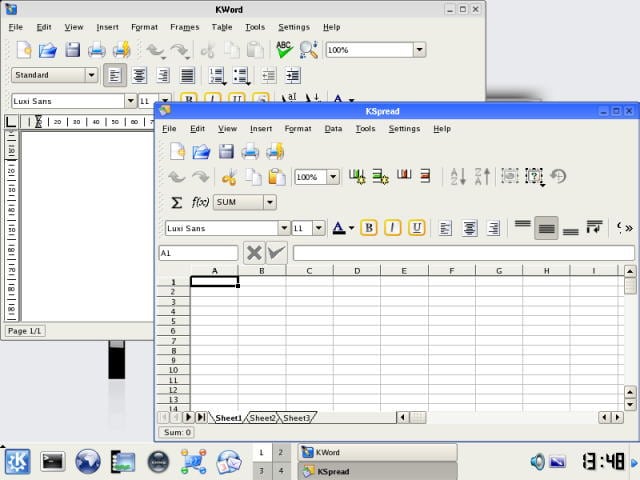 We talked about a fast OS earlier but had no graphical user interface. This one does and is arguably the fastest operating system around.
NimblerX, based on Slackware, is your answer to a versatile OS that runs live from USB or DVD/CD. The core version of NimbleX was often just around 200 MB
Despite its small size, NimbleX came with a variety of applications pre-installed, like web browsers, multimedia players, and more, depending on the chosen configuration.
And it is loaded directly to the RAM so its faster than other operating systems available. Once booted, you will find Firefox, Transmission(for torrents), Kmail(email client) amongst other dozen applications.
You will have to update all of them since NimbleX is not being developed anymore for years now.
Even though its a live USB OS, you can still install third-party applications. All of the settings will be stored in the RAM.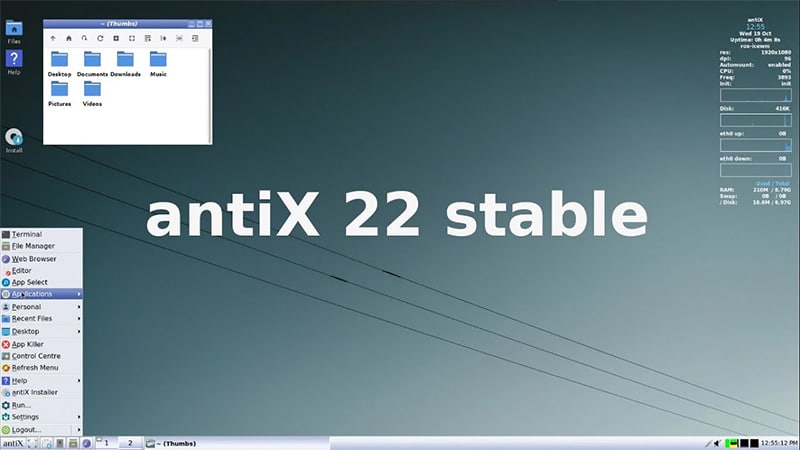 antiX is an easy-to-install OS, which is based on the Debian distribution. You can run it live or install it from while running the operating system.
You will need at least 256 MB RAM to use it on your PC, either from live bootable or installed.
The storage space required is between 5 to 10 GB depending upon the variant selected for installation.
antiX uses Conky to display a lightweight system status on the desktop, showing metrics like CPU usage, RAM usage, and more
By default, antiX comes with a curated selection of lightweight applications for everyday tasks, such as the Firefox ESR browser, Claws Mail for
You get both legacy BIOS and UEFI booting, ensuring compatibility with a wide range of machines, both old and new.
That is not all, you can also personalize your version using live 'remaster' utilities, or capture 'snapshots' of your current setup.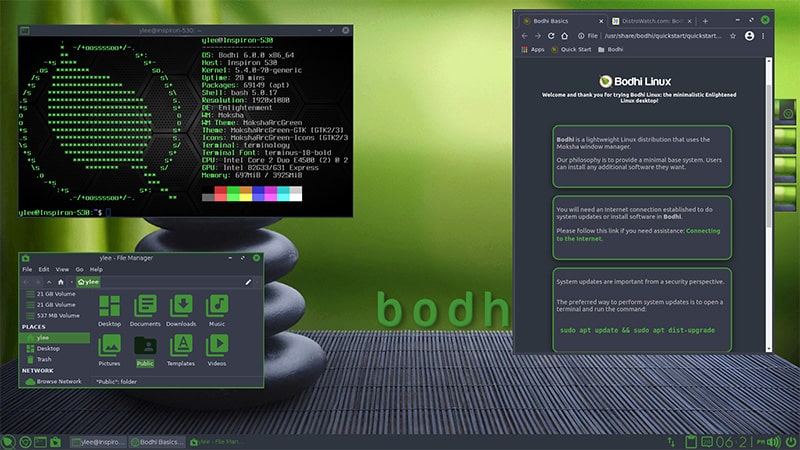 Bodhi Linux surprises many by being an OS with fast loading time. Coupled with the Moksha desktop environment, it is visually appealing and brings modernity to old computers.
You can get started with as little as 128 MB RAM with a single-core processor.
Bodhi offers a high level of customization for every user, letting you shape the operating system to personal preferences.
You get a unique app center here. You can find and install various applications curated for the operating system.
Bodhi has a quick launcher, which allows users to swiftly launch applications, open documents, or navigate to directories by simply typing the first few letters.
And if you are running Bodhi on a laptop, then you can use tools and settings for power management, enhancing battery life.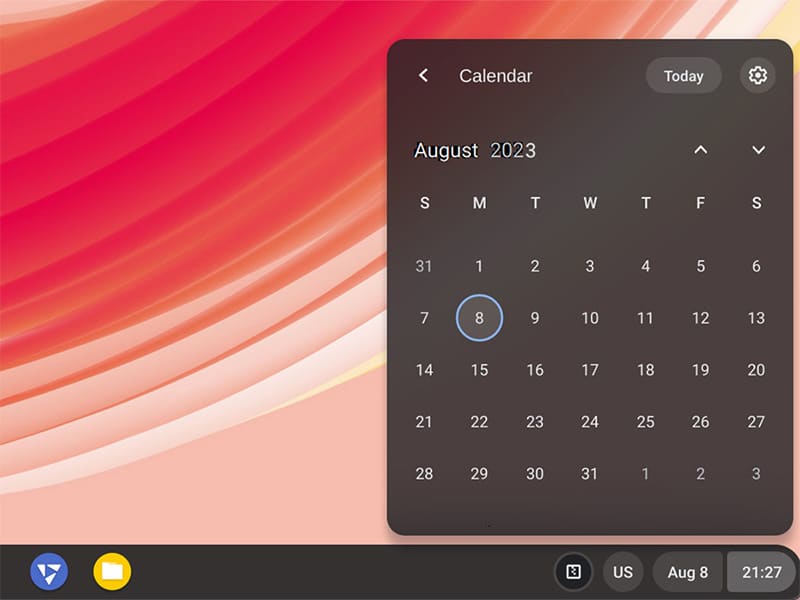 FydeOS is based on Chrome OS and offers everything that the Google operating system does, along with more under the hood.
You can install Android apps on PC through the official FydeOS store or through sideloading. They run on Android subsystem environments just like Windows 11.
Just log into a Google account to use the services on the FydeOS. You can even choose to go with a local account if signing in feels like a task.
Due to its focus on the Chinese market, FydeOS offers a custom app store tailored to the preferences and needs of Asian users.
And if you are running Bodhi on a laptop, then you can use tools and settings for power management, enhancing battery life.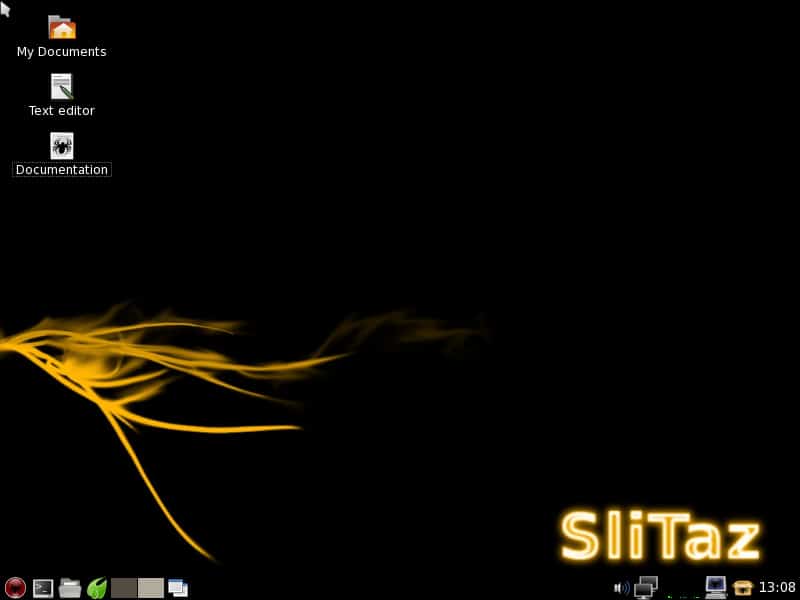 SliTaz is another amazing OS for low-end PCs, which is capable of running on 200 MB RAM. It is popular for its extremely small size (often around 35-50MB for the core LiveCD) and runs entirely in RAM.
You get various "flavors" or versions tailored to specific needs, such as a version focused on multimedia, one for developers, and so on.
For added functionality, it often includes LXPanel, which provides a taskbar and system tray.
Along with that, you get Openbox Windows Manager, which is highly configurable and lightweight.
You can choose from a range of boot options to cater to different system requirements. It includes text-only modes to graphic modes with different resolutions.
How to Create Bootable Media
Now you have downloaded the lightweight OS, its time to create a bootable media. Because without it, you won't be able to boot the OS for live USB or installation.
1. Install and launch Rufus on your computer.
2. Select the flash drive on which you want to create a bootable.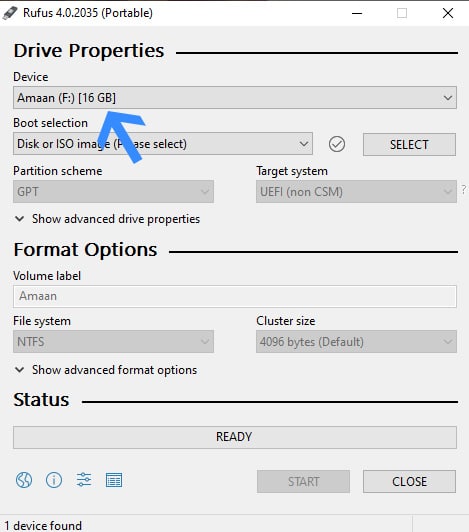 3. Then select the operating system ISO that you have downloaded.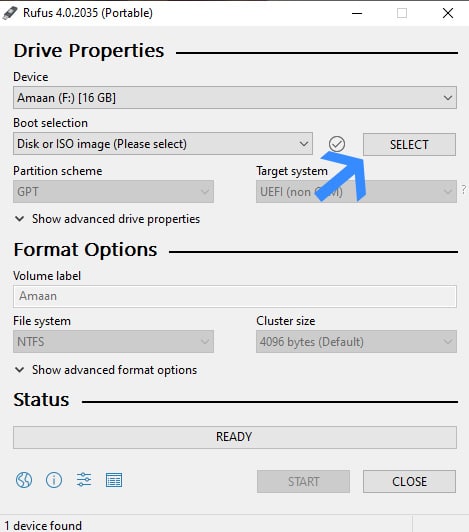 3. Now give a name to your bootable media. It can be anything but I kept it as OS to keep things simple.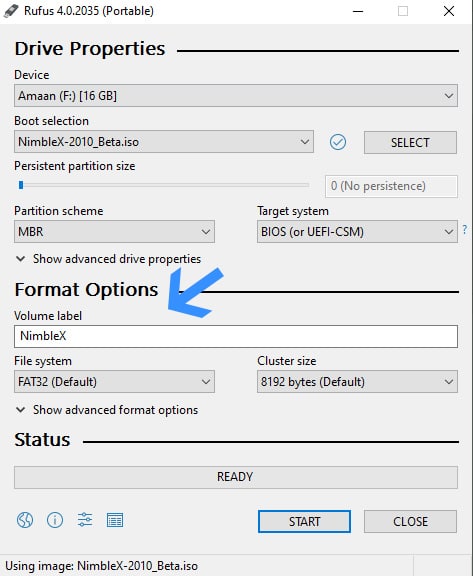 4. And finally, click Start to begin the bootable creation process. It will be completed within a couple of minutes.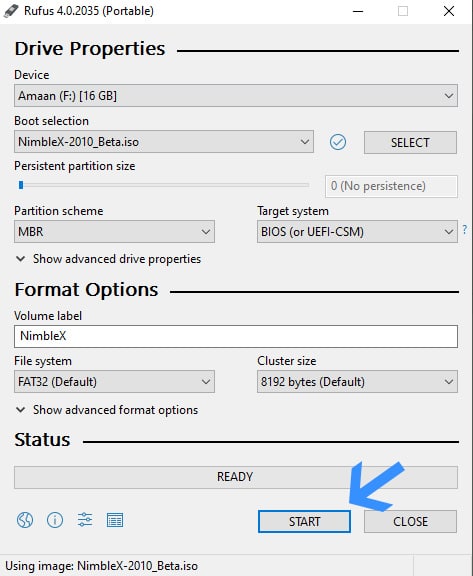 Then you can restart your computer and boot from it.
Use the Best Operating System for Old Computers
There are hundreds of lightweight OS options but you have to find the one that clicks.
First, you have to finalize what you need in a fast operating system. Then start looking at the options and zero down on the one that matches your needs.
Even then if you are unsure then run the OS via live USB. And then if feels good then you can install it on your computer.