Tutorial for installing Ubuntu Linux on your Personal Computer or Laptop
I have been asked many times about how to install Ubuntu Linux OS. So I thought to write a tutorial on how to install Ubuntu Linux to a PC. This guide is equally helpful for installing Ubuntu 32 bit and Ubuntu 64 bit version.
Ubuntu is a very popular operating system with Linux kernel based on Debian and distributed as free open source Software. You can download Ubuntu Linux from their official website free of cost.  If you are having trouble in finding Ubuntu Linux download, we have added the link in tutorial.
DVD or,
USB Pendrive
Minimum 4.5Gb of free space
To install with a DVD go to Ubuntu Linux Download page on their official website and burn the ISO Image(.iso) file to the DVD from here. Choose the version of Ubuntu, you want to install and chose the type, Ubuntu 32 bit or Ubuntu 64 bit depending on requirement of your system.
To install Ubuntu USB on a memory stick, you need to create a Bootable USB Pendrive. You can read how to create a Bootable USB pendrive from my previous article from here. The method to create a Bootable USB stick is same for any OS.
Now, if you are ready to install Ubuntu Linux OS, lets begin,
Step1:  Insert The Ubuntu DVD into the optical drive, or insert the USB, and restart your PC/Laptop. In case it does not reboot automatically enter your boot menu by pressing F12, at system start. Now go to CMOS option of your motherboard by pressing F2 or Del key in some cases and under boot option select the source through which you want to install, DVD or USB choose one depending how you want to install. Then press yes and F10 to save and exit. Your system will restart and the installation process will begin.
Step2:  The Image file will load up, asking for language to select, select the preferred language and click install Ubuntu Linux.
Step3:  Don't forget to plug-in your computer to power source, and tick the download updates box if you are connected to the Internet. Dont enable the updates if you have a have a slow connection as it may take long time to Install Ubuntu Linux updates.
Next, click on continue.
Step4:  Use the check box and check the option which you want to use for installing Ubuntu alongside your present operating system or replace the current operating system with Ubuntu Linux. If you want to create or resize PC partitions, go in advance mode then click continue. We suggest you to select the advanced menu only if you have knowledge of how to create or resize partition.
Step5:  Select the drive in which you want to install Ubuntu Linux, Ubuntu will need 4.5gb of space for installation. Now, click on install now.
Step6:  Select your location, if you are connected to Internet, it will automatically detect your location. If you are not sure of timezone, type the name of town you are in, or click on the map. Next, click continue to proceed.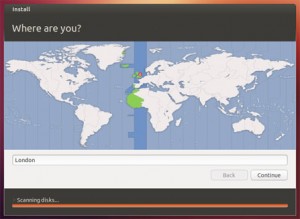 Step7:  It will now ask for your preferred keyboard layout, click detect keyboard layout and choose your keyboard layout.  Click continue to proceed.
Step8: You will be now asked to type in your details, select a Name for your computer, username and password, then click continue.
Note: Use a password and username that you can remember as system restart requires them
Step9:  Wait until the installation process is complete. It will show you the installation screen, do not click on skip. After Ubuntu Linux is installed it will ask for restart, click restart and you are ready with your newly Installed Ubuntu Linux operating system.
Alternatively download Ubuntu Linux from here.