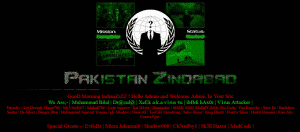 Hackers going with the handle | Muhammad Bilal | [email protected]@ | XeEk a.k.a v1rus 4u | iMMi hAx0r | V1rus Attacker | hacked and defaced more than 20,000 Indian websites.

Hacked websites were showing a deface page similar to the above screenshot, with a short message:
GooD Morning IndianZzZZ ! Hello Admin and Welcome Admin To Your Site
We Are;- | Muhammad Bilal | [email protected]@ | XeEk a.k.a v1rus 4u | iMMi hAx0r | V1rus Attacker |
Friends:- | Let Deepak |Haxor786 | Mr.V!ru$007 | Khiladi786 | Code Injector | Kai H4x0r | Iluminador | M4RK M4N |MaDdY ZeOx |No-Code | You Knowho | Xero Ex | Backdoor Spider | Dr-Silent | Danger Bhai | Muhammad Sajawal Younas | pk~Shadow | Nasir Ali | Tool Kit |Gondrong | Sabu Haxor | King Hax0r | Hunt3r Khan | Hax0r Husnain | Rais Aks | Usama Ejaz |
Spacial Greats:- | Evil-Dz | Mirza Jahanzaib | Shadow008 | Ch3rn0by1 | Sh3ll Haxor | MadCode |
You Must Have Heard About US on News , Headlines , Governament charges , Blogs , online news media , etc etc,
This is a Payback from Pak Cyber Experts in return to the defacements of Pakistani websites ! You are playing with fire !
This is NOT a game kids We are Warning you one last time, dont think that you are secure in this !
we will take Revenge ! if Any Pakistani Sites gets Hacked by Indians Dear gay hind stop Abusing Islam !
Stop Defacing Bengladeshi & Pakistani Sites Otherwise we will crush Your cyber space !
i hope you all know about us we silent but when we start no buddy can stop us !
Already proved check google more about us you n00bs are nothing just a bunch of n00bs This is A Pay back From Our Side of Hacking Pakistani Sites.. Backoff Lamers from our cyber space..
Everybody Knows whose cyber space is more vulnerable
.: You will hack 1 we will hack thousands :. 
List of hacked websites can be seen from the paste provided below:
https://www.pastebin.ca/2459507
At the time of writing the Article most of the websites were still showing the deface page.