The hackers and cyber criminals are getting more and more bold and intuitive in their attacks. The UK's Daily Mail has reported that one of Britain's best-known and biggest providers of private cosmetic surgery has been targeted by computer hackers and confidential information of nearly 500,000 people was stolen by them. The Sun report says that this is the work of Russian hackers though it could not produce any evidence to that effect.
Hackers breached the website of Harley Medical Group and stole personal and confidential personal details of nearly 500,000 people including patients and those who intended to undergo the cosmetic surgery or made enquiry thereoff. It is widely believed that the hackers stole this information to blackmail the company into paying ransom for the return of this valuable records.
Normally any patient who is interested in surgery is asked to fill in an online form with details including phone numbers, email address and date of birth. This information is stored on the Harley Medical Group webserver. The hackers apparently had this information and breached the web security to specifically obtain this data thereby leading the authorities to the theory of blackmail.
The medical group specialises in a range of cosmetic surgery from breast augumentation and reductions to facelifts and tummy tucks. It has informed its patients about the breach through a letter to the patients online which has since been removed.
Later Peter Boddy, chairman of the company that is based in Thames Ditton, Surrey, and has 31 clinics nationwide, was forced to write to individually to each of its clients apologising for the security breach. In the letter, he has reassured them that 'clinical and financial information has not been compromised'.
Mr Boddy wrote: 'We recently became aware that an unknown individual had deliberately bypassed our website security, gaining access to information from initial website enquiries in an attempt to extort money from the company.' The image of the letter by Mr.Boddy to the clients is given below :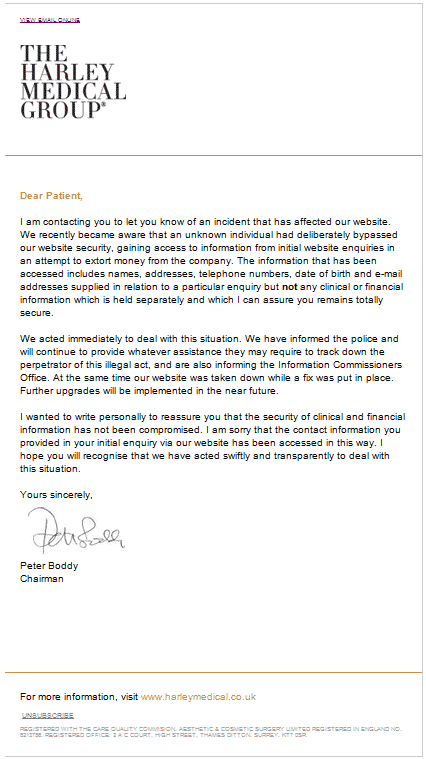 Later, Harley Medical Group posted on Twitter: 'We're sorry details of initial enquiries have been accessed illegally and assure clinical and financial information is secure.'
As said above, in a separate news report, The Sun reported that Russian hackers were responsible. Sun has reported that the crooks struck last month using a Russian email address to try and extort money from the firm and that stars of The Only Way is Essex, were among customers whose details were accessed.
This article has been written by Vijay Prabhu and he can be reached at @comboupdates