Extratorrent is under the DDoS attack by hackers right now
The worlds number 4 torrent website is down following a massive Distributed Denial of Service (DDoS) attack by unknown hackers. The website seems to have been down for 23 hours and seems to come online for little bit before throwing up a 503 service error.
The Extratorrent admin took to Twitter to tell its fans about the DDoS attack
Extratorrent is under the DDoS attack by hackers right now.
Please, keep your patience. We ll try to fix the issues.
We'll be back shortly!

— Extra Torrent (@Extra_Torrent) January 10, 2015
About Extratorrent
ExtraTorrent was one of the more popular torrent websites in 2014.  It has grown in size due to more traffic and has moved up again in the top 10, now placed as the 4th most-visited torrent site by torrent ranking websites. This success didn't go unnoticed by rightsholders groups such as the MPAA who recently called out ExtraTorrent as one of the top pirate sites. The site was forced to trade in its .com domain for .cc this year, after it was suspended by its domain registrar.
The Isitdownrightnow says that Extratorrent has been down for past 23 hours (now it says 4 minutes because the website sprang to live for few seconds before going down again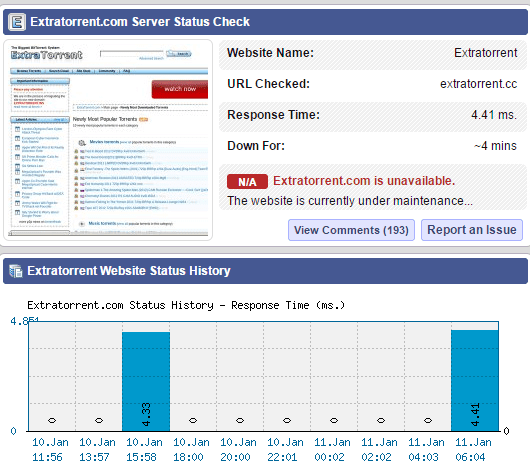 While the admin says that its a DDoS attack by unknown hackers, the actual reason may be a takedown by authorities or a revenge DDoS by the music and movie companies.  Earlier Sony had allegedly undertaken a similar kind of DoS attacks to stop the torrents sites from sharing the files from the massive hack attack.
Reader may note that only two days back around 13 mega Hollywood movie screener versions were leaked and being shared on torrent websites.  These movies are considered to be prime Oscar award contenders and it is though that one of the guild members or his/her associates may have leaked these screener versions.
This is a developing story and we will keep you updated.