Samsung Galaxy S6 and Galaxy S6 Edge, with a curved edge appears side by side in the leaked images just prior to its release at Mobile World Congress 2015.
Earlier this week Samsung revealed two teasers of its flagship Galaxy S6 and Galaxy S6 Edge. Now recent leaked images posted on XDA; which is the largest Android developer forum, shows images Galaxy S6 and S6 Edge placed side by side which are going viral on the Google. One image just has the back of two handsets and is pretty much similar however the other image shows difference in the handsets. One of the two phones has its front display slightly curved along one side which resembles Samsung's earlier version , The Galaxy Note Edge and it supposedly the S6 Edge. The other phone has front display without any edges. Also in Galaxy Note Edge, the Egde had many apps located and this new version does not reveal if it will have the same features or it is just an extension given to the front display so as to make the screen look larger.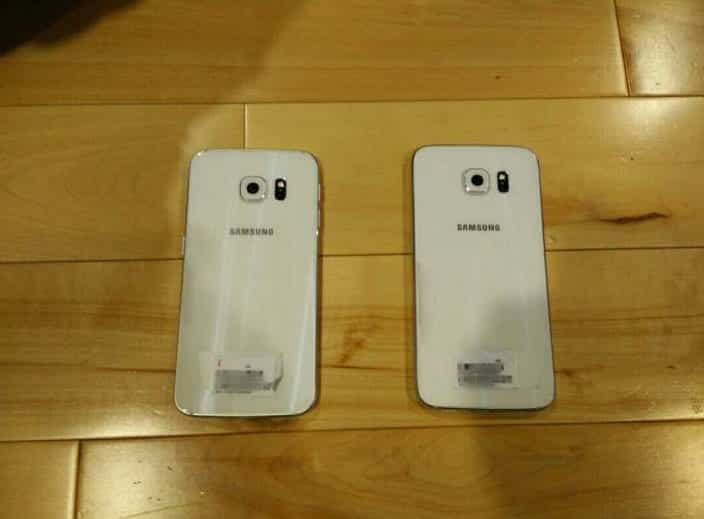 However the teasers released last week by Samsung hinted at an all together new Next Generation of smartphones. So these images which are now viral are really creating a doubt as to whether these are the real images of Samsung's S6 versions. Not much has been disclosed regarding the software features, however; there are news that Samsung is incorporating the fingerprint scanner which acts like the Touch iPad feature which Samsung has been using since 2014 when Samsung S5 was launched. In a Touch iPad phone user just needs to place their finger on the sensor and do not need to glide their finger across the screen for movement of the screen. The back side of the phone indicates a bulky camera and flash lights. As with the recent releases Samsung has always provided its handsets with exceptionally good smart cameras, this one too seems to have a similar one.
Samsung's S5 released last year did not do well as it had a design similar to S4 and hence faced a lot of criticism. Also Apple iPhone series being launched and the Chinese smartphones launched at a cheaper rates is really giving a tough competition to Samsung hence it is trying to enter the Android phone market with its flagship phones with all the sleek designs to attract more people and is trying ways to do that. However only few days are left as Samsung's Galaxy S6 and S6 Edge will be released soon i.e. on 1st March at the MWC which will be held at Barcelona. So all of us will definitely get to see the actual images of the most awaited Next Generation of Samsung.