Get Windows 10 tool dupes Windows 7/8.1 users into getting Windows 10
Microsoft's dirty tricks department seems hell bent on making diehard Windows 7 and Windows 8.1 lovers download Windows 10 against their wish. After months of just 'recommending' Windows 10 to Windows 7/8.1 users, Microsoft is making one last ditch deceptive attempt to fool these users to download its latest operating system before the free offer expires on July 29th.
How? Here is how Microsoft is using all the dirty tricks available, to make you download Windows 10 even if you would not like it.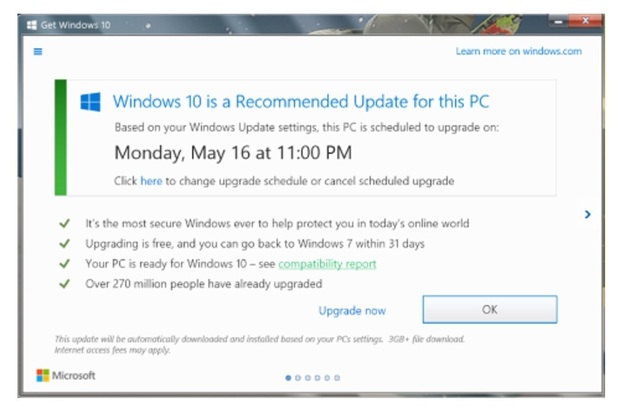 Above is the image of Get Windows 10 tool that almost all Windows 7/8.1 users are getting/will get in coming days. When you get this popup, if you click on the "X" close button at the top right, you will think that you have evaded the Windows 10 download. No Siree, you have actually allowed Microsoft to download Windows 10 onto your PC/laptop. This is in line with the deceptive terms and conditions for Windows 10 published by Microsoft.
Even if you click the (X) close button on the message, Microsoft will take it as a approval and start downloading Windows 10 against your wishes. "If you click on OK or on the red 'X', you're all set for the upgrade and there is nothing further to do," Microsoft states in a support document for the GSX app.
For those users who see the new upgrade schedule notice, the only way to reject the Windows 10 download is to click the link where it says "Click here to change the upgrade schedule or cancel schedule upgrade", then alter your upgrade settings.
Remember, here also you are just given the option to delay the inevitable, downloading Windows 10 on your PC/laptop without any option to opt out. This may be a killer for people in remote areas who dont have big data plans and would want to stick to Windows 7/8.1.
While the deceptiveness used by Microsoft in increasing its Windows 10 figures has generated a lot of negative publicity, it has not deterred Redmond honchos from making even more aggressive push. Finally a word of caution for Windows 7/8.1 users who are torn between upgrading to Windows 10 and staying on their current version, you have only 2 months left to make that decision or dish out $119 after July 29th.
If you dont want Windows 10 on your PC, try out the following tools given in this article.