Teamviewer is a remote access software application widely used online for remote control, support, web conferencing, desktop access, online meetings, and file sharing.
You will find it almost on all new laptops coming preinstalled as a part of the software bundle. It has helped it become a market leader of the segment.
However, it is not perfect for remote desktop connections as there are many Teamviewer alternatives that you should check out.
Some don't even require installation, and few run directly in the web browser itself. Don't forget about the extra utilities/tools they offer without bogging down your computer resources.
What Is Remote Access Software?
Remote access software is an application that lets you connect to another computer to remotely control it using a mouse pointer and a keyboard.
Both the devices require an active Internet connection unless on a local area network. You can also chat transfer files amongst other utilities offered by different remote.
---
Best TeamViewer Alternatives for Remote Desktop Access
1. AnyDesk
AnyDesk is a feature-rich TeamViewer alternative that allows users to access their devices from anywhere in the world. It is worth noting that, in some areas like transfer speeds and reliability of connection AnyDesk even outperforms TeamViewer.
Furthermore, AnyDesk also offers even double the frame rates as compared to TeamViewer.
As for security, AnyDesk relies on TLS 1.2 technology along with RSA 2048 asymmetric encryption to verify every connection. The free version is perfectly fine for personal use while you have to have pay for business or commercial use.
Features at Glance
Military-grade TLS 1.2 security, 256-bit AES transport encryption ensures apex security and privacy for your session.
Collaborate on a digital whiteboard for help in the visualization and efficient collaboration.
Restrict entry of specific devices to your computer and whitelist a bunch of them which are trusted, not requiring scrutiny.
---
2. Windows Remote Desktop Connection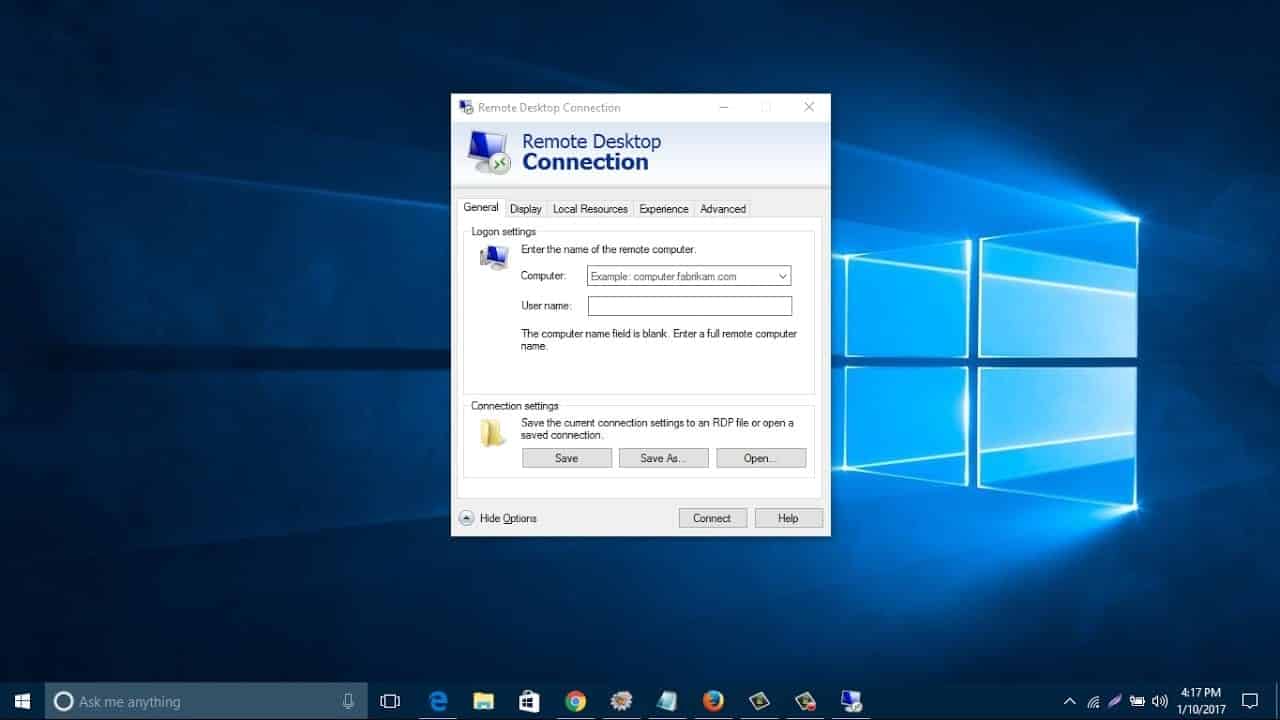 Windows Remote Desktop Connection is a free feature built into the Microsoft Windows Operating System, Ultimate and Business versions that give fast and complete access control over a remote PC.
Supported by Windows and Mac OS X, the tool is simple, easy-to-use and easy to set up which makes this tool a great fit for beginners and amateurs, beginning out on the Remote desktop application.
This setting can be accessed from the computer's System settings, found in the control panel. The router of the remote PC needs to be routed on the port 3389 to direct it to your PC. However, this tool is not capable of controlling multiple PC control at a time.
Features at Glance
Inbuilt on Windows 10 and 11, therefore not requiring installation.
Connect from a Windows PC, Android and iOS devices to a Windows 11 or 10 PC.
Works well on PCs of all configurations which are capable of running the aforementioned Windows OS.
---
3. Join.me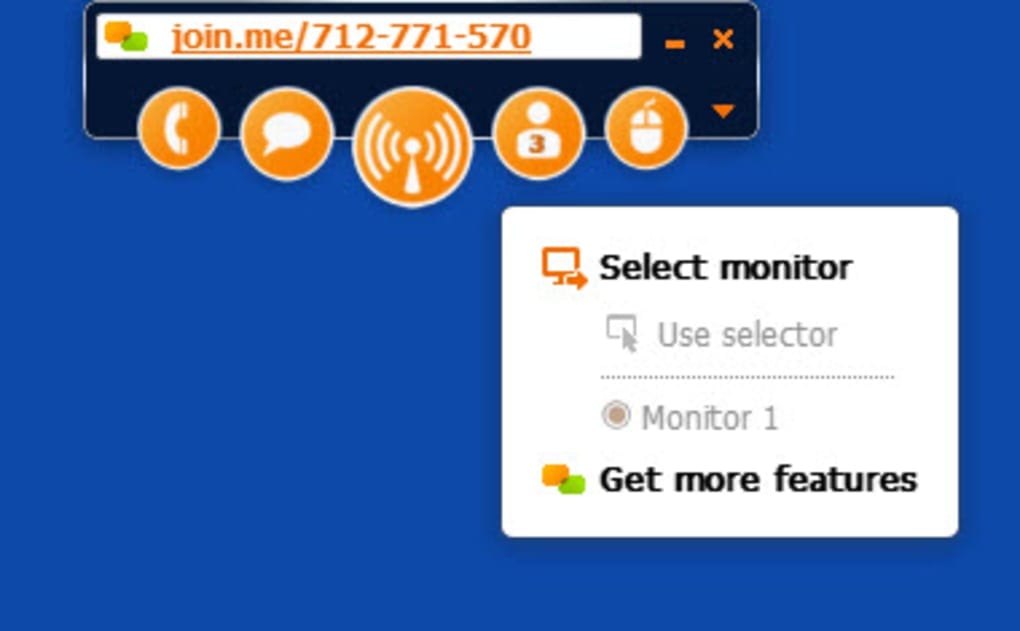 Developed by LogMeIn, Join.me is a premium online conferencing and meeting tool that allows multiple people from multiple locations to connect with each other at the same time, which is supported by Windows and Mac OS X.
Join.me offers unlimited audio, which means that anyone can join a call from any device, whether that is internet calling (VoIP) or phone lines. It also offers recording, one-click meeting scheduling, and phone numbers in 40 different countries to facilitate worldwide conferencing.
The paid versions offer up to 250 participants to join the meeting and a presenter swap lets people share their views across the attendees
Features at Glance
Unlimited calling to any connected device and directly on the phones. It can connect up to 250 participants to the premium plan.
Live group chats for all the participants with the option to add more to the conversation.
Notification blocker keeps all the distractions at bay when the remote connection session is on.
---
4. Splashtop
Splashtop offers free and paid remote desktop solutions for individuals and businesses alike and is one of the best TeamViewer alternatives. Splashtop is easy to use once you get past the difficulties with installation.
Supported by Windows, OS X, Linux, Android and iOS, Splashtop remote PC access software offers fast connections and multiple levels of security.
You can use the tool for free if you are using it for personal purposes on up to 5 computers.
Setting up the tool on your Windows or Mac and accessing remotely over your Android or iOS-based mobile phone is what Splashtop achieves pretty enormously.
There is minimum latency on audio and video streaming, so that makes it easier for you to even enjoy your media remotely.
It is free for 6 months, after that you will have to pay according to the plans.
Features at Glance
Industry-grade encryption and privacy to ensure that no snoopers or hackers get a whiff of your sessions.
Up to 4K remote connection quality, backed by 40 frames per second. Get the real feel of using your own computer.
Connect up to 5 computers at once during a session and do multitasking with ease.
---
5. Real VNC
RealVNC provides both free and paid versions of the Remote Desktop Client. The software consists of a server and client application for the Virtual Network Computing (VNC) protocol to control another computer's screen remotely.
Somewhat more complicated than setting up TeamViewer, RealVNC offers the dependability and features like cross-platform remote control, VNC authentication, encryption, file transfer, collaboration tools, and chat, to ensure that your remote connection bodes well for the person on the other end of it.
The cross-platform utility allows you to connect individually to a remote computer or also connect multiple PC's behind a public IP Address.
The supported platforms for this software are Windows, Mac OS X, Linux, UNIX, Ubuntu, and Raspberry Pi. The software is free for private use, while it is $30 per desktop for Personal Commercial Use and $44 per desktop for Enterprise Use.
Features at Glance
Up to 10 concurrent sessions on a device do not even require installation.
Multi-factor authentication laced with 256-bit AES is available for validating login into a session.
Provide access to unlimited users for a device. No restriction of any kind on the number of users.
---
6. Ammyy Admin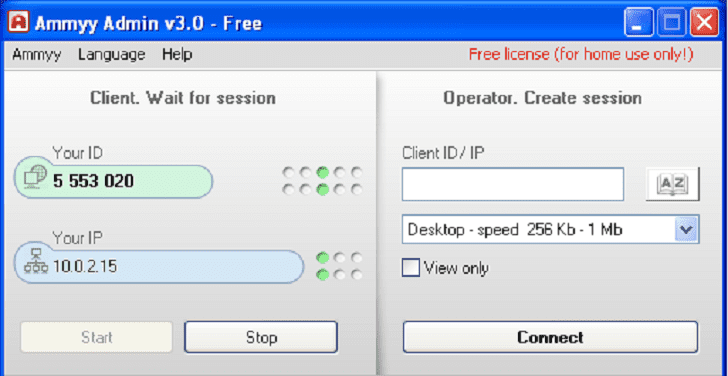 Ammyy Admin is free of charge, fast and easy way to gain remote sharing and remote desktop control solution for both individuals and businesses alike.
Unlike heavy remote desktop software like TeamViewer, this tool comes in as a tiny application under 1 MB. In addition to remotely connecting to the other system, you can also perform actions like file transfers and live chat.
Supported by Windows, secure connection and easy to manage software makes Ammyy Admin one of the most preferred free remote desktop clients.
While it is free for non-commercial uses, the Starter, Premium and Corporate licensed tools.
Features at Glance
Built-in voice chat that also works independently for communication with friends and family.
Multi-factor authentication laced with 256-bit AES is available for validating login into a session.
Control unattended computers using the admin service feature. You can also restart, shut down, switch users, and log in/out.
---
7. Ultra VNC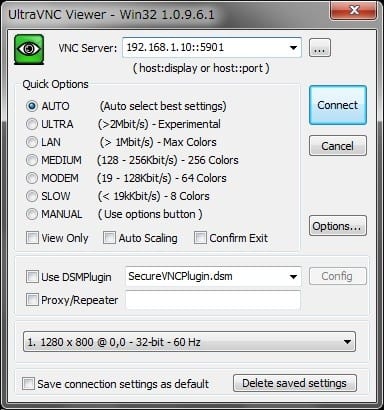 UltraVNC is a free tool based on the VNC technology that is developed for systems based on Windows to remotely access other systems.
It offers a simple setup process that gets you connected in a matter of minutes. Once the connection is established, you can complete work on another remote system.
Just like TeamViewer this tool also allows file transfer that makes it a useful little free tool for quickly establishing a remote connection and getting your work done.
Features at Glance
Completely free to use for home and commercial usage. There are no limitations on its usage at all.
UltraVNC has an option to calibrate the connection video quality in respect of the Internet speed to ensure a lag-free experience.
Save settings for a session to use in the future.
---
8. LogMeIn Pro
LogMeIn offers one of the best remote desktop software for Windows and Mac OS X for individuals and businesses.
Even though the free version of LogMeIn was discontinued recently, that doesn't keep it from being listed as one of the best Teamviewer like software.
In spite of this, LogMeIn still serves as one of the best premium alternatives to TeamViewer with many key features like file transfer, audio and video streaming, full-remote access to transfer files, print documents to a local printer and share documents with collaborators.
Although priced somewhat less than the TeamViewer app, LogMeIn offers features that are non-existent in many remote desktop applications of its kind.
Features at Glance
Share your remote session screen with a third party. Collaborate with other team members without complex configuration.
1 TB file storage for storing all your files and folders can be accessed from anywhere in the world.
Remotely share large files over the session without any restriction on the size.
Also Read- Best LogMeIn Alternatives
---
9. WebEx Free
Cisco's WebEx free and premium tool allows you to remotely connect with people based on different systems through free mobile or desktop applications.
These remote desktop setups although having to be an attended one on the other side. The one hosting the meeting could share his desktop and choose to pass over the control of mouse and keyboard to other presenters.
Sharing files, chat and face-to-face live interaction, scheduling in Outlook, Password protected messages are also capable with this tool.
Supported by Windows, Mac OS X, Linux and Mobile Apps, Cisco's WebEx would be a great fit for your needs if you are looking for a premium business solution or just for remotely accessing a desktop with an added bit of interaction to it.
While it is free for 3 People, paid plans include Premium plan starts at $15/month for individual users.
It is one of the best paid remote desktop software alternatives for TeamViewer.
Features at Glance
Conduct full-fledged meetings, both audio and video, on the WebEx from devices of your choice.
Host a virtual space to give a feel of natural workspace for the Work from home sessions.
Share your mobile screen to the session members with a tab of the button. Choose specific elements to share while hiding others.
---
10. Chrome Remote Desktop
This remote desktop software is available as an extension for the Google Chrome browser, accessible on any operating system running it and is fully secured.
Setting up is simple and the add-on costs nothing in addition to providing an easy-to-use setup for getting your remote desktop connection. The add-on lets users remotely access any desktop and its contents right from their browser.
Features at Glance
Access remote desktop features right from the Chrome browser without installing any third-party application.
It is pretty secure, given its built on the Google infrastructure using the latest web technologies like WebRTC.
Put in a single access code like AnyDesk, and you are connected to the host computer within a matter of seconds.
---
11. Supremo
Supremo offers free and paid plans to remote control PCs/servers and host Meetings. It allows multiple connections just through the exchange of ID and password and can be set-up for unattended access.
No configuration of the router or firewalls makes it a great solution to provide assistance rapidly, even from iOS and Android devices. Supremo is a secure app, thanks to TLS 1.2 cryptographic protocol, and can be customized with your brand/logo.
Just like Teamviewer it also has both free and paid plans. Free for personal use, it provides a very flexible and affordable commercial offer. Users can choose between Business and Solo plans, depending on the number of simultaneous sessions.
Both can be billed Annually or Quarterly, starting from 8€/mo for unlimited installs on an unlimited number of devices.
Features at Glance
This Teamviewer alternative provides you with unlimited installations on unlimited devices with no boundation on concurrent sessions.
NO firewall or antivirus configuration or whitelisting is required here as it works within its defined realms.
Monitor incoming connections in a detailed online report with the help of the Usillio account, along with seamless integration.
Visit website
Download Supremo from Apple App Store
Download Supremo from Google Play Store
---
12. ThinVNC
ThinVNC is another reliable alternative to Teamviewer that can be used as a screen sharing tool.
Furthermore, it also offers remote desktop features as well as file sharing ability. Well, ThinVNC has a clean and beginner-friendly UI. In addition to that, the installation of ThinVNC is pretty straightforward.
ThinVNC eliminates the need of installing client software as remote control of desktop is possible through any browser of choice that supports HTML 5.
Using ThinVNC users can easily transfer data even using a smartphone or a tablet.
Features at Glance
Browser-based remote desktop software powered by HTML5, making it easy on the computer resources.
It works on any HTML5 supporting browser like Chrome, Firefox, Opera, Edge, and more.
No VNC software is required for remote access, despite it being in the name. You can use it by setting a server on a laptop within a minute and then accessing it from any other device.
---
13. Mikogo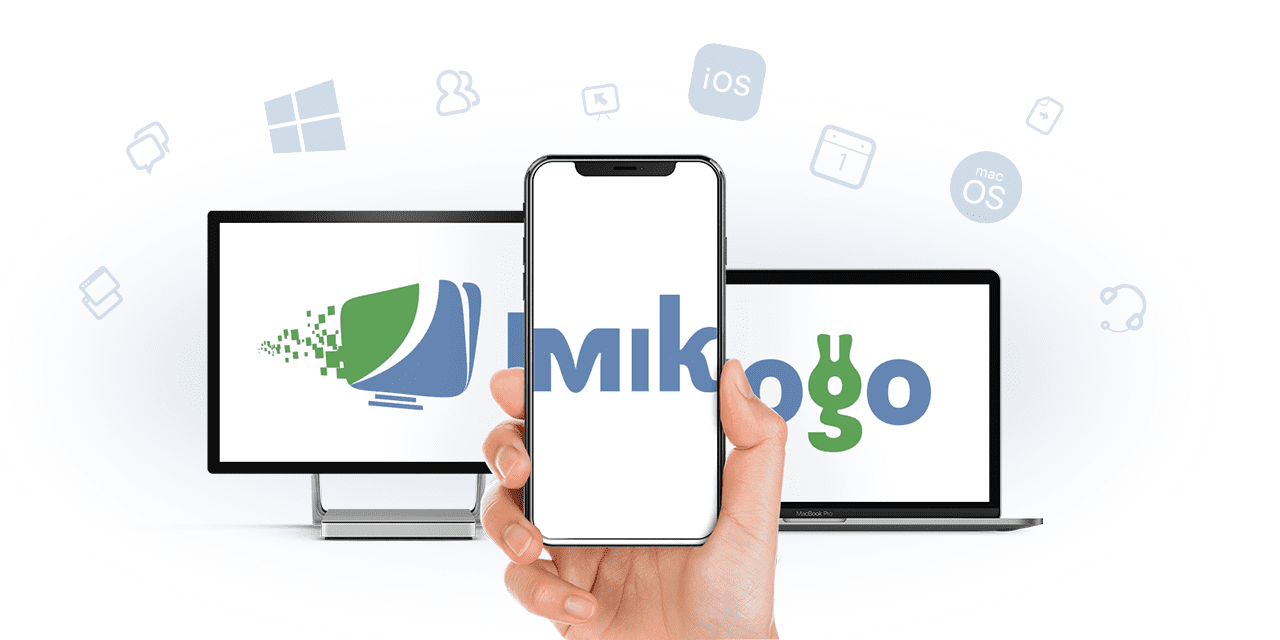 The next best software like Teamviewer is Mikogo. Well, if you used Teamviewer for online meetings than Mikogo will definitely impress you.
Unlike many other Teamviewer alternatives, Mikogo eliminates the need of installing any additional software and it works directly through a web browser.
Mikogo can be used on Windows, macOS, Linux, Android, iOS, and every other OS that has a well-developed browser.
Using Mikogo you can connect with up to 25 people and this paid tool enables data transfer between the participant and whoever is presenting the meeting using integrated data transfer function.
Features at Glance
No installation or downloads are required for participants in the remote session.
Join the remote connection session from mobile, both Android and iOS apps in a matter of a few seconds.
Schedule your screen-sharing sessions in advance so that they can start on time without any delays.
---
14. DWService
DWService is free of charge multi-platform Teamviewer alternative (Windows, Linux, Mac, Raspberry) that allows users to remotely connect to end-user systems from their computer or mobile device with any browser.
Like TeamViewer, it also provides instant, secure, and trouble-free connections utilizing the latest industry standards and infrastructure to ensure the highest level of security and privacy for our users.
You can connect to any computer both inside and outside your local network. It traverses major web proxies and firewalls and shielded with industry-standard security.
Features at Glance
You can connect to the computer through a Raspberry Pi.
Access files and folders on the host computer inside the app without requiring remote access.
Keep a log file of activities on the sessions in a separate file that can be accessed from anywhere.
---
15. Parallels Access
The last reliable TeamViewer alternative on the list is Parallels Access. Using Parallels Access you can easily access any of your computing devices in the fastest and simplest ways. Parallels Access offers very well developed mobile applications.
In addition to that, using Parallels Access you can easily operate any computer-based application on your smartphone using touch gestures.
Features at Glance
A single tap on the mobile app and connect to the predefined computer host without requiring authentication.
Lock'n'Go magnifying glass for accessing computers remotely from devices with small screens, preferably smartphones.
Create and manage an unlimited number of users who can access a particular host computer.
---
Why The Need For TeamViewer Alternatives?
While TeamViewer is a useful tool for getting started on a remote desktop, it doesn't provide the simplicity and dependability expected from such a tool.
Security is one primary concern that causes many users to flock away from TeamViewer, if not properly configured.
If the average user doesn't configure the settings on this tool correctly, your system is directly put at risk.
Although the personal license version is for free, TeamViewer charges a heavy fee for the business version.
Even though TeamViewer features many useful functionalities like file transfers, collaborations, and mobile access, there are better TeamViewer alternatives should you decide to do away with it.
---
Conclusion
So these were some of the best TeamViewer alternatives both paid and free that will help you with your remote desktop software needs.