Swap internal storage with external MicroSD card storage of your Android smartphone and save precious internal storage
Storage space is an existential problem if you own an Android smartphone. Even if you have MicroSD cards mounted on your smartphones, your internal memory will always be short because of the Apps are installed there and also the Apps use system's internal memory to work or do particular tasks on your Android smartphone. As the internal memory is normally less compared to  the external storage we always find ourselves deleting Apps/WhatsApp images/videos and files to free up the precious space.
What if your Android smartphone used external memory rather than using the internal space? Wouldn't it be fun that you can use as much as external memory you please and as a bonus and your Android performance will also be boosted.
Yes, it's possible and with well know tweaker called Xposed installer for this  job.
Steps To Swap Internal Storage With Sd Card In Android Smartphone
Step 1. First of all you need a rooted Android smartphone as Xposed installer can only be installed on a rooted Android smartphones. You can easily root your smartphone with the help of tutorials available on the net.
Step 2. After rooting your Android smartphone, you have to install the Xposed installer. You can use this tutorial to install Xposed installer on your smartphone.
Step 3. Once you have Xposed framework on your smartphone, you will need a module which allows you to swap memories as you wish. Download XInternalSD for this purpose.
Step 4.   Once you have installed XInternalSD App, you need to reboot your Android smartphone for the proper working of the module. Open the App and you will see the below screen :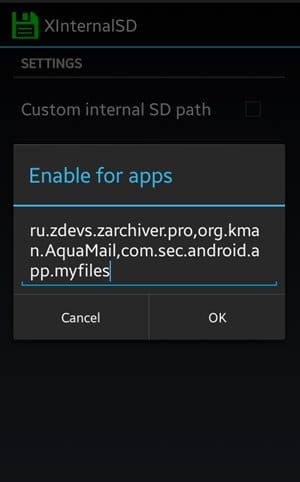 Press ok on this screen.
Step 5. Now you will see the apps for which you want to change the default APIs of storage and simply click on Change.
Step 6. If you want, you can edit some settings on the next page according to your needs.
That's it! you are done, now the Storage APIs have been changed to external MicroSD card and your Android Apps access space from the SD card. You can see the improved performance once you have done the change!