This chart reveals that iPhone X has overtaken the iPhone 8 and 8 Plus in a short span
Apple went on to launch three new iPhones, iPhone 8, iPhone 8 Plus and its 10th anniversary smartphone, iPhone X this year. While the iPhone 8 and iPhone 8 Plus went on for sale from September 22, the premium flagship iPhone went on sale across the globe on November 3.
The steep cost of iPhone X ($999/$1,149) as opposed to the affordable cost of iPhone 8 ($699) and iPhone 8 Plus ($799) has raised doubts over the sale of the expensive smartphone. However, on the contrary, the sales of this year's flagship iPhone X has surpassed both the iPhone 8 and the iPhone 8 Plus, although not the two combined, reveals data from analytics firm, Mixpanel.
Currently, iPhone X adoption is at 4.76%, while the iPhone 8 Plus is lagging behind at 3.59% and the iPhone 8 is further behind at 2.78%, according to the chart shared by Business Insider. The results were arrived at by using analytics data captured from apps that are integrated with Mixpanel's software developer kit and doesn't show actual sales figures.
While Apple has yet to provide any confirmed information about the speed of iPhone X sales, it simply says that demand was "very strong", reports Business Insider.
The chart below shows that most people have phones that are older than the iPhone 7 and how all three phones compare to the older models.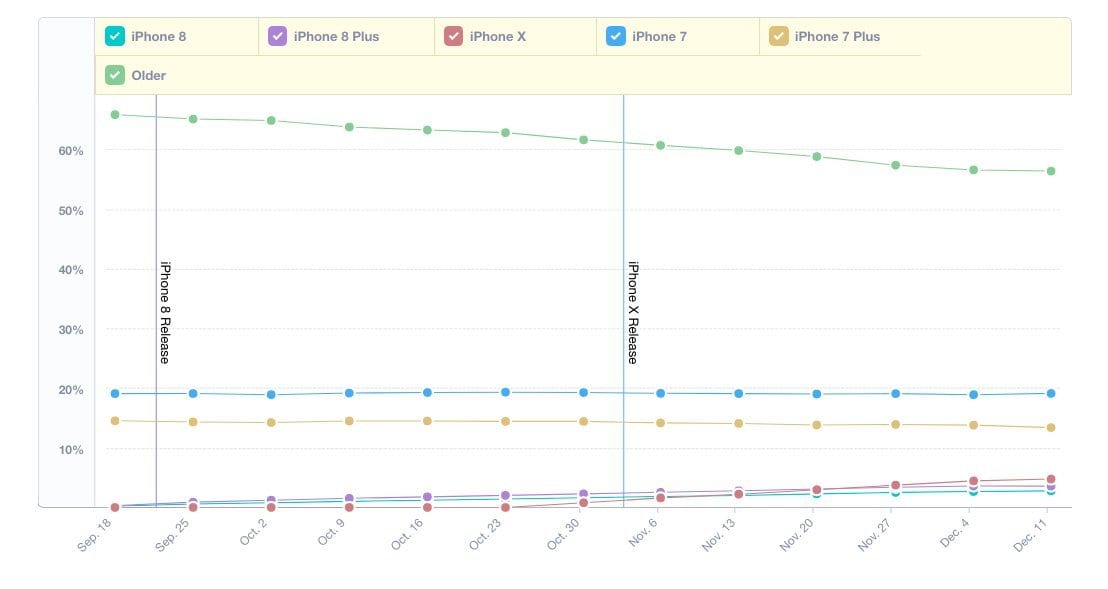 As one can see from the chart above, the iPhone X is looking to steadily increase its foothold, and this year's models together appear to overtake the iPhone 7 Plus within the next few months. On the other hand, the iPhone 7 and 7 Plus are still holding its position, as we come to the end of 2017.
Source: Business Insider