Applications enhance our smartphone experience and help us stay productive to get more work done. Finding the right app for specific tasks can be quite tricky.
Well, if you just got your new iOS device or you are scouting for best apps for iPhone, then this article might help you.
So these are some of the best iOS apps from different categories that are worth checking out.
ALSO READ: Best iPhone Emulator To Run iOS Apps on PC
Here Are The Best iPhone Apps
---
1. Apollo
Apollo is one of the best Reddit client available for iOS users. One of the major highlights of Apollo is it's clean and native iOS-like UI that makes browsing and reading Reddit a pleasing experience.
Apollo has a very well-developed media viewer that can load content from popular sources like Imgur, Reddit, Streamable, YouTube, Vimeo, and much more.
Furthermore, Apollo also has a Markdown-based writing editor that makes formatting text and links relatively simple. Lastly, Apollo is very well optimized for iPad as well.
---
2. Grammarly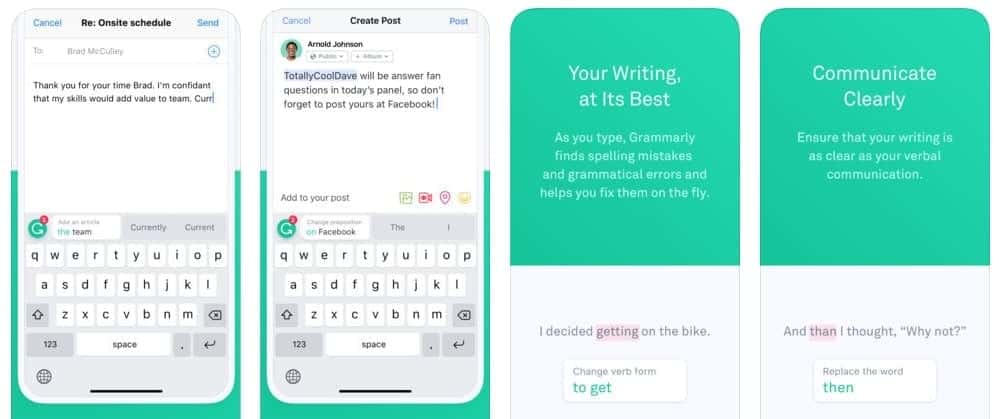 The next best app for iPhone on the list is Grammarly. As the name of this app suggests, this keyboard-based app automatically rectifies grammatical errors, spellings, and checks overused words.
If you prefer using your iPad for word processing, replying to emails, and writing content or notes, then Grammarly is the app you should download right away.
Grammarly works with every application that requires a keyboard for input. The app is completely free but upgrading to the premium version would improve the vocabulary and style of your writing.
---
3. 1Password
1Password is a reliable password management app that is available for iOS, MacOS, and WatchOS. Consequently, if you are very well invested in the Apple ecosystem then 1Password is the app that you should download right away.
1Password makes the process of logging into online accounts, filling forms, and making online payments very fast and secure.
To use 1Password you have to either pay $3.99 for the monthly subscription or $35.99 for the annual subscription.
---
4. Hyperlapse

Hyperlapse is another best app to have on your iPhone. Using Hyperlapse, you can create stunning time-lapse and hyperlapse videos. Hyperlapse automatically stabilizes shaky footage and eliminates the need of carrying a tripod to record timelapses.
Hyperlapse was developed by Instagram and there's no need to signup for using the app. Overall Hyperlapse is useful iOS app for capturing beautiful cinematic footage.
---
5. Calm
Calm is a must have application for anyone who wants to learn about meditation and the benefits associated with it. Using the guided sessions for beginners you can start improving your meditation skills.
The app also offers informative programs for intermediate and advanced level users. In addition to meditation, Calm also included breathing exercises for relaxation and Sleep Story for better sleep.
Overall Calm is a great health and fitness application that is worth checking out.
---
6. Things 3
Things 3 is one of the most feature-rich task managers that will definitely help you to get work done. This well-developed task manager allows users to segregate their content using tags. You can select the order of tasks based on the time when you want to complete them.
Things 3 offers a clean and uncluttered UI that helps focus on important things. Moreover, the app is also available for MacOS and your tasks are synced across all of your devices.
---
7. Dark Sky
Dark Sky is a weather application for iOS devices that provides accurate hyperlocal weather forecasts. Using Dark Sky you can get down-to-the-minute forecasts based on your present location.
Using Dark Sky you can create your own custom notifications for temperature, wind, precipitation, and much more.
A well-developed UI and good animations make reading weather forecast fairly simple. Dark Sky is a useful app for planning and preparing for the day before leaving the house.
---
8. Daily Yoga
The name says it all, Daily Yoga is a workout and fitness application that offers detailed guided Yoga classes. Daily Yoga has an extensive collection of asanas, pilates, meditation, and workout plans.
The guided classes consist of audio, music, and real coach Q&A. Daily Yoga integrates with the Apple Health App, using which you can share calories burned and workout duration with Apple Heath data.
Daily Yoga also offers scheduled plans focused on beginners, weight control, body sculptor, glowing skin, strength & flexibility, inner shine, and much more.
---
9. Enlight
Enlight is a feature-rich photo editing application that utilizes your iPhone's hardware to its full potential. The simple and easy to navigate UI makes editing photos fairly simple.
Enlight offers pro tools to enhance and edit the tones, colors, and details of your images. This iOS app allows you to create and save presets which helps to maintain consistency in the overall theme of your page.
Using Enlight, you can overlay two photos to produce a double exposure effect. Overall Enlight is a professional photo editor that will improve your Instagram game.
---
10. Audible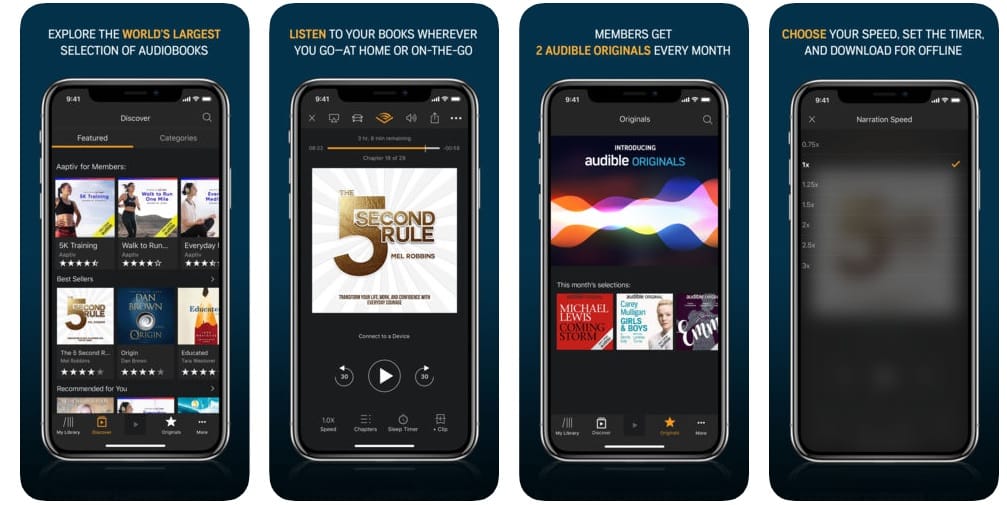 The last best iOS application on the list is Audible. If you prefer listening to books (like podcasts) rather than reading them then you should straight away download Audible.
Audible has a humungous collection of audiobooks, audio shows, and original series. You can even download your audiobooks for offline listening and your audiobooks are automatically synced across all of your devices.
---
ALSO READ: How to factory reset an iPhone or iPad?
---
What Are The Best iPhone Apps For Free?
Some of the best free apps for iPhone are Daily Yoga, Dark Sky, Things 3, Snapseed, Grammarly, Google Photos, Lastpass, and many others. You can effortlessly explore and download free iPhone apps from the Apple AppStore.
---
Are iPhone Apps Free?
A majority of apps on the Apple AppStore are available for free. However, there are a plethora of apps and games for iOS that are sold by the developers. Additionally, certain content streaming apps like Netflix & Spotify charge a monthly or yearly subscription fee.
---
CONCLUSION
So these were some of the best iPhone apps from many different categories that are worth checking out. Do share your favorite iOS apps in the comments section below.