Discord is by far the best free voice and text chat service platform for gamers. If you are a gamer then you might be using Discord every day.
Ever since work from home culture has become mainstream, many companies are using it as a primary source of communication.
Many people like to change their voices while talking on discord. The reason can be anything ranging from privacy concerns or just for fun and entertainment.
The aim is to change the voice to an extent that is unrecognizable or sound like other people or gender.
Note: Voice Changer Apps on discord are also being misused by many users nowadays to troll or harass people online.
Most children have started using such tools to enter into adult gaming voice chats.These voice-changing apps are available for both Windows PCs and Smartphones.
Without further delay here is the list of the best voice changer app for Discord.
---
Best Voice Changer Apps For Discord
1. Voicemod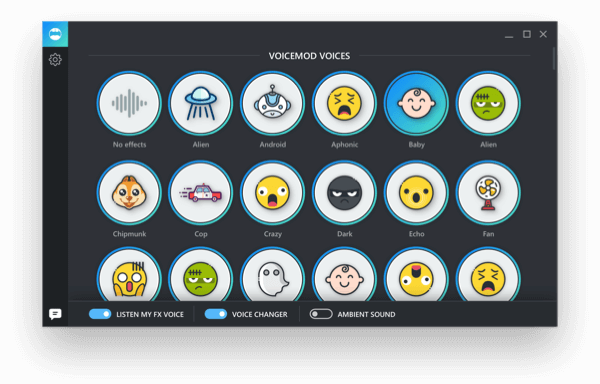 The first app on our list is Voicemod. It's a very well-known app that offers dozens of voices. These voices can range up from the normal kid voice to scary ghost noise.
The app not only provides numerous voices but is also pretty easy to use. The UI is quite simple and easy to understand.It can be operated by any person of any age.
It can also be used for apps like Skype, hangout, PUBG, and Fortnite. This makes it a super convenient app to have.
Features
Directly change voice in games such as CS:GO, Minecraft, World of Warcraft, Fortnite, etc. 

Twitch extension to change voice on stream.

Integrate with any communication app such as Zoom, MS Teams, Google Meet, etc.
Platforms Supported – Windows
---
2. Clownfish
The next app on our list is Clownfish. It's a free app for changing voice on Discord.
Clownfish is easy to install and can be installed at a system level. This means you can use it in any application that uses your microphone.
So apart from Discord, it can be used in mainstream apps like Skype, Facebook/Whatsapp voice call, Mumble, and many more.
The voices included in clownfish are of Alien, robot, male, female, and baby, etc.
Features
Play songs through your mic on Discord through broad playlist support.

Several VST plugins enhance voice change abilities. 

Hotkey shortcut for playing sound effects on Discord mic.

Platforms Supported – Windows
---
3. Voxal Voice Changer
The next amazing app on the list is Voxal Voice Changer. The professional-grade voice changer software for Discord and other apps does the job as advertised.
For instance, it doesn't only allow you to record your voices in real-time but also provides a privilege to apply effects in real-time.
The app has a humungous voice effects library that includes the voices of girl, alien, boy, echo, and much more.
Features
Change voice to female on Discord and other genders. 

Add different background noises to the mic when talking.

No effect on your FPS while gaming as it is a lightweight voice changer.
Platforms Supported – Web & Windows
---
4. AV Voice Changer
The next tremendous app on our list is AV Voice Changer. It's a good voice changer app that leaves no stone un-turned for helping you modulate your mic input.
Record a morphed voice and then later can change its waveform to make it sound more natural.
We can control the pitch of the voice and can transform the way it sounds.
For example, you have full control over your voice where you can make it sound deeper, higher, younger, elder, and even robotic.
Although the app is not free (You can check details on the website). It is available in three different versions such as basic, gold, and diamond. You can choose any of these depending on your budget.
Features
Morph voice on Discord by modifying the pitch and timbre of the human voice.

Design your unique voice and appear natural when using it online.

Import voice samples and imitate them to create new voice profiles.
Platforms Supported – Windows
---
5. MorphVox Jr
The next app on our list is MorphVox Jr., a good free voice changer app for Discord that lets you change your voice to sound like a man, woman, robot, and kid.
The app size is small, and it's easy to use. Here the only downside is that it has a lot of ads in it. The free version does have some caveats.
But the good part is even if it's free, it lets you change your voice in the most natural and effortless manner. The sound quality is also really good.
Features
Custom keys for keyboard and joystick for changing the voice while in-game.

An extensive library of in-house sound effects to use on Discord.

Import voice samples and imitate them to create new voice profiles.
Platforms Supported – Windows
---
6. Voice changer with effects
The next amazing app on our list is Voice changer with effects which is a voice changer for Discord mobile. It's a free app that is available for Android.
Now, if you want to have fun while gaming on Discord, then this app will surely make your day. It can make you sound like you've just inhaled the helium gas or even like an alien from Mars.
Likewise, you can record your voice and then later can change it in the way you want. Many people love this app for its simplicity and ease of use.
So if you are looking for some fun then you can surely download this app on your smartphone.
Features
One-touch enable and disable discord voice changer on mobile.

Over 40 different sound effects to apply to your voice.

Create voice samples from texts and use them on the mic.
Platforms Supported – Android
Download Voice changer with effects
---
7. RoboVox Voice Changer

The seventh app on our list is RoboVox Voice Changer, a mobile voice changer for Discord. If you want a robotic voice, this app is really for you.
This app is paid, so get ready to shell out a dollar and a half. The pitch and modulation settings is amazing so make sure to take advantage of it.
One fantastic feature of this app is that it lets you save your voice in a robotic tone, and later you can use it as your ringtone.
Features
Thirty-two different voice models such as Chipmunk, Helium, Badman, etc.

Save and send your voice recordings in WAV files to others

Use this discord voice change in three modes – Real-time, parrot(repeats after you), and recording.
Platforms Supported – Android
Download RoboVox Voice Changer
---
8. SuperVoice Changer
As the name suggests, Super-Voice Changer is an app that you need. It lets you change your voice in real-time processing with sound effects.
You will have complete control of your voice, where you change it into a sound like a man, woman, kid, alien, etc.
You can also use it on Whatsapp, Skype, Hangout, and every other app. It's super easy to use and works on the Windows platform.
Platforms Supported – Windows
Features
Top voice changer in the segment

Automatically change voice in real-time

No additional settings are required to change voices.
---
9. Voice Changer Plus

A good voice changer for Discord on iOS, Voice Change does what it says. It is available for iPhones and iPad.
You can adjust the voice in real-time while adding various background noises. Add different layers over the voice to provide more depth.
The overall user interface of this discord voice changer app feels out of sorts. It could use a design refresh, bringing it in line with the modern interface.
Features
Over 55+ voice effects and background sounds for adding to Discord mic.

Full support for VoiceOver to take your voice-changing experience to a whole new level.

Play your voice in backward on Discord and other apps.
---
10. Voicemeeter
Last on the list is Voicemeeter. The voice changing program is ideal for anyone who has lots of technical knowledge about audio mixing or is a sound engineer.
Unlike any other app listed here, Voicemeeter allows users to create their own effects and customize them based on their preferences.
Despite being packed with excellent features, the app is free to use but it's worth noting that the tool isn't for beginners.
However, if you can spare many hours learning the actual functioning of the application then you will definitely enjoy it.
Features
Manage audio of multiple apps like Discord with Google Meet and more. 

Integrate with voice changer with any 

DAW

 for advanced audio capability along with the recording.

Full parametric equalizers to make your voice sound in the unique audio profile possible.
---
ALSO READ:
---
CONCLUSION
So this was all regarding the Best Voice Changer Apps for Discord. You can get started with the Voicemod and Voxal Voice change for PC.
Some voice changer apps, such as Voice Change and effects and Voice Changer plus, are available for mobile. You can go ahead with them to change the voice.
If you find it useful then do let us know, which app you will like to try?.
Also read- Best Discord Music Bots