Discord is one of the most popular chat services in the gaming community. This communication service is dedicated to gamers across the globe.
Discord bots help enhance the overall communication experience on Discord servers. These bots eliminate the need to exit from the discord server for basic tasks.
In this article, we will discuss how to add bots to the discord servers and the best discord bots that you should try to enhance your gaming experience and make your discord server look more user-friendly.
Also Read- Best Voice Changer Apps For Discord
---
Top 20 Best Discord Bots To Improve Your Discord Server
1. FredBoat Bot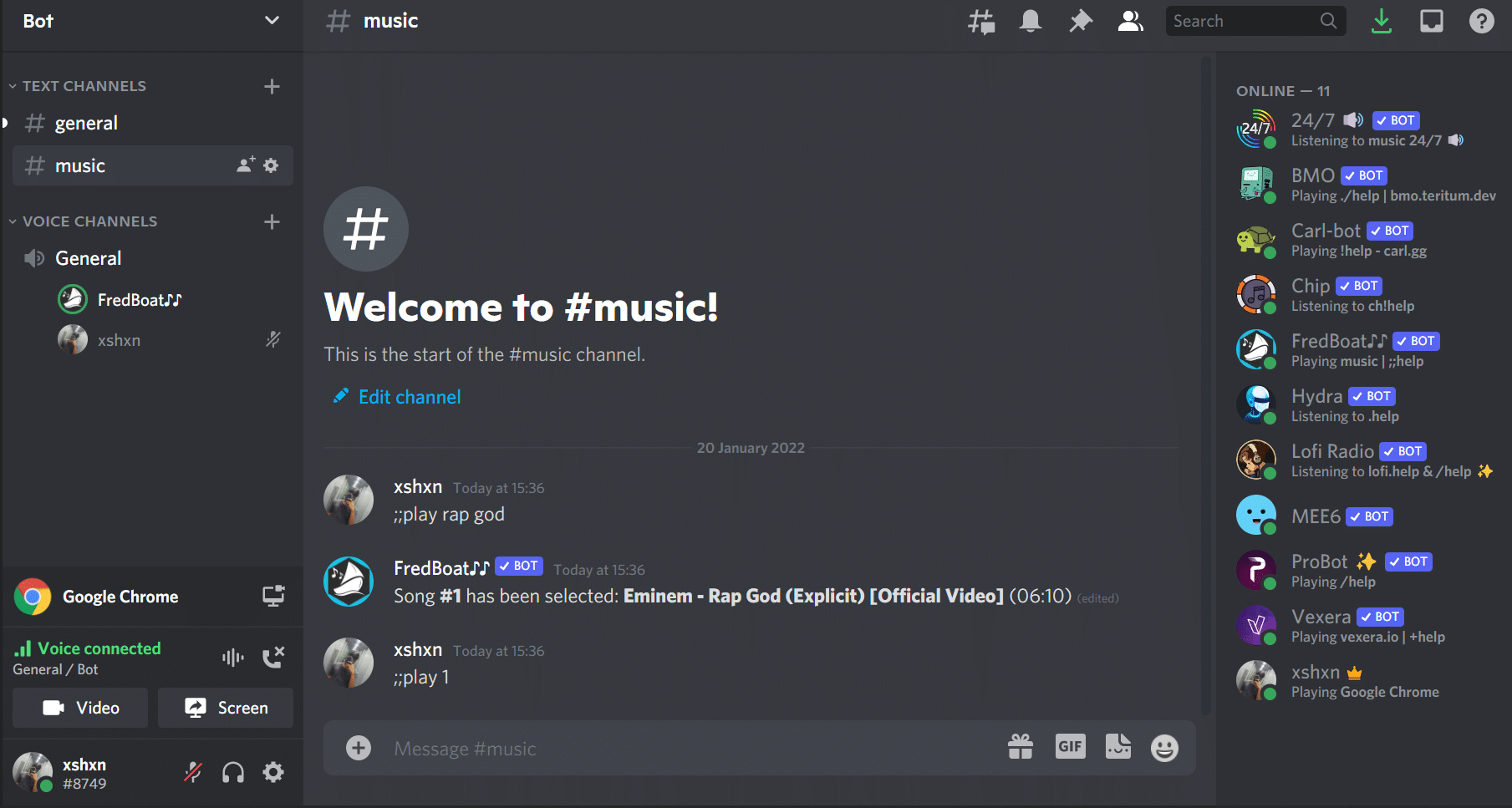 FredBoat is the best Discord music bot that's widely popular among Discord users. It a free Discord bot that provides users with high-quality music streaming capabilities and customizable settings.
The DIscord bot lets you play music from various sources, including YouTube, SoundCloud, Bandcamp, and Twitch. It also has advanced settings, like track skipping, volume controls, and equalizer adjustments, to help users enhance their listening experience.
Although some of its more advanced features might require a premium subscription.The bot's community is active and supportive, so if you ever run into any issues, you can count on getting the help you need.
Whether you're just looking to listen to some music with your friends or create your own playlist, FredBoat is definitely worth checking out.
---
2. Statify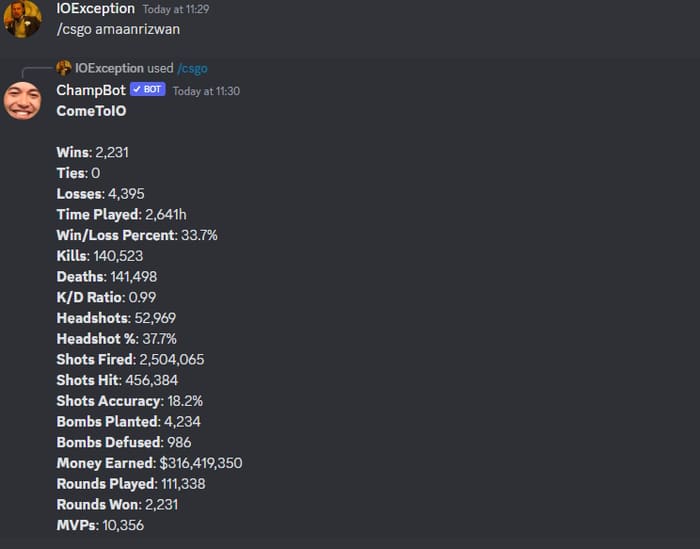 Statify is similar to GameStats Discrod bot. It bring the stats from popular games to you. It supports the following games – Rainbow Six Siege, Apex Legends, CSGO, The Division, Splitgate, Clash Of Clans, Minecraft server lookup, Fortnite, Clash Royale, Brawl Stars, and Call Of Duty Warzone.
Bring your stats from a speicfic game by using a game name as command followed by game ID. For example, if you want to see stats from CSGO, then type /csgo amaanrizwan (my steam ID) and press enter to see the all time stats.
It shows the stats of your entire journey with the game associated with the particular game ID. Your total games, wins, losses, K/D ratio, time spent, headshot percentage, and more.
---
3. StahpDozAds
StahpDozAds can be a useful discord bot for all those server owners who have a massive number of members. This bot can be used to block or restrict the sharing of offensive content. StahpDozAds can also recognize a specific category of links and automatically remove it from the discord server.
Furthermore, using this bot server owner can even block invite links. It's a useful bot to prevent users from sharing Youtube videos or affiliate links on the server.
---
4. Free Stuff

Epic Games has made us ever wanting free games and other stuff. That's exactly what Free Stuff bot does on your Discord server. This bot for Discord servers sends you updates about the free games that are available around the web.
It supports every major platform where a game becomes free/free to play, which is usually paid. You won't have to miss out on a free game just because you were in a gaming marathon with the boys.
You can set it up to announce games on a particular channel of the server. If you want to know which games are currently free, just type /free to see all the games available for free right now.
---
5. TriviaBot
Trivia Bot helps gamers to leave the gaming discussions and try out something more interesting. Well, this Discord bot has a collection of around 3000 questions and 24 categories that can be considered as a fun activity to enhance knowledge. These questions are related to various topics like science, literature, nature, sports, movies and much more.
To use this cool discord bot, add it to your server and type trivia help in a text channel. Type trivia play to start a trivia game and trivia categories to see a list of categories.
You can used this amazing Discord bot to play the trivia with friends and have a good time. This helps in killing boredom when you are done playing your game with the gang.
---
6. Aethex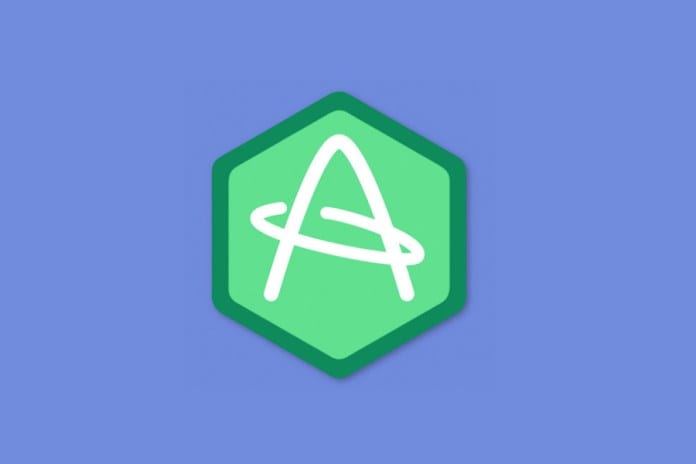 Aethex can be considered as an all in one bot that can perform all sort of tasks like game integration, social commands, utility commands, and entertainment and moderation tools. Using Aethex, you can quickly mute, ban, or kick users out of the discord server.
As for entertainment, Aethex can help users to search images, roll dices, and many other activities.
Lastly, Aethex can be used to track game stats as well. Aethex offers everything that a primary user may require, but it's not the perfect bot as compared to the dedicated bots for different functions.
---
7. Zandercraft Bot
---
8. GuildedBot
GuildedBot is a perfect choice for all multiplayer games like PUBG, Fortnite, DOTA 2, CS: GO, Overwatch, and much more. You can easily manage your multiplayer team using GuildedBot. This cool discord bot helps to recruit new players, plan strategies beforehand, and control your team's activity.
Apart from the nifty gaming features, GuildedBot also offers different tools like calendar, insights, Media, matchmaking, streams, recruiting, and Discord integration.
---
9. Pokecord Bot
Pokecord Bot is an interesting Pokemon game that you can play within your discord server.  To play the game, users can use the bot's commands to catch Pokemon that randomly appear in the server's chat.
You have to fight with your friends and level up your pokemon to win fights. The bot will generate a random Pokemon that users can catch by typing in the command. Once a user has caught a Pokemon, they can level it up and use it to battle other members of the server.
---
10. Pancake Bot
Another useful discord bot on the list is Pancake Bot. This bot helps users to play music and offers server moderation tools. You can play music from popular music streaming services like Soundcloud, YouTube, and Twitch stream.
It is one of most simple and easy-to-use music interface, which can be used by anyone. A simple command is enough to control the player.
Pancake can also be used to select and delete messages in bulk to clean the server. Overall, it is a perfect Discord bot for playing music and managing the server.
---
11. Tatsumaki
Tatsumaki is another impressive multi-purpose bot. Well, Tatsumaki offers many nifty features like moderation, setting welcome messages, notifications, and many more. Along with that, this bot can be used to search the web and read an RSS feed.
This popular multi-purpose Discord bot has everyhing you need. Play with more than 100 pets, and create personalized home with 1000 different furtniture items.
On a server level, you can create profiles, ranks and wallet cards for the members. Let everyone earn points and then you can set a shop. Create a special market place to sell custom items, special roles, and you can use it to reward loyal members.
---
12. ErisBot
Another great discord bot on the list is ErisBot. This is a is a large and stable bot, providing clean, crisp audio to hundreds of Discord guilds, coupled with easy to use commands.
The bot is designed to assist with server management, moderation, and entertainment for users on the server.
ErisBot's features include music streaming capabilities, moderation tools such as banning and muting users, custom commands and triggers, user management, and more.
The bot can also be used to create polls and organize events on the server, making it a popular choice for community-oriented Discord servers.
---
13. GAwesomeBot
The next interesting bot on the list is GAwesomeBot. Similar to Dyno Discord Bot, GAwesomeBot is an impressive multi-purpose bot. You can use this Bot to stream YouTube videos, get web results from Google, and browse Reddit.
Some of GAwesomeBot's features include moderation tools such as banning and muting users, custom commands and triggers, user management, automatic server backups, music streaming capabilities, and more.
The bot also supports third-party integrations with services like Spotify and Twitch, making it a versatile tool for managing and engaging with your Discord server.
---
14. Dank Memer
The name says it all Dank Memer is a good meme Discord bot and a perfect alternative to the popular Memez Bot.
This is one of the top Discord bot which designed to be a source of entertainment and engagement for users on the server.
Some of Dank Memer's features include image manipulation commands, such as the ability to create memes and edit images, as well as currency-based activities like gambling and robbing other users.
The bot also offers trivia games, "dank" command games, and various other activities to keep users engaged and entertained on the server.
You can find some of the best memes on the Internet from Dank Memer Bot. Similar to MeMezBot, using Dank Memer you can share quality "dank" memes with your community.
---
15. Dyno Bot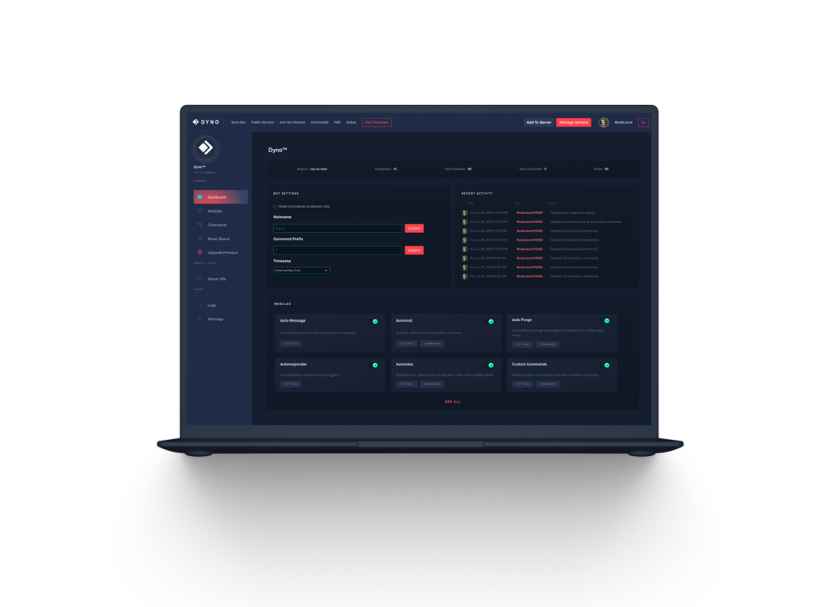 The next discord bot on the list is Dyno Bot. This bot is ideal for anyone who has just started using Discord. This fully customizable server moderation Discord bot has a very well developed web dashboard.
Dyno Bot's features include moderation tools such as banning and muting users, custom commands and triggers, user management, role assignment, and more. The bot can also be used to create custom welcome messages, polls, and custom chat commands, making it a versatile tool for server customization.
This Discrod bot also doubles up as a feature-rich music player. Some of the major highlights of Dyno Bot are Autoroles, Custom Commands, Announcements, Joinable Ranks, AFK Status, Reminders, and much more.
---
16. Discord Dungeons

Discord Dungeons is an entertaining Discord bot that lets users play an adventure game within the Discord platform. When playing Discord Dungeons, you can create their own characters and customize them by choosing from different classes and abilities.
Then embark on exciting quests, battle monsters, and delve into dungeons to earn rewards and level up their characters.
Discord Dungeons is available for free, but certain features may require a premium subscription or access to certain services. The bot's website provides users with support, documentation, and a command reference to help them get started and make the most of its features.
With its captivating world-building and active user community, Discord Dungeons has become a favorite among many Discord users.
---
17. BloxBot

Roblox gamers will love this discord bot as it focuses on the gaming platform. Search information about the users, games, groups, clothes, and more.
You can join games just by searching through the bot. It even lets you search for users and groups, all you need is the name of the ID to find them.
Find even more information like RAP(Recent Average Price) of an item, and also search through the catalog on the Avatar shop. And browse through gears, hats, and clothing, etc,, including a filter to narrow down the search.
Additionally, BloxBot allows users to create custom commands that can be used within their Roblox games to provide game-specific functionality. These commands can be used to perform tasks such as managing in-game currency or providing information about the game.
You can find the complete list of commands here to take full advantage of the bot on Discord.
---
18. Mudae

Mudae is a Discord bot that you can use to collect and trade characters from various anime and manga series. It's like a game that allows you to create your own virtual "harem" of characters that you like.
You can then interact with them using different commands that simulate conversations and actions with the characters. To collect characters, you use "Mudae credits" that you can earn by being active in the server.
The more active you are, the more credits you can earn, and the more characters you can collect. Once you have enough credits, you can roll for characters and hope to get one that you like.
Mudae has several customization options that you can use to personalize your experience. For instance, you can choose which series of characters to roll for, set up channels for specific types of characters, and turn on or off certain features of the bot. It's a popular bot on Discord and is enjoyed by many fans of anime and manga.
---
19. Uzox

You must have used many Discord music bots but Uzox is better and offers more features. Start with lagless audio at any time of the day without fail. You have variety of music filters to jazz up your listening experience.
Uzox can take up music from platforms like Spotify, Apple Music, Soundcloud, etc. You can connect your Spotify or Last.fm to play your playlists while gaming.
And if you want to sing along, then see the lyrics and groove with the music. You get buttons to play, pause, mute and more while playing a song on the server. A multi-colored streak appears which means the song is playing.
---
20. Discord Translator

In this connected world, language should be the last thing dividing us. Discord translator is a bot that automatically translates users and channels, supporting over 100 langauges along with 10 locales.
You can translate multiple langauges at once through the text. The Discord translator bot lets you automatically translate for specific users and on certain servers and channels.
This comes along with chat based translation. React to it a message with a country's flag and it will get translated to the official langauge of the that nation.
However, sometimes you cannot just recognize a language. Let language detection get to work and help you find the source with high accuracy.
---
Are Discord Bots Safe?
Yes, Discord bots are completely safe to use. The sole purpose of Discord bot is to enhance your communication experience while using Discord. However, do keep an eye on the permissions that you give to a bot.
---
How Do You Get Discord Bots?
The process of searching and installing Discord bots is fairly simple. You can get a humungous collection of feature-rich Discord Bots from services like Github.
---
Also Read- The Best DNS Servers For Gaming
CONCLUSION
So these were some of the best discord bots that are worth checking out. Do share any other useful discord bot that you use in the comments section below.