Discord is possibly the best cross-platform voice and text chat service for gamers.
Well, adding bots to discord server makes the messaging service even more feature-rich. There are bots dedicated to specific games that show updated stats and scores or music bots that will play music in your discord server.
But managing your server and adding these important bots might look like a tough job, So here's how to add bots to your discord server easily.
How To Add Bots To Discord Server
Adding bots to a discord server is a straightforward process. First of all, ensure that you are logged in to your discord account. Next up select the bot that you want to add on discord.
You can even check out some useful bots from Carbonitex. Once you have chosen bots to be added on a discord server follow these simple steps.
1. Open general permissions of your discord server and ensure that Manage Channel, Manage Permissions, and Manage Webhooks are all turned on.

2. Select a bot from Carbonitex and click on "Add Bot to Server" button.

3. Next up select the server to which you want the bot to be added.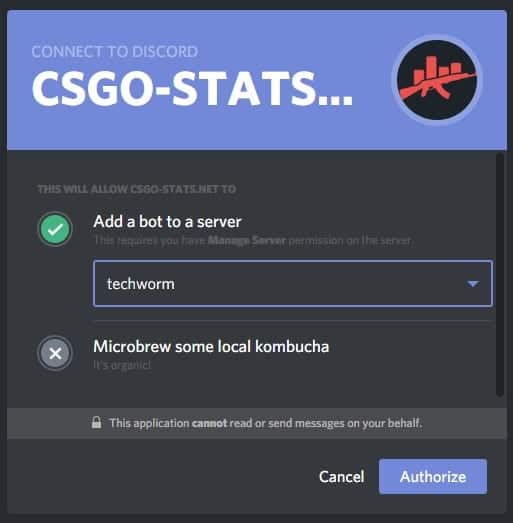 4. Lastly, authorize the bot and verify the captcha.
---
Alternate Method For Adding Bots To Discord Server
The method as mentioned earlier is very simple, but if you are a pro user and want to add bots quickly to your discord server, then this method might help you.
Paste the following URL into any browser of choice  https://discordapp.com/oauth2/authorize?client_id=<Bot_Client_ID>&scope=bot&permissions=0
Replace the 'Bot_Client_ID' in the above URL with the client ID of the bot you want to add.
Similar to the previous method, authorize the bot and verify the captcha.
---
Also Read- Best Voice Changer Apps For Discord
Benefits of Adding Bots To Discord Server
These bots can be considered as the virtual assistants that enhance your communication experience. Once, you add a bot to the discord server you can use it anytime as per your preference.
Furthermore, adding bots on discord also eliminates the need for tracking scores and stats of other gamers in the server. Bots can help improve productivity or make you laugh during intense gaming sessions. 
---
CONCLUSION
So this was how you can bots to your discord server even with your mobile phone and using commands.
Do share some of the best Discord bots that you use. You can also share any alternate method on how to add a bot to discord and help the community.