Binge-watching videos with your friends and family together can bring more joy at times when watching a much-hyped TV-series or a movie that you have been wanting to watch for a long time.
However, not everyone's free time aligns to get in the same room to watch it together. Some of us would be far away in another part of the world due to other commitments, and maybe in different time zones.
This problem can be solved as there are ways to watch videos together online in real-time even if you are in different parts of the world and several hundreds of miles apart.
Watch TV shows together with Friends
1. Watch2gether
Watch2gether is a dedicated website to watch videos together with friends and family online. Not only that, users can listen to music together online as well as the website supports Deeze, SoundCloud, Mixcloud, etc. Avid gamers following tournaments like ESL, Majors, etc. can watch with their favorite tournaments together through Twitch simultaneously while chatting via the chatbox.
Viewers can create rooms to stream online videos in sync. The appearance of the rooms can be customized to give a more personalized touch and identity, which feels at home.
Togethertube, a popular site to watch videos together is now a part of Watch2gether.
What I liked
– No registration required for creating temporary rooms. Although, if you want to create a permanent room to watch videos with your friends, then you can sign up for a free account.
– All the participants of the watch party can sync audio and video of your streams unless restricted from the settings by the moderator.
– Google Chrome extension to quick-browse your watch party rooms.
– Playlists can be curated before starting a watch party for binge-watching videos or listening to music together with your friends and family.
What I did not like
– Lacks support for Netflix, Hulu, and other Internet video streaming services
---
2. Netflix Party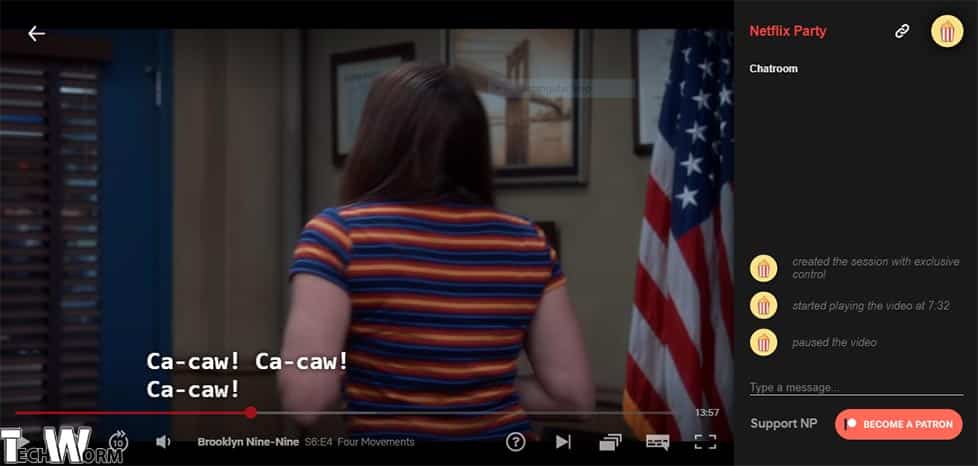 Netflix has become synonymous with watching TV shows online. Netflix Party is a chrome extension which enables you to watch Netflix with your friends together in real-time and discuss them as movie, TV show progresses. Watch your favorite movies, documentaries and other things on Netflix by creating a private watch-room by clicking on the extension's button. It turns red as soon as a Netflix video is playing, which is your cue to create a party.
All the participants of the watch party need to have a subscription of Netflix to watch movies, TV shows together.
What I liked
– No third-party website or application needs to be installed for watching Netflix together with friends.
– Easy two-step method to create a party and start watching it with others.
– Sidebar chatroom that stays on screen in full-screen mode as well. Some of the users might find it distracting for their viewing experience.
What I did not like
– The extension is only available for Google Chrome.
However, it will work with most of the Opera versions as well, which has the same web-kit as Chrome.
---
3. AndChill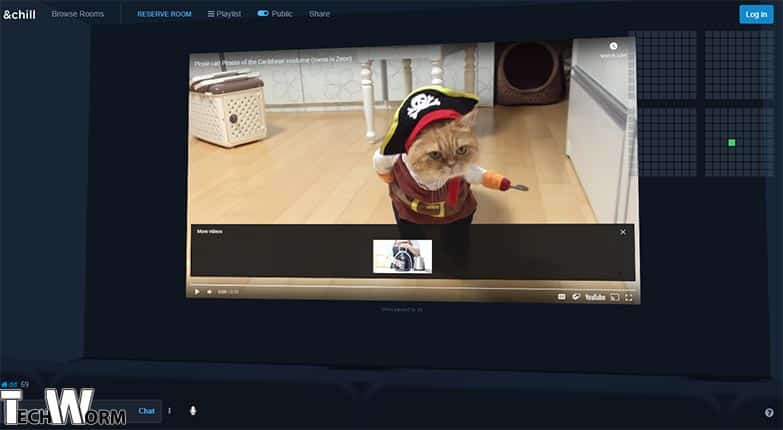 Andchill is a great platform to watch Twitch streams and YouTube videos, together with friends online. Head over to the site and create a room with the sub-url of your liking and start the video-party. It has a unique viewing-interface that gives a theatrical viewing experience. Click on the seat just like you do while choosing a seat while booking seats for watching a movie in a theatre.
Videos can be added to the playlist by adding the link from YouTube or Twitch username.
What I liked
– URL can be customized for your room to yourchoice.andchill.tv. The name can consist of upto 20 characters.
– The chatroom has an audio-chat feature that allows viewers to chat over audio while watching their favourite videos together.
– Furthermore, chatbox can be detached from the watch-room, which can be used for chatting with friends after the video has ended.
What I did not like
– YouTube videos cannot be searched from the site for adding to the playlist. YouTube links are required to be pasted into the playlist search box.
---
4. Syncplay
Syncplay is an application for users who want to watch videos together with friends on a computer and need a little more privacy. It needs to be installed on the computers of all of the users who want to be a part of the streaming party. Users can join a room by typing its name in the Syncplay app.
The room creation process is moderately easy for novice users. For Syncplay to work, users need to have supported media players installed(currently supporting media player classic, VLC, MPV and MPC-HC).
What I liked
– Enhanced security for the privacy of watch-party with TLS protection. Passwords can be set up for joining a watch room on the server.
– Less amount of Internet data is required to re-watch TV series, movies, etc. with your friends as the movies, TV shows, etc. files need to be present on the computer of the room participants.
– Option to auto-sync audio and video in the case of intermittent lag.
– Works across all major computer operating systems like Windows, Mac, and Linux.
– Room moderators can enable the option to auto-play when users have marked ready for watching from their Syncplay app window. Minimum 2 users need to be ready for playing video files.
What I did not like
– Setting up the app can be moderately tricky for novice users.
– The file names of the videos, audio files need to match for syncing to work in an orderly manner.
---
5. Sync Video
Sync Video is amongst the easiest ways to watch together videos online. The free service was shut down by the developer a while back owing to the cost of running the service being "too expensive". It came back from the dead after a plethora of fans requested it to be brought back online.
The service is fairly simple to use. Users can add sync- in a YouTube URL to create a new room for the video without the need to visit or to log into the website. Alternatively, videos can be added to a playlist of the room like other services by entering the URL.
What I liked
– The ease of creating a room for watching videos with friends by adding sync- in a YouTube or Vimeo URL before youtube/vimeo.
– Firefox and Chrome browser extensions to create and manage video rooms with a click of a button. The site offers a browser bookmarklet for creating a video room as well.
– TV users can create a room channel and broadcast it to invited users. The feature is currently for patrons(donors) of the website.
What I did not like
– Logging in after creating a new room removes the video that was being played earlier.
---
6. Together TV
Together TV lets users watch and stream videos with friends on sync and offers pretty standard features similar to what is offered by its competitors.
They offer a standalone client for Windows, which lets the user stream videos from their computer. The streamer is the streaming client offered by them which relies on port-forwarding for streaming files over a private network with chat room powered by the site itself.
What I liked 
– Search any YouTube or Vimeo video from the search bar. It plays the first search result from either of the sites and creates a room for the watch party.
– Invite friends using a shareable link.
– Registration is not required for any feature.
– Computer clients let you stream supported video files over the Internet without other participants of the watch party needing a copy of the file.
What I did not like
–  The search bar only plays the first video from YouTube. It would have been better if they showed search results as well.
---
7. myCircle TV
With myCircle, you can sync videos and watch it together with your friends in a conference mode, which lets each attendee control the playback. The site offers the feature to upload your videos to myCircle cloud and play it in a room. Videos can be searched from the search bar along with filtering.
The service supports YouTube, Vimeo, Twitch, Dailymotion, and SoundCloud.
The cloud offers 5 GB of storage space for the files. Uploading and processing video files take a while, but the service is free, so I'm not complaining.
What I liked
– Feature to upload video files to the cloud. They can be played in a room created by the user.
– Videos can be sought from cloud services like Dropbox, Google Drive, as well where the user should have an account.
– Users can audio-chat along with the general text chat.
– Other participants can be invited to a watch party by sharing the room code or link. The room code must be entered into the search bar on the homepage.
What I did not like
– The service has its playback interface on top of the video from other sites. Buttons are on the clumsier side as compared to the default ones offered by video hosting sites.
---
8. Kosmi
Imagine having the feature of watching together, screen sharing, and uploading files to watch them together all at one place. Kosmi offers just that, and it aims to be a digital hangout for the Internauts. Apart from streaming videos to watch together with your friends, you can chat, play S/NES games, Poker, etc.
Kosmi offers three ways to watch online videos together, including the ability to watch user-uploaded video files.
What I liked
–Screenshare allows members to share their screen(particularly a tab or the whole window) of the browser, which can be used to watch videos.
The screenshare feature is only supported by major web browsers.
– Cowatch enables users to upload video files into a user-created room, which can be watched by the members of the room in sync with each other.
– Stream YouTube videos in sync with other members of the room. All the members, including unregistered users, can take control of the playback in the room.
What I did not like
– The room moderation options can be improved upon. It is not a con, but there is room for improvement.
---
9. Twoseven
A service used primarily by long-distance couples to watch their favourite movies together. They offer a chrome extension to streamline viewing experience along with the website interface. You can add people to your friend list for starting a party. Viewers of the watch party need to be registered on a website. It can be done away with logging via Facebook and Google accounts too.
What I liked 
– Dark mode for users who do not fancy eye-burning white backgrounds.
– Webcam based video chat to exchange glances and watch each other's reactions while watching a movie.
– Watch videos from any site in a room with the help of the Chrome extension.
What I did not like
– The extension has bugs/issues with Netflix play on Google chrome for the room participant through the shareable link.
---
10. Rave
Rave is an application for smartphones, primarily Android and iOS based. It is amongst the best way to watch videos together on a smartphone with your friends and family. Login via Facebook, Google, or Twitter if registering an account is too work much for you. Videos can be watched together from various sources, which include YouTube, Vimeo, Netflix, etc. apart from manually browsing the Internet via in-built Google search.
What I liked
– One tap to create a room for watching a video with friends and loved ones.
– A floating player which allows the video to be played outside the app. It does require extra permissions from the system.
– Sync speakers to create a grooving music party when speakers are not available.
What I did not like
– No option to play local video files.
---
Over to You
Who wouldn't love to watch their favorite movies and shows with people close to them?. I hope you liked the list of some of the best ways to watch movies together with your friends. Let know if via the comment section if we missed your favorite service.