After a fortnight of leaks and whispers in the hushed tone, Nvidia has put the rumors to bed with their new RTX 30 series.
The new range of graphics card has been premiered with the new 3090, a notch up above 3080, followed closely by the 3070.
The 90 lineup makes a debut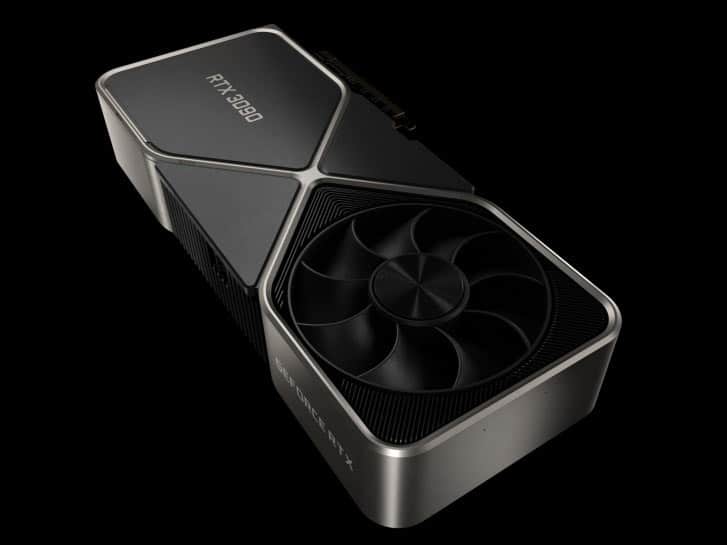 Gone are the days when the x080 was the epitome of the Nvidia graphics card range. The newly launched 3090 has taken it several notches further.
Boasting a 24GB of GDDR6 memory, with an option for a triple slot, Nvidia leaves nothing to the imagination. Furthermore, the company has claimed about the card being over 50% faster and 10x quieter than the Titan RTX.
The card is aimed at people with extensive graphics memory requirements, such as designers, animators, and more.
Prices
Nvidia has hit it out of the park this time with a competitive pricing bracket. The RTX 3090 starts at $1499, which is cheaper than the Titan RTX launch price.
Next is the more practical card, for regular users, preferably gamers and designers, the RTX 3080, priced at $699. It will ship with 10GB of the GDDR6x memory, running on 19 Gbps and capable of 4K 60 FPS output. Nvidia has claimed that the flagship card will be 2x faster than its predecessor, RTX 2080
Moving on to the last showcased card, the RTX 3070 price pegged at $499, which is supposed to be over 60% faster than its predecessor, sporting 8GB of GDDR6 memory. The budget beast is capable of running 4K videos and 1440p gaming.
The Newest Tech in the Town
In partnership with Microm, Nvidia has developed its Ampere architecture, which is considered the step into the future. 
Coupled with the CUDA cores, the newer architecture delivers impressive performance upgrades on the newly launched cards. 
New Softwares Launched
Keeping the growth of streaming in mind, Nvidia has launched three softwares – Broadcast, Reflex, and Omniverse Machina.
Omniverse is for content creators to create their own cinematic videos without requiring expensive third-party tools.
Nvidia Broadcast takes care of streaming's visual aspects, such as webcams with AI effects and microphone quality enhancement, apart from several other features.
Reflex is for the users who want accuracy down to the last digit. The software helps measure and reduce gaming lag with respect to the mouse input and monitor display, amongst other things.
Over to You
We wait for the lower end cards and feature the 50, 60 series of the new lineup.