MP3 has become synonymous with audio files around the world. Its size and above-average quality have really helped in global adoption.
The only problem with MP3 is that it is a lossy format. This means that there is a significant loss in quality when reducing the file size for reasons like fitting in more files or saving space in general.
FLAC shines in this regard, offering a lossless audio format. There is no loss in quality when compressed or reduced in size.
What is a FLAC File
FLAC is acronym for Free Lossless Audio Codec File which is an audio file container format similar to MP3. It maintains a better quality even with higher compression or reduced file size. Unlike MP3, which later became patent-free, FLAC has developed an open-source audio format that did not warrant license-free or a premium patent.
FLAC does not stop at the 16-bit audio quality that is generally considered " compressed CD-quality" grade. You can use it above and beyond up to 24-bit/192khz, which is regarded as the true CD-rip quality.
They can be up to 6 times larger in size than a typical MP3 file, but the lossless compression and the consistent sound quality make up for it.
Audio streaming services like Tidal, Amazon Music, and Deezer, amongst others, have started offering FLAC quality. Spotify misses out on this while still playing your locally stored FLAC files on the app.
Developers and users are free to experiment with FLAC files without worrying about paying hefty license and patent fees.
How to open FLAC file on PC
A. Open FLAC files on Windows 7,8,10, 11 PC
Let us get real for a second. When it comes to supporting formats, Windows has a history of skimming the compatibility for a wide variety of media formats. You got the MP4, MP3, m4a, mov, and even avi, amongst a few others. They skip many due to a variety of reasons, but not limited to copyrights and prevailing piracy practices in certain formats.
Using these codecs, you can open FLAC in Windows Media Player and other media players, which does not include decoders for the lossless format.
We can open FLAC files and other audio formats by installing a codec pack. You won't need to install any new media player for playing the FLAC file. It will run on your existing media and audio players without a hiccup.
1. Download the K-Lite codec pack from the official site. The various content packages are capable of opening FLAC files. You can download any of them without worrying about the compatibility.
2.Launch the setup. Select Normal installation mode and click on the Next button.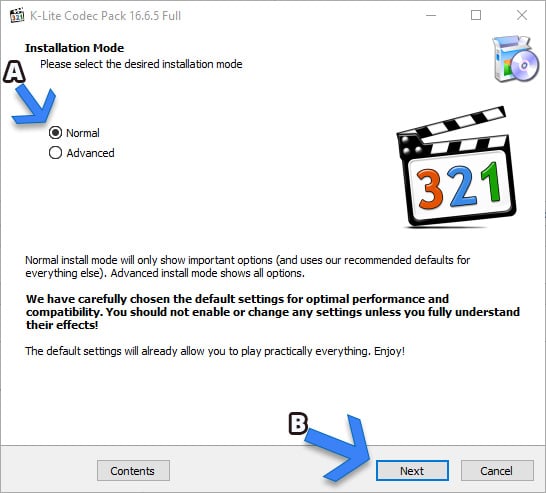 3. On the next screen, you will get several options to choose from.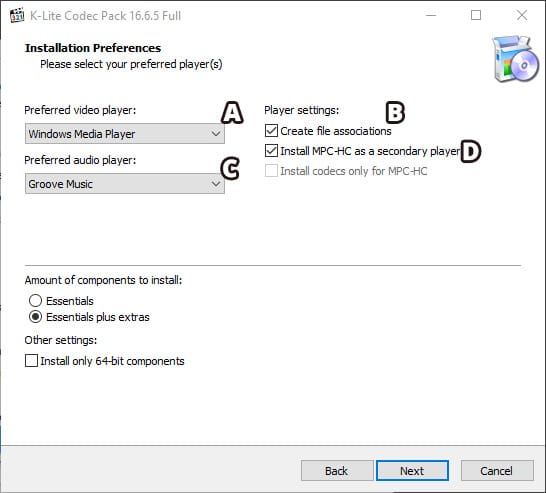 A: This is your default media player for all the videos on the computer. You can change it to any other player installed by you.

B: Creating file associations with different file formats allows the 

Preferred video player 

and 

Preferred audio player

 to launch when playing formats supported through the codec pack, which runs to almost a hundred.

C: MPC-HC is the Media Player Classic – Home Cinema, which is an open-source media player project. The exterior design is based on the classic Windows Media Player 6.4. You can choose to install it as a secondary player in cases where the preferred one has run into trouble.

D: The preferred audio player is similar to what we discussed earlier with videos. If you have a specific audio player installed, then now is the time to set it as the default one.
After you are done setting up things carefully here, click on the Next button to move forward.
4. On the next page of Additional Tasks and Options, scroll down to the Sponsored Content section.
Untick the Show option offer option and then move to the next page by clicking on the Next button.
5. Keep clicking on the Next button until you reach the Audio Configuration page. Here have a look at the Audio Decoder Output, where you will select the kind of sound equipment you have.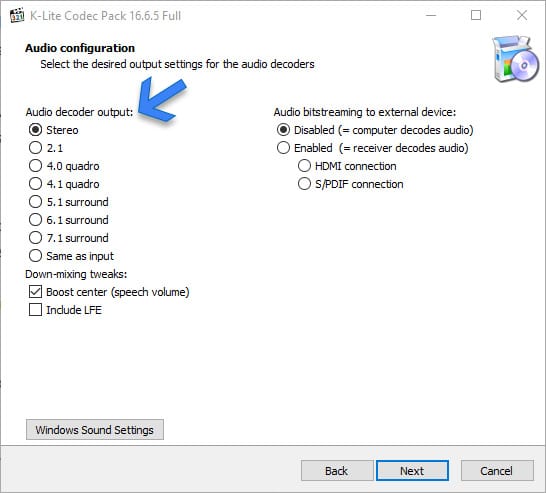 If you have headphones, keep it stereo or go with other mixes depending on your speaker system.
6. Click on the Next button and select the Install button at last to install the codec pack to open FLAC files.
Open FLAC files on Windows 10 and above 
Since Windows 10, the operating line has started supporting FLAC files through their Groove Music application which includes extra codecs. You can go about your day using Groove or the Windows Media player on Windows 10 to open FLAC audio files.
---
How to Convert FLAC file to MP3 
Not many devices support the lossless format, so you can convert FLAC to MP3 using a free online tool and an open-source audio converter app. We will start with the online tool as it does not warranty any kind of installation, and you can do it right away.
A. Convert FLAC to MP3 – Online
Let us begin with this free online FLAC to MP3 tool that can convert files at once. The speed of operations is partially dependent on your Internet upload speed. As the FLAC file size is more, it will take more time to upload.
1. Head straight to CloudConvert's FLAC to MP3 section. Drag your FLAC file into the window.
The manual way is by manually browsing files from your computer by clicking on the Choose File button.
2. Make sure that the Convert to dialogue menu has MP3 as the selected format. Then click on the Convert button.
In cases when you want to convert multiple FLAC files at once, click on the Add More Files button.
3. Your FLAC file will be uploaded and then take a couple to convert FLAC to MP3.
Once converted, a popup will appear with the download button. You can also use the play button for checking the converted file.
If you are not satisfied with the result, close the popup message and then click on the down arrow button in the Download button for retrying the process.
B. Convert FLAC to MP3 – App
Now we move offline to an open-source app that can convert FLAC to MP3 on Mac, Windows, and Linux Distros. Converting FLAC files offline has its own advantage.
One of the major is that you can convert large files without worrying about taking time to upload for the online tool, where there is a potential risk of connection failure. A do-over of the large file is something that no one us likes to do.
1. Grab the Fre:ac from the download section for your platform and install it without any hindrance.
2. Launch Fre:ac and import a FLAC file by drag-n-drop. You can also use the Ctrl+F to do the same, apart from the manual browsing from File > Add > Audio Files.
3. Select the FLAC audio file and then make sure that the LAME MP3 Encoder option is selected in the Selected Encoder drop-down menu.
Remember – The version of the LAME MP3 Encoder will vary as new updates turn up.
4. Kudos on selecting the encoder, now select the output folder where your converted MP3 file will be saved after conversion. You can straight up use the Select button to manually browse the location.
Alternatively, type down the address if you remember or have a location in mind.
5. Look at the top deck of the application, and you will find a play button that turns green when you hover over it.
Click on it to begin the conversion, which takes under 5 seconds for a FLAC file of 50 MB in size.
Your FLAC file is converted to MP3 instantly. Once the conversion is finished, the file name will be cleared off the joblist.
---
Open FLAC on Smartphone – Android & iOS
Smartphones and tablets, in general, do not support FLAC by default. iOS users rely on Apple file explore and on iTunes import to play FLAC files on iOS devices.
When we move towards Android, most of the devices running the Google operating system can play it in some capacity. Sometimes few bugs and issues arrive in playing FLAC files, and that is where you can take the help of these reliable media players to open FLAC files on a smartphone.
1. VLC for Android and iOS
The open-source FLAC media player is available for Android and iOS. You can open FLAC files on iOS and Android using the VLC player. It is available for various platforms and capable of playing FLAC files, along with several dozen others.
Features
Automatically scan for FLAC files along with other formats at launch
Widget control for managing audio and video without opening the app
Gestures and headphone control for ease of listening to music and watching videos
Hardware decoding for Android 4.3 and above versions
2. AIMP Player
The next player to open FALC files on Android and iOS is AIMP. A media player that does not serve ads while having a new-generation user interface and features. The customizations make it easy to make it personalized according to user preference.
Features
32-bit audio processing, which is beneficial for formats like FLAC

Personalize user-interface, wallpapers, change icons, and add plugins for additional abilities

Import your high definition FLAC files from major cloud services

Intuitive sound equalizer for playing with the music effects
You can use either of these media players to open FLAC files on your smartphone.
---
Difference between FLAC and MP3
Still unsure about FLAC files then have a clear cut differential analysis between FLAC and MP3 to understand the formats better.
| | | |
| --- | --- | --- |
| | FLAC | MP3 |
| Released | 2001 | 1993 |
| Maximum Bitrate  | 640 Kbps (with LAME encoder) | 320 Kbps |
| Compression quality | Lossless | Lossy |
| Availability on audio stream services | Less | Common |
Is FLAC Better than MP3?
Both of them offer different usages to varying user groups. People who are accustomed to high-quality MP3 on Spotify or Apple Music wouldn't know the difference between low or mid-range headphones or speakers.
It is when you go beyond a certain sound equipment quality, bitrate and encoding, you begin to notice the differences in FLAC and MP3.
The most significant advantage of MP3 over FLAC is the wide acceptability worldwide. Any VCR, DVD player, or old iPod, your MP3 files will run without a sweat.
FLAC, on the other hand, is a different ballgame. Many devices are started providing support for it, but it is nowhere as common as MP3.
FLAC also takes up to 6 times more space than a standard MP3 file, so the issue of space management is always there on portable devices. With the 100s of GBs and even TB provided on devices, that's not the primary issue anymore.
Streaming sites such as Tidal and Amazon Music have started offering FLAC format based audio streaming whenever available. We laid out the facts and left the ultimate decision to you.
Can we convert MP3 to FLAC?
Theoretically, you can convert MP3 to FLAC, but the quality won't magically improve if that's what you are looking to get out of it. The loss of quality while converting/recording to MP3originally will not be recoverable since it's a lossy format.
Are FLAC better than ALAC?
ALAC is Apple Lossless Audio Codec, which is identical to CD-quality, offering better sound than other formats. However, FLAC has the upper hand here as it provides a superior sampling rate, coupled with 32-bit encoding, which is unparalleled by the most commonly available high quality formats.
Which video format has FLAC audio?
On paper, the Ogg format has native compatibly with the FLAC audio. It can host a FLAC audio track instead of the standard Vorbis, which is a lossy format.
Technically you can combine FLAC audio with lossless video formats such as H.264 and H.265 which can go hand in hand with it. You can use Fre:Ac, which we covered earlier in the post for merging audio and video streams.
---
Over to You
You can open FLAC files on a variety of platforms using codec packs and media players with in-built decoders. Start playing FLAC audio files on your high fidelity audio equipment to get the best out of the files.
Get your collection of FLAC files out and start listening to them on any device you fancy.