Gone are the times when using vibrant, bright-colored themes used to be the apt choice. With increasing screen times, both on computers and mobile devices, users are slowly pivoting to dark and muted themes and screen savers. A big reason behind using dark Windows 10 themes on your system is to reduce the exposure to white light.
Windows 10 dark themes not only save your eyes from the harsh blue light, but dark mode also saves battery power (to a small extent). However, many Windows customization enthusiasts simply love the aesthetics and appeal of the dark themes. It is the primary reason why marketplaces like Deviantart are flooded with designers offering customization solutions for the taskbar, start menu, icons, and backgrounds.
Microsoft Store doesn't offer many dark theme packs for Windows 10 and searching and trying multiple themes is a painstaking process.
So, we will take on that challenge and list the best Windows 10 Dark themes that will elevate your customization experience.
Best Dark Themes for Windows 10
OBLIQ Dark mixes orange-red hue accents with a greyish-dark background. The end result is quite appealing because most dark themes tend to focus on only one shade.
Red accents aren't the only distinguishing factor because the designer also tweaked the icons and the Start menu.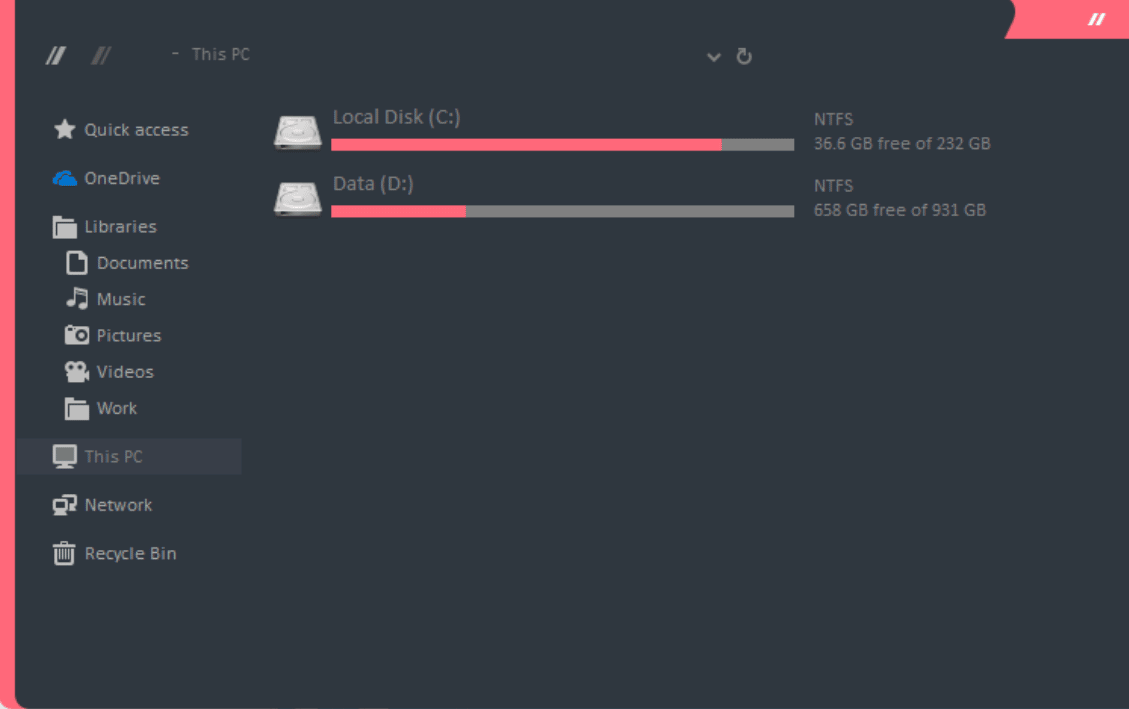 Even the icons used in OBLIQ Dark there are super minimalistic and they belong to the Vertex icon pack. The icons in File Explorers, top bar icons, all have a white-on-black look which makes them pop out.
However, this dark theme isn't a simple installation affair and you need a theme patcher tool to apply it to your system.
Dev is an extremely minimalistic dark theme that doesn't play with colors like the OBLIQ Dark theme.
It is a simple concoction of black, grey, and, blue and looks neat. It almost resembles a bleak, console-interface look like the old macOS.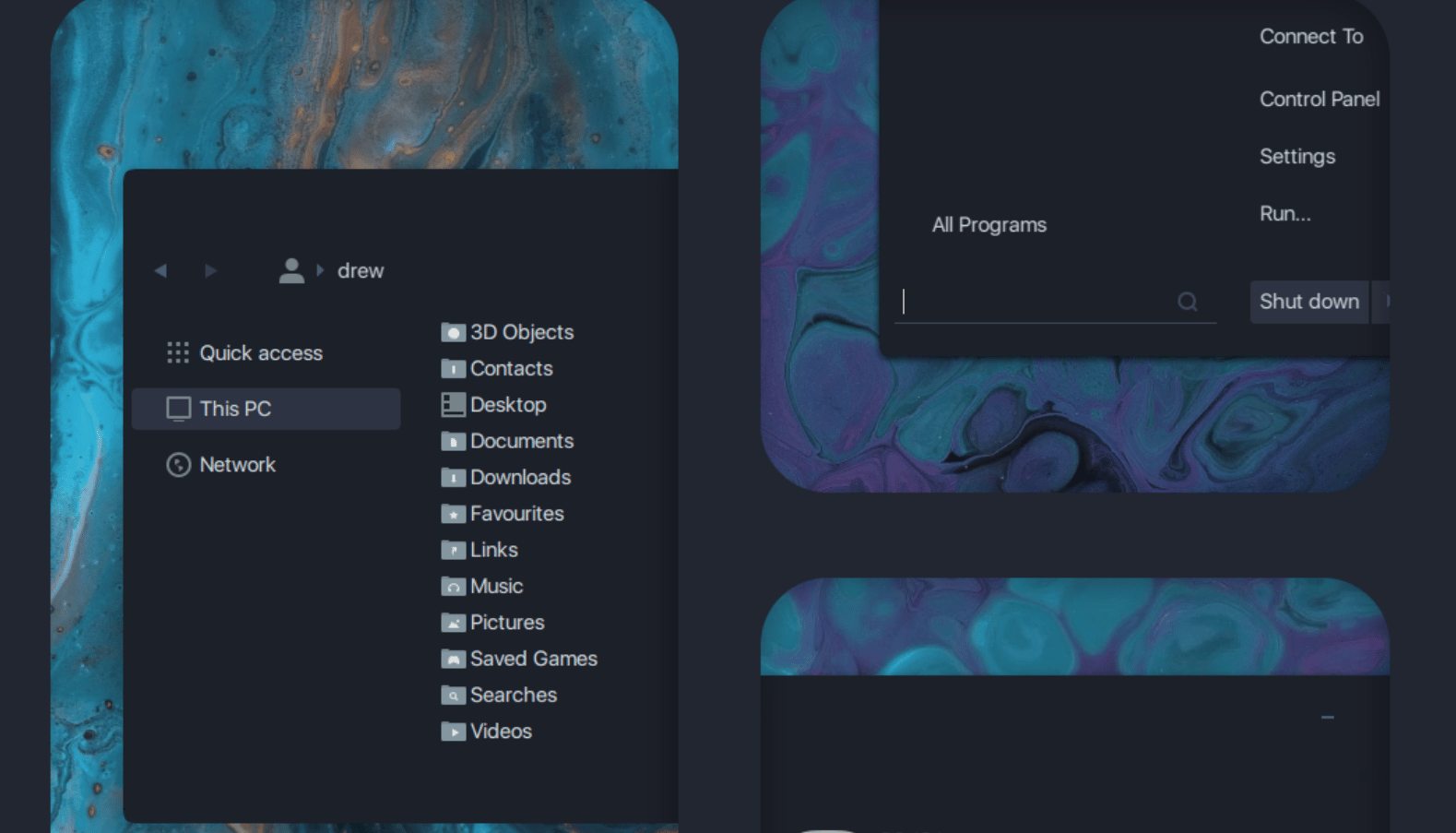 This dark theme doesn't limit the creativity of the File Explorer and Start menu and even changes the appearance of system icons in the control panel.
Even the window closing button is stylized in a visible red color. Dev uses the icons from the Aon icon pack and is available for absolutely free. You will need ultraUXThemePatcher and a few other tools to achieve the final look.
Simplify 10 Dark Colorful plays with colors as much as it can. From subtle color accents to prominent shaded icons, bars, and menus, it tweaks everything. Usually, you get one style option with a dark theme, but this one offers 16 different themes in one collection.
The benevolence isn't limited to the number of themes but also other Windows customization elements such as wallpaper, Windows cursors, curtains styles, and even Firefox browser themes.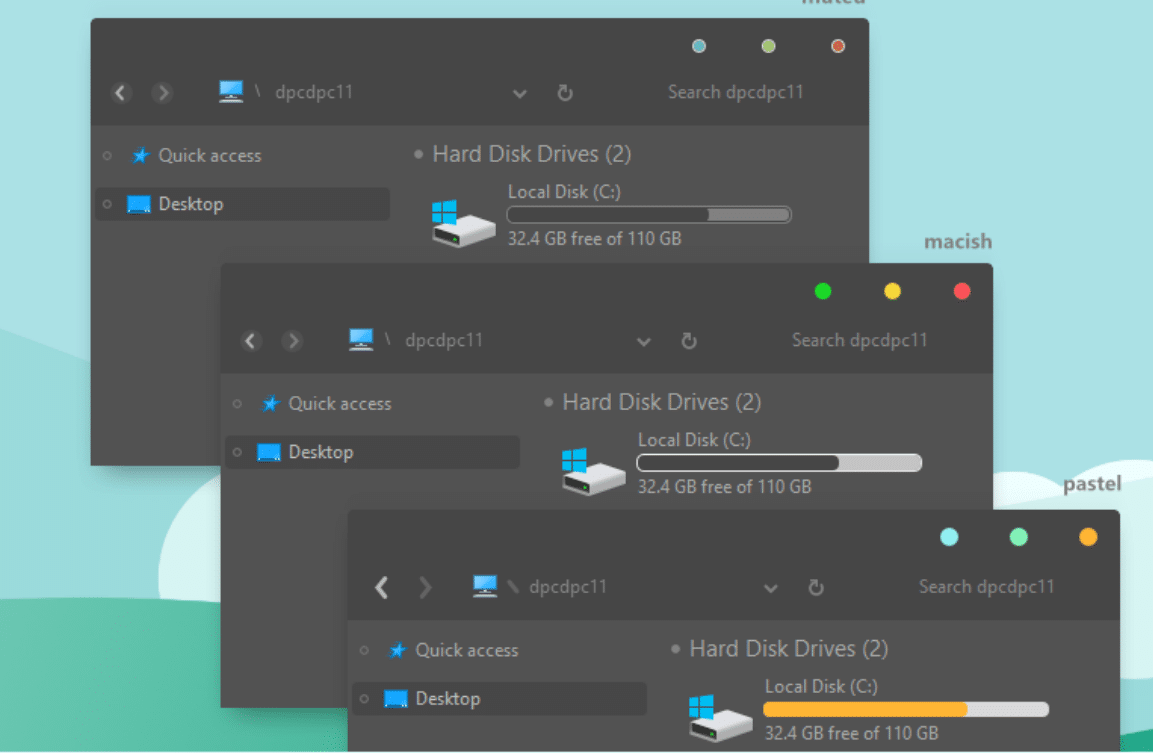 If you want the macOS appearance. you can pick the macish theme in the collection which uses colors and round buttons for close, minimize, and windowed options. Simplify 10 Dark Colorful is a paid theme but the dev will happily send you the link if you cannot pay for it.
DDST Theme For Win10 is among the best free Windows 10 dark themes available on Deviantart. You will be surprised by the level of customization and the extra goodies that you get with this theme pack.
The developer offers 8 different style split across two designs – round and square. As the name implies, the action button icons change to round or square. This theme uses the iPack icon pack which adds color to this theme and will require UltraUXThemePatcher and OldNewExplorer.
This theme supports up to 250% scaling, so you can use it in large-resolution displays without breaking the icon appearance. Like the Simplify Dark theme, DDST also bundles themes for both Chrome and Firefox browsers as well – for absolutely free. Make sure to support the developer so that you get updates for new Windows builds.
Midnight Fluent theme can help you achieve the windows 10 dark mode look easily. The developer completely reimagines the way Windows 10 looks and shifts the taskbar to the vertical left position. Apart from that, this theme uses a stark black color composition with punchy icon colors.
There are a lot of visible changes in this theme, particularly the Start menu which aligns with the top-right position now. It uses custom icons for multiple Windows apps from the icon8 icon pack. Even the system tray icons and the Start button is handpicked to create the best dark mode design.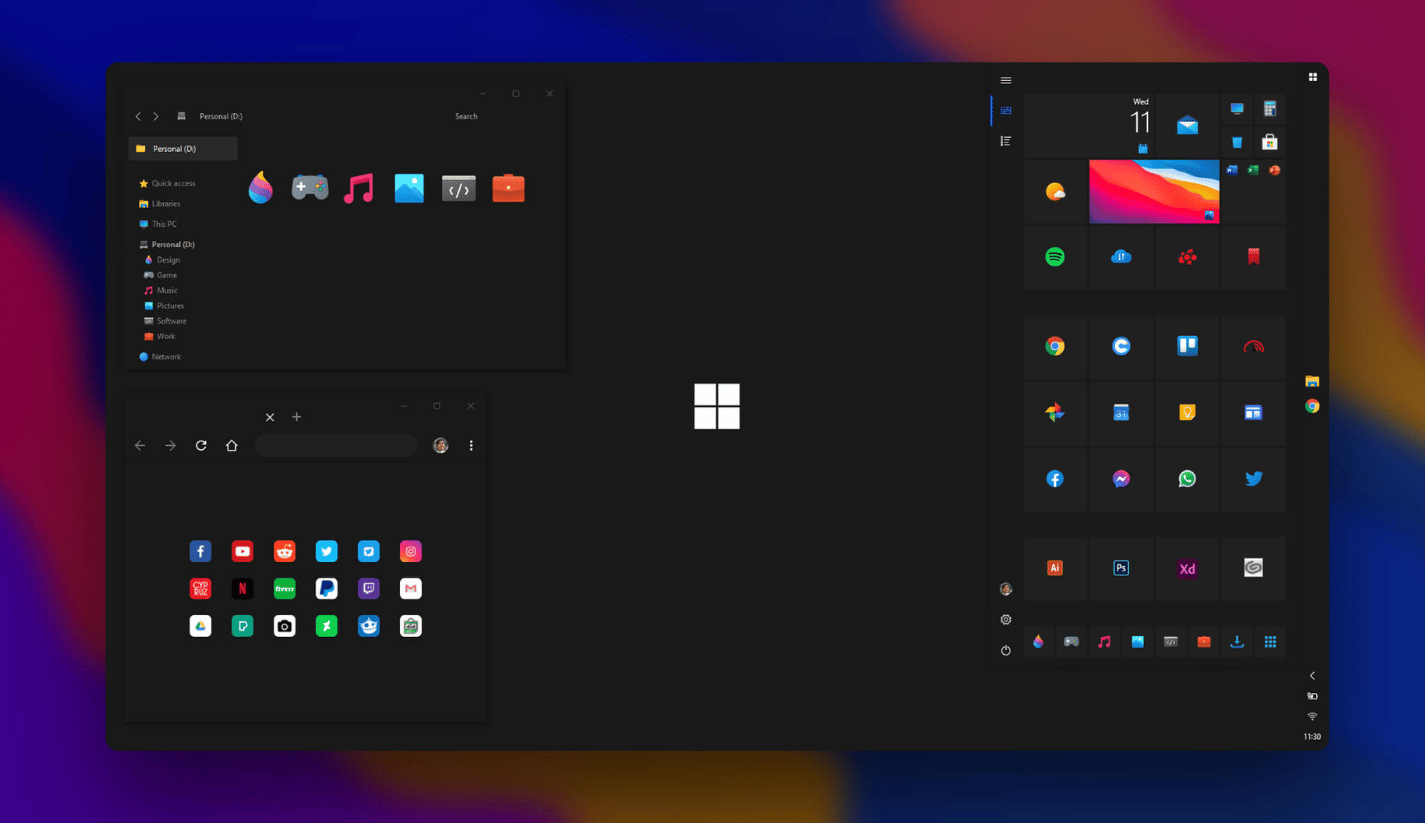 Midnight Fluent is a free theme that borrows the design from the Simplify theme. There are also a bunch of other additions, including a taskbar widget and centering taskbar icons. All of this without paying a dime makes it worthy of a try!
Niivu is one of the finest theme designers on Deviantart and the Nord for Windows is an ethereal dark theme that you can download and install for free. However, it comes with both light and dark options, so you can seamlessly switch between the two depending on your mood.
What's unique about this theme? Well, it's the font style. Nord for Windows uses a font type that matches what you see in a programming terminal. It blends exceptionally well with the icons and the theme color palette.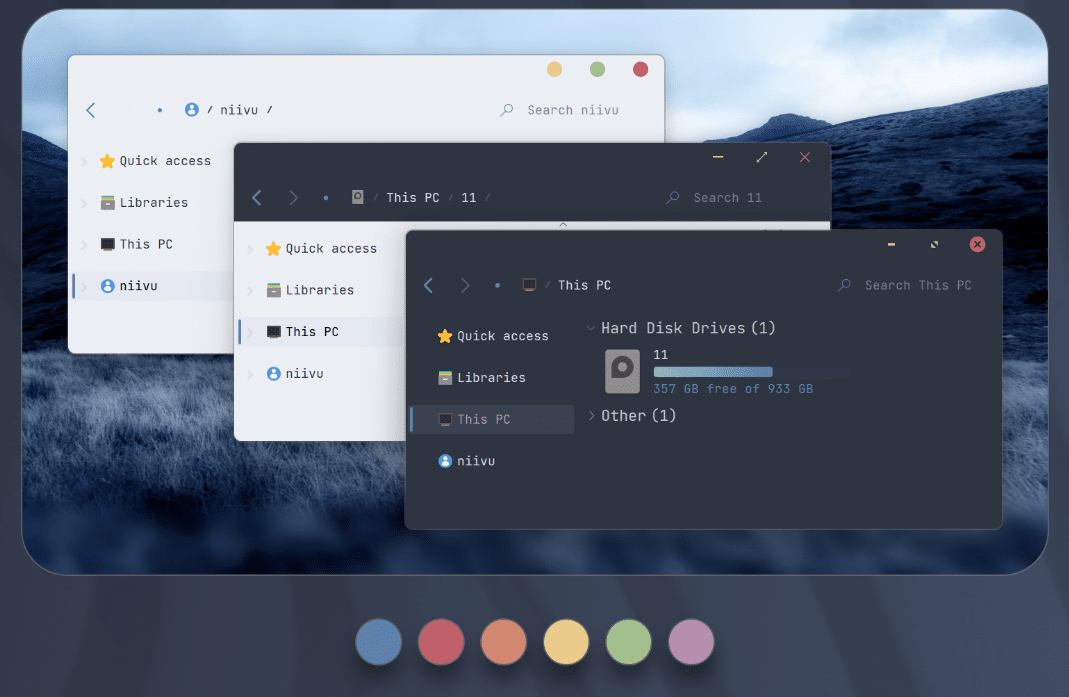 You will need theme patching software to patch the theme on Windows 10. Along with that, you may also need an app like 7tsp to patch the icons and fonts. Make sure to create a restore point to protect you if things go south.
Windows 20 Dark name is a little boastful but the theme looks quite good. You get the Windows 11 dark mode and transparency effects with this semi-dark theme. Unlike other alternatives, this one is a direct download and install and you don't need SecureThemePatcher for it.
If you are looking for a theme that is dark but not explicitly black, then Windows 20 Dark theme will suffice. It also changed the fonts and icons of the system elements, especially in the navigation pane. But you have to try out a bunch of color schemes to end up with a theming effect.
Best Windows 10 dark skin packs are easy to install but Windows tends to flag them as malware. So, disable Windows Defender before installing this theme.
Microsoft delivered an entirely new design with Windows 11. As a Windows 10 user, you must be craving to achieve the same appearance on your system. This free Windows 10 dark theme transforms Windows 10 into Windows 11 dark theme look.
This theme is also a dark skin pack for Windows 10 which is a simple one-click install. It uses a bunch of tweaks, including an app to center taskbar icons. However, you may need Startx to center the Start button.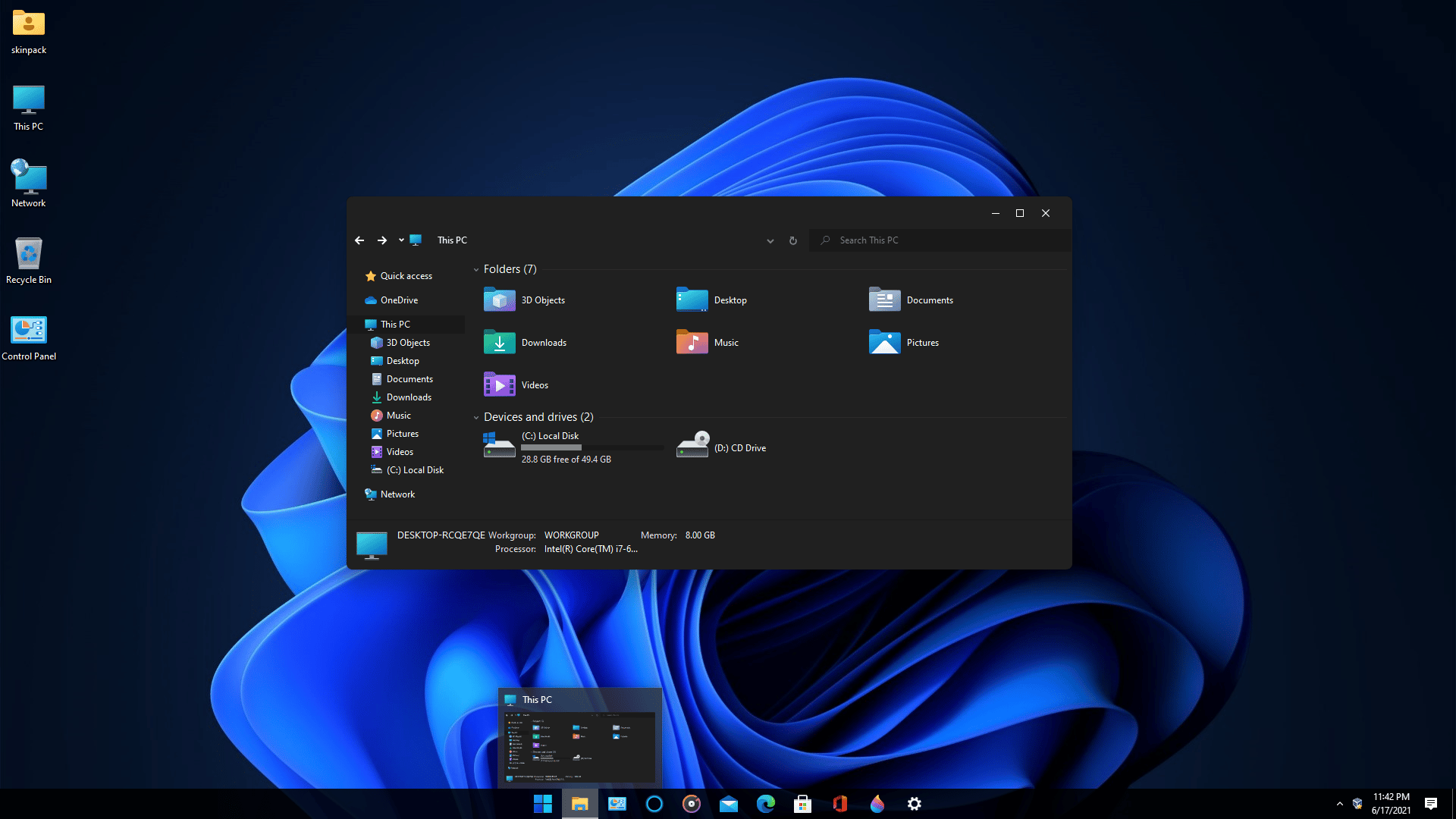 All the font, icons, and even the dark wallpaper are exactly what you get in Windows 11. You won't get the Windows search app with this theme because it requires more effort rather than aesthetics Windows modifications.
W10 Dark Graphite offers a graphite-colored theme with very small other color accents. Primarily, all the background color is grey-black with white icons. However, you get to choose from multiple colored action buttons. They are available in solid colors, namely red, blue, and yellow, all of which go great with this dark theme.
The overall appearance reminds us a bit of Ubuntu because the icons are flat. Even the taskbar is black but you need extra apps to patch the icons and change the ribbons on Windows 10. This theme will also need UltraUXThemePatcher to work on your system.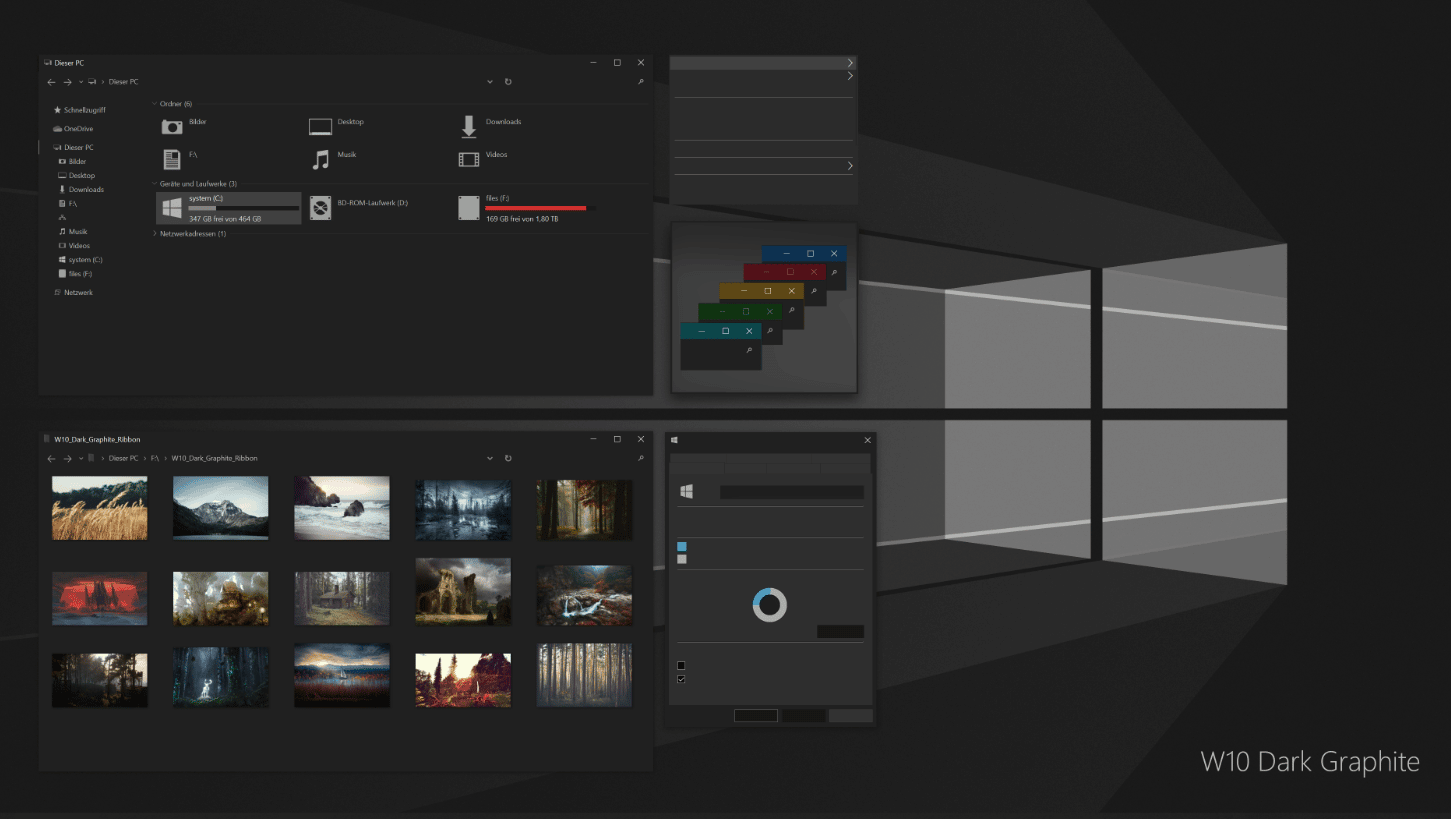 To change the look of the File Explorer, use the OldNewExplorer app, and for ribbons download the RibbonDisabler from the official site. Both these tools are free and can help you customize the Windows 10 desktop.
After Dark CC Theme is a free dark theme you can download from Deviantart. The noteworthy feature of this theme is you don't get any color inclusion at all. The background is dark and the system elements, including text, context menu, and icons, are all white.
It uses the Grey iPack icon pack and supports DPI scaling up to 250%. So, you can use it on a 4K monitor without any problems. You get 8 theme versions, each with slight modifications but no colors at all.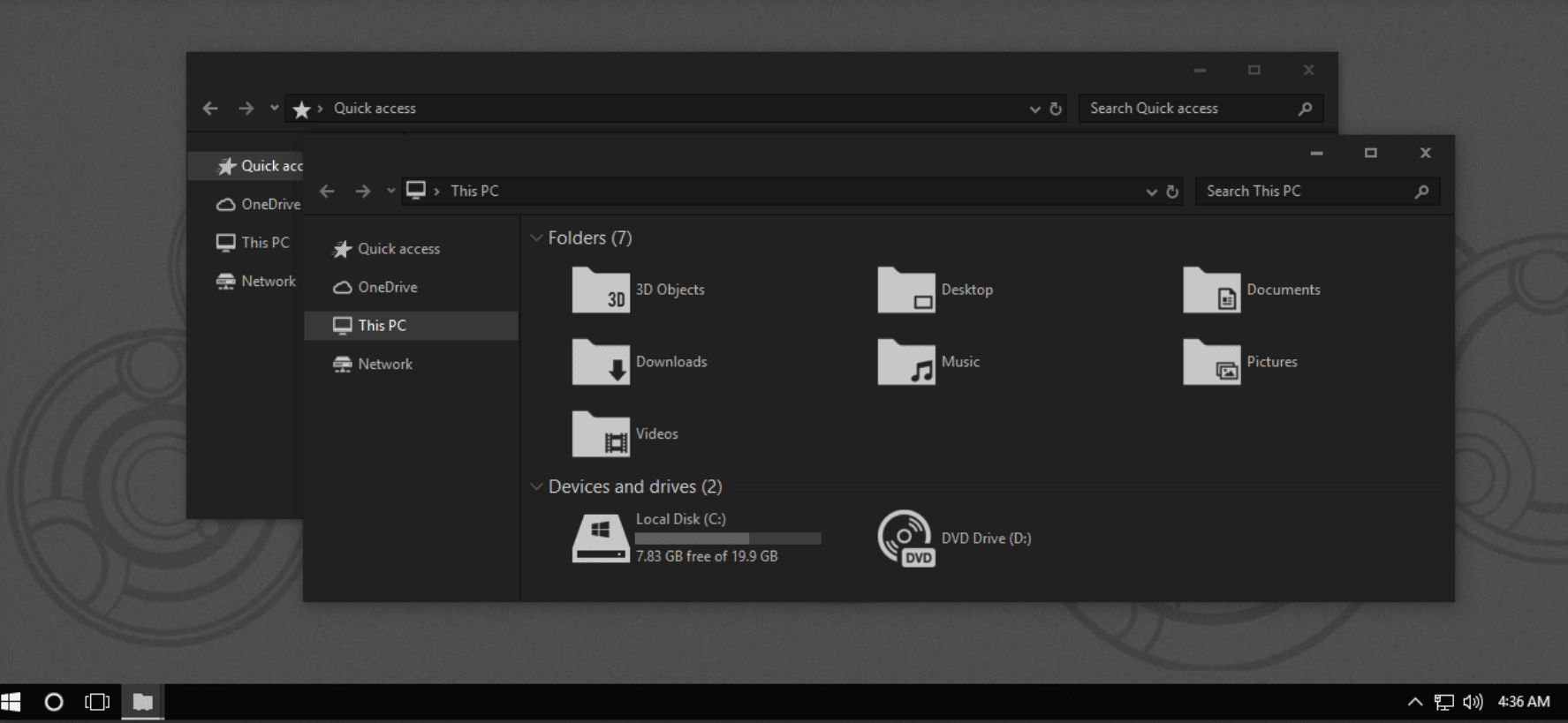 Moreover, the developer bundles support for both Chrome and Firefox along with the dark abstract wallpaper which completes the look. Make sure to use grey color wallpaper with this one.
---
Conclusion
This concludes our post on the best dark themes that you can try on Windows 10 and even Windows 11 if you like. We tried to include undiscovered gems on various theme pack sites to come up with this unique list. Make sure to try the After Dark CC theme if you don't want any other color interference.
If you want to make Windows 10 look like Windows 11, then you can go for the Windows 11 Dark Theme for Windows 10 which is available on the Skin packs website.
---
FAQ
Is there a dark theme for Windows 10?
You can set the color scheme to dark in Windows 10. It is a basic personalization feature that began shipping with Windows 10 and also appears in Windows 11. However, it just turns everything black and that isn't the most appealing thing in our opinion. Windows 11 has a much better default Windows dark theme which looks great with transparency effects enabled.
Are Windows 10 themes safe?
It depends on the source website or developer you are downloading the theme from. Usually, Windows 10 themes from Deviantart are safe but you can scan the files with an antivirus program just to be sure. However, do not install any third-party Windows 10 dark theme without creating a restore point. If anything goes wrong, you can use the System Restore utility to get things back to normal.
Is Night Light in Windows 10 good for the eyes?
Yes. It mellows down the colors and changes them to a warmer tone. The color will look a bit dull but using this mode at night can save you from the adverse effects of blue light on your eyes. Or, you can apply a dark theme and reduce the overall exposure to white light.
How do I make Windows 10 aesthetic?
You will need a bunch of elements to make Windows 10 aesthetic. It will include a custom wallpaper, icon pack, fonts, and a theme. By mixing and matching all these elements, you can convert your Windows 10 system into a thing of beauty. You can also use customization tools like Rainmeter to avoid all this hassle and change Windows appearance in one go.
How to patch a third-party theme on Windows 10?
Download and install theme patching software. 

Disable Windows defender or any third-party antivirus on your system. 
After that, extract the downloaded theme files and paste them into the Windows resources folder. 
Launch the theme patching software and locate the recently added theme. 
Paste the theme and restart your system to apply the changes.