Japnese Animation or anime has gained tremendous popularity around the world.
The Anime community is gearing up for new seasons and manga adaptations of popular anime shows.
Avid anime fans are eagerly waiting for the next season of Jujutsu Kaisen, Demon Slayer, Spy x Family, Dr. Stone, Chainsaw Man, etc.
As such, more and more people are looking for anime streaming apps and websites to watch their favorite anime shows.
Luckily, there are plenty of streaming apps available for Android and iOS where you can watch anime in the English language with subtitles.
These apps provide both free, premium, and trial to watch anime shows and series
Here is a list of the best anime streaming apps for Android and iOS right now.
---
Best Anime Streaming Apps 
1. Crunchyroll
Arguably, one of the most popular distributors of anime worldwide is Crunchyroll.
It hosts some of the most popular titles of all time, including the likes of Attack on Titan, One Piece, Naruto, Fullmetal Alchemist, Classroom of the Elite, Jujutsu Kaisen, etc.
In fact, the platform is so popular that it has hosted its own award show, The Anime Awards, since 2017.
The smartphone apps feature a really intuitive user interface and offer plenty of features like offline viewing, playlists, etc.
You can watch shows in both dub and sub and keep up with the latest news in the anime world right within the app.
However, for new anime viewers, Crunchyroll can be slightly overwhelming as it has over 1000 titles to sort from.
Best Crunchyroll features
Simulcast episodes as they air in Japan
Offline viewing
Customizable watchlist
Pick up right where you left off
Official merchandise store
14days trial for premium content
---
2. Funimation 
Funimation is another feature-packed Anime Streaming App For Android that's worth checking out.
The content library of Funimation consists of well over 10,000 episodes and movies. Additionally, both subs and dubs are available on Funimation.
Popular animes like Dragon Ball Z, One Piece, and Attack On Titans, are all available on Funimation.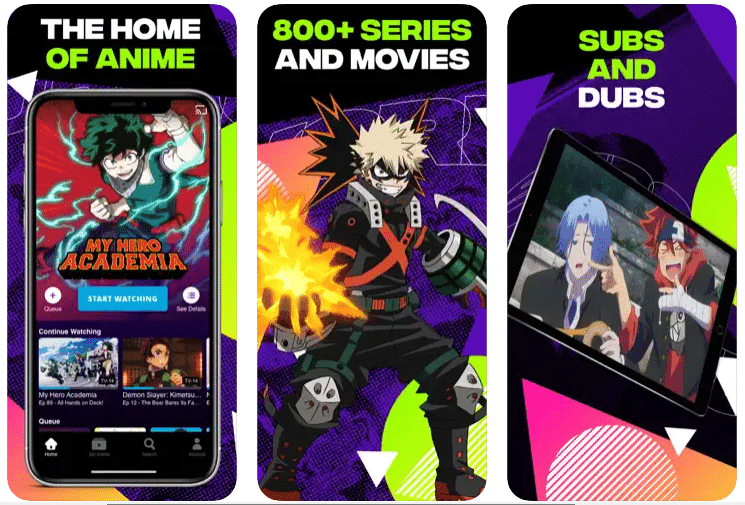 A majority of animes on Funimation are available in Full-HD quality and there's next to zero latency when streaming content.
You can stream Ad-Free Anime with Premium Plus on Funimation for $9.99 a month.
Best Funimation Features 
14days trial for premium content
Animes nicely organized into different sections and genres
A dedicated website for watching content on a bigger screen
Supports Anime Download
Complete ad-free streaming
---
3. Netflix
Netflix is slowly accumulating one of the most significant collections of anime titles.
If you are just starting out on your anime journey, Netflix is the best anime streaming app you can use.
It has some of the latest titles, including the likes of SpyXFamily, My Hero Academia, Blue Lock, Hunter X Hunter, etc.,
And it also recently added new seasons of Naruto Shippuden, Jujutsu Kaisen, Black Clover, etc.
Available on all platforms, Netflix is renowned for its amazing user interface.
The streaming platform is also teaming up with various production houses to bring in-house anime titles like Love Death Robots, Altered Carbon, Ultraman, Castlevania, Baki Hanma, etc.
Best Netflix features
Ever-growing content library
Simulcast episodes as they air in Japan
Download for offline viewing and watchlist
Clear and sophisticated user interface
Plenty of Netflix original anime TV series
---
4. YouTube
Over the last year, YouTube has become a popular anime streaming platform in its own right.
Official channels like Muse Asia and Ani-one Asia offer free access to popular titles like Bleach, One Punch Man, God of High School, Mushoku Tensei Jobless Reincarnation, etc., in an attempt to increase awareness about the anime culture.
Both channels mentioned above are legal and own the rights to the episodes hosted on the channel. If you reside in an Asian country, you can join their channel membership which provides access to exclusive content.
Best YouTube features
FullHD (1080p) streaming
New anime titles are added regularly
Channel memberships for exclusive content
Simulcast for select titles like Chainsaw Man
Easy to navigate UI
Some of the best Youtube channels to Watch Anime:
---
5. Hulu
This streaming platform is one of the most popular alternatives to Netflix and attracts anime fans with its excellent collection of popular anime titles.
Hulu offers almost all of the popular shows like Attack on Titan, Naruto, Demon Slayer, etc.
If you want to watch something other than anime, you can explore their vast library of movies and web series.
Hulu is currently owned by Walt Disney and offers some of its popular adult animated shows, including Rick and Morty, The Simpsons, Family Guy, etc.
For newcomers, a 30-day free trial lets you test the platform before buying a subscription plan.
Best Hulu features
Offers popular anime titles for beginners
Curated anime suggestions based on the "My Stuff" tab
Impressive modern UI experience
Offline viewing for premium users
Excellent collection of movies and shows, along with anime
---
6. Retrocrush
If you like classic anime series, Retrocrush is the anime streaming app for you.
It offers some of the most popular anime titles from your childhood and vintage gems, like AstroBoy, Blue Seed, Devil Lady, Urusei Yatsura, etc.
You should definitely not miss these titles if you want to start your anime journey with old-school classics.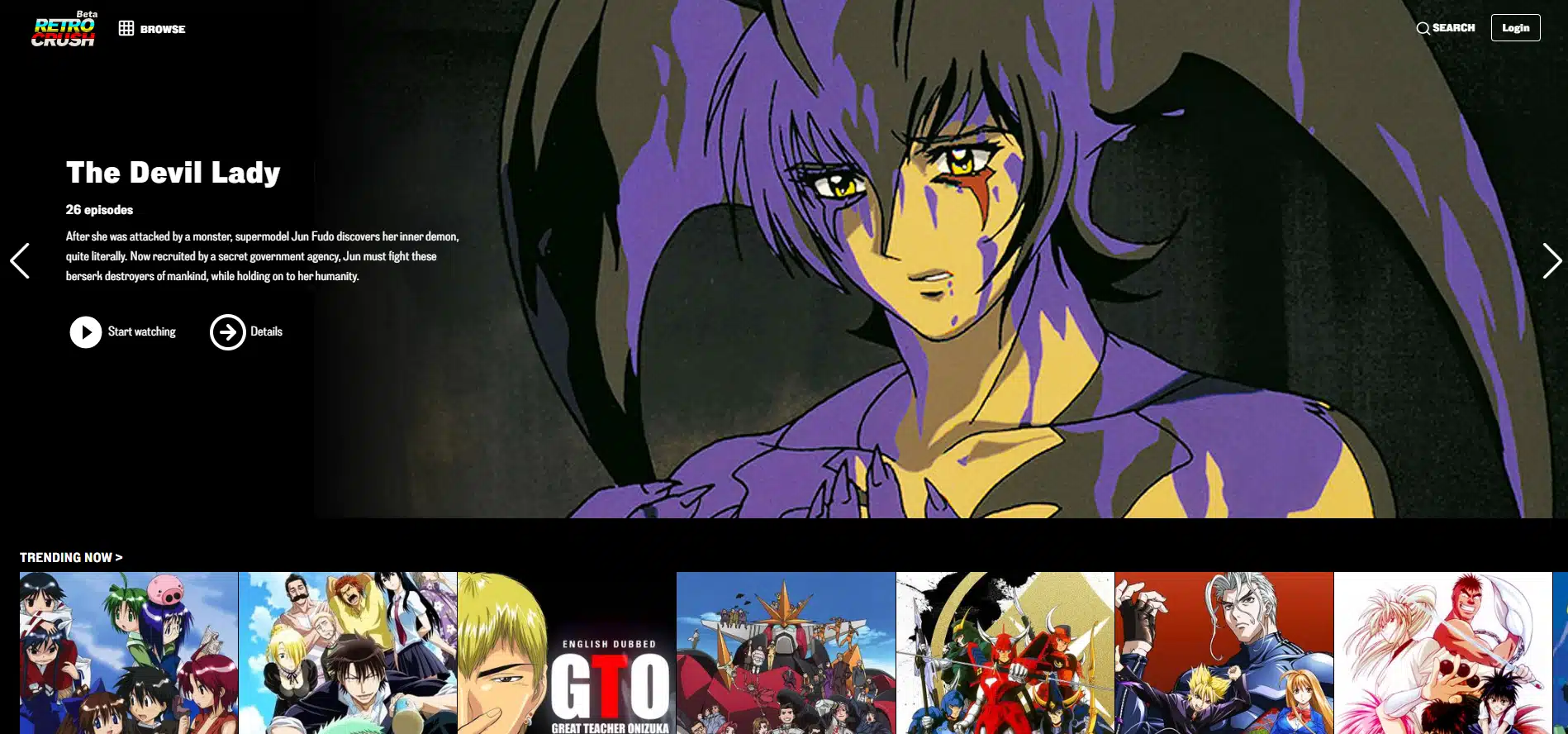 All titles on the Retrocrush app are free with ads, but you will need to register on the platform to view them.
The premium tier removes all the in-show ads, allowing users to binge their favorite titles and exclusive premium series. There is also a live stream of old shows playing around the clock.
Best Retrocrush features
The largest collection of old-school anime titles
Clean and intuitive user interface
A curated list of anime separated by genre
Less interruptive ads, unlike other platforms
The premium plan is cheap, with a 14-day free trial.
---
7. Amazon Prime Video
While it currently has a limited anime library, Amazon Prime is one of the fastest-growing anime streaming apps on this list.
If you already have a Prime subscription, you can enjoy some of the popular titles on this platform, including GTO, Blade of the Immortal, Hunter X Hunter, Dororo, Psycho-Pass, Vinland Saga, etc.
Amazon Prime might not be ideal for new subscribers as the library is severely limited. However, since Prime offers all features as a bundle, you can enjoy high-quality anime streaming if you are an existing subscriber.
The in-app user experience is one of the best on the list.
Best Amazon Prime Video features
High-quality anime streaming
Unique X-Ray feature for tidbits about favorite shows
New and updated UI with separate anime category
Offline downloading
Excellent collection of TV shows besides anime
---
8. AnimeLab
Available only in Australia and New Zealand, AnimeLab is a popular anime streaming service that offers a wide selection of anime series for free.
You can browse new releases, popular titles, and genres or search for your favorite anime. AnimeLab has an extensive library for fans of different genres, including action, adventure, romance, comedy, and slice of life.
One of the unique features of AnimeLab is its "Watch Party" function, which allows users to watch shows together in real-time, irrespective of their location. In the Free tier, the streaming quality is capped at 480p with ads. The premium version unlocks high-quality streaming and grants access to the manga library.
Best AnimeLab features
Clean and intuitive UI
Extensive collection of anime titles
Watch party feature to make anime watching a social experience
Offline viewing and downloading
Simulcast latest episodes
---
9. VRV
VRV is a US-only OTT streaming platform owned by Crunchyroll and run by Sony that offers a wide collection of anime shows to its subscribers.
It is a unique anime streaming app that brings together various popular titles from different providers, like Crunchyroll, Boomerang, Cartoon Hangover, Funimation, etc., into a single platform.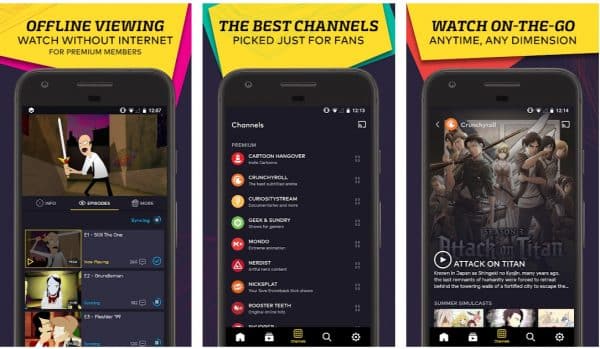 Like Netflix and Crunchyroll, VRV also produces original shows like Paradigms: How We Know What We Know, Gary and His Demons, and Epithet Erased.
VRV offers both free and premium subscriptions, with the latter providing users access to exclusive content as well as features like offline viewing and ad-free streaming.
Best VRV features
Great UI with platform-specific shows
Simulcast for new episodes (from Crunchyroll)
Curated anime suggestions
Create custom watchlists
Popular animated series like Looney Tunes and Scooby-Doo are also available
---
10. HIDIVE
HIDIVE is a fairly new independent anime streaming company that is growing at a rapid pace.
It has acquired the rights to over 500 series, movies, and OVAs, which include popular titles like Made in Abyss, Parasyte, Bloom Into You, and The Promised Neverland.
HIDIVE offers some very unique features, including uncensored and uncut shows, private chat rooms, etc.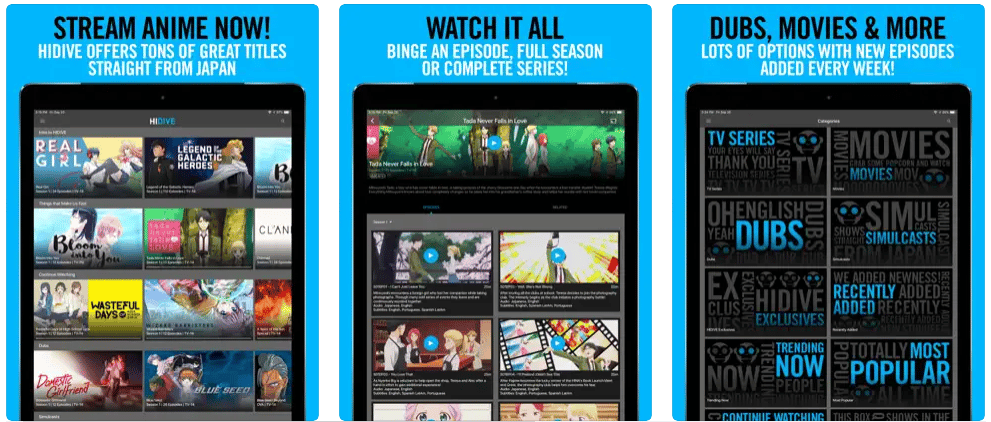 Unfortunately, HIDIVE has a limited anime library that lacks many popular titles.
It offers more unique shows that are not easily available anywhere else. The app has mixed reviews, with many users complaining about the scrubbing and saving feature.
However, the menu is well designed, with separate tabs for dub and sub-shows.
Best HIDIVE features
A unique collection of anime titles not available anywhere else
Uncensored version of select anime titles
Clean UI with separate sections for dubbed and subbed shows
Private chat rooms make anime watching a more social experience
Simulcast episodes at the same time they air in Japan
---
11. Anime-Planet
Like VRV above, Anime-Planet is a legal anime streaming app that lets you watch select titles for free through a partnership with Crunchyroll and HIDIVE.
You can watch some of the popular titles, like Jojo's Bizarre Adventure, Naruto, Tower of God, etc., for free.
The user interface is very similar to Crunchyroll and, therefore, easy to navigate. Anime fans can also read manga, leave reviews, share anime lists, etc., in the community section. Anime-Planet does not have its own subscription; you need to link your Crunchyroll account to view your shows.
Best Anime-Planet features
Extensive library with over 45000 episodes
Anime recommendations based on popularity
Read and review manga chapters
Community section to review anime and manga
Clean and intuitive user interface
---
12. Tubi
Owned by Fox Corporation, Tubi is an emerging free video streaming application that hosts content from partners like MGM, Lionsgate, and Paramount.
You can choose from a vast library of TV shows, movies, and popular anime titles like Pokemon, Bleach, Jin-Roh, Yu-Gi-Oh, Fairy Tail, Jojo, etc.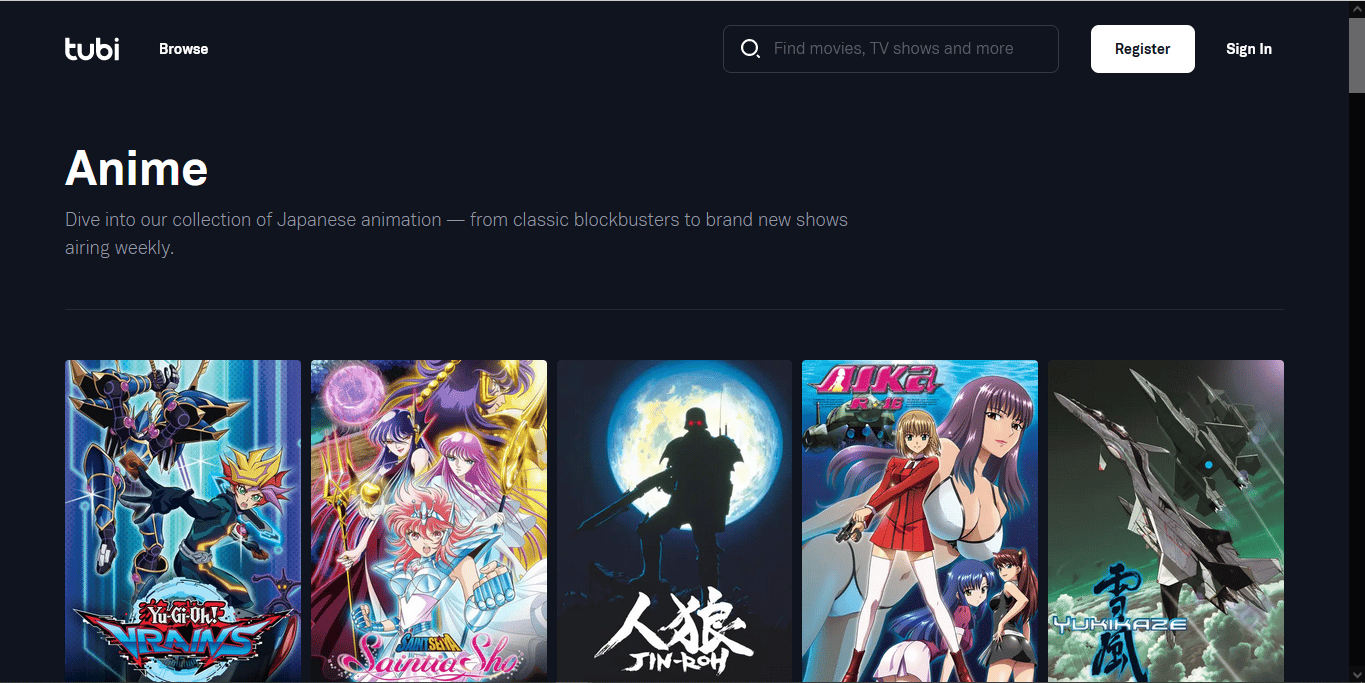 Instead of a subscription, Tubi keeps the content on its platform free with the help of ads. Tubi takes breaks at around 15-minute intervals, which makes it similar to regular TV, where you can choose what to play.
Best Tubi features
A unique collection of anime titles, from blockbusters to new additions
Completely free without dubious links or redirects
Programming from a number of partner studios
High-quality streaming
Clean and intuitive user interface
---
FAQs on the best anime streaming apps
What is the best app to stream anime?
Crunchyroll is arguably one of the most popular anime streaming apps available right now. It offers a wide range of titles you can watch dubbed in English or subtitles with the original audio. You can also watch the WebToon adaptations like Tower of God, God of High School, Noblesse, etc.
Is Crunchyroll available in India?
Crunchyroll is officially available in India to download from the Android and iOS app stores. Indian audiences will see the latest episodes simulcast as they air in Japan. The premium subscription starts at just Rs 79 monthly for the Fan tier.
Are Anime Fox and 9anime legal?
No, these sites are not legal as they host copyrighted anime content on their website without permission from the creators or publishing studios.
What app do Japanese use to watch anime?
D Anime Store is one of the most popular sites used by the Japanese to watch anime in their country. It has over 3000 anime titles.
Also Read: Best Anime Torrent Sites
Conclusion
These were the top anime streaming apps for Android and iOS available in the app store/play store.
If you are just starting out, some of these streaming services offer a free trial, so you can use that to decide if a paid subscription suits your requirements.