Sony's PSP was among the most sought-after handheld gaming devices in the mid-2000s. It sold over 82 million units worldwide from 2004 to 2014 and featured various special games unavailable elsewhere.
While the portable Play Station is not produced anymore, the demand for PSP-specific games remains high. Gamers and nostalgic fans of the PSP can play their favorite titles on their Android smartphones and tablets using an emulator.
If you are looking for the best PSP emulators for Android, you are at the right place.
Here is a list of the most popular PSP emulators that can run your favorite games on your smartphone.
Best PSP emulators for Android
1. PPSSPP
How can we talk about PSP emulators without talking about PPSSPP?
Arguably the most popular PSP emulator on the market is PPSSPP, an open-source PSP emulator available for multiple platforms, including Android, Windows, etc. Most other PSP emulators are based on the source code of PPSSPP, so you can expect almost all games to run on it.
To play games on PPSSPP on Android, you need to obtain the ISO or CSO files for the games and place them inside the folder using a file manager. 
The emulator can access both external (USB, micro SD card, etc.) and internal storage, meaning you can keep your files anywhere, and the emulator will handle them with ease.
Initially, you can download the free version of the software from the Google Play Store. There is also a premium version called PPSSPP Gold, where you can support the development and unlock some additional premium features.
2. Rocket PSP Emulator
While relatively new, Rocket PSP Emulator for Android from Emul World Ltd uses the same PPSSPP source code to emulate the PSP environment on your Android smartphone.
It offers almost all the popular features users look for in a PSP emulator, which include save and load states, editable software controllers, etc. Since it uses the PPSSPP source code, it also promises decent compatibility with almost all the popular games right now.
Sometimes, you may encounter errors if you run the Non-buffered rendering mode. However, we did not face any major issues while running this software. It also has great support for high-end and low-end hardware, meaning you can run it on all types of devices with ease.
If PPSSPP does not work on your device, Rocket PSP Emulator is a good backup emulator that you can use to run PSP games on Android smartphones.
3. RetroArch
RetroArch is one of the most unique, all-in-one emulators on this list, which can emulate a ton of gaming platforms on a single device. It uses the Libretro system of plug-ins to mimic the gaming environment – essentially, you can emulate any platform on your Android smartphone as long as you have the right plug-ins.
Making use of the Libretro interface enables several interesting features, including OpenGL, cross-platform camera support, location support, etc.
One complaint most users seem to have about RetroArch is that it has a fairly complex user interface that has a steep learning curve. It is filled with advanced features, which is great for power users, but casual users may need time to get used to it.
The sheer number of cores this emulator supports makes it one of the best PSP emulators for Android available right now. Once you get used to the user interface, you will have your favorite retro games up and running within no time.
RetroArch is completely free and open source, making it an all-around emulating software that can take care of all your retro gaming needs.
4. Lemuroid
Lemuroid is another free and open-source PSP emulator that competes directly with RetroArch. It also supports various consoles, with PSP being one of the most popular ones on the list.
This emulator also works similarly to RetroArch. When you download Lemuroid from Play Store, you will see that the emulator comes vanilla and provides users with the option to select and download a core, which will make the emulator work like that console.
Lemuroid PSP emulator for Android also has a steep learning curve, and users will need to spend some time getting familiar with the interface to learn about it. However, if you intend on running multiple emulators, this is the one to get.
This emulator also currently does not have cheat support, and you cannot install custom thumbnail icons for games.
5. Enjoy PSP Emulator to play PSP
Another PSP emulator from Emul World Ltd (the one behind Rocket PSP Emulator above), Enjoy PSP Emulator, is also based on the PPSSPP open source code.
This emulator is targeted for PSP, meaning you cannot install plugins to emulate other consoles like SNES or PS2. However, it is a very capable PSP emulator that can handle almost all the games you want to play on your Android smartphone.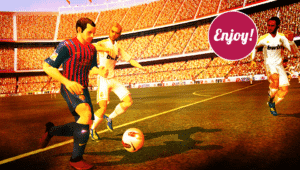 Like Rocket, Enjoy also focuses on optimization and offers high-resolution graphics and high-quality audio for PSP games. It can easily emulate PSP homebrew in HD graphics, ensuring a stunning gameplay experience.
Enjoy PSP Emulator has in-app ads, which can quickly get annoying if you play with your internet connection turned on. For uninterrupted gameplay, download the ISO, CSO, COS, or PPS files and turn the internet off. 
6. Emulator PSP for Mobile Pro Version
With 1M+ downloads on the Play Store, Emulator PSP for Mobile is one of the most popular PSP emulators on this list.
On high-end quad-core devices, you can improve the 3D graphics of most games by almost two times their original resolution. This emulator promises high-quality game graphics and sounds like on an original PSP, and in our tests, we found it to be true most of the time.
You get most of the popular features, like save and load states, a customizable gamepad, easy network gaming, and backward compatibility. Moreover, it supports most external controllers, further improving the gameplay experience.
It is also based on the open-source PPSSPP source code, meaning you get access to most games like Dragon Ball Z, Soul Caliper, Tekken, Little Big Planet, Kingdom Hearts, etc.
7. DamonPS2 Pro
A full-function easy-to-use emulator, the DamonPS2 Pro PSP emulator for Android claims to be the fastest PSP emulator on the global Play Store.
It supports NEON acceleration and widescreen games, which is a welcome change for PSP emulation. You can play most of your favorite titles at high resolution on this PSP emulator for Android smartphones.
Arguably the best thing about DamonPS2 Pro is that the app is constantly updated with new features. In the upcoming versions, expect some of the most community-popular features, like an interactive game pad, frame skips, and cheats, to make their way to the emulator.
Like PPSSPP, this emulator can also access both internal and external storage media, allowing you to use any PSP memory card to save your game.
One common issue that many users seem to face is that DamonPS2 Pro needs an internet connection to run. The update cycle also seems to have slowed down recently, which has upset several users.
8. Rapid Emulator
Keeping true to the name, Rapid Emulator focuses heavily on providing an optimized experience to its users. It can emulate any PSP game or homebrew with ease and provides beautiful graphics rendering for a fun experience.
Rapid Emulator also supports a wide range of external controllers, allowing users to enjoy their gameplay to the fullest. You can assign key binds that work for you and play the game the way you like it.
The skip frame feature is a hit or miss in this one, with users sometimes facing issues with graphics rendering at a slower pace. Turn it off, and you can enjoy a mind-blowing in-game graphical performance with high-quality sound.
Rapid PSP Emulator also does not come with any game ROMs, so you will need to obtain them from elsewhere. Apart from ISOs, it also supports CSO and RAR formats, so you will rarely run into compatibility issues.
Parting thoughts
PSP enjoyed a memorable 10-year run and supported a ton of popular games. Sony even ported some of the popular titles to the platform for players to enjoy. With the best PSP emulators for Android mentioned above, you can relive those days and enjoy the popular titles on your smartphones.
Note that since PSP and Android differ in the underlying hardware, all games might not run smoothly using only one emulator. If you come across difficulties running a game using one of the emulators on this list, try another one to enjoy the best PSP emulator games on Android.
FAQs On the best PSP emulators for Android
Is there a working PSP emulator for Android?
Yes, there are several working PSP emulators for Android, like PPSSPP, RetroArch, and Rocket PSP launcher, as listed above. That said, certain games might sometimes have compatibility issues due to platform mismatch, which can be solved by trying a different emulator.
Which is best, PPSSPP or PPSSPP gold?
PPSSPP Gold is available for Android and Windows and has the same features as the free PPSSPP. The Gold version is a way to support the development and allows developers to improve the emulation capabilities.
Can PPSSPP run GTA V?
Unfortunately, you cannot play GTA V on your smartphone using PPSSPP as the game is not supported on the PSP platform. GTA V is only available for Windows, PS3 and above, and Xbox.
What is a PSP emulator?
A PSP emulator essentially mimics the PSP environment on another device, like an Android smartphone. Using a PSP emulator for Android, you can play PSP games and run apps designed for the platform on your Android smartphone.
How do I install a PSP emulator?
You can directly download PSP emulators for Android from the Google Play store. Some emulators require tinkering with the graphics and audio settings to run games smoothly. Once you install a PSP emulator, you can then acquire games from various sources and run them on your Android smartphone.
Can I play all PSP games on an emulator?
Due to hardware compatibility issues, not all PSP games might run with every emulator. However, most PSP games should run on a good PSP emulator for Android at optimum speeds depending on your device configuration.
Is PSP emulation legal?
PSP emulation is a grey area. The actual emulation software (like PPSSPP, Rocket Emulator, etc.) and the code are completely legal. However, emulating commercial ROMs – what these emulators are used for – is illegal as it violates several copyright laws. That said, there is no other way to get access to these games unless game developers resell their games to new platforms.