OpenAI's ChatGPT has sent shockwaves across the digital world. Its amazing benefits have made it one of the best AI tools to have with you.
And their consistent updates are only making it better for the users. Their recent update to ChatGPT 4 brought ChatGPT plugins to the mix.
Now you use the best ChatGPT plugins to add more functionalities and features to the AI chatbot.
These ChatGPT plugins offer endless possibilities and use cases. Now it is not limited to the knowledge cutoff that happened in late 2021.
ChatGPT has over 800 plugins now and more are being added by various developers.
But you don't have to go through each one of them. We have picked out some of the best ChatGPT plugins that are useful to different people.
Best ChatGPT Plugins to Use
1. AccessLink
How often do you come across a web page with lots of information? It is not possible to read it all.
Especially when you are short on time but have to cover them all. And as a student, you cannot go through everything.
You can get a summary of the text on a page simply by pasting the link. It will generate a summary of the entire page within a few seconds, just like the ChatGPT.
This ChatGPT plugin is designed to handle content that is available through a URL. This covers web pages, PDF documents, PowerPoint presentations, Word documents, images, and more. However, it does not support direct file uploads.
2. ChatWithVideo
In this world of shorts and reels, you don't really have the time to watch the entire length of the video. This ChatGPT plugin provides you a summary of the same in the text form.
It divides the video into different smaller segments and that makes it easy to understand the video.
And that is not all, you can even ask questions to ChatGPT about the video. It will provide you with details from the video
For testing this plugin, I used this video from Joe Rogan about John F. Kennedy. And the results did not disappoint at all.
3. Speak
Most of us don't know more than two or two languages. But that is not a problem anywhere as you use Speak plugin to translate into any language.
Speak essentially functions as a language tutor. It offers more than just translations; you can use it to understand verbs, conjugations, complex grammar nuances, and much more.
To start, simply input your language-related question, and the ChatGPT plugin will provide a prompt response.
You can also pair it with an external service and convert text to speech.
4. Image Editor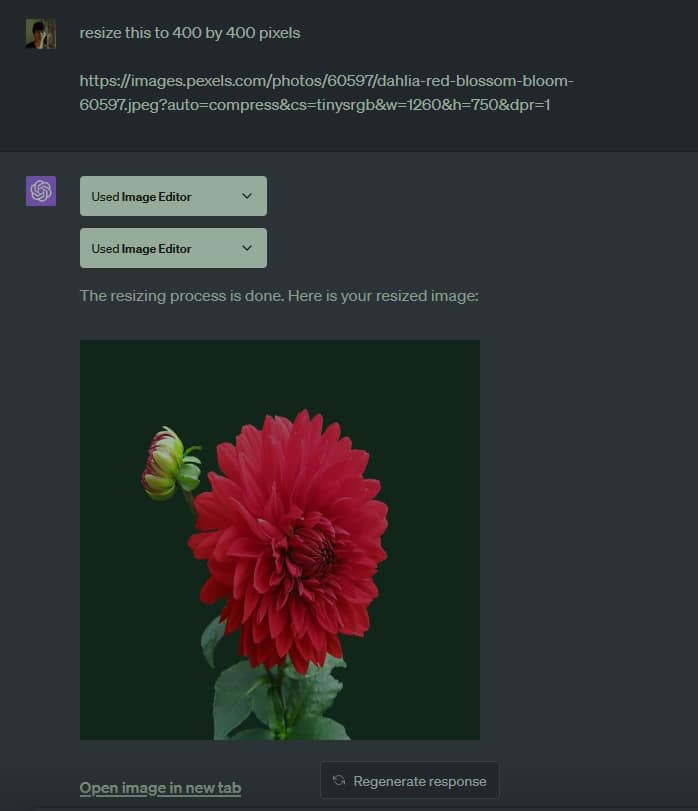 Let us be honest, not everyone knows Photoshop, and photo editing in general is not everyone's cup of tea.
You can now leave image editing to AI with this amazing ChatGPT plugin.
If you are looking to do some simple edits to your photos, the Image Editor in ChatGPT has got your back.
It is like your handy tool for making pictures smaller, cutting them, adding a bit of blur, or giving them a spin.
Mention what you want to do with a picture and get a direct link like you can see in the example above.
You will get a link with the edited image which can be downloaded to your device.
5. Stories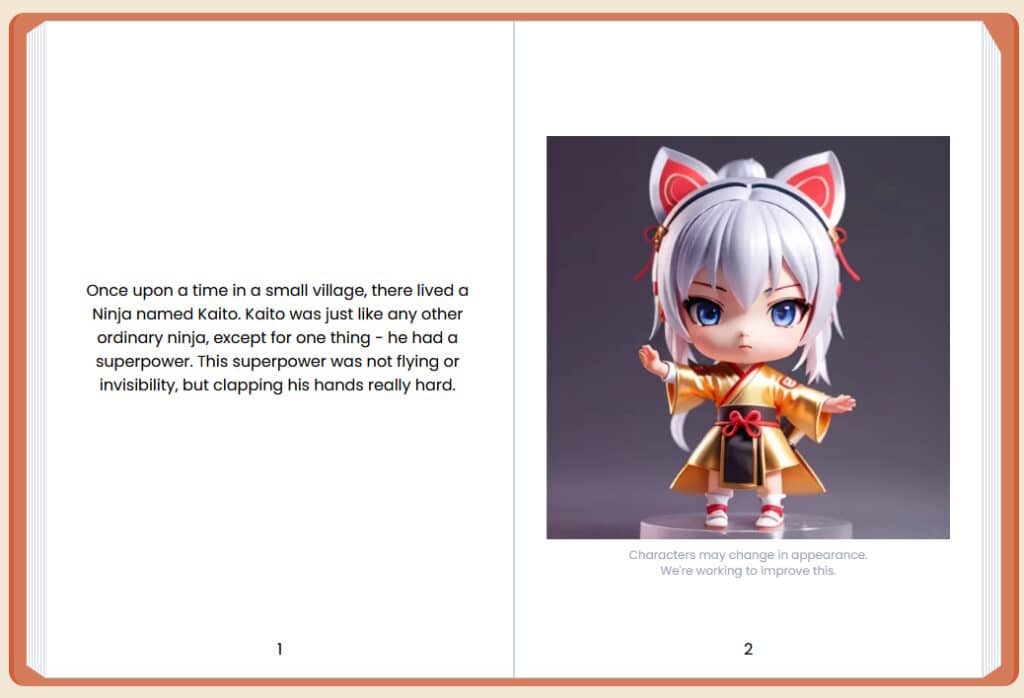 Everybody is creating content nowadays. And to connect with the audience, you definitely need to create stories that relate to the audience.
But not everyone can afford an illustrator or has the skills to draw something out. This is where Stories plugin comes into play.
This useful ChatGPT plug needs an idea or basic prompt to start making its story. Once you give it that, Stories starts to make a fun story.
The best part is how it shows its story and pictures in a book that looks vintage. The pictures are also made by the tool and are put nicely next to the words.
You can turn the pages by just clicking on their sides. You can even ask for a hard copy of your story if you want.
6. There is An AI for That
The AI segment is exploding right now and you cannot just keep up with it. It is not possible to know every one of them.
It has got everything from picture editing tools to PDF converters and a whole lot more.
Need something specific? Just ask the AI what you're looking for, and it will give you a list of tools that can help.
I did this when I needed a PDF converter, and it gave me a neat little list in no time. Give it a try, you will see what I mean.
7. Playlist AI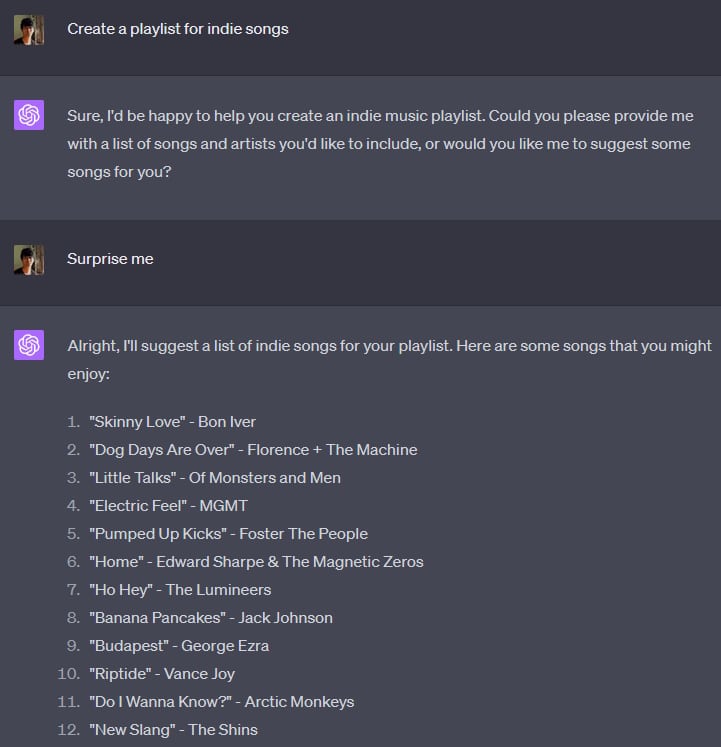 Spotify is a great way to discover good music. Sometimes friends and family help with them but you hit the wall after a time.
You cannot always find a good playlist that has bangers for your liked songs list. Playlist AI will help you find good music.
Just mention a few artists, genres, or your mood. It will recommend over 12 songs in an exclusive playlist, created on Spotify, just for you.
Just add the Spotify playlist directly as your playlist or pick songs from it.
8. ChatWithPDF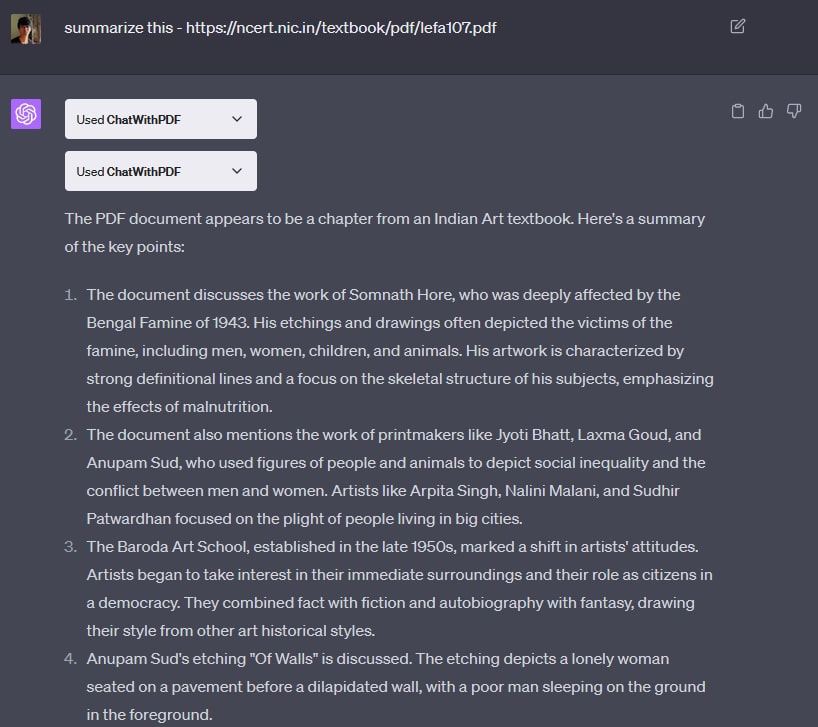 Everything is in PDF these days. Whether it is something important for office work or something that is needed for your college assignments.
Going through all the documents is not possible when you running on a clock. You need something that can help get you the important points
This one of the best ChatGPT plugins called ChatWithPDF is just perfect for the job. It is like your personal assistant for PDFs.
Let us say you have a draft report in PDF format. ChatWithPDF can analyze the content and suggest improvements.
It is like having a proofreader on call. It can also extract key information from the document, which is helping if you are dealing with a complex or detailed report.
But the plugin's usefulness doesn't stop there. If you are dealing with a long, dense document, you know how time-consuming it can be to find a specific piece of information.
You can just ask it to find what you are looking for. It is like having a search engine specifically for your document.
9. ChatwithGit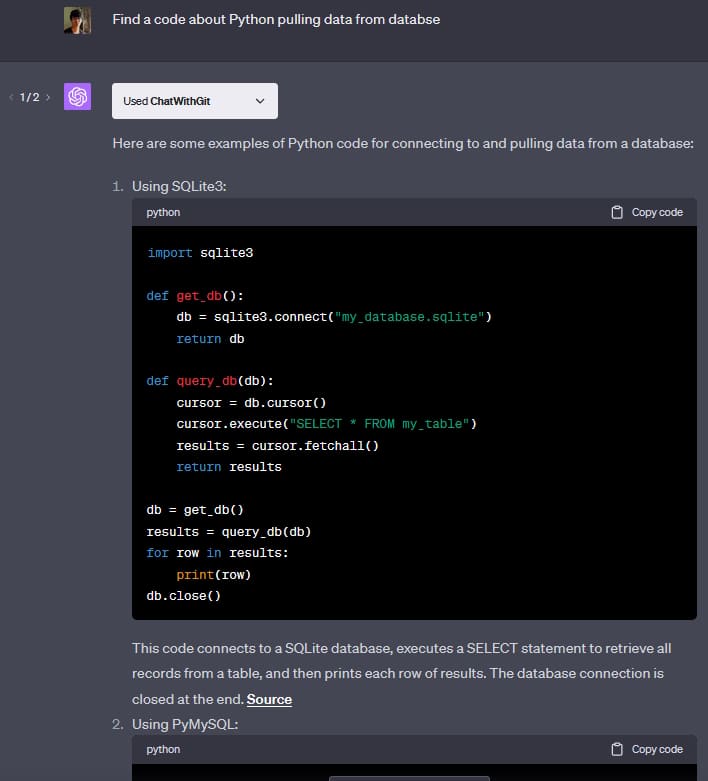 Imagine you are looking for a specific piece of code on GitHub, which is a platform where people store their code. But there is so much code out there, it is like finding a needle in a haystack.
So, you need a tool that can search through GitHub to find that code for you. This ChatGPT plugged we are talking about does just that.
It is like Google, but specifically for code on GitHub. You give it a search term, like the name of a function, and tell it where to look.
For instance, you can tell it to look only in JavaScript files or only within a certain repository (a place where code is stored on GitHub).
10. Show Me Diagrams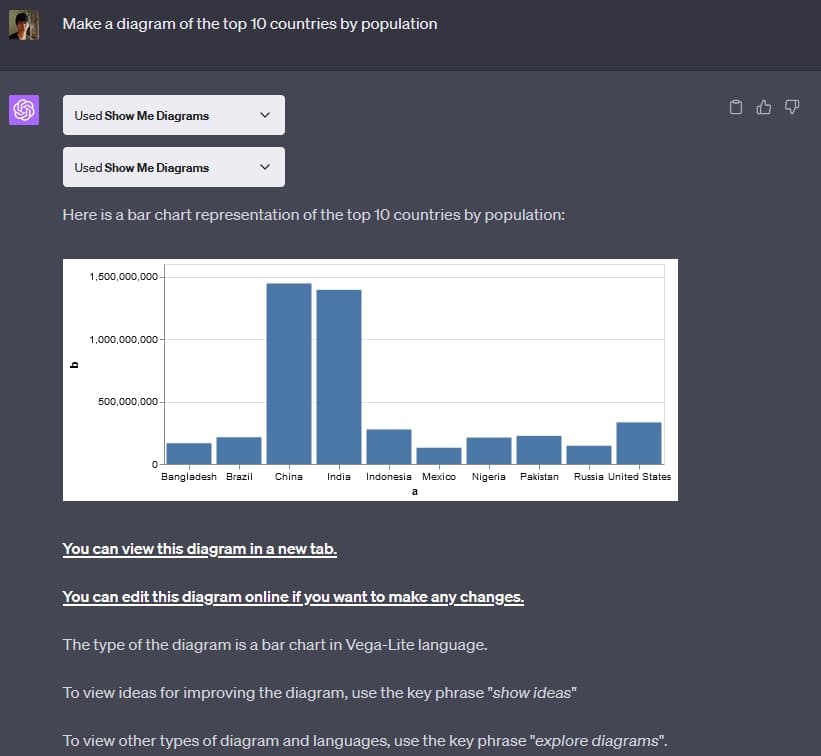 Till now we have seen ChatGPT using text, video, and images. With Show Me plugin, it can even draw diagrams and present it to you.
The diagrams can about any kind of available data in the world. You can even specify certain figures to create your custom diagram.
And if you are not satisfied with the diagram, it can be edited in the new tab. You can change diagram types, colors, figures, and more.
Along with that, you can create private GST links with the diagrams for specific people.
11. Wolfram
This ChatGPT plugin is the reason why this AI tool become popular amongst students.
Wolfram Alpha is like this search engine that can answer questions on just about anything – math, science, tech, economics, you name it.
It is a big hit with students, researchers, and professionals because it gives really detailed, step-by-step answers.
Now, here is where it gets even better. This plugin lets you chat with it, kind of like texting a friend. You can ask ChatGPT to explain specific terms and it will give you detailed answers.
For testing the plugin out, I gave it a difficult calculus problem. Wolfram plugin for ChatGPT solved it within a few seconds.
12. Prompt Perfect
Believe it or not, there are actual courses for using AI to its full potential. Don't worry, you need to spend money on them when you have this plugin for ChatGPT.
Prompt Perfect creates good chat prompts that you can use with the AI bot. It goes deep into details regarding a topic, thus helping to produce better results.
You can type in the simple text and the plugin will craft a good prompt that gives ChatGPT the perfect amount of instructions.
Just write the word "perfect" right before your prompt. The plugin takes it from there, adding all sorts of detail and specificity that ChatGPT needs.
This means the AI chatbot can give you answers that are informative and spot-on.
13. Meme Generator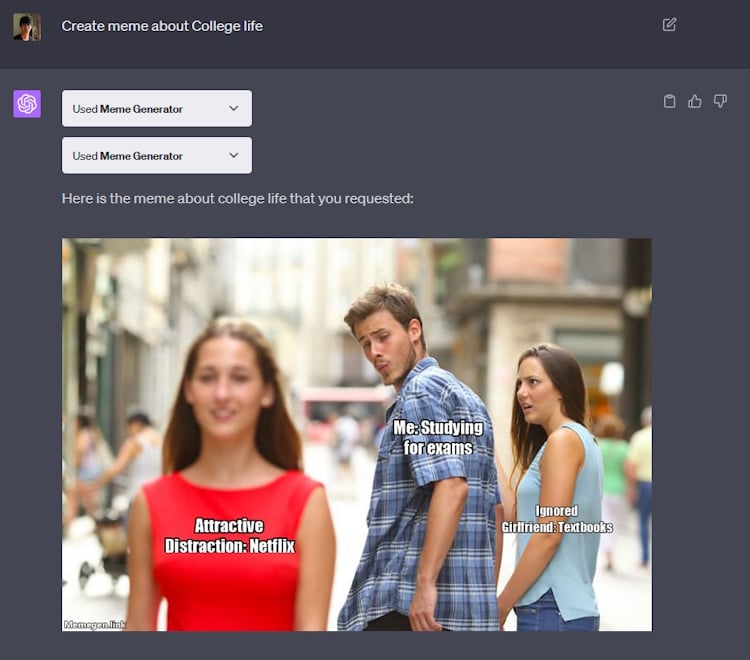 Now this is one of the best ChatGPT plugins, that will tickle your funny bones. We all love memes in different shapes and contexts.
AI makes it incredibly easy to create memes now. Just type in your context and one meme will be generated right away with the captions on it.
You can also just type in a situation and it will generate a meme on its own. For instance, if you say to create a meme about college life, it will generate a context and show you a meme.
You can even edit the captions on the meme and they will be instantly changed. Then you can save the image like any other file.
14. Questmate Forms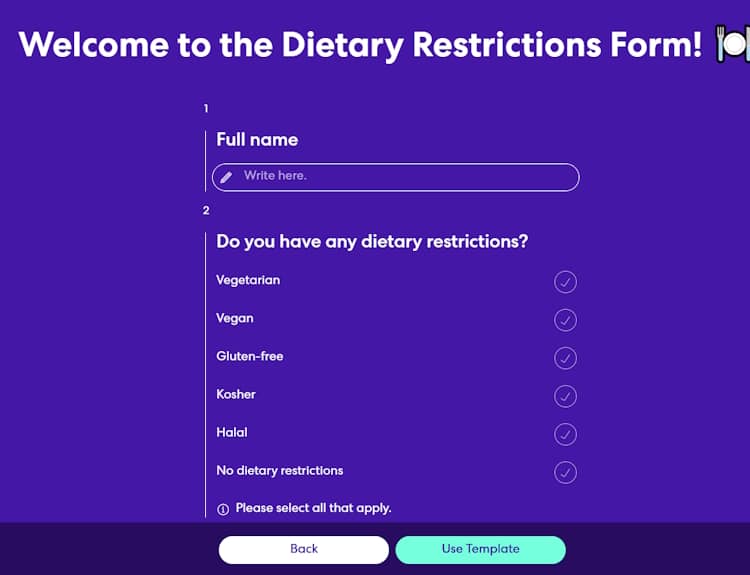 If you are someone who often needs to create forms – not just for studying, but for anything else too – then you are going to love Questmate.
It is one of the most useful ChatGPT plugins out there. You can create all sorts of forms for you in no time.
You could use Google Forms, sure, but let us be honest, who wants to deal with all those steps?
Getting started with Questmate is a breeze. All you need to do is tell it what you need, in as much or as little detail as you want. And you're good to go.
It will create a template and show you on a page. If you like it then enter your email to get started within a few seconds.
Then you can share the link and track the responses via the dashboard.
15. Zapier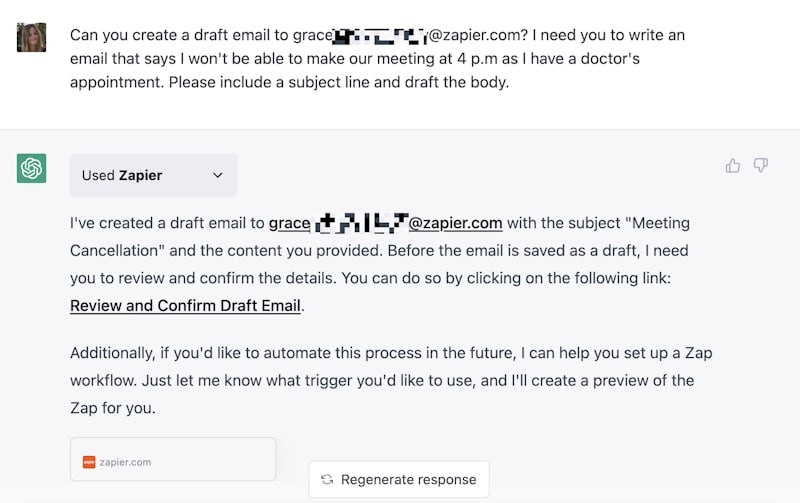 Zapier ranks among the best ChatGPT plugins for professionals and marketers alike.
Zapier lets users use over 5,000 distinct work applications, eliminating the need for additional steps. This covers all popular apps such as Gmail, MS Outlook, Slack, and many others.
You simply need to establish a one-time connection and authorize certain actions.
Once you have got that sorted, you can do stuff like drafting entire emails or sending detailed Slack messages, right from ChatGPT.
For example, when I asked it to draft a test Gmail, it was effortless – the action was created almost instantly, and I was able to send it. Give it a try if you are not in the mood to open your mail client.
16. Scraper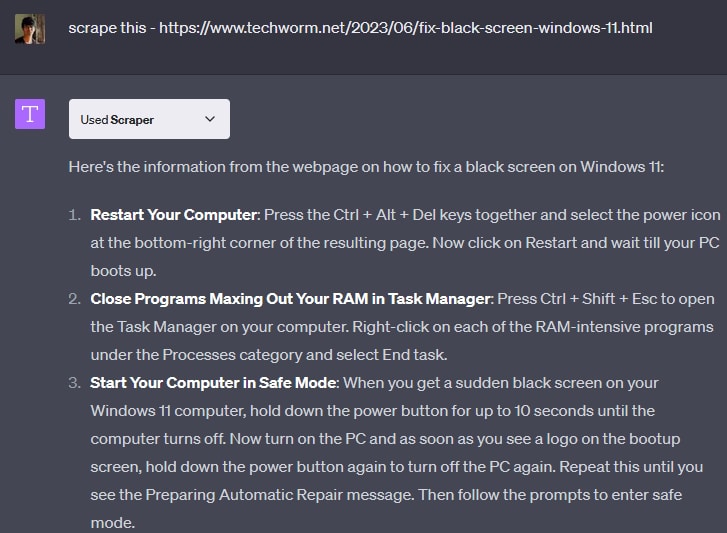 Web scraping is like a robot going to a website and copying information from it.
This could be information like product prices, reviews, articles, contact details, or any data tha is openly available on a website.
Previously you need a computer program or a special tool to do that. Now it is possible with Scraper, which is one the best ChatGPT plugins for a marketer or a researcher.
You just need to enter the URL after selecting the plugin. Then give it a few seconds and you will get the text from the webpage in an organized manner.
It doesn't scrape images but you get the text along with the links. Scraper plugin basically focuses on the headings minor the irrelevant parts on most pages.
17. ABCMouse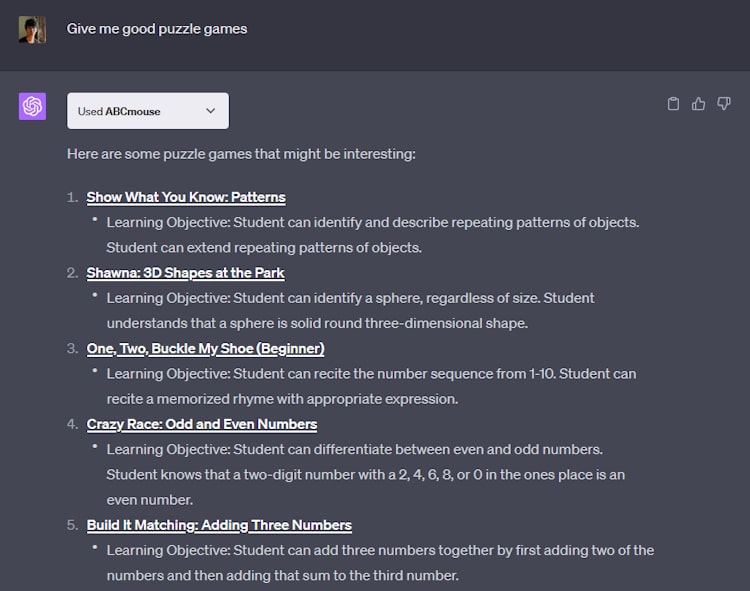 Fun computer games are important for kids because they can help them learn and grow in many ways.
They can make learning subjects like math and science more enjoyable. You can
Just type in a prompt asking for some fun and educational games for the kiddos. It will show you the list of the games available surrounding your requested genre.
ABCmouse is an amazing website that is perfect for little learners between the ages of 2 and 8. It is full collection of interactive learning goodies like games, books, songs, and puzzles.
Plus, it got a broad curriculum for preschool all the way to 2nd grade, covering everything from reading and math to science, social studies, and even art.
18. SpeechKi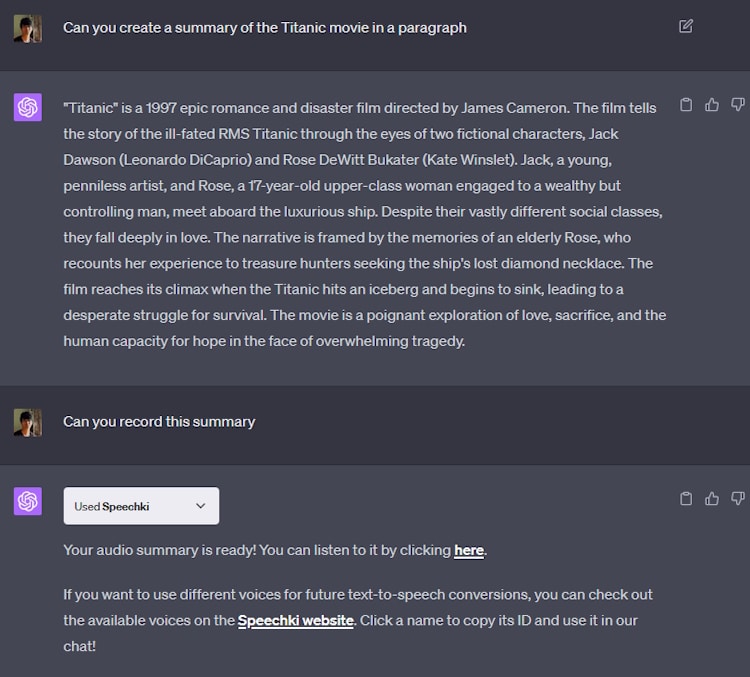 We covered the translation earlier. Now convert it into speech using this useful ChatGPT plugin.
It takes your ChatGPT texts and turns them into audio. You can get a downloadable link, listen on an audio player page, or even get an embed.
Enter any text and ask to record it. Then wait a few seconds to get the text converted into an AI-powered voiceover.
You can convert scripts into podcasts, add voiceovers to reels and shorts, transform text responses into realistic audio for interviews
And even turn written stories into engaging audiobooks. It can also create audio summaries of articles, reports, or presentations, and narrate captivating audio stories.
19. Keymate AI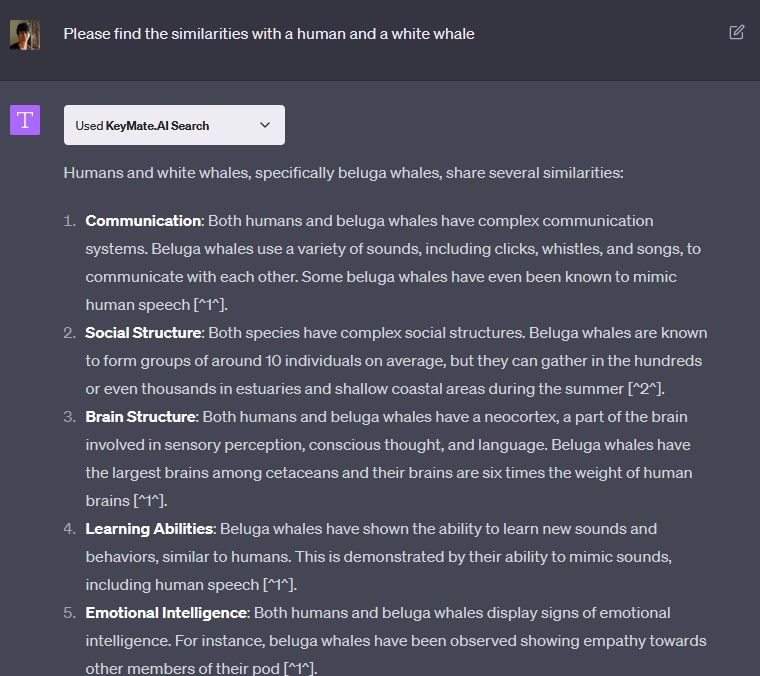 ChatGPT's knowledge got cut off at the end of 2021. That means it has no idea about newer information on the internet.
This is where this ChatGPT plugin can get as it uses Google to provide the latest information.
It uses Google's search tools to quickly find and summarize the most relevant search results for any keyword you're interested in from the first page.
20. Instacart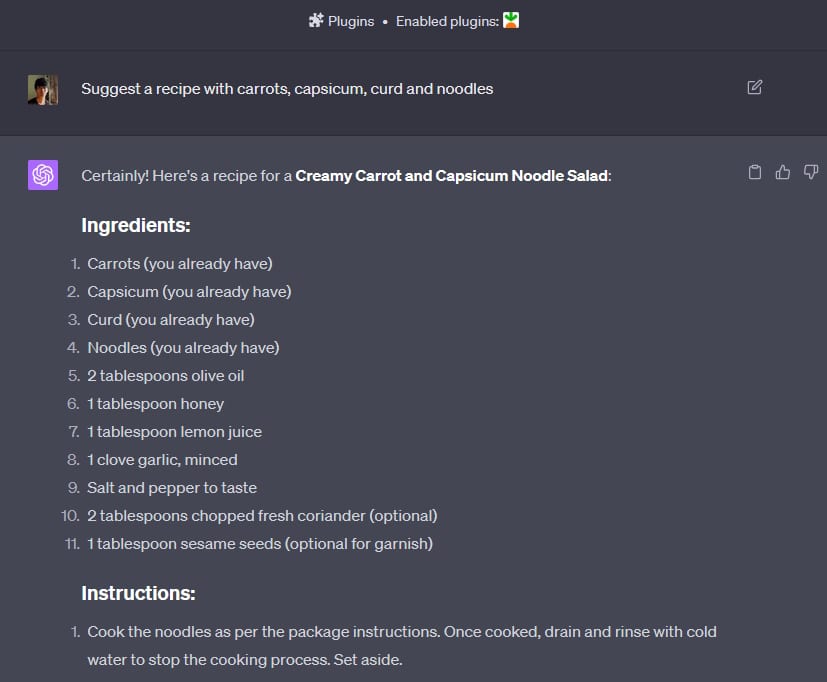 You are alone at home and the fridge is almost empty. But you want to cook something with whatever ingredients are left at home.
Believe it or not, AI can even with this. This ChatGPT plugin known as the Instacart can recommend a recipe with the ingredients at home.
And that is not all, you can even ask it for sophisticated recipes of different dishes.
Coming to the crust of things, it first shows you the ingredients needed for the dish. Then it lists steps in a sequence that you need to follow for preparing and/or cooking the dish.
21. Chess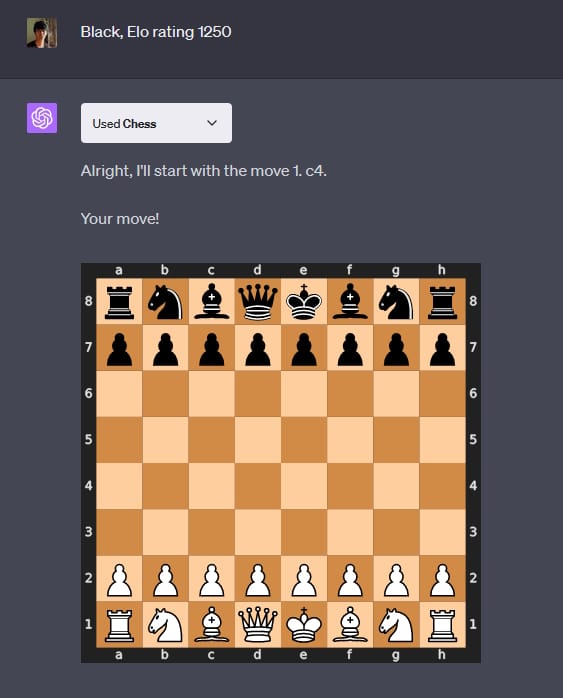 The name says it all as this is a gaming ChatGPT plugin to play Chess with AI. Just say anything after selecting the plugin to start playing.
You will get to choose the color and the rating level. The rating level is Elo rating level between 1000 to 3000.
It is not graphical as you would imagine. Type in the chess move and it will be played before being displayed in the chat.
There is no time limit so you don't have to worry about making a bad move in a hurry.
22. Kayak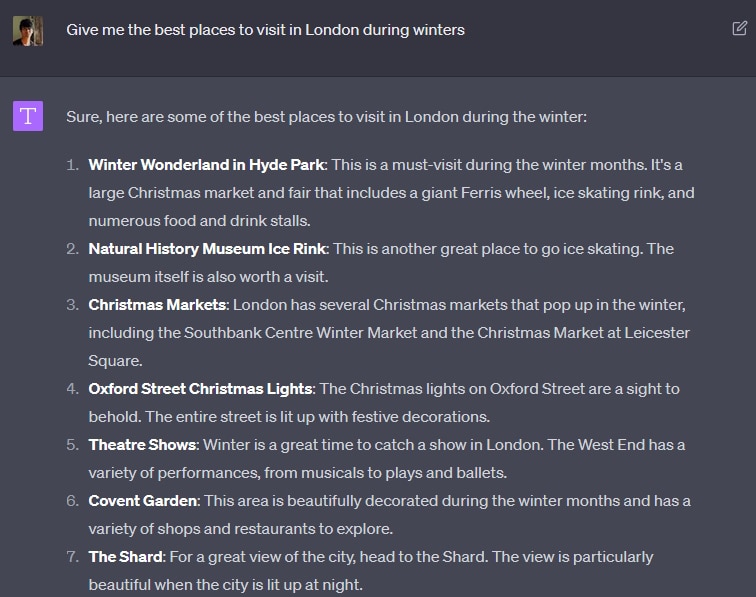 Did you know that you can even use ChatGPT for travel plans and booking. It lets you book your flights and hotels.
Also, it has got your back with travel recommendations for your entire trip. All it needs are the basics – where you are leaving from, where you are going, and when you plan to arrive and depart.
Once you have got that down, Kayak's got a ton of flight options for you to check out right from where you are at.
---
How to install a ChatGPT Plugin
1. Select GPT 4 from the top of the screen.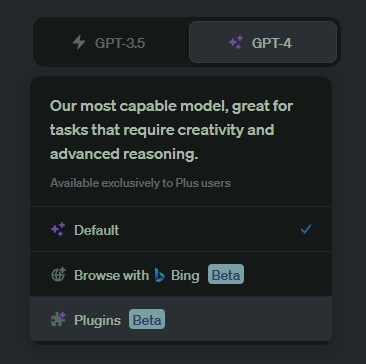 2. Then click on No Plugins Installed, which will open the drop-down menu. From there, head to the Plugin Store.
3. Search for a ChatGPT plugin and then click install.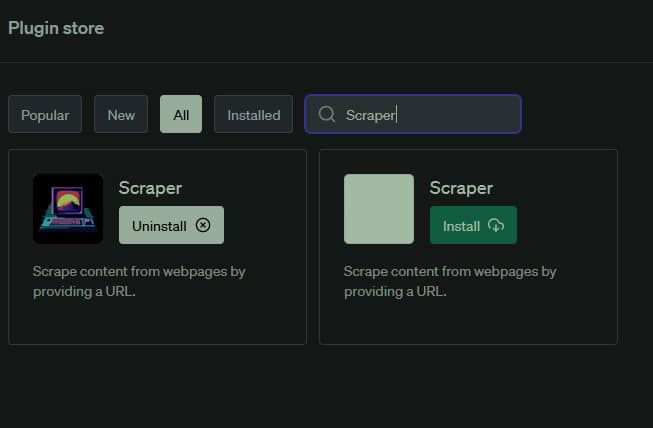 4. Now click No plugins enabled, which will open the installed plugins menu. Select a plugin by ticking the box next to it and it will be enabled.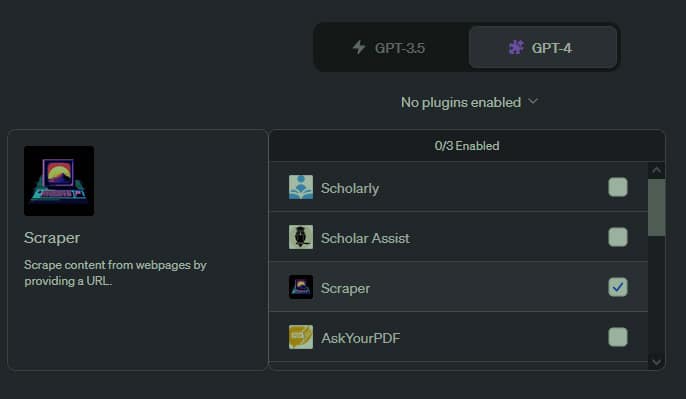 5. You will see the selected ChatGPT plugin's icon below the GPT modes selection. It signifies that a plugin is enabled and in use for the prompts.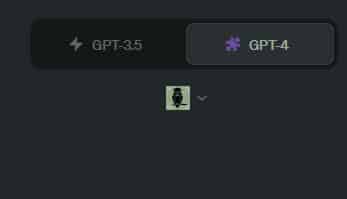 How To Uninstall and Remove ChatGPT Plugins
Head to the plugin store as did while installing a ChatGPT plugin.
Go to the Installed tab and then click Uninstalled on the ChatGPT plugin that you want to remove.

It will be removed immediately and you can install the plugin again from the store.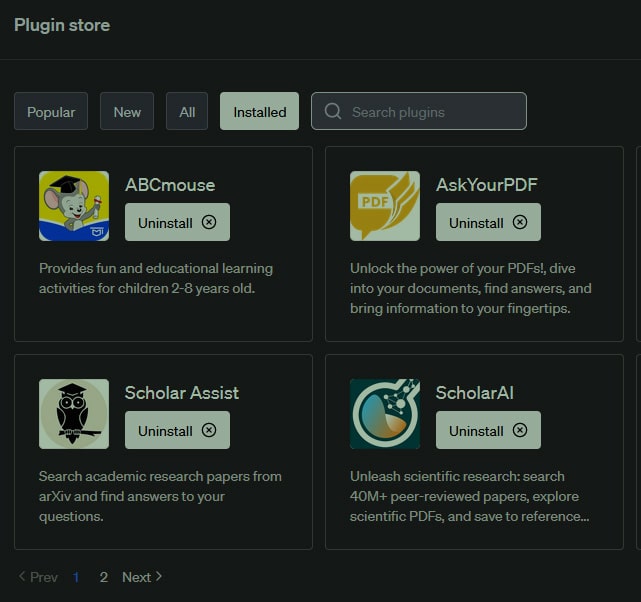 ---
Frequently Asked Questions
Are ChatGPT plugins free?
Most of the ChatGPT plugins are totally free. But, just so you know, some might take you to their websites where you will need to pay to take advantage of all the features.
Can I use multiple ChatGPT plugins together?
Sure, you can use three ChatGPT plugins at once. We can expect the limit to increase in the future as few users are asking on their Discord channel.
Are ChatGPT plugins safe to use?
Yes, they are very safe to use as all of them are carefully vetted by the OpenAI team before being listed on the store. You can however exercise caution and keep an eye out for news about them.
---
Over to You
These were some of the best ChatGPT plugins to try right now. Each of them has different features and is useful to a lot of users.
We will keep updating list with good plugins for ChatGPT as they become available on the store.