Quite a number of Netflix users have reported encountering the "This TV Isn't Part of Your Netflix Household" issue when attempting to use the app on their TV, which is caused by accessing Netflix from devices outside the primary location where the Netflix account is being used. 
This is a part of Netflix's plan to crack down on password sharing.
The update has enraged many users since it was released as it has kicked out those using shared Netflix accounts, and sometimes the main users of Netflix accounts, if they are not at their Netflix primary location.
In this article, we will look into the issue and possible solutions so that you can continue watching movies and TV shows like Extraction 2, The Witcher, and others on Netflix without being affected.
Keep reading!
How to Fix This TV Isn't Part of Your Netflix Household
Getting the "This TV Isn't Part of Your Netflix Household" error when opening a Netflix account on your TV means Netflix can't associate your TV with the account's Netflix Household. 
This can, however, be fixed with some solution depending on whether the TV is part of your Netflix Household—connected to the Network in your primary Netflix location— or not. 
So follow through the solutions below based on your case to fix the error and start enjoying Netflix:
1. Verify the TV is part of your Netflix Household
If the TV you are getting this error on is part of your Netflix Household, you can verify the TV by following the steps below:
Step 1: Make sure your TV is connected to your home internet router. This will be the network Netflix will use to manage household devices, so you must be connected to a network you primarily use.
Step 2: On the Netflix home screen on your TV, press the left option on your remote to open the app menu.
Step 3: Now select Get Help, then click on Manage Netflix Household. 
Step 4: Click Confirm Netflix Household or Update My Netflix Household. You can also simply select Update Netflix Household from the error page. 
Step 5: Select Send Email or Send Text and wait for the verification link to your email or phone number.
Step 6: Follow the verification prompts on the email or text by clicking the link, then select Confirm Netflix Household or Update Netflix Household to continue. 
Step 7: You will get a confirmation on your TV screen and receive a confirmation email. Click Continue to Netflix to get past the Netflix Household issue and start watching.
---
2. Use the "I'm Traveling" option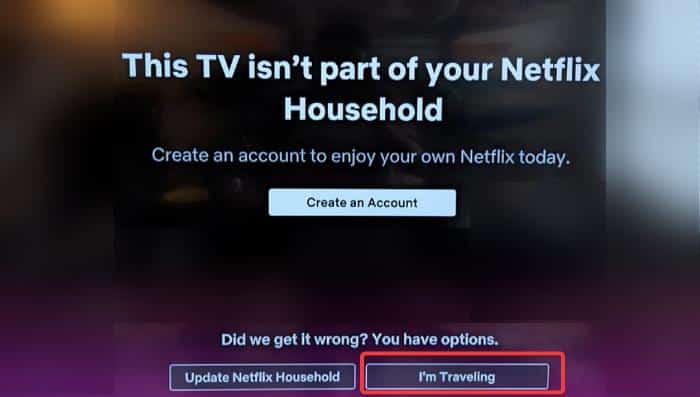 If you are actually outside your household (most likely traveling), you can gain access to your Netflix account by selecting the "I'm Traveling" option on the error page.
However, a verification text or email will be sent to the email or phone number associated with the Netflix account for verification.
This workaround is not everlasting, as you may get thrown out of your Netflix account after a few weeks.
If you attempt to click the "I'm Traveling" option again, you will be prompted with the message "Sorry You've Used All Your Temporary Codes" meaning you won't have access to getting verified anymore.  
---
3. Make Use of a VPN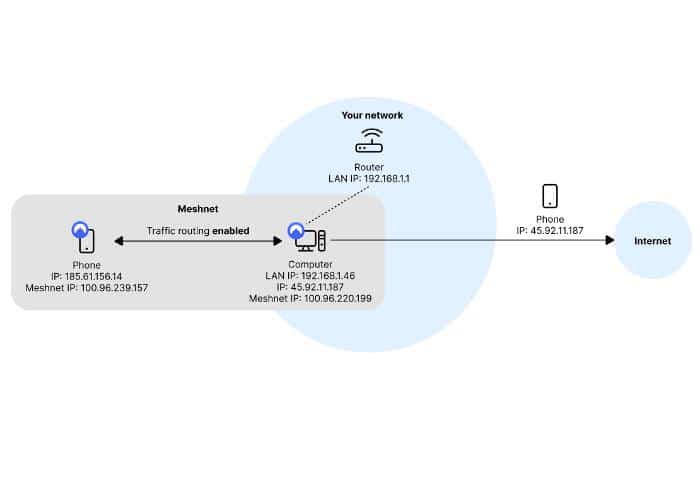 Using VPN is the best workaround you can use to bypass the "This TV Isn't Part of Your Netflix Household" error when you are accessing Netflix from a TV outside your primary location, but there are two ways to do it. 
The first method we will discuss is routing your internet traffic through a device at your primary location (connected to the main WiFi there) so that the IP address for your current device reflects the IP address of your primary location—in this case, your home—giving the appearance that you are viewing Netflix from your primary location.
This approach is efficient and can be implemented using NordVPN Meshnet's traffic routing feature.
Simply install NordVPN on a host device (connected to your primary network), sign up for a NordVPN account, and enable the Meshnet feature on the device.  
After that, connect with the device you want to use outside of the Netflix Household to Meshnet by issuing a Meshnet invite from the host device and activating Meshnet on the device.
The sole drawback of this workaround is that the host device must constantly be turned on in order for the "traffic routing" to function. 
The alternative option is to activate a VPN for places where the policy has not yet taken effect; these regions include China, and France.
Hopefully, this will allow you to evade the entire restriction if your IP address is from a place other than the one currently affected. 
---
4. Use Chromecast
If you can access Netflix on your PC or smartphone but not on your TV, you can stream Netflix to your TV using Chromecast.
This solution is practical for individuals using Chromecast and can be used instead of attempting to fix the error message.
You can also use an HDMI cable to cast your screen from a laptop to the TV and any other method to cast the screen from PCs and TVs, as the update is lenient on PCs, and you can simply stream from the laptop to the TV.
---
5. Pay the extra $8
This may not be the solution you want, but in some cases, it may be the only option to bypass the error message.
So you'll need to create an extra membership for the device outside your household to watch Netflix when you're not in the Netflix Household, or you'll have to allow access to someone outside your Household and pay the charge on your end.
It is possible to do so by following the prompts to pay and create the invitation for the new user/device by clicking this link.
As a result, the new user will get a URL link and utilize this invitation URL to enter their Netflix account.
This may be useful for folks who wish their children, parents, or those who are unable to set up a Netflix account for any reason to access their own Netflix account.
---
What You Should Know About Netflix Household Policy
Netflix has been fighting against account/password sharing for a long time, but it just made an efficient move against it; it restricts password sharing to people in your household, so you can't share your Netflix with anyone outside your household, even if you're using a family account.
The crackdown on password sharing appears to be motivated by the fact that many people get access to the streaming site through account sharing, limiting the number of paid subscribers. 
This policy has taken effect in several countries like the US, UK, and Australia for the past couple of months but is now getting to other countries like India recently. 
Basically, as mentioned earlier, this policy affects people using Netflix on devices that are not in the primary account household—this is recognized based on the IP address of the device the primary account is being run on or the network it is connected to.   
So if you experience This TV isn't part of your Netflix Household or This TV isn't connected to the primary location for this account error when launching Netflix on your TV, it's most likely because you're accessing Netflix on a TV that isn't in the primary account household.
However, there is a catch: if you have a device accessing the Netflix account from a location other than the account's primary location or the home IP address, and the device has accessed the platform from the primary address at least once every 30 days, the device can avoid being locked out of Netflix. 
Also, Netflix allows its primary users to provide individuals outside their primary location or when the primary users wish to use their account at a secondary location—if you can't use the "I'm traveling" option on Netflix—access to the account for an extra $8.
This update is cruel to those who do not stay in one place for an extended period, but verification can be handy in getting you past the issue when it arises. 
We've walked you through the verification process and other options for resolving the "This TV Isn't Part of Your Netflix Household" error.
---
FAQs: TV Isn't Part of Your Netflix Household
Why is my Netflix saying not part of household?
The Netflix update to end password sharing for freeloaders is the cause of not part of the household issue you encounter when opening Netflix on your TV.
This issue usually occurs when you are traveling away from your Netflix primary household, have moved to a different location than the one registered on your Netflix account, or using a shared Netflix account from a location other than the primary Netflix address. 
Fortunately, there are fixes for this problem, which we have explored in this article. 
What does Netflix consider a household?
Household on Netflix is a group of devices that use the same internet connection to access a Netflix account in your main location. In a more basic term, Netflix household is a collection of devices that all access a Netflix account from the same location—the primary location specified on the Netflix account. 
If you have moved to a new place or want a primary location on your Netflix account, you can set your household location through your TV. 
Can 2 households use the same Netflix account?
No, as stated by Netflix, one Netflix account cannot be used in two households. However, certain workarounds currently work to get around the restriction, which we have discussed in this article. 
Note: Netflix says on its support page that, If you don't watch Netflix on a TV or don't have one, you do not need to set a Netflix Household meaning you are not affected by this issue if you are using Netflix via smartphone. 
Wrap Up
This TV Isn't Part of Your Netflix Household is an error that has enraged many Netflix users and even caused some to discontinue using Netflix.
Fortunately, there are workarounds for different cases of this issue, but the one we find most efficient is to route traffic to a device at home to make it appear to look like you are viewing Netflix from your primary location.
However, depending on your preferences, you can use any of the solutions.